Are you thinking of moving to Miami? You are not alone. Miami has seen significant migration from high tax states, Central and South America and even Europe over the last decade. What is driving this migration? Besides, its low tax environment compared to just about every other major city in the US, Miami has grown up! It is no longer a place to retire, but instead it's a place to live. To live in a place that has a 24/7 lifestyle, seamlessly mixing business with sun, sand, and sea.
New build condominiums abound and the latest trendy bars and restaurants (many New York outposts) add to the fun. The crowd is as cosmopolitan and international as it can get outside of New York. All this, plus it is consistently ranked one of the best living environments in the world. With sunny and warm days throughout the year, it is the warmest city in the US. Compared to other world class cities, Miami is well priced, with lower housing costs than many other top cities in the US or abroad.
To help you navigate a move to this 2.8 million metropolis, we've created the Moving to Miami, the Ultimate Guide.
1. Downtown Miami vs Miami Beach
Two of the most common considerations when buying in Miami revolve around the question, "Should we buy in Downtown Miami or in Miami Beach?"
Downtown Miami is the business heart of South-East Florida and is the primary center for international business with all Latin American countries. That, on its own, is enough to help some buyers to make their decision to choose Downtown Miami. Greater Downtown Miami runs along Biscayne Bay from the Julia Tuttle Causeway (US195) to the Rickenbacker Causeway (the bridge to Key Biscayne). It's western border runs along US I-95.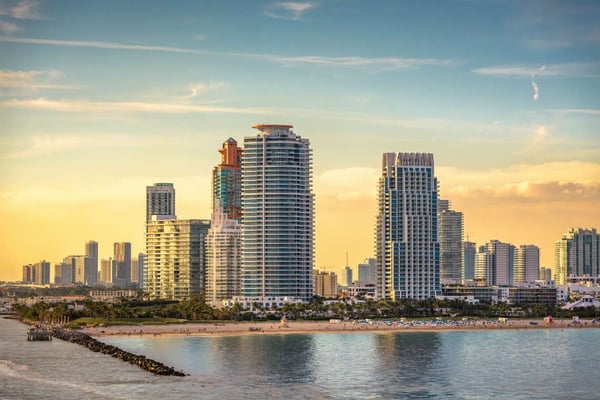 Miami Beach is a city made up of the main island and then some smaller and private islands. The main island is divided into a number of primary neighborhoods. Bal Harbour and Surfside, at its most northern point, which are luxury locales that attract primary homebuyers and well healed tourists alike. North Beach, a quieter, family-oriented locale, Mid Beach, also family-oriented with many social, sporting, educational and cultural centers, South Beach (SoBe) a world-famous for its Art Deco District, restaurant scene, and phenomenal nightlife. At the southern tip of the island known as South of Fifth (SoFi) is one of the the most exclusive neighborhoods, with phenomenal views, its own restaurant scene and a laid back vibe. Fisher Island, a private island only accessible by boat which is also part of Miami Beach has been described as the richest zip code in the USA. So, a lot of choices of neighborhoods in an exotic location.
Again, as with Downtown, these neighborhoods have a specific vibe and each may be enough for a Miami Beach real estate buyer to know where they want to focus their attention. Now let us dig a little deeper into what each may offer buyers.
Downtown Miami
Old Downtown Miami was almost totally commercial, busy during the day and then a mass exodus at night, making it a ghost town after 6:00 PM. In many of the neighborhoods that make up Greater Downtown Miami (i.e., Brickell, Central Business District, Arts & Entertainment District, Edgewater, Midtown, Wynwood and Overtown), much of the land was vacant, especially the western reaches of each neighborhood toward I-95.
While Downtown Miami retains a more gritty urban vibe than Miami Beach, things started changing in Downtown Miami around 2000. Then the population was only 40,000 people. Ten years later, after a building boom, the population grew to 67,000. Since then, Downtown Miami's population has grown 40% to 92,000 people, creating a vibrant community of people who live and work in the neighborhood, something Downtown Miami never had before. Population projections for 2021 are much higher at 110,000. Accordingly, no US city has undergone as significant a change as Downtown Miami. We expect this change to continue exponentially, making Downtown Miami a great investment for the very long term, especially considering low price points compared to other world class cities.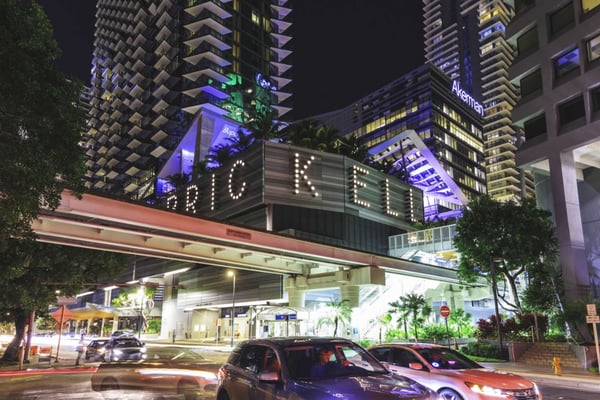 Downtown now boasts amazing projects such as Brickell City Center and Miami WorldCenter, two massive developments that will continue to spur residential ownership in their vacinities. Buyers who want high-end luxury to match their current lifestyle will look at the new developments such as Aston Martin Residences, Epic Brickell or Una which overlook the beautiful Biscayne Bay. Ultra-luxury 1000 Museum will have Miami's only helipad, making commuting to the airport even easier for the select few that can live there. That feature alone may be the critical factor as to which condo development a client chooses. Elysee and Missoni Baia offer magnificent Biscayne Bay views and an easy commute back and forth to Miami Beach as well as to the Central Business District. Downtown Miami has never had so many great options spanning the very high end to a more modest condo.
Behind a lot of what has happened in Miami is the Miami Downtown Development Authority (DDA), which has worked hard to invigorate the area and to make it a world-leading example where business, retail, and family life integrate. Now, many Millennials and others come to Miami to pursue their careers. As a result, they want somewhere to live and to enjoy life close by to their office taking advantage of an easy commute. DDA's goal is to make the whole of Downtown people and pedestrian-friendly. For example, Flagler Street now has wider sidewalks, bicycle racks to make moving around easy, and it has park benches for mothers and au pairs to relax when out with children. In addition, Bay Walk, a contiguous walkway, eventually will extend along the edge of Biscayne Bay from Edgewater to Brickell connecting with Riverwalk along the Miami River. Bringing all of these communities closer together.
There is no stopping Downtown Miami becoming a 24/7 community for those with an active lifestyle and like to mix work and play. Choosing a Downtown Miami home makes a great deal of sense because it can be within walking distance or a short car ride to a primary place of business. And, it offers beautiful Biscayne Bay and Miami River that come with an attractive and varied nightlife. And, best of all, properties in Downtown Miami sell for a fraction of those in Miami Beach.
Miami Beach
Miami Beach is surrounded by turquoise waters. On one side it is Biscayne Bay and on the other the Atlantic Ocean. Sea and sky make for glorious memories and makes Miami Beach a great place to call home. Miami Beach definitely tends to be more like a resort than the mainland. With 7 miles of white sandy beach, golf courses, world-leading cultural events, the world's largest array of Art Deco buildings and some of the world's most important learning centers, Miami Beach is a great place to live and raise a family. Fine dining is around almost every corner and the clubs, bars, cafés, and boutique stores are superb. The city of Miami Beach, however, feels like a different world compared to Downtown Miami but it is literally only 4.4 miles away (7.1 km) over MacArthur Causeway and the Julia Tuttle Causeway (the I-95 freeway spur), which even has its own bicycle lane.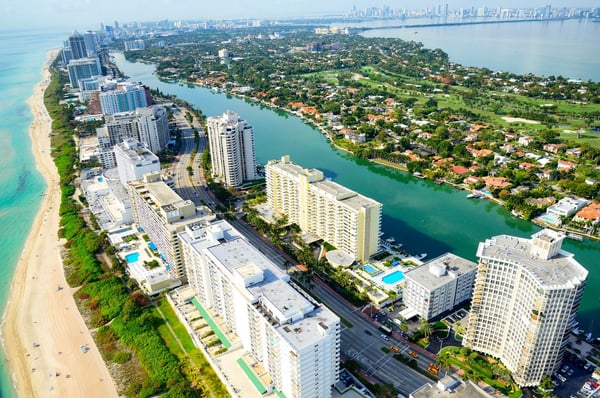 Miami Beach real estate has a greater selection than Downtown, from Art Deco homes, Miami Beach mansions, state-of-the-art condo buildings, and traditional homes, many with direct ocean or Intracoastal access. Seasonal and full-time residents in Miami Beach may choose Italian or Moroccan-style mansions as well as the ultra-modern "smart homes" so important to many people today. The luxury condos such as Apogee, Four Seasons Surfside and 87 Park are examples, par excellence, of how world-class architects and interior designers come together to deliver the pinnacle of residential properties.
Star, Palm, La Gorce, Indian Creek and Fisher islands all have some of the most expensive private homes in the world, most with water access. South Beach, the commercial center of the island has some interesting new state-of-the-art projects like Monad Terrace, by French architect Jean Nouvel, adding another dimension to SoBe lifestyle. South of Fifth attracts a wealthy crowd, with stellar projects like Apogee, Glass, Continuum North and Continuum South, and Icon South Beach. There is a mix of primary homeowners and pied-a-terre owners in this tony neighborhood.
Only recently, Bal Harbour and Surfside have become relevant neighborhoods for primary homeowners looking for a relaxed but high-end vibe, with the addition of some stellar developments like Oceana Bal Harbour, St. Regis Hotel and Residences, Fendi Chateau and Four Seasons SurfClub. And, let's not forget the Faena District, which has added tremendously to the beach, as well as the new 57 Ocean.
Many residents who want an exclusive lifestyle, separated by water and wealth from the mainland choose this city for their homes. Families who demand the absolute best for their children of all ages, are likely to choose Miami Beach where there are the best private and public schools. As for culture, the New World Symphony and New World Academy is based on Miami Beach as is Miami Beach Ballet, to name just two. Both attain the highest levels or performance for their students.
Prices in Downtown Miami vs Miami Beach
Average prices in Q4 2018 in Downtown Miami for the Luxury segment (top 10% of the market) was just $470 per square foot with a Luxury entry threshold of $610,000. The newest condos are more in the $600 per square foot range, with a few inching toward $1,000 per square foot. Luxury single family homes in Downtown Miami average $2,050,000, with an entry threshold of $890,000. For the general condo market in Downtown Miami, the average condo was $329,000 (or $267 per square foot) and single family homes were selling for an average of $561,000.
In contrast, homes on the beach average much more, given global demand for beachfront property. Average prices in Q4 2018 in all of Miami Beach for the Luxury segment (top 10% of the market) was $1,047 per square foot with an Luxury entry threshold of $1,302,000. For the general condo market, the average price per square foot is $547 and the average single family home costs $2.7 million. Luxury single family homes in Miami Beach average $10 million, with entry level at $5.9 million.
While prices may dictate to many whether they buy in Downtown Miami or Miami Beach, one must understand that they are so close by that buyers in either city can take advantage of the other in minutes. When comparing these prices to those of other global cities like London, Hong Kong, Toronto and New York, both Miami Beach and especially Downtown Miami are clear bargains. And with the exponential growth expected of Downtown Miami, we expect prices there to catch up to many other global cities as Miami continues its expansion.
2. Best Neighborhoods in Miami to Buy or Rent
It really depends upon whether you want to live in a neighborhood that has the most desirable free standing houses, like Miami Beach, Coconut Grove, Pinecrest or Coral Gables. Or, a neighborhood that has high rise condos and 24/7 living, like Brickell, Edgewater or South Beach. Somewhere as special as Miami, known as both the City of the Future and the Magic City, has a lot of neighborhoods where you will feel "at home". Below are some of the favorite neighborhoods among new migrants to the city:
Fisher Island
Accessible only by ferry, yacht, helicopter, or seaplane, Fisher Island is an elite ultra-luxury oasis just 3 miles off the southern tip of Miami Beach that boasts the highest concentration of wealth of any zip code in the nation. It's unparalleled level of privacy combined with its highly coveted location just a few miles east of the thriving epicenter of downtown Miami and a stone's throw from the sophisticated glamour of South Beach attracts a highly select group of top tier regional and international clientele primarily seeking a permanent second home for their entire family to enjoy. Read more.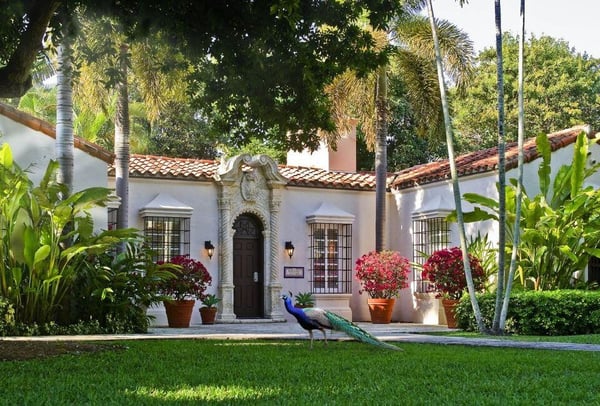 Coconut Grove
Coconut Grove is "the new place to be" for Miami's ultra high net worth families. The Grove's tree-lined streets were always known for their artistic, bohemian, laid-back residents, and the calm lifestyle they brought to the oldest continuously settled part of the city. But so much has changed. The Grove's more recent residents also love the family-friendly, relaxed, and gourmet lifestyle. Their interest drove some special changes, and Coconut Grove is now a first choice primary home location. Let us explore some of the reasons. Read more.
Coral Gables
Coral Gables, nicknamed "The City Beautiful," is one of the first planned communities in Florida, meaning that the land was undeveloped until the city was designed and constructed. George Merrick founded Coral Gables in 1925. After being inspired by the architecture of southern Spain, Merrick and early planners drew from American's City Beautiful Movement from the early 1900s to create an Mediterranean Revival-styled community with plazas, fountains, parks, and monumental buildings that people in the Miami area wanted to call home. Read more.
Bal Harbour and Sufside
Bal Harbour is a small, upscale community just north of the chic, intimate neighborhood of Surfside, which borders it to the south at 96th street and connects the two districts to Miami Beach on the southern end at 87th Terrace. The two areas share a limited selection of exclusive, ultra-luxury high rise and mid-rise developments that offer next-level amenities and unparalleled privacy, along with breathtaking Atlantic Ocean, Biscayne Bay, and city skyline vistas on their beautiful Collins Avenue waterfront locations. Bal Harbour and Surfside's world-renowned designer shops, high-end restaurants, and strong community vibe attract a select group of local, northern, and international clientele who are primarily interested in investment opportunities and secondary home ownership in an idyll oasis setting. Read more.
Aventura
Aventura is unique among Miami area neighborhoods because of its status as an exquisitely planned city that was designed to create an upscale atmosphere for the region's professionals, investors, and celebrities. It boasts an ideal location equidistant to downtown Miami, Ft. Lauderdale, and the heart of Miami Beach, as well as innovative charter schools, a cutting-edge performing arts center, and exceptional recreational amenities. The city's wide array of competitively priced luxury condominiums offer dazzling mid-range to high-end options, amazing intracoastal views, and access to some of the best shopping, golfing, boating, and sailing in all of South Florida. Read more.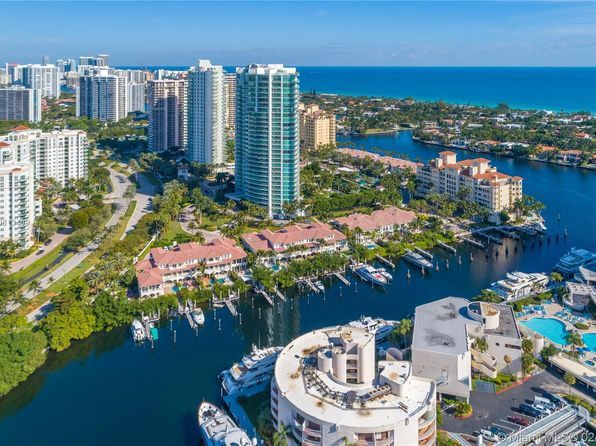 3. Tips for Investing in Miami Condos or Homes
Investing in Miami condos or Homes is a tempting option for investors and high net worth individuals alike, but it's also an opportunity that is full of risk. Miami has seen booms and busts in recent decades, especially in new condominium development, leaving even the city's hottest neighborhoods potentially full of bad investments that look good on the surface. Buyers looking for high-end Miami residential real estate should rely on the advice of an experienced Florida luxury real estate broker and keep these tips in mind as they begin the search for the right investment property.
Define "Luxury" With Your Broker
In today's Miami real estate market, the amenities that are considered luxuries in other markets come standard in many developments. Features like pools and spas, security systems, integrated technologies, and other comforts may seem like luxury from a distance, making many properties seem exactly alike. But, careful due diligence is required to ensure the price tag of the residence matches the quality of what's inside, and the long-term potential for return on investment. It's not just about the address or the neighborhood; we have seen property values vary widely from floor to floor in the same building
Plus, it's possible that location and amenities aren't what luxury means to some buyers. The meaning of luxury is different to everyone, but each individual knows it when they see it. Exclusivity, privacy and high service levels are increasingly considered a must for the luxury buyer. Of course, this is in addition to superior materials, amenities and furnishings. This is why it's essential to discuss your ideal property with your broker. That will give them the highest possible chance of finding your gem among the many luxury real estate listings in Miami.
b) Plan for the Purchase
Regardless of whether you're looking for a single-family home or a condo, financing for luxury real estate transactions often takes a bit longer to secure. This is not only because of the high dollar amount, but also often because a luxury real estate broker can sometimes have access to a number of bankers who will be able to help their high net worth individuals secure more competitive financing rates or terms. Owners or developers selling luxury real estate in Miami usually only take time to show the property to qualified buyers and offer nothing else. This is why it's usually advised that a luxury real estate shopper secure financing before they begin the search for a property. It's also advisable to consult with a tax expert about the potential ramifications of a luxury real estate purchase, especially for foreign buyers. Our agents are well versed in each of these aspects, so it's best to talk with us first so we can introduce you to the right team of bankers and CPAs.
c) Rely on Your Experienced Broker for Advice
Often, buyers will be so enamored with a new project's glossy brochures and websites rather than the actual track record of the developer and sales team involved in the project. Buyer's might also be turned on by an artificial low price per square foot than what is current market rate. They might also follow their friends and family blindly and purchase in the same building in a herd mentality.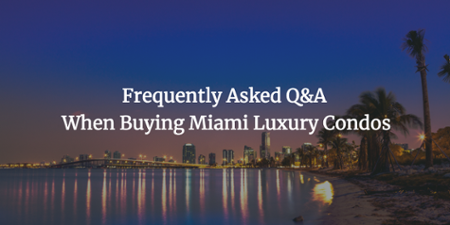 When buying a property in a resale or new development, it's important to ask the advice of your real estate agent. If they don't already know the developer's track record first hand, have them check it out. Our experienced Miami agents know all the major Miami players, and can guide you from the poor or merely acceptable construction to the extraordinary. You might have to pay 10% more for the extraordinary property, but you won't experience the construction defects that many other buildings will show after a few months or years.
Know What Comes Next
Sometimes the search for an ideal luxury investment property in Miami is so time-consuming that when the market shifts, owners may not know right away it's a good time to sell. Understanding the cycles of the market and selling at the right time will maximize profits. Others who are looking to be landlords for the long term may need to make minor aesthetic improvements to maximize rental income. In all cases, your agent should have the wisdom and industry connections to guide you in the right direction.
4. Miami Property Tax You Should Be Aware Of
The process of purchasing a residential property can seem complicated. When you're buying from out of state or even out the country, gathering the right information can be a chore. The tax code is certainly not the same from place to place, or easy to figure out on your own. If you're looking to purchase property in Miami, you'll be benefitting from some excellent tax relief, but you'll be subject to other tax drains you should know about. Read on to learn the Miami real estate property tax rates, tax abatements, and tax drains.
Property Tax Rates
Property tax is typically calculated by local governments and represents a percentage of the assessed value of any property you own in the United States. This percentage varies from state to state and in some states, residents will pay much less on property taxes than others. This depends on the percentage instituted by that state government and on property values. When comparing places, Miami's property tax is relatively high. While residents of New York will only pay 0.75% per month, residents of Miami will pay 2%. However, this is because Miami has no income tax and the government needs to fund its coffers somehow.
Miami Tax Abatements
Residents of Florida have an excellent tax opportunity under the Homestead Exemption Act. Once residency has been established, you'll receive a $25,000 exemption for your primary residence. Although you'll still have to pay property taxes, the value is reduced by this $25,000 credit before the property tax is calculated. There is also potential for another $25,000 exemption for school-related taxes, depending upon the property value. While the Homestead Exemption amount may seem immaterial, the real benefit of the Homestead Exemption Act is that it significantly limits property tax increases for residents to 3% or the change in the CPI, whichever is lower, potentially significant savings. Non-Homestead exempt increases are limited to 10%, so the Homestead can save a homeowner a lot of money.
Capital Gains Tax
Capital gains is the difference between the purchase price of your home and the selling price should you decide to sell (less closing costs of both purchasing and selling). Florida does not impose a state capital gains tax, so a seller would be responsible for only the Federal portion of the capital gains tax, which could be up to 23.6% if the capital gain is greater than $250,000. However, if the property is one's primary residence, there is an exemption of $500,000 for joint filers or $250,000 for single filers when selling a primary home as long as the homeowner has lived in the residence for two of the past five years
Capital Gains Tax Deferral
Fortunately, there is a loophole for investors to avoid paying capital gains taxes on the sale of property. If sellers transfer the money from that initial sale into the purchase of another investment property, according to the 1031 exchange section of the tax code, they'll be able to avoid capital gains tax. However, the rules to this process are stringent and the property must adhere to the "in-kind" purchase guideline.
Paying your Taxes
Real estate taxes are collected in Miami on an annual basis by the Tax Collector's Office. Notices are mailed before November 1st of each year as tax year runs from January through December. There are tax discounts if your taxes are paid in a timely manner. Those who pay in November can deduct 4%, with this number decreasing a percent each month, until the last opportunity for a 1% discount in February.
Tax information is always changing, which is why we provide resources like this for your perusal (as well as to brush up our own knowledge). At Manhattan Miami, our goal is to make purchasing a home or property as simple and clear as possible. Contact us today and let us serve your real estate needs.
5. Top 6 New Luxury Buildings in Miami
Miami's coastal skyline and its real estate market are both growing in the most luxurious way thanks to some of the best award-winning architects in the world. Some of these buildings are open and ready for residents, but for others we'll need to have a little patience as we wait for their doors to open. Once complete, these 6 new buildings will have everything a Miami buyer could want in luxury real estate, from innovative and stunning designs, to top-of-the-line amenities and unbeatable ocean views.
87 Park by Renzo Piano
Renzo Piano is a Pritzker Prize-winning architect and his ability to capture the elegance of a coastal city is demonstrated in this building at 87 Park. 70 open-layout homes are inside this 233 ft, 18-story luxury residence tower just off the Atlantic shore in Miami Beach. Its very own private park was designed to give residents an opportunity to break away from the mundane and enjoy arts, culture, and special events close-to-home. Amenities and services include:
Pool with plenty of lounge chairs and cabanas at the ready
The Fugo Bar, a simple set-up underneath an awning with view of the nearby ocean
Gym with health coaching, classes, and quality equipment
Spa including a steam room and sauna
Butler, valet, and 24-hour concierge services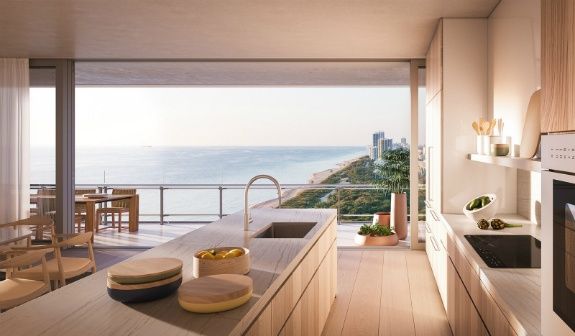 Four Seasons Surf Club by Richard Meier
The Surf Club at Four Seasons is a private 12-story residency in Surfside featuring amazing hotel luxuries and high-scale living space with a full view of the ocean. Richard Meier crafted 150 residences with glass walls and high ceilings, collaborated with Joseph Dirand to accommodate each space with custom designed furniture, and partnered with Lee Mindel on the interior finishes. Amenities at the Four Seasons Surf Club and services include:
A spa and fitness center
Restaurants with a variety of seating options indoors and outdoors
Private lobbies
Concierge, butler, and grocery provisioning services by

Four Seasons
Children's programs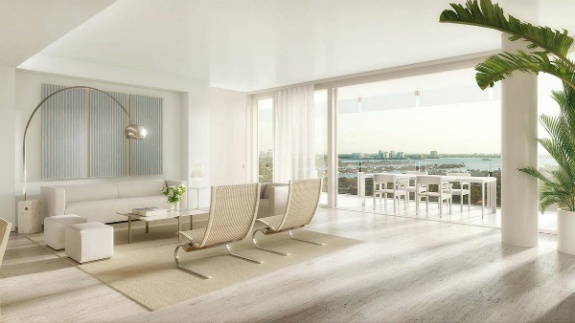 Four Seasons Surf Club Condos for Sale
Park Grove by OMA and Rem Koolhaas
Park Grove will be perfect for families who want to exist in a beach-side haven. The property will be 80,000 square-feet with 5 acres of private gardens created by Enzo Enena. You will also be able to experience one of Miami's most stunning views from private rooftop pools. Park Grove will live in the Coconut Grove neighborhood of Miami, where you can visit the Vizcaya gardens and museum, send your kids to top-notch private schools, and reap all the benefits of living on the coast. Amenities and services include:
Children's indoor and outdoor play areas
500 unique pools
Spas equipped with treatment rooms
Private dining areas
28-seat private screening room
Wine tasting room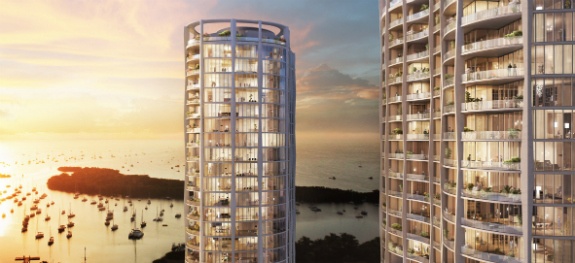 1000 Museum by Zaha Hadid
Zaha Hadid's design can best be expressed in her own words, "I believe in the idea of the future." This shows one of the reasons why she is the first woman to be awarded the Pritzker Prize. This conceptualized 60-story building will give to Downtown Miami a futuristic twist. Speaking of twists, the unique curves of the tower will create the space for oversized terraces. Not only will the outside look like it's from the future, but the smart, high-speed elevators and Crestron home automation infrastructure will make you feel like you've transported there yourself. Features at 1000 Museum include:
State-of-the-art kitchen appliances
Custom Italian quartz countertops and walk-in closets
Panoramic views of the Atlantic Ocean, Biscayne Bay, and the Miami skyline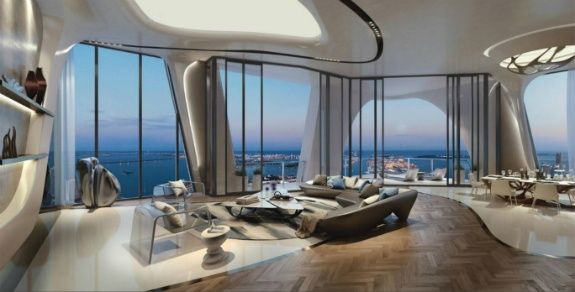 Monad Terrace by Ateliers Jean Nouvel
Another Pritzker Prize-winner, Ateliers Jean Nouvel, designed this layered South Beach Bay building with en-suite elevators and 18-foot-high ceilings. He plays up the beauty of simplicity, with light and water as his inspiration, but he also pays homage to other natural elements with stone countertops and wooden details in the kitchen. Amenities and services at Monad Terrace include:
24-hour concierge service and lobby attendant
116-foot swimming pool with sun deck and hot tub
Café and juice bar
Storage space large enough for water sports equipment
Climbing gardens with plenty of privacy and tropical foliage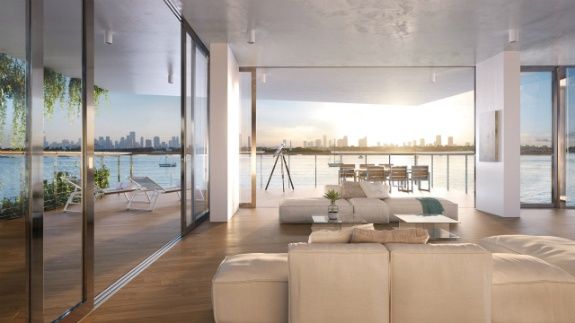 Grove at Grand Bay by Bjarke Ingels
The twisted wide-based structures of Grove at Grand Bay are sculptures to be marveled at. Ingels created these 98 homes as a beautiful addition to the Miami skyline. At first glance, these eco-friendly buildings located in Coconut Grove, appear to be made entirely of glass and this illusion becomes even more alluring at night when the lights from inside create a translucent appearance. Amenities and services include:
2 rooftop pools and decks with luxury lounge seating and bar
Spas for both residents and their furry friends
Library
Children's play room with plenty of space and a TV
2,500-square-foot fitness center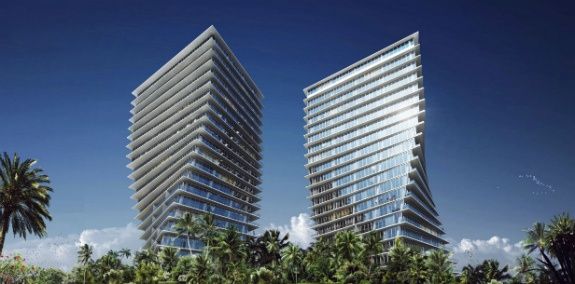 Grove at Grand Bay Condos for Sale
These buildings give us a great glimpse at the future of the Miami luxury real estate market for luxury buyers. If you're considering Miami for your next residential property purchase, get in touch with one of our trusted team members in Miami. At Manhattan Miami we want to help you find the right property for the right price that will also get you the most for your money in the long-run.
6. Enrolling Foreign Students in Miami Public Schools
As an investor looking to purchase real estate in Miami and eventually move your children there, you'll want to take time to investigate what Miami Public school system has to offer. First, Miami-Dade's school system is the fourth largest in the United States. This means you can expect a lot of diversity both in student body and in types of education available.
In Miami, the school system doesn't operate as part of the metropolitan government and is instead, its own independent agency. Because of this, there is an abundance of data about the makeup of the student body. To help you get started, here's a quick fact list about the Miami-Dade school system. We'll also discuss the documentation necessary to enroll your international student in Miami-Dade schools.
Miami-Dade Quick Facts
The total number of students in Miami-Dade's 467 schools is a little over 350,000 and of those 350,000, at least 58% speak another language at home.
The largest majority ethnicity of Miami-Dade schools is Spanish. The second largest is Haitian.
Arabic, Chinese, and Portuguese are also large ethnic groups represented in the Miami-Dade school system.
Miami-Dade school system has

many programs for gifted students

including advanced placement programs, an international baccalaureate program, and a Cambridge AICE program.
Miami-Dade is one of the pioneering school systems of the

"Choice Movement,"

meaning that students can be enrolled in any school that best meets their needs rather than being limited to the school district where their home is located.
Miami-Dade is home to

7 of the top 100 schools

in the nation.
Enrolling Your Student
After researching which school meets your student's needs—some of Miami's best being the International Preparatory Academy, in Coral Gables, Design and Architecture Senior High (DASH), in Midtown Miami, and The Archimedean Upper Conservatory Charter School, in Kendall-you'll face the task of enrolling them. One benefit of the Miami-Dade school system is that enrolling your international student is standardized across the board. This handbook covers everything in detail, but here are some of the more important points for your student.
Test of English as a Foreign Language (TOEFL). Most schools will want to make sure a student has some level of English skill. Accordingly, they will require

TOEFL
Placement Tests and Interviews.

It will be important for a child to enroll in the right grade level. Accordingly, many schools will require a placement test and some will want to interview the student and child to determine the best grade level for the child, based on previous academic work and proficiency in various topics.
Age and Legal Name Verification:

You must provide

one

of the following to verify name and age, a legal birth certificate, a certificate of baptism, an insurance policy on the child's life in force for at least two years, a bonafide religious record with a parental affidavit, a passport or certificate of arrival, a transcript of school records from at least 4 years prior stating birth, or an affidavit of age signed by parents and a certificate of age signed by a public health officer.
Verification of Address:

You must provide

two

of the following, a broker's or attorney's statement of parents' purchase of residence, a properly executed lease agreement, a Current Homestead Exemption Card, or an electric deposit receipt or electric bill, showing name and service address.
Health Requirements:

You must provide

both

of these forms.

A yellow Student Health Examination form – DH-3040 which certifies a physical examination performed one year prior to enrollment.
A Florida Certificate of Immunization – DH-680 from a private doctor, or local health provider.

School Records:

You need to provide

both

of these forms.

Verification of credits earned for grade placement
Interpretation of foreign records at no cost available from the Federal & State Compliance Office
At Manhattan-Miami, we understand that making the decision to purchase property may only be a small part of the process of relocating internationally. This is why we're dedicated to providing you resources to help ease your journey. We want you to have it all, a beautiful home, a new place to grow, and a great environment for your children to learn.
Miami Market News: