Tribeca Attractions
Hudson River Park
Tribeca has a ton of attractions to offer those who love spending time outdoors. Cross over West Street and hop onto the Hudson River Greenway, where you can take a stroll along the Hudson River. When the weather warms up, head to Pier 25 where you can play a game of beach volleyball on their volleyball court, not something you would expect to do in the big city.
Tribeca is also home to Washington Market Park, a serene neighborhood park that has tennis and basketball courts and a playground. This park also often has events on holidays, like a Halloween parade and a Christmas party.
Art Galleries in Tribeca
Tribeca also has many galleries that display works from top artists. One of the most celebrated galleries is Alexander and Bonin, which often has shows from mid-career artists.
Tribeca Film Festival
The Tribeca Film Festival was started by Robert De Niro and Jane Rosenthal in 2001. Its mission is to bring independent films to the widest possible audience. Both up and coming filmmakers and industry insiders partake in the festival.
Celebrity Enclave
Just about everyone knows that Taylor Swift has a home in Tribeca Manhattan NY, but there are many other A-list celebrities as well, such as Justin Timberlake and Jessica Beal, Ryan Reynolds and Blake Lively, Harry Styles, Meg Ryan and Jake Gyllenhaal, to name a few. Perhaps its best known former resident was John F. Kennedy Jr., who moved to Tribeca in the 90's when the neighborhood was somewhat desolate (especially at night), before Tribeca became as famous as it is now.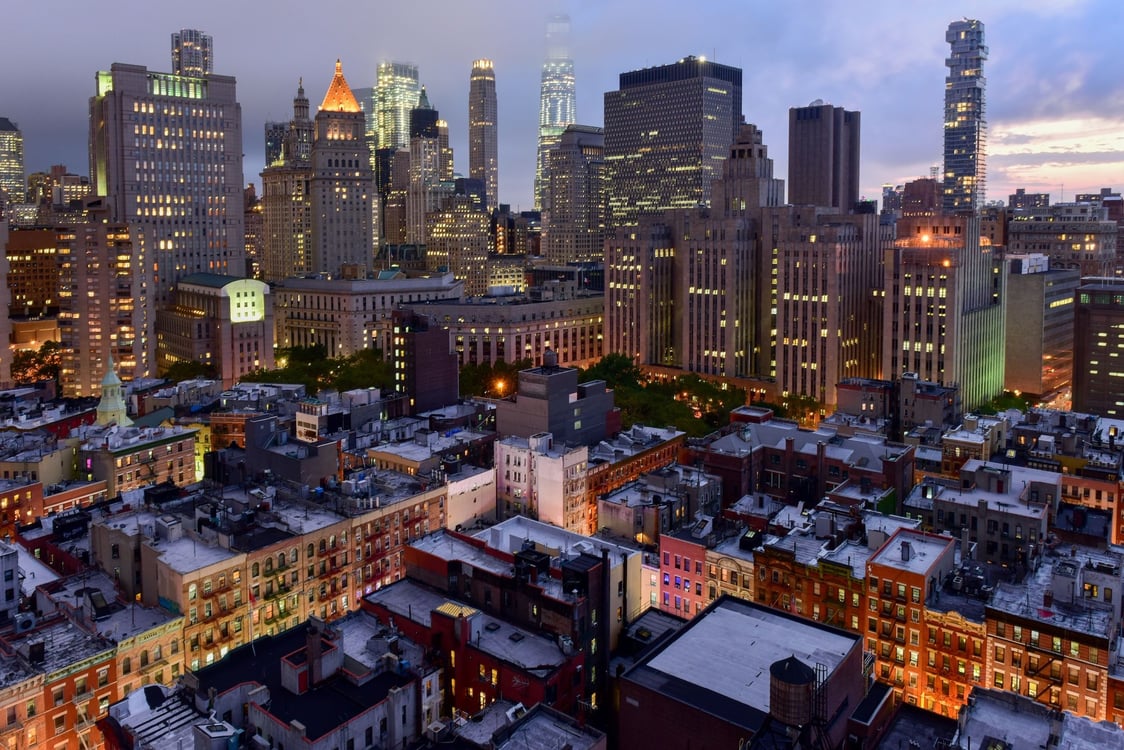 Tribeca Restaurants and Bars
Tribeca is known for its high-end restaurants. One good option is Tribeca Grill, which is owned by Robert DeNiro. Close by DeNiro has another restaurant called Locanda Verde. Some others that we like include Odeon, Scalini Fedeli and Chela Tribeca.
City Vineyard at Pier 26 is located right on the Hudson River. Enjoy the summer rooftop bar and lounge or winter lodge while eating American fare, drinking American made wine and
Tribeca's nightlife scene is a bit more low-key than other spots in the city, but there are still plenty of options for those who want to relax with a glass of wine or a cocktail.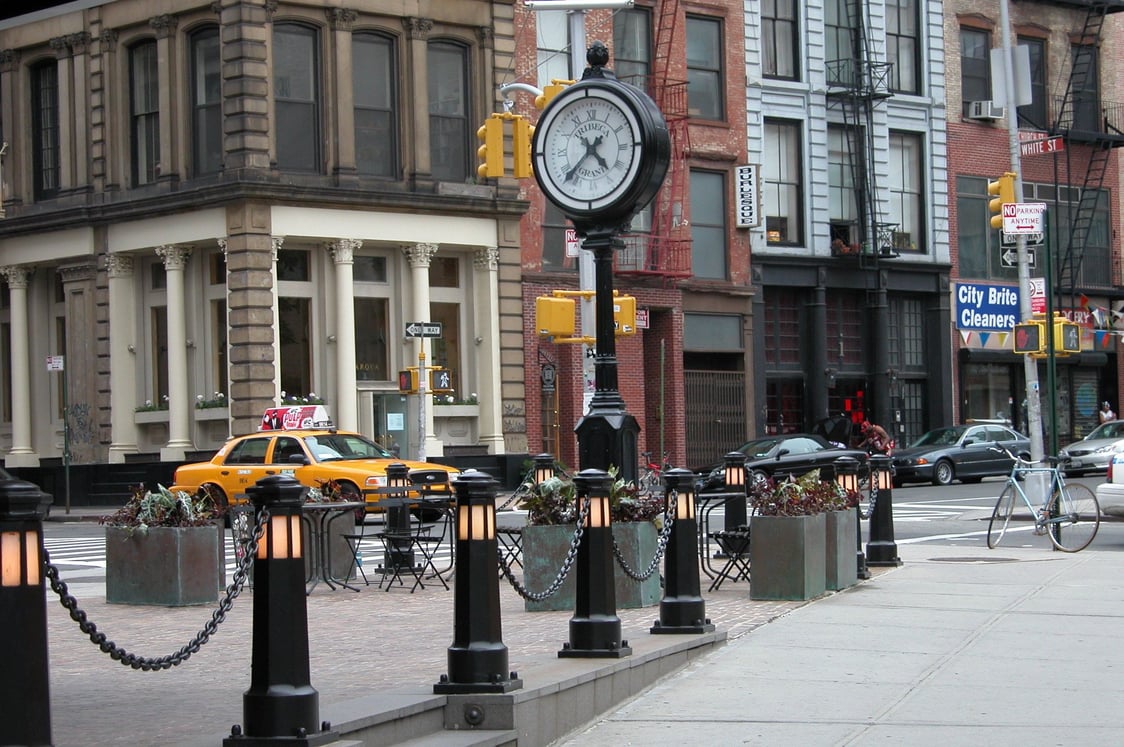 70 Vestry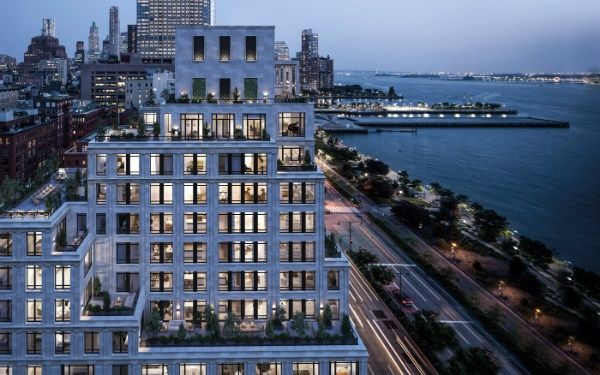 Built in 2018, 70 Vestry Street is one of the most exclusive Tribeca apartments NYC. Designed by infamous New York NY architect, Robert A.M. Stern, with interiors by Daniel Romualdez, this building rises only 13-stories on the Hudson River.
Like many of Stern's other buildings (such as 15 Central Park West, 520 Park and 220 Central Park South), 70 Vestry is clad in French limestone, which is unusual for a Downtown condo project. Most of the units have unobstructed views of the Hudson River and many will have terraces, with great river views.
Tom Brady and Gizelle Bundchen once owned here before decamping for Tampa. Italian entrepreneur Silvio Scaglia owns a penthouse and Lewis Hamilton (Formula 1) bought a $40M apartment.
111 Murray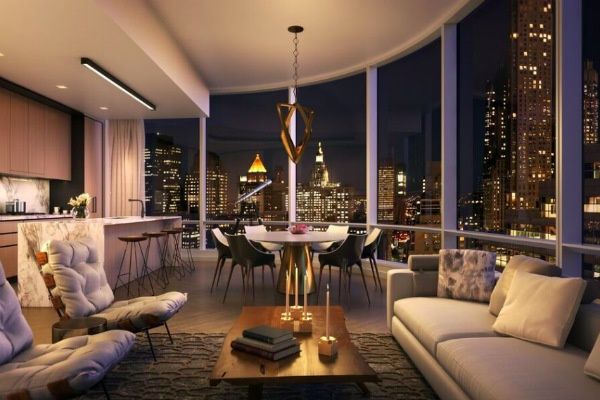 111 Murray Street is perhaps one of the newest condo buildings in Tribeca. The sculpted tower was designed by Kohn Pedersen Fox is somewhat fluted at the top allowing the highest apartments to have the most square footage.
The Fisher Brothers and Witkoff developed the property, which has one of the most refined finishes both inside each unit and in the 20,000 square feet of common areas of the building. The interiors were designed by David Rockwell.
56 Leonard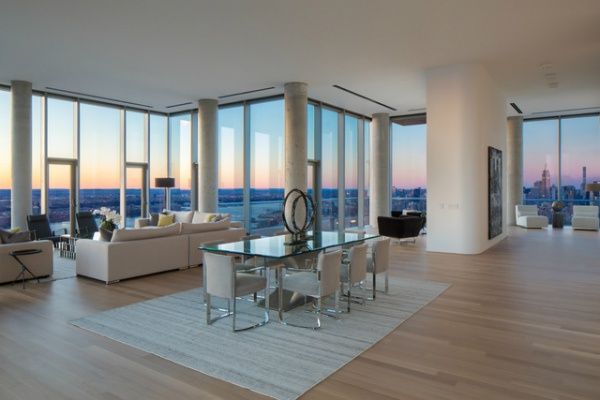 One of the most recognizable of all Tribeca high rise apartments is 56 Leonard, which is also known as the Jenga Building. Amongst the low rise buildings of Tribeca, 56 Leonard rises 56 stories, giving every apartment in the building a stunning view.
Herzog and DeMeuron are the architects behind these amazing minimalist apartments in Tribeca, which is not known for minimalism. Many consider owning an apartment in this building like owning a piece of artwork. The layouts are very unique, with balconies and cantilevers all the way up the building.
108 Leonard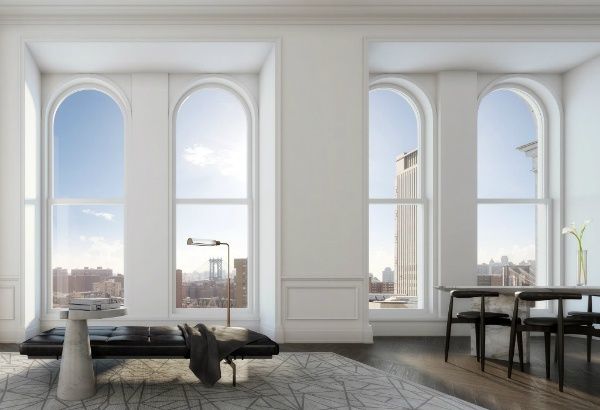 108 Leonard is an Italian Renaissance-style landmarked building that was built in 1898 and which now has some of the newest Tribeca New York Apartments for sale. This conversion of the New York Life Insurance Company building into condos was recently completed, making it one of the most recent buildings that has gone on sale in Tribeca Manhattan.
The result of the 108 Leonard conversion allows for some great layouts and floor plans. The Interiors were designed by Jeffrey Beers International.
The Four Seasons Residences Downtown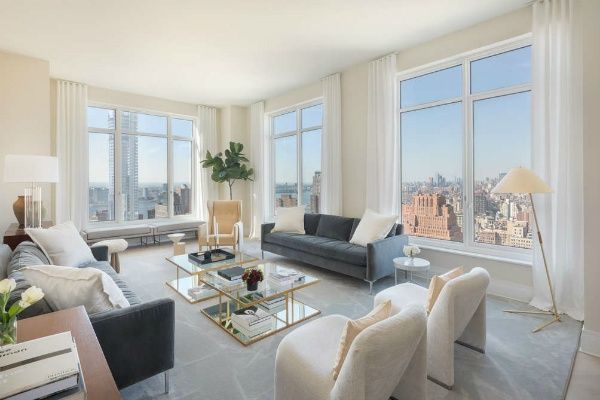 The Four Seasons Private Residence Downtown located at 30 Park Place has some of the finest Tribeca luxury apartments. This prestigious hotel and condo building rises 926 feet tall over 82 stories, making it one of the tallest residential buildings in all of downtown. Located in sophisticated Tribeca, just north of the World Trade Center, the building serves a huge need in the area for true 5-star hotels, as well as private residences with 5-star hotel services.
Designed by architect Robert A. M. Stern, the same architect that designed 15 Central Park West(currently, the most expensive and chronicled condo building in NYC), the Four Seasons Private Residences Downtown is the only classically styled new construction condo building in Downtown Manhattan. With a limestone façade, herringbone pattern oak flooring, and oversized double-pain windows, it is one of the best options for a buyer looking for timeless elegance.
The Four Seasons Private Residence Downtown amenities include hotel services a la carte, including 75-foot pool, spa, 5-star restaurant, bars, and most importantly, room service and housekeeping. Private residents have their own amenities on floors 38 and 39, including fitness center, yoga studio, landscaped double-height loggias, vaulted conservatory featuring double height ceilings and baby grand piano, private dining room, screening room with cinema, lounge with gas fireplace, children's playroom, among many others.
100 Barclay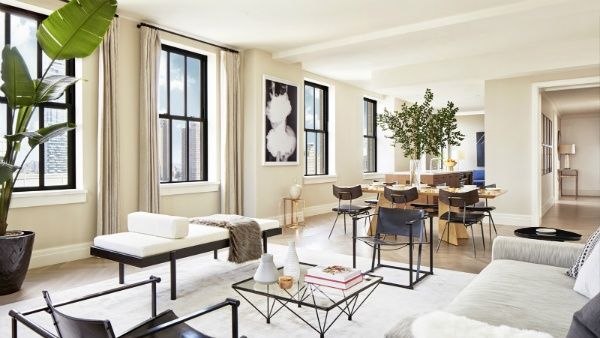 One Hundred Barclay in Tribeca is a red brick pre-war landmarked building that once housed Verizon. Designed by Ralph Walker, the building was completed in 1927. With over 40,000 square feet of amenities.
443 Greenwich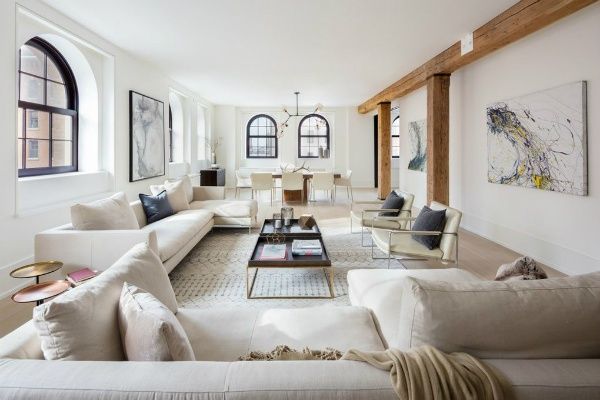 A Tribeca landmark, 443 Greenwich is a conversion of a 19th Century book binding factory, into Tribeca luxury apartments. This boutique building of 53 lofts is extremely popular with A-list celebrities, at 443 Greenwich is a building they feel right at home at. Christopher Peacock kitchens, the finest kitchens in the world, adorn resident's kitchens.
The private courtyard allows for privacy and quiet in the middle of the big city. Paparazzi proof entry way allows residents to enter the garage through double doors into the vaulted lower level lobby.
Cast Iron House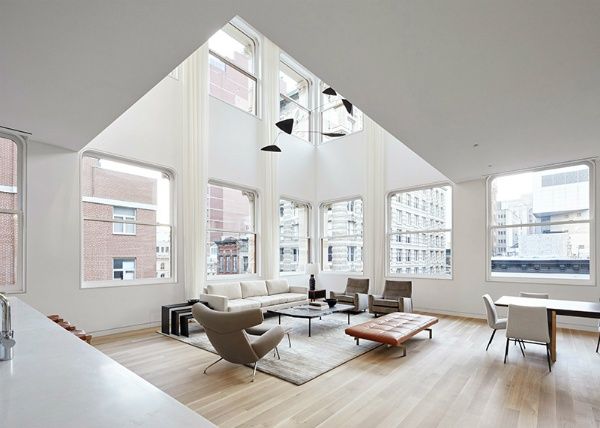 Seguru Ban, the infamous Pritzker-prize-winning Japanese architect designed the Cast Iron House. Originally built in 1881, the Cast Iron House is a perfect specimen of 19th Century cast iron architecture. The building rises only 6 stories and has only 13 apartments Many of the apartments are two stories that allow some apartments to have very high ceilings.
15 Hubert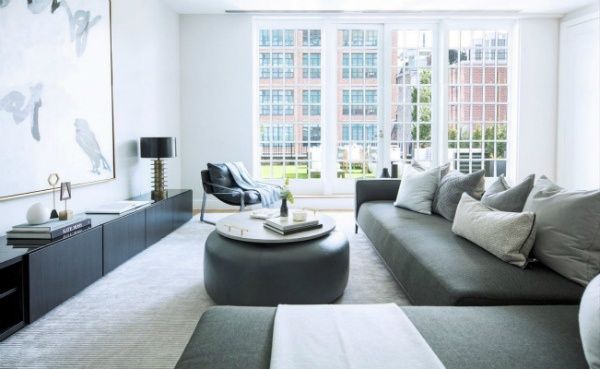 15 Hubert is located in TriBeCa's landmark historic district, which lies in the northwest of the neighborhood where you will find cobblestone streets and renovated warehouses that have been turned into quintessential Tribeca lofts. With only 12 voluminous luxury condo residences in the building, 15 Hubert is very comfortable and private. The building overlooks the Hudson River and is surrounded by Michelin star restaurants.
Please reach out to us to schedule a tour if there are any buildings you find interesting. Given their high profile, most of these buildings don't allow an Open House, only private appointments.