New Development Upper West Side Apartments for Sale
Since the Upper West Side is already very established, the neighborhood doesn't see a lot of large-scale new development of new homes. With the recent addition of the glassy Waterline Square on the western edge of Lincoln Square along the Hudson River, the neighborhood is now fully built.
Accordingly, we don't expect to see any future large-scale new development in any one part of the UWS. Rather, we'll see a handful of new boutique buildings or conversions every year, but nothing on a grand scale like we have seen over the past 10 years along the Hudson River.
With that said, there are some very interesting Upper West Side Condos for sale at the moment, including two very tall towers: 50 W 66th Street by Extell will be 70-stories when it is completed. It sits between 65th and 66th Streets and will have amazing park views above the 40th floor. Another tower that has apartments ready for move-in is 200 Amsterdam at 70th and Amsterdam Avenue. Both buildings have some of the most modern Upper West Side luxury apartments in the neighborhood. These are some of the nicest and most expensive apartments uws will ever see.
While not technically in the Upper West Side, Morningside Heights, which runs from 110th St to 125th St, often gets lumped in with the UWS. Therefore, when searching apartments Upper West Side will not include morningside heights listings. Morningside Heights, which is dominated by Columbia University, has two new pre-war style towers that we love - Claremont Hall designed by Robert A.M. Stern (see below), and the Vandewater.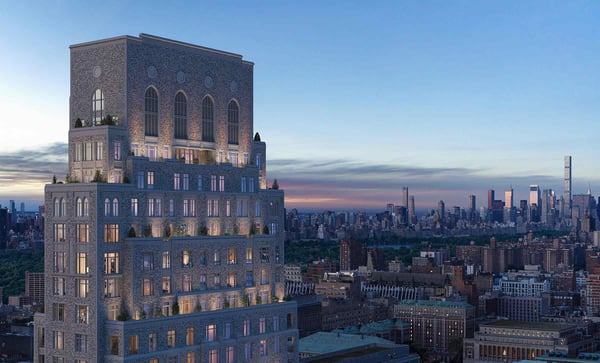 The UWS Neighborhood
The neighborhood goes all the way from 59th Street to 110th Street, and because it's so large, you will find a wide array of the types of homes there. At the bottom of the neighborhood, close to bustling Columbus Circle, you'll find many high-rise luxury condos, including 15 Central Park West and the Time Warner Center (which has two towers and is right on Columbus Circle).
As you travel farther north, though, you'll start seeing more preserved, pre-war brownstones on streets that are so quiet, you'll forget that you're in Manhattan. At the northernmost part of the neighborhood, you'll find more affordable but still lovely places to live. The Upper West Side is a wonderful place for those looking for a quieter neighborhood that still has easy access to the rest of Manhattan.
With that being said, however, there are areas of the UWS that are vibrant both day and night (think Zabars, Fairway, Citarella, Fiorello's, The Smith, Trader Joes, Bar Boulud, AMC Theaters, to name a few). And, the neighborhood is filled with a great cross-section of people, including families and singles. The character of the neighborhood prompted us to locate our office in the Upper West Side, in the Lincoln Center neighborhood at the corner of West 67th and Columbus Avenue.
The Riverside/West End Historic District is located between 85th and 95th Streets near Riverside Drive and West End Avenue, which was developed starting in 1884. Many mansions sat along the Hudson River, many of which were replaced by apartment houses.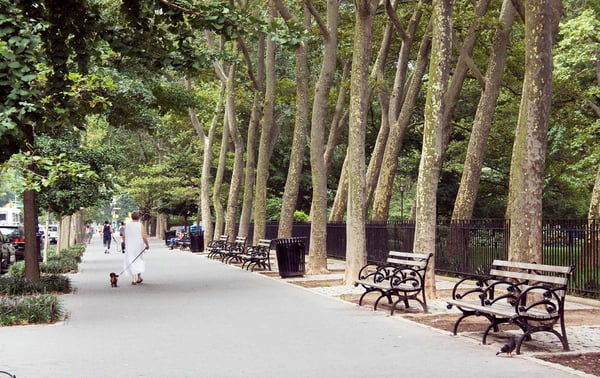 UWS Attractions
Lincoln Center for the Performing Arts is perhaps one of the most recognized cultural institutions in the world. Some condos for sale in the upper west side come with soundproof common music rooms to practice an instrument. This is a new amenity that can be found in some UWS apartments in recent times.
The Upper West Side is home to one of the city's best-known museums: the American Museum of Natural History. They're famous for their well-preserved dinosaur skeletons and fossils, and they also have many exhibits about modern-day animals. The AMNH also houses the Hayden Planetarium. Here, you can see Dark Universe, a show that discusses some of the most significant discoveries made by astrophysicists.
The UWS also has plenty to offer those looking for greenspace, as Central Park and Riverside Park both feature prominently in the neighborhood. Take a walk through the tree-filled Rambles, or relax at the Sheep Meadow and take in the views of Midtown. Head over to Riverside Park on the UWS westside if you prefer a quieter park. This park borders the Hudson River, and it has biking and walking trails that provide stunning, unbroken views of the Hudson.
You'll also see many independent bookstores and boutiques along Amsterdam Avenue, Columbus Avenue, and Broadway. The Westsider Rare and Used Books sells rare first editions, and they also have used books that are stacked all the way up to the ceiling. Books of Wonder is a popular spot for families, and they have many unique children's books. Shishi, Liana, and Darryl's Boutique are all favorites of fashion lovers, and they also offer chic and eclectic pieces that make a statement.