15 Hudson Yards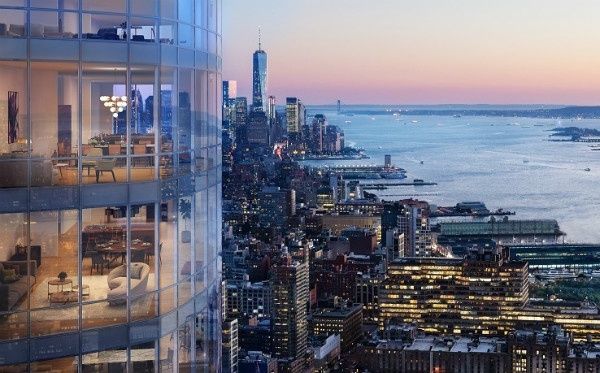 Address: 15 Hudson Yards NY (at the corner of West 30th and 11th Avenue), 501 West 30th Street
Project: Fifteen Hudson Yards was designed by Diller Scofidio + Renfro in collaboration with Rockwell Group. This 89-story glass tower features an elegant silhouette, formed by four graceful arcs of glass at the top of the tower. The views south are protected and stunning, with open views overlooking a low rise West Chelsea. 15 Hudson Yards is located along the High Line and is adjacent to The Shed, a huge cultural event space.
The building features 1 - 4 bedroom units. The project doesn't have just one 15 Hudson Yards Penthouse, but, instead, there are 4 penthouses per floor from floors 81 - 89, all in the 5,100 sq. ft. range.
Over 40,000 sq. ft. of amenities with one amenity above all others. There is an out of this world rooftop terrace at 15 Hudson Yards called the Skytop which is shielded from the wind with 60' of glass screen wall.
This is 900 feet above New York City. Adjacent to the Skytop is a lounge, private catering kitchen and dining room, a rare offering. In addition there are two floors of amenities on the 50th and 51st floors.
15 Hudson Yards is truly a 5-star building and given its physical position, this building may have the best views in the whole project.
Amenities: 75-foot pool, a whirlpool, and a private spa with treatment rooms; a fitness center, co-working space; a beauty bar; and wine storage along with a dining room and tasting room.
35 Hudson Yards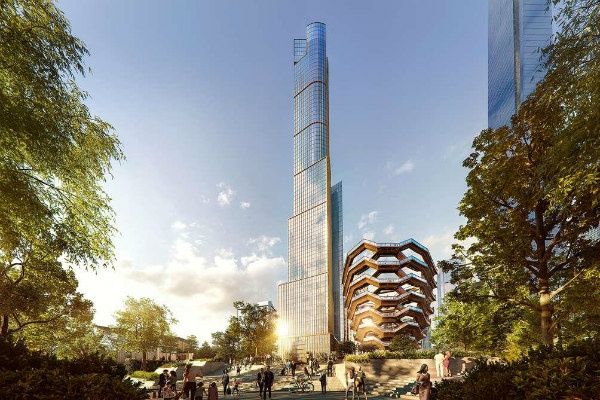 Address: 35 Hudson Yards (11th Avenue between West 33rd and West 34th Streets), 500 West 33rd Street
Project: Thirty-Five Hudson Yards was designed by David Childs of SOM with interiors designed by AD100 designer Tony Ingrao. This limestone tower rises 92 stories and offers great views of the city and the Hudson River.
Starting on the 50th floor, the condo residences are sleek with floor-to-ceiling windows that have great views. The vibe at 35 Hudson Yards is that of a 5-star hotel. The materials are so rich and tasteful, unlike a lot of other NYC apartment buildings that deliver cookie cutter apartments with bland finishes. Not at 35 Hudson Yards!
Unique to the building, 35 Hudson Yards is home to the flagship Equinox Hotel, Club and Spa, a 150-room, five-star hotel with a ballroom. In addition, there is a flagship Equinox Fitness Club with indoor and outdoor swimming pools, SoulCycle, and Equinox Spa.
Pricing here is a bit higher than the homes for sale at its sister building, 15 Hudson Yards. One feels like they are at the Four Seasons Hotel or Mandarin Oriental. The richness of the materials in not only the interiors, but also the common areas really stand out.
Apartments are large, with 2 bedrooms starting at 1,832 square feet and 3 bedrooms starting at 2,453.
Amenities: 3 on-site restaurants offering in-residence dining. In addition to the hotel amenities, residents have a full suite of private amenities: business center, board rooms, lounge, residents-only fitness center, playroom, game room, dining room, and grand terrace with catering services.
Eastern Yards
Hudson Yards itself consists of two areas. The Eastern Yards have been fully built. The Western Yards will likely come up in the next 10 years, but unlike the Eastern Yards which was all built at the same time, the buildings in the Wester Yards will come in one by one over time.
Phase I of Hudson Yard occupies the area from West 30th Street to West 33rd Street between 10th and 11th Avenues. The Hudson Yards project features some great architecture, as noted below:
10 Hudson Yards, the first office tower to open in May 2016, is 52-stories tall. It was designed by Hudson Yards Master Plan architecture firm Kohn Pedersen Fox and is home to Coach, L'Oreal, VaynerMedia, and SAP
15 Hudson Yards, the first residential tower to open at the end of 2018, is 71 stories tall and was designed by Diller Scofidio + Renfro, with interiors by David Rockwell and Ismael Levya architects.
30 Hudson Yards, the tallest office in the project, this 92-story office tower houses Time Warner, CNN and HBO corporate offices. The building was designed by Kohn Pederson Fox and occupancy is expected by the end of 2019. At the top of 30 Hudson Yards is the Edge, the highest outdoor observation deck in the western hemisphere. The Peak restaurant can be found on the 101st floor of 30 Hudson Yards.
35 Hudson Yards, a 79-story tower featuring an Equinox branded hotel and 36 floors of residences, was designed by David Childs of SOM, formerly Skidmore Owings Merrill.
50 Hudson Yards, a 58-story tower, which will house BlackRock, was designed by Foster + Partners.
55 Hudson Yards was designed by Kohn Pedersen Fox and Kevin Roche John Dinkeloo and Associates. To-date it has attracted a plethora of financial firms and hedge funds such as Point72 Asset Management that manages the assets of Steve Cohen, Third Point headed by Daniel Loeb, and Stonepeak Infrastructure Partners. In addition, law firms Cooley and Boies Schiller are future tenants.
The Shops at Hudson Yards was designed by Kohn Pedersen Fox and is a 7-story luxury destination with a combination of global icons, independent boutiques and an array of restaurants. Brands include: Cartier, Patek Philippe, Stuart Weitzman, Van Cleef & Arpels, Zara and H&M, among others. In addition, Thomas Keller will curate the restaurant collection at Hudson Yards and will feature some of the best dining in the world. Costas Spiliadis (Estiatorio Milos), Michael Lomonaco, David Chang and Jose Andres all have restaurants here.
The Shed is a six-story telescopic building designed by Diller Scofidio + Renfro and Rockwell Group. The building will be a visual arts and performing arts center on the south side of Hudson Yards. Scheduled for completion in 2019, it is expected to be home to several high profile events, including New York Fashion Week.
The Vessel, a $200 million sculpture at the center of Hudson Yards Phase I, what has been likened to NYC's Eiffel Tower, was designed by British designer Thomas Heatherwick, who is also designing two luxury condo towers straddling the high line at 515 West 18th Street in Chelsea.
7-Train, A special subway station was created for Hudson Yards at 34th and 11th. This is an extension of the 7 subway. In addition to the 7-train, the 34th and 8th Avenue station is close.
Western Yards
The Hudson Yard project in NYC continues to attract some of the best architects in the world, with the recent addition of Frank Gehry and Santiago Calatrava who, according to the Wall Street Journal, have been tapped to develop buildings of Phase II of the project. Phase II of Hudson Yard will occupy the area from West 30th Street to West 33rd Street between 11th Avenue and the West Side Highway in New York NY.
Phase II will consist of residential towers, an office complex and a school serving students from K-8th grades. Phase II won't be completed for some time, as the city has yet to grant approval to build over the train tracks.
One of the latest Hudson Yards apartments for rent is in a building called The Set, which is just north of the Eastern Yards. These apartments are fully furnished and the building is a cross between a five star hotel and luxury condo building. The Coterie, also north of the Hudson Yards has Hudson Yards apartments for rent for those needing assisted living.
Hudson Yards (neighborhood), Manhattan is going to be the most exciting place in the city, once it is fully built. That might take some time though, but we are enjoying what has already been delivered right now!