The History of Fisher Island
Fisher Island Florida was originally just a piece of land in Biscayne Bay with coconut palms and mangroves. Carl Fisher, the founder and developer of Miami Beach, bought it from Dana Dorsey, the first African American millionaire in South Florida. The Port of Miami was built to distinguish the lush extension from Miami Beach, resulting in the creation of a distinct island we now know as Fisher Island.
While Fisher Island was bought by Carl Fisher in 1919, only a year later it was traded to William Vanderbilt II. The heir interestingly received the island in exchange for a large boat and only ten dollars. Over the next two decades, the Vanderbilts owned Fisher Island where they constructed an airplane landing dock, many large houses, and their ornate mansion that is still the island's centerpiece. Ownership has changed many times since Vanderbilt's death in 1944, with Fisher Island Club holding the reins since 1987.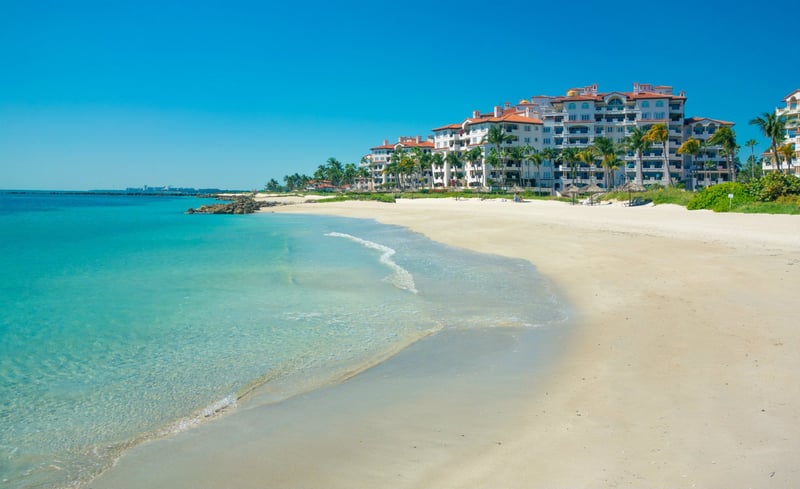 The Fisher Island Lifestyle
Fisher Island is now a very exclusive private community. It's often described as one of the best-kept secrets of Miami, and it's home to many celebrities, heads of industry and wealthy residents. Fisher Island is home to about 700 families, but only about a third of them live there year-round. The majority of people enjoy their holidays or a few months per year on Fisher Island. About half of the residents on Fisher Island Florida also own property in major cities like Manhattan, allowing families to take advantage of the amenities in both New York City and Miami.
In more recent years, families have started to make Fisher Island Florida their primary residence. One big appeal with homeowners on Fisher Island is the private island allows you to protect assets. Those who live on Fisher Island say the best part about living on the island is the protection, thanks to the tight security surrounding the entry process and the island itself.
Residents in Fisher Island Miami are used to efficient ferry transportation, which is the only way to get to and from the island unless you have your own boat or a helicopter. To get to Fisher Island, you take the MacArthur Causeway between Miami and Miami Beach and drive to Terminal Island. You can then drive your car onto a ferry that will take you to Fisher Island in just a few minutes. Residents have some personal parking spaces after arriving on Fisher Island, but they mainly travel around the island by golf cart.
Fisher Island Florida Amenities
Amenities on the tropical retreat of Fisher Island include great restaurants and bars, and the infamous Fisher Island Club. The Vanderbilt mansion, golf course, beach club, hotel accommodation, pool, tennis center, and private marinas were all thoughtfully restored and renovated during the Rebirth of Fisher Island, which was completed in the summer of 2013. There are now plenty of amenities to take advantage of on Fisher Island that creates a wholly unique and unparalleled lifestyle, making it one of the best places to invest.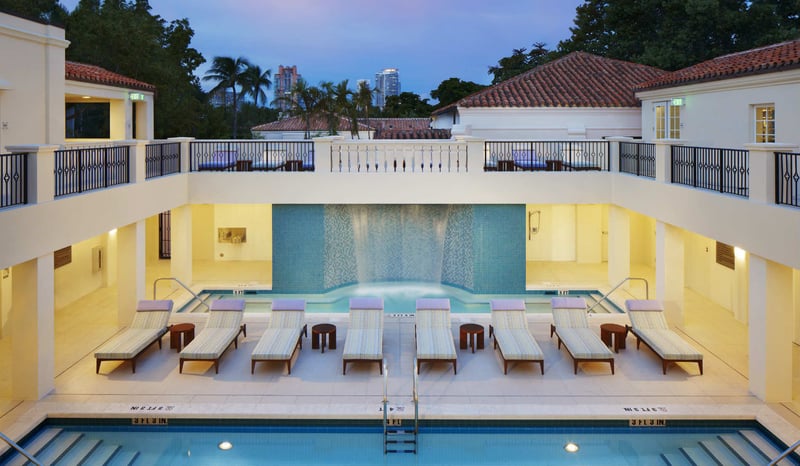 Travel
With an island residence that's completely detached from the mainland, many wonder how to get to Fisher Island. The Ferry to Fisher Island departs every 5 minutes and takes up to 7 and a half minutes to arrive. This allows you to experience the city nightlife and the Miami beaches whenever you feel like taking a break from the island. Ferries run all year and can carry residents and their guests. You can also land a helicopter directly onto the landing pad at the Vanderbilt Mansion.
Fisher Island Club
The uber-exclusive Fisher Island Club, also referred to as the heart of the island, is an exclusive membership available only to island residents. While being situated under one roof, the club provides a diverse range of facilities and services.
Vanderbilt Mansion
The historic Mediterranean-style Vanderbilt Mansion was designed by renowned Palm Beach architect Maurice Fatio in 1935. It houses the Garwood Lounge and Piano Bar, the Snooker Club Billiards, the City View Café, the Library Drawing Room and Salon, Café Tangier, the Grand Ballroom, and a heated saltwater pool.
Restaurants
You can find nine restaurants on Fisher Island, including the famous 1930s-styled Garwood Lounge & Piano Bar steakhouse at the Vanderbilt Mansion. The casual Italian cuisine of La Trattoria can be enjoyed while overlooking one of two marinas in the European-designed town center. The innovative, world-class Mediterranean dining of Porto Cervo is just east of the golf course and pro shop, and the island's beautiful Beach Club features a Sunset Bar with incredible views of the Biscayne Bay.
Recreation
On Fisher Island, you can enjoy the P.B. Dye-designed championship fairway, which is South Florida's most coveted seaside golf course and club and is described as 18-holes in 9. The racquet club also has 18 tennis courts with professional-level surfacing, and the island has its own state-of-the-art fitness center with holistic nutrition coaching. The enclave's stunning scenery and spectacular ocean vistas are interspersed with a myriad of scenic biking and hiking trails.
Shopping & Spas
The Island Market, Spa Internazionale, The Links Golf Shop, and Tennis Pro Shop on Fisher Island offer a quaint range of high-end wares. Gourmet food and drinks are very accessible, as well as organic produce, natural beauty lines, and luxury sportswear and equipment. The acclaimed Spa Internazionale and Salon di Bellezza is an elegant escape that promotes health and relaxation. Here resort visitors and locals can take advantage of Miami's most innovative holistic wellness facilities.
Education
Fisher Island Day School, the isle's highly coveted, top-ranked school, was designed with private funds from islanders and offers creative classes for students in grades 2 through 8. Many community-centered projects are included in its interactive curriculum, such as a fun design competition for Palazzo Della Luna's on-site kid's playroom.
How Much Does it Cost to Live on Fisher Island?
Living on Fisher Island Florida does include a large price tag considering its exclusivity and island amenities. So how much does it cost to live on Fisher Island when you factor in home costs, travel, and other unique fees. Fisher Island, FL has a median household income of $200,000 and a median home value of $2,000,000. You'll have to pay a $250,000 initial membership fee and roughly $22,256 in annual dues to become a member of Fisher Island, on top of the cost of a multimillion-dollar condo.
Another major cost consideration is your method of travel. Some residents use the ferry to get to and from the island, but you may also want a personal boat that can be parked along Fisher Island's docks as another mode of transportation. The cost of purchasing permanent dockside property is $125,000 to $500,000. Another alternative is owning or renting a helicopter for your island travel. While you're on the island, you'll most likely be tempted to get yourself a golf cart. Golf carts are privately owned, but each resident of the island's newest and most opulent homes, Palazzo Del Sol and Palazzo Della Luna receive a custom $20,000 Garia golf cart.
Homes on Fisher Island For Sale
Two of the island's newest and most spacious Fisher Island condos are Palazzo Del Sol and Palazzo Della Luna. Palazzo Del Sol opened in 2016, and the 3,800 to 9,800 square feet homes are situated on nearly 5 acres of prime island land and seascapes. The famous Miami Renaissance architect, Kobi Karp, designed these 46 ultra-private homes. They are housed in a 10-story 'palazzo' on the island's last remaining waterfront parcel, located at 7000 Fisher Island Drive, at the juncture of Miami's Biscayne Bay and the Atlantic Ocean.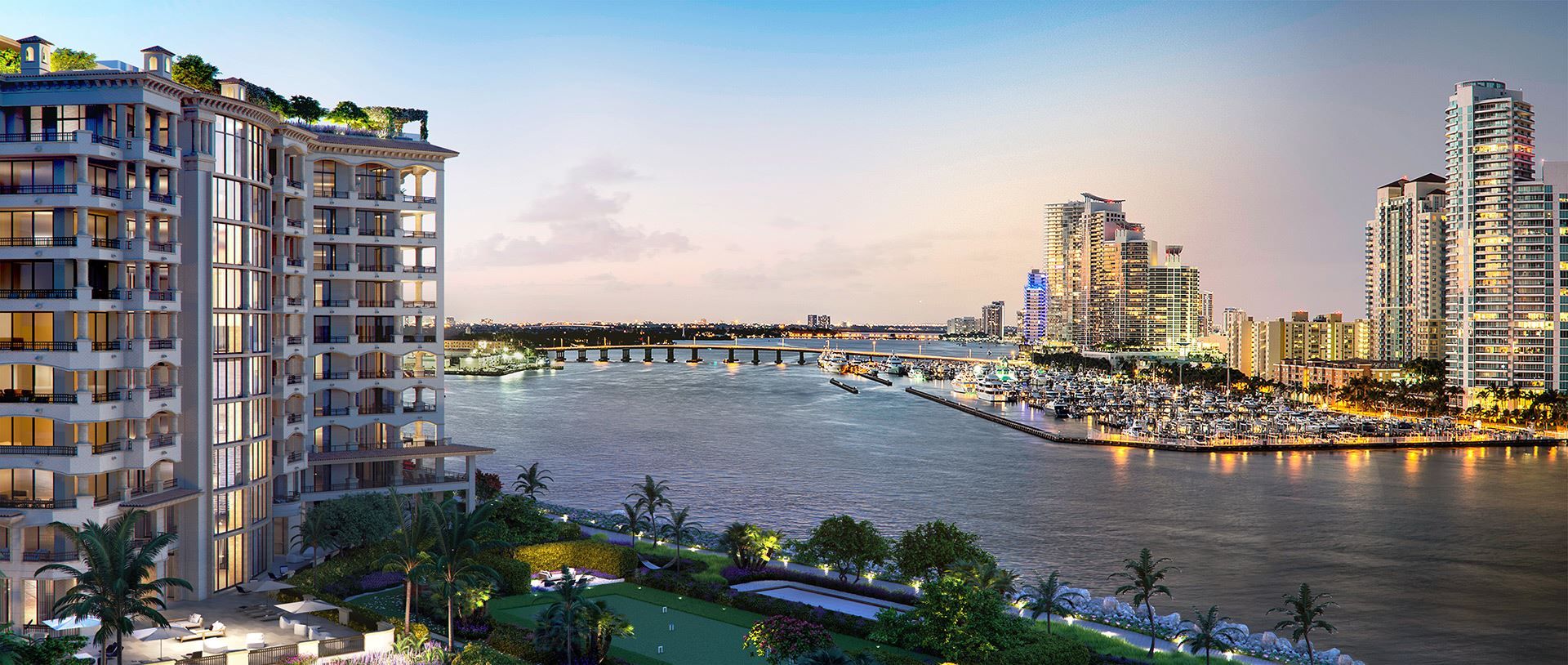 Palazzo Della Luna, which opened in 2018, includes 50 waterfront homes, ranging in size from 3,724 to 10,194 square feet, and are located at 6800 Fisher Island Drive and feature spacious luxury residences, penthouses, and lanai layouts. They are Fisher Island's only 6-star homes, along with those at the sister property Palazzo Del Sol. A 4,000 square-foot Sunset pool with a separate Sunrise pool, a wide 'Central Park' with tranquility garden, yoga lawn, croquet green, and architecture inspired by the island's famous Vanderbilt Mansion are among the amenities.
Bayview is located on the northwest corner of Fisher Island Florida and it has gorgeous views of the Atlantic Ocean, Downtown Miami, and the stunning Biscayne Bay. Six mid-rise towers house 111 homes with two to six bedrooms, penthouses, and spacious floor plans ranging from 2,000 to nearly 10,000 square feet. The world-renowned Fisher Island Hotel & Resort, luxury spas, Marina & Yachting Center, P.B. Dye-designed golf course, and delectable restaurants are only steps away from Bayview. These luxurious and highly exclusive residences at 4811-5393 Fisher Island Dr also feature expansive terraces and a private waterfront swimming pool.
The Palazzo Del Mare is located at 7193 Fisher Island Drive and was completed in 2008. With mesmerizing views of the Atlantic Ocean, this Mediterranean-style building offers a fantastic view of South Beach and the Government Cut. There are 32 limited edition homes spread over ten floors, each with European kitchens and marble floors, sleek Spanish flow-through designs, high-end Gaggenau appliances, and four special floor plans to choose from. An on-site spa with a heated outdoor pool, a media room with theater seating, a fitness center, and exclusive elevator lobbies to each unit are among the amenities of these Fisher Island homes for sale.
The six spectacular Mediterranean-inspired stucco buildings at Oceanside feature a diverse array of oceanfront condos and residences. They have set the benchmark for Fisher Island Florida real estate for the last 25 years with 134 residences that feature elegant two-to-five bedroom designs with natural wood and marble flooring, spacious chef's kitchens, and trendy Spanish craftsmanship. These east side properties in Fisher Island at 7411-8062 Fisher Island Drive include a private resident vehicle and golf cart parking, a beachside swimming pool, and access to downtown Miami and the Brickell Financial District.
Live in Luxury on Fisher Island Florida
In a hot spot like Miami, there's nothing quite like living on Fisher Island Florida. Fisher Island is second only to South Beach in terms of name recognition among a real jet-set crowd of the international elite. Whether you're looking to buy a vacation home or a permanent residence, you can benefit from a truly exclusive home with all of the island amenities you're looking for. Fisher Island, with all of its serenity, is where true luxury can be found.