A Video Update from Urbandigs
A lot of clients have been asking what is going on in the NYC market, so I wanted to send you a quick update via a video from Noah at Urbandigs.com. He has done a a great job of distilling what is going on in the Manhattan real estate market.
The video main takeaways are:
Policy driven reset for the Manhattan Market in 2019

Federal TJCA tax law change beginning in 2018 that limited SALT deductions to $10,000 made it more expensive for primary homeowners (not investors).

Mansion Tax increased as of July 1, 2019 to a sliding scale affected timing of purchases throughout 2019.

Market has been stabilizing: sales moderated, signed contract improved, and supply growth slowed.

Pending sales up 7%

Bottom of the market happened in Q4 2018
"The hit already happened", so it may be a good time to buy now.
Are you in the market to buy in NYC in 2020? If so, let me know what size property you are considering and I will send you a small selection of the best buys we are seeing for sale right now. The 4th quarter has seen some pricing at 2014 / 2015 levels. We don't expect the market to deteriorate further, especially now that the tax changes have been baked into the new market.
For a while now, we have been telling our clients that the bottom of the market, in terms of activity, was around Nov & Dec of 2018. The numbers in November and December 2019 confirmed our view, as contracts signed increased in the double digits compared to the same month last year. Due to the weather in NYC, we have some distinct selling seasons, so we always need to look to the prior year month or quarter to see how we are doing. [Toward the end of the Urban Digs video, he confirms what we have been telling our clients by comparing Pending Sales].

The numbers for 2019 were confusing because a hike in mansion taxes were announced in April for purchases after June 30, 2019. This brought forward a significant number of high dollar sales into Q2 that would have naturally closed in Q3. This made Q3 2019 look terrible, in comparison, but when comparing a combined Q3 and Q4 in 2019 to the same period in 2018, sales volume was down only 4%.

The bad press from a disastrous Q3 2019, however, resulted in sellers (including developers) offering higher discounts. This, in turn, has resulted in an increase in transactions, both in the resale market and the new development market.

We firmly believe that the market correction in Manhattan is purely a policy driven reset in pricing caused by the $10K SALT cap. Robert Schiller estimated that NYC properties lost 11% in value because of this new tax law. The press discusses a supply issue too, but we don't necessarily see excess supply in the most prime neighborhoods. Of course, there is excess supply "C" neighborhoods like Financial District and Lower East Side, but prime UWS, UES, Greenwich Village, Tribeca, there just isn't. That being said, developers and sellers are offering some good discounts to move the product knowing the people tend to real the headlines and not focus on the details.

Contract activity is a leading indicator of pricing. If we continue to see double digit increases in contracts signed, we expect that pricing will rise and these discounts will shrink.

Bright signs for NYC Condos in November
On average, buyers received a discount of 5.7% from the Last Asking Price to Final Selling Price in November 2019. That discount was the greatest in more than 8 years! That's a pretty big spread for NYC and a great opportunity for buyers.

Smart buyers have taken notice of the discounts available in the market and, as a result, contract activity of condos rose by 15% versus November 2018. A bright sign after a tumultuous year for NYC real estate (i.e., SALT caps, Mansion Tax changes and WeWork).
Opportunities at 35 Hudson Yards - up to 30% Discount on a handful of Units
The Related Group needs another 5-7 units for the Offering Plan of 35 Hudson Yards to be effective (they need 15% sold before people can move in), so they are offering some steep discounts on a few units for a short time.

With the discount applied, the price per square foot for these units, which start on the 57th floor, is between $2,250 and $2,400 per square foot! Quite inexpensive for what they are delivering. 35 Hudson Yards has Four Season-style finishes that are some of the best we have seen in Manhattan.

Foreigner friendly with hotel services (a la carte) from the Flagship Equinox Hotel in the base of the building, residents of 35 Hudson Yards will experience true five-star living.

If you are not interested, do you know anyone who might be? You don't see this every day in NYC, and especially with the Related Group.

Let us know if you would like to learn more about this price incentive at Hudson Yards. We would be happy to share the images and video tours of each of these units.
The Park Loggia at 15 West 61 Street
As predicted by us, 15 West 61 Street continues to be the best selling new development in Manhattan. In only 6 months Park Loggia sold over 65 units as off December 1st.

And why? Location, Location, Location!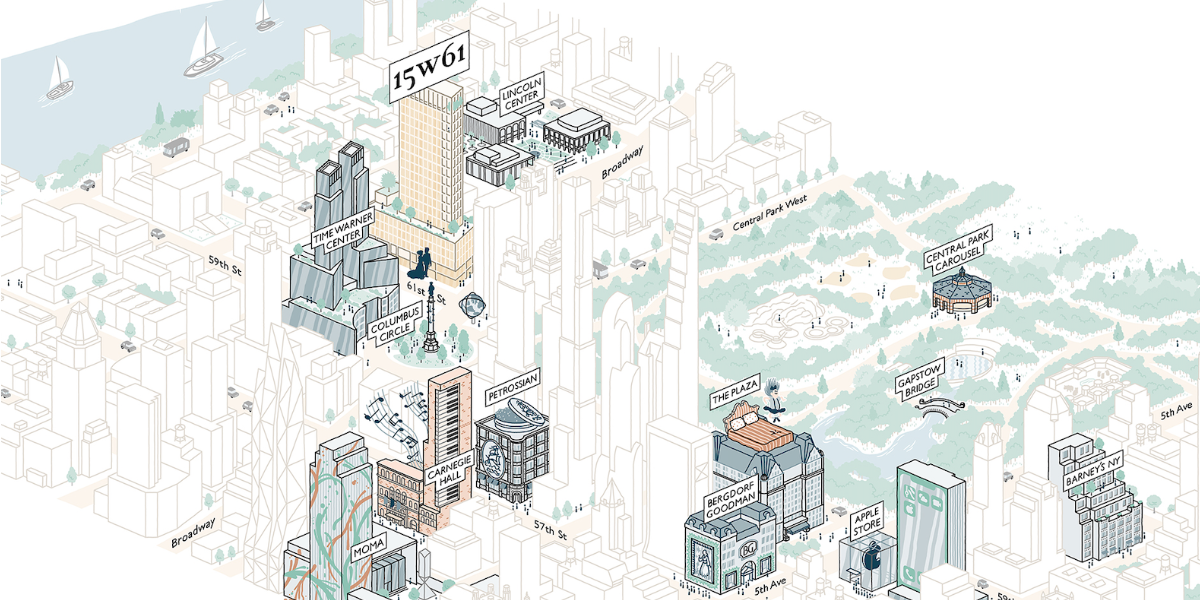 At the corner of Broadway and West 61st Street, just one block north of Columbus Circle, this 32-story tower will bring 172 apartments to the Upper West Side.

This is the first reasonably priced new development condo building built in the Columbus Circle area in over 15+ years

Priced for today's market, not the peak of the market 3 years ago.

There is a constant lack of existing & new development options in this particular gem of a neighborhood in the UWS
Lantern House Launched Sales in West Chelsea
After 3 weeks on the market, The Lantern House is signing lots of contracts. No doubt the pricing and location have intrigued buyers. Meatpacking District and the West Village are only 4 blocks south. The Hudson Yards is 10 blocks north, a straight shot up Tenth Avenue or along the High Line. The area around the High Line is now fully built, so we won't see any more buildings here. It is what it is....and West Chelsea is now one of the most expensive neighborhoods in Manhattan.
That's why it is refreshing to see such good entry level prices at Lantern House. It is the only new development on the High Line that has 1 bedrooms under $2 million (with very few as low as $1.45 million and 2 bedrooms under $3 million (with very few as low as $2.4 million). Of course, if you want River views, prices are higher, but still not at crazy levels like its neighbor XI.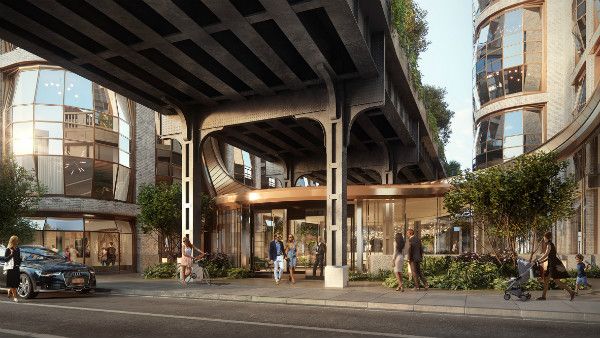 Related needs to sell 15% or 28 units before they can declare the Offering Plan effective and start closings. Closings are anticipated for September 2020. Developers are always the most motivated when selling the first 15% of the units, so they can move to closings quicker. It is the best time to get the best deal. After the offering plan is effective, developers will raise prices.
New York City Tech Sector is on Fire
In the last few weeks, NYC has solidified its position as the second most important tech hubs in the world with massive leases signed in and around the Hudson Yards neighborhood. Tech companies are scrambling for prime Manhattan real estate to attract the city's large and well-educated talent pool. The synergy with related industries makes NYC the right choice for these Tech giants.

Don't Believe Everything You Read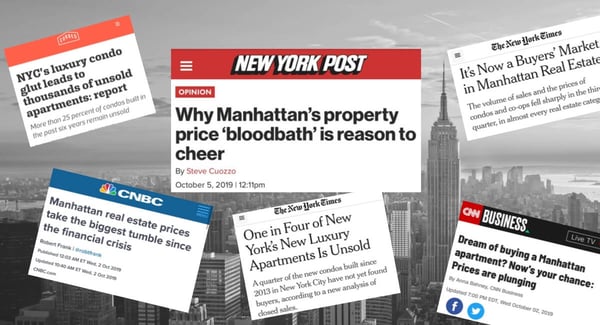 These sensational headlines sell a lot of newspapers and clicks, but don't serve their readers in telling them what really is going on in the Manhattan real estate market.
Yes, the 3rd quarter sales activity and prices were way down, but that was really because buyers rushed to bring sales forward to the 2nd quarter to avoid an increase in the mansion tax. Plain and simple.
What is this tax about? On July 1, 2019, the mansion tax, a NY tax paid by the buyer at closing, rose from a flat 1% for properties $1 million and over to a sliding scale percentage ranging from 1.25% to 3.9% for the most expensive properties.
While not booming, the Manhattan real estate market isn't as described in these headlines.
A leading indicator, Contracts Signed, declined only 2% in the quarter compared to last year. Far from a bloodbath!
The most prime neighborhoods don't have excess new development, although there has been overbuilding in some segments - the super and ultra-luxury segments. As we have noted before, there has been overbuilding in fringe neighborhoods like the

Financial District, Lower East Side, and the Far Upper West Side

, for example. Read more about this.
In addition to Record Low Mortgage Rates and Trump's détente with China (as of today), as the NY Post notes, there is "reason to cheer" if you are a buyer.
Knowing that these headlines will stick around in buyers minds for the quarter or longer, some developers of newly released projects have significantly dropped prices just in the past week. Notably, two of our favorite UES new developments (Hayworth and Beckford) dropped pricing 8-11% on in the last few days. See more info about them below:
It is clear that the Manhattan real estate market has gone through a reset. This was brought on by the 2018 tax law which made owning a primary home in New York more expensive. Now that the market has reset, we feel that there are opportunities for long term investors.
Interest rates are artificially low and it appears that positive steps are being made toward Trump's trade war, as we had predicted. It is impossible to time the bottom of a market, but we think we are past the worst of it.
New Developments' Price Cuts
The Beckford House and Tower, just received a significant price adjustment 2+ weeks after its soft launch. Thanks to the media, I'm sure!
As we noted in our September 21st newsletter, we consider this project one of the best new developments in New York. Now, with a discount of 8-11% from their initial launch prices, it's even a better deal now. The quality of the building and its finishes are comparable to 135 East 79 Street & 20 East End Avenue. And, we expect similar rental rates for Beckford, over $100 per square foot per year when delivered (in Spring 2020 for Beckford House and in Spring 2021 for Beckford Tower).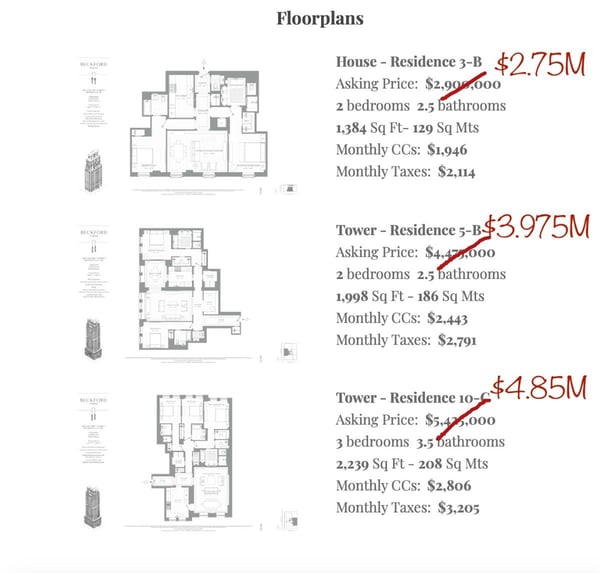 The Hayworth, another UES project that launched during the Summer, just reduced their prices today. For example, apartment 8A just got a price cut of 11%. With this reduction, 8A is priced at $2,101 per sq.ft., an outstanding price for this caliber of product. The Hayworth is a boutique building with only 61 units is situated at the corner of Lexington and 86 Street and across The Lucida. It will be one of the best condo buildings in the UES when completed in Spring 2020.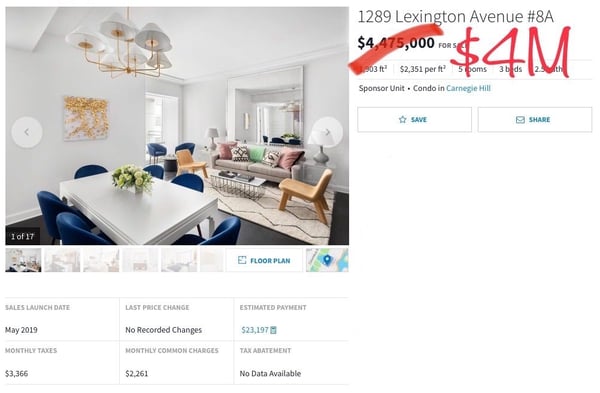 Resale Market
Many seller's have finally come to terms with the market resulting in significant price cuts. In some cases, we are seeing a return to 2014/2015 pricing for resale units. Not in all cases, but certainly for some. Those properties that are not priced to the current market, however, will languish on the market. Those that are well priced have been selling.

With a strengthening rental market and declining prices, yields are quite good, considering yields worldwide are compressing because of negative rates.
Manhattan Condo Market Update
Those trying to time the absolute bottom of any market (real estate or stock market) will find it next to impossible, but sometimes there are clear signs...
A significant uptick in sales activity in April suggests the bottom may have passed!
What's Really Happening
April signed contracts in Manhattan rose by double digits compared to last March (up 15.6%) and same time last year (up 11.6%), according to Urban Digs. Signed contracts are a leading indicator in any real estate market. A significant increase in the number of signed contracts usually precedes positive price movement. We will be keeping an eye on this number as we move forward in 2019, but these green shoots are a very good sign that the market is stabilizing and even starting to turn around. Very welcome news after a disappointing first quarter.
The new tax law that was passed in December 2017 really sucked the life out of the Manhattan market over the last year. But, now that people have a better understanding of its affects after filing their 2018 taxes (due April 15th) some of that uncertainty has dissipated. If you recall, the law capped at $10K the amount of state income and local taxes (i.e., property taxes) (SALT) that a primary homeowner could deduct from their federal tax return, a miniscule amount for a New York primary homeowner. This was a total surprise to most New Yorkers and caught many off guard. But, while the SALT cap did suck the life out of the market due to uncertainty, it had less of an impact on the high end of the market because of offsets in the form of lower tax rates, a higher AMT threshold and other loopholes.
With the tax change behind us and a tick up in sales activity, we think 2019 is the right time to buy a condo in Manhattan. Consider the following on this report from Douglas Elliman:
Slow sales in 2018 have led sellers to adjust their expectations to a lower level. Numbers provided by Jonathan Miller Samuel.

Buyers now have more options to choose from, as inventory has built up from slower sales volume. This also puts downward pressure on prices.

Mortgage interest rates have declined 40 basis points (almost ½ point) since last May, making the financing environment very appealing.

GDP of 3.2% in Q1 2019 and killer job growth (lowest unemployment rates since 1969), all while inflation data is muted, keeping interest rates at reasonable levels to help fuel the recovery.
With lower prices, adjusted seller expectations, recently cut rates, certainty about the tax change's impact and latest sign of a booming NYC and US economy, buying now is very attractive. We expect to look back on Q1 2019 as the absolute bottom of this market cycle.
It's a Buyers' Market in New York City
Today, we feel that the current Manhattan housing market is a once-in-a-decade or possibly a once-in-a-generation investment opportunity. In Q4 2018, Manhattan evolved into a pronounced buyers market, as inventory rose, sales slowed and median asking prices declined. There is significant new supply coming online this year at a time when there are still unsold new development units from the past 2 years. The market has been weak and sellers are highly negotiable. At the same time, New York City's economy is robust. We believe the combination of these factors make it a great time to make a long-term investment - setting up 2019 as the perfect time to buy.
This is a very rare occasion. Over the last 20+ years, Manhattan has been in a buyers market only two other times: in 2001 right after 9/11, which lasted just six months, and in 2008-2009 after Lehman Brothers collapsed triggering a credit crisis that lasted one year. The current buyers' market began in late 2015, but only in the ultra-luxury segment, a small sliver of the market. Since then, however, the buyers' market has widened. First to the luxury segment in 2016 and 2017 and now to all inventory segments, especially in 2018 after the new unfavorable federal tax law was enacted (discussed at length in our previous updates) which pushed many buyers to the sidelines.
As you can see from the chart below from Compound, if you buy Manhattan real estate at the right time (i.e. during a buyers market), the rewards can be plentiful: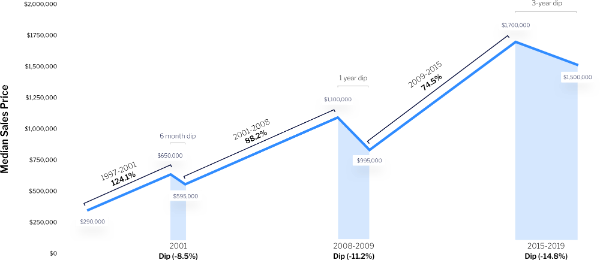 As for details on how the 4th Quarter of 2018 performed:
Q4 2018 contracts signed were down 3% over the same quarter last year, the lowest level since 2012. The 3% decline, however, is attributed to a huge 19% decline in contracts signed for condos, offset by a large increase in contracts signed for coops.

Contract prices were down across all inventory types. Contract activity is more representative of the health of the current market than closed sales data, which often include legacy contracts entered at a time not necessarily representative of today's market conditions.

In terms of closed sales, the median condo sales price has fallen by 8.1% to $1.48 million, the lowest it's been in several years.

The number of condos sold in the fourth quarter fell from the third quarter by 22.7% and by 13.0% year-over-year, which means that sales volumes are slower than they've been in a very long time.

The median sales price per square foot rose, but the increase was skewed by very large dollar closings at two ultra-luxury buildings that started closings, 520 Park Avenue and 220 Central Park South.
Well, what does all of this mean?
There is a window of opportunity to buy now.

Buyers have more spending power than before.

Buyers also have many more options from which to choose.

Developers have gotten more creative by offering new incentives, while individual sellers are significantly negotiating on price.

Buyers have leverage in demanding things that two years ago were a deal breaker for a seller, such as allowing mortgage contingencies or covering transfer tax and common charges.
Keep in mind that this rare occasion is happening at the same time the NYC economy is booming and in a position to keep growing and growing in years to come (i.e Google West Soho expansion, Hudson Yards opening in March 2019, etc.).

While deals are happening, a lot of potential buyers are sitting on the sidelines in a wait-and-see mode. Our caution to them is that it is impossible to time the bottom of any market. Often, a buyer will wait too long, miss the dip and lose their leverage. Interest rates have come off their 2018 highs, making it a good time to enter or renter the market, before they start ascending again.