6 Things You Should Know About the NYC Real Estate Market this February
1. Significant Increase in Sales Activity over Last Year
Pending sales up 17% - Overall market

Pending sales up 25% - $600K - $1 Million

Pending sales up 21% - $1 million to $2 million
This demonstrates that the sales activity is up significantly over last year, which was the bottom of the market in terms of activity. Properties in the lower price points under $2 million are seeing the biggest rebound. We are finally seeing that demand is outpacing supply, something we haven't seen in a while in NYC. Contracts signed in Manhattan have been up double digits in November 2019, December 2019, January 2020, and February 2020. A leading indicator, a prolonged bump in contract signed activity usually precedes price action. An unusually slow month, January saw an impressive number of contract signs, which is not common for the coldest month of the year.
Anecdotally, we have noticed when calling other brokers to set appointments, at least 25% of the time these units already have Accepted Offers. Nothing like 12 months ago. The units that are going into contract either have been on the market for a while and went through several price cuts, or new ones that were correctly priced from the get go. Also, in the last case, we are seeing packed open houses & a few bidding wars (a remnant of a different era).
2. Luxury Market Activity Strengthens on Discounts
Discounts across New York are getting deals closed and in January we saw a median listing discount of 6.4% (a high rate for New York) which shows sellers have capitulated and deals are not getting done. While the highest increase in sales activity has been for units below $3 million, we have seen some improvement on the high end as well.
For instance, the Olshan report noted: "Twenty contracts were signed last week at $4 million and above, the third straight week of 20 or more sales. The average price-drop from the original asking price was 18%, a total that was skewed by the top 2 sales."
"The average days on market was 803, a total that was elevated because half of the properties were sold by developers and had been on the market for years. That was the highest total this report has ever recorded since we began tracking this particular stat in 2012."
Central Park Buyers: If you've been watching the Billionaire's Row and Central Park market, opportunities are out there. Now may be the time to jump in before the market turns around. For example, for someone willing to live at Trump International Hotel and Tower in Columbus Circle, one can pick up a great direct Central Park view 3 bedroom for $3,300 per square foot (below). DJT won't be president forever and this building will bounce back at some point. In addition, we have seen strong discounts at One57 and Time Warner Building as well, although the price floor for direct Central Park view in these and other ultra luxury buildings is hovering around $4,500 per square foot.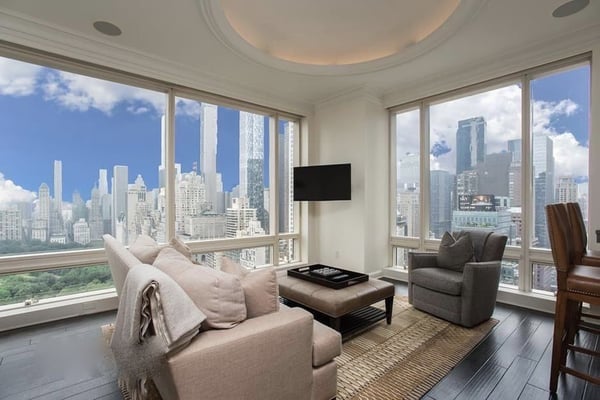 Note that we keep hearing from buyers in this segment that they hear more inventory is coming on the market. While that may be the case for other neighborhoods, there are no new buildings coming into Billionaire's Row. Furthermore, the inventory level below $20 million with an unobstructed Central Park view is limited, as most of these buildings have an average sale price of $30+ million.
3. New Developments Vs Resales
New Developments priced 2-3 years ago are lagging on the market and the reason for that is that there's a disconnect between developers and their banks and investors.
What we are telling our buyers: there are tons of opportunities in the resale market with properties priced anywhere between $1,100 per sq. ft. to $1,800 per sq. ft.
Of course, there are opportunities in the new development segment and have seen discounts of 15% in some buildings. Many of those buildings where you are seeing double digit discounts, however, were launched years ago. In contrast, we have seen buildings launched in 2019 with pricing that reflects the current market, offering few discounts from low asking prices, but still picking up many of the buyers closing costs.
The market is very price sensitive and dollar motivated. Is well known that a shadow inventory exists. These are units that were taken off the market from unrealistic sellers, or new development projects in fringe neighborhoods. Buyers are very savvy these days and know how to spot a good value. If you purchased it in the last 5 years and are trying to sell it now, you are probably under water or at break even. Therefore, prepare for a bumpy ride. Gimmicks and tricks - there are many - won't make an overpriced property sell.
New Developments Properties for Sale
Latest Apartments for Sale in Manhattan
4. Rents are Up
After some softness over the last couple of years, rental rates are up significantly year-over-year. From the Real Deal - As apartment hunters try to figure out what on earth is going on with broker fees, they now have other news to give them pause: Rents were 5 percent to 6 percent higher last month than a year earlier in all three boroughs covered by the Douglas Elliman market report.
5. Mortgage Rates
Mortgage interest rates have plummeted since the same time last year and are resting near record lows. The 30-year fixed mortgage rate clocked in at 3.65%, while the stock market was close to a record high of over 26,900. In comparison, over the last 30 years, the same mortgage rate has averaged about 6.25%. In the last 10 years, the only 2 times that the rate has been lower was in September 2016, with a low of 3.42%, and in November 2012, with a low of 3.32%.
It is unlikely rates can go much lower, as we are already near historic lows. We are, therefore recommending that our clients refinance now or finance their new property purchases to take advantage of this artificially low mortgage rate phenomenon before it's too late.
5. Coronavirus and Foreign Buyers
While it is too soon to determine what the impact of the health scare may have on the real estate market, it should be noted that the New York real estate market has been anchored by domestic buyers and foreigners have been all but absent. Mainland Chinese buyers have been absent in the NYC market since 2016, Europeans have been absent as their currency has been low for an extended number of years. Latins and Brazilians have been largely missing as their currencies have depreciated.
Therefore, we don't expect this to negatively affect the NYC market in the near term. Should the dollar fall and the health scare abate, the market might take off. Finally, certain Asian countries may see limited investment opportunities while authorities try to stem the spread leading to more investment in New York City, a risk free locale.