Accessible only by ferry, yacht, helicopter, or seaplane, Fisher Island is an elite ultra-luxury oasis located just 3 miles off the southern tip of Miami Beach that boasts the highest concentration of wealth of any zip code in the nation. It's unparalleled level of privacy combined with its highly coveted location just a few miles east of the thriving epicenter of downtown Miami and a stone's throw from the sophisticated glamour of South Beach attracts a highly select group of top tier regional and international clientele primarily seeking a permanent second home for their entire family to enjoy.Comprised almost exclusively of luxury residences, the island's beautifully appointed mid-rise towers are reminiscent of grand Mediterranean villas that are surrounded by the dazzling blue waters of Biscayne Bay and the Atlantic Ocean. The tropical sanctuary not only offers the status of being one of the richest zip codes in the country; it also provides residents with a unique set of island amenities that are part of an exclusive island-wide equity share program.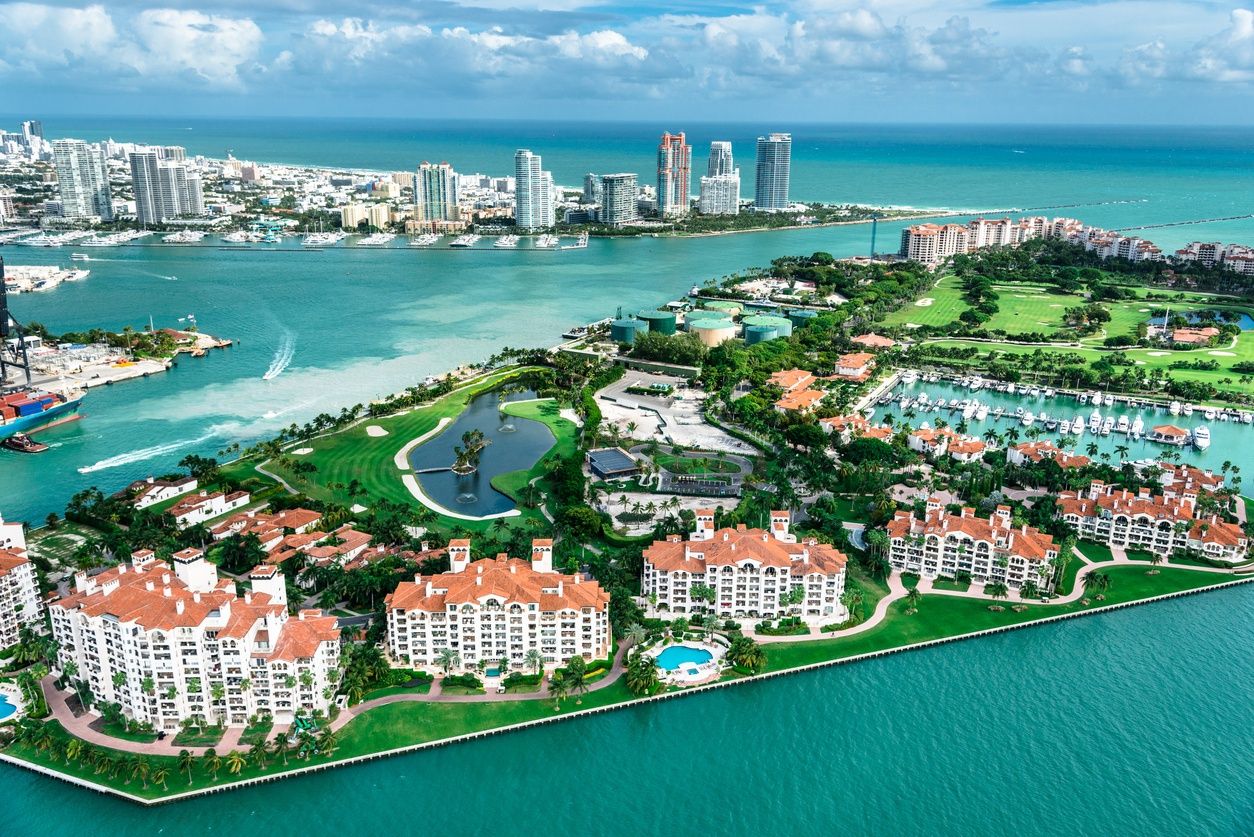 An Elite Island Oasis
As one of the most expensive zip codes in the country, Fisher Island's ultra-luxury developments deliver on the promise that comes with an elite lifestyle. Only 700 families call this lush tropical oasis their home and, despite its relatively small population and secluded geographical space, Fisher Island more than holds its own in Miami's luxury condominium market. It boasts nine high-end towers and villages spread across its beautifully landscaped 216-acre terrain. These next-level residences have placed the islet in 2018's top 3 best investments for quality, community, age, risk adjustment, waterfront access, and panoramic views among 22 of Miami's leading neighborhoods.
An Aristocratic Atmosphere
The island's history of unmatched style and elegance dates back to the 1930's, when it became a private escape for shipping and railroad heir William K. Vanderbilt. He built a namesake mansion on the island that is now the center of the famed Fisher Island Club to which all residents gain membership. Its architecturally stunning Mediterranean design and high quality standards became the inspiration for the Spanish and Italian-infused waterfront condominiums, villas, and penthouses that now dot the paradise's dazzling white sand seashores. Many of these waterfront developments display limited collection homes, with spacious family-oriented floor plans and specialized customization options. The residences look out onto the private island's own 9-hole, 35 par championship golf course, French Open and Wimbledon surfaced tennis courts, bike trails, bird watching sanctuary, and mile-long stretch of Bermuda sand beachfront.
An Unparalleled Lifestyle
The crème de la crème of U.S. financiers and top level CEOs call Fisher Island their home, many from top tier northern locations such as New York City and Chicago. In addition, about half of the households are comprised of elite international homeowners and investors from Latin America, Russia, and China who are interested in a next-level property with a solid growth outlook, in a city with some of the best tax incentives among world-class international locales. Many families and singles stay on the island just part of the year, choosing to divide their time between the high culture of Miami and other cities, and the idyllic luxury atmosphere of this beautiful island oasis.
While just under one square mile in size, Fisher Island boasts a dazzling array of lifestyle amenities. Unmatched access to the mainland is offered by the private heliport that all islanders have access to as part of their membership to the world-renowned Fisher Island Club, and this exclusive social icon also hosts its own marinas, celebrated restaurants, wellness center, Beach Club, private galas, and holistic public spa that all homeowners can enjoy. The downtown area also features a grocery, post office, and bank, while kids on the island have entree to a play area, sports fields, and basketball courts at the resident-built elementary and middle school.
An Incomparable Culture
The Fisher Island Club
Often described as the heart of the island, the uber-exclusive Fisher Island Club is a privileged membership open only to island residents. Though housed under one umbrella, the club offers a stunning selection of amenities and services.
Restaurants
There are 9 restaurants on Fisher Island, including the Vanderbilt Mansion's famed 1930's-styled Garwood Lounge & Piano Bar steakhouse. The European-designed town center features the casual Italian cuisine of La Trattoria, which can be enjoyed while overlooking one of two exquisite isle marinas. Just east near the golf course and pro shop is the innovative, world-class Mediterranean dining of Porto Cervo, and the island's beautiful Beach Club features a Sunset Bar, breakfast and lunch service, and an out-of-this world location on the beautiful emerald waters of the Biscayne Bay.
Marinas
Fisher Island is home to two cutting-edge marinas, including Miami's only private deep-water slip options. Combined, they offer over 100 moorings that accommodate luxury vessels up to 250 feet and boast best-in-class breakwaters with 8-foot inner marina depths, and a location just minutes from the fabulous Gulf Stream waters.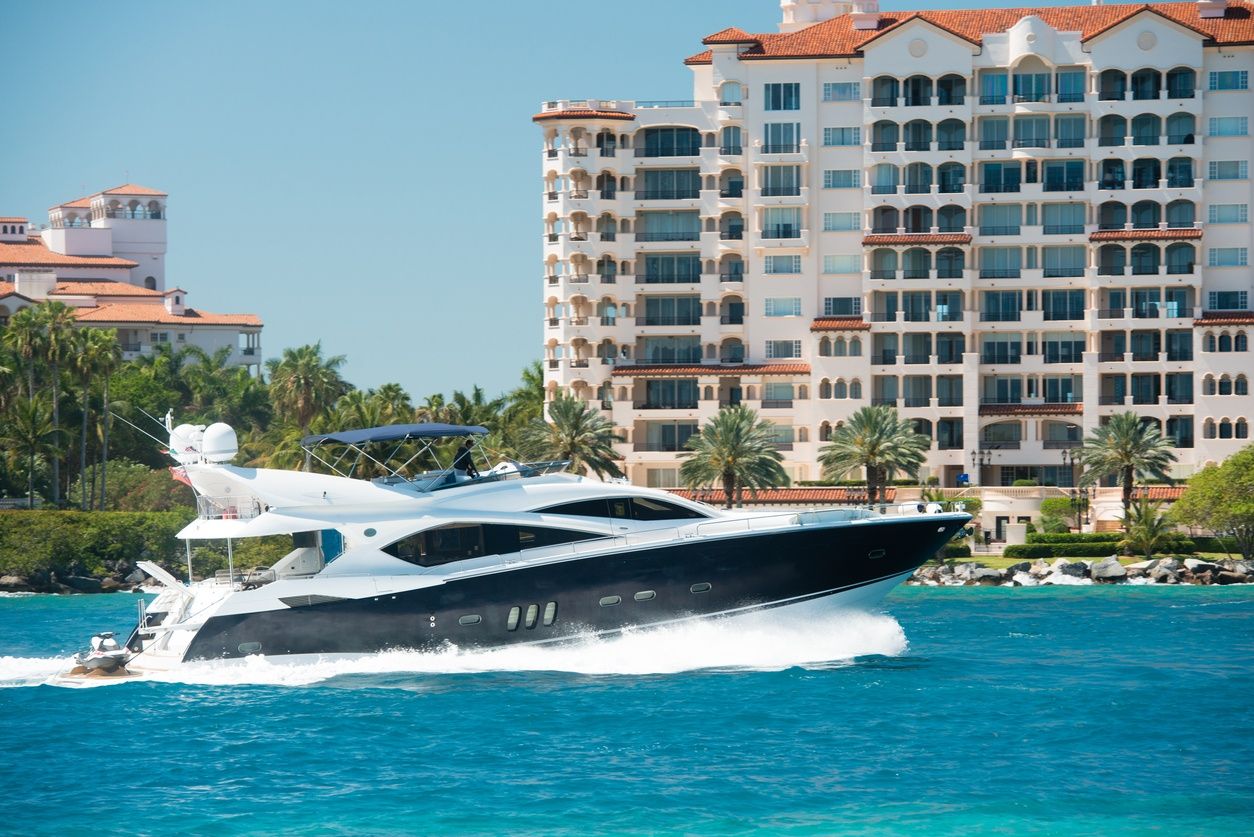 Recreation
Home to South Florida's most coveted seaside golf course and club, the P.B Dye-designed championship fairway has been described as 18-holes contained within 9. In addition, the racquet club showcases 18 tennis courts with pro-level surfacing, and the island houses its own state-of-the-art fitness center with holistic coaching and nutritional offerings. A plethora of fun, beautiful, and challenging biking & hiking trails are interspersed throughout the enclave's inspiring landscapes and breathtaking ocean vistas.
Wellness and Beauty
The renowned Spa Internazionale and Salon di Bellezza are expertly designed to transport guests into a greater state of wellness, rest, beauty, and rejuvenation. Open only to the island's resort guests and residents, these centers feature some of the most innovative and therapeutic mind-body health services that Miami has to offer.
Shopping
While nearby South Beach and downtown Miami feature world-class designer boutiques and galleries, Fisher Island offers a more quaint selection of high end wares at the Island Market, Spa Internazionale, The Links Golf Shop, and Tennis Pro Shop. Here residents can shop for gourmet drinks and organic produce alongside designer sports fashion and equipment, and the best essential oils and natural beauty lines.
"Moving to Miami: The Ultimate Guide"
"Miami Best Neighborhoods to Live or Invest"
"These New Construction Miami Condos For Sale Will Change The Skyline"
Next-Level Living
Since taking ownership of the island in 1987, The Fisher Island Club has created an elite portfolio of ultra-luxury resort style developments that showcase exquisitely detailed, high-end residences, penthouses, and lanai homes set against lush tropical vistas and breathtaking ocean horizons. Here are 5 of the most elite mid-rise towers and villages that set Fisher Island above the rest.
Palazzo Del Sol
Housed in a 10-story 'palazzo' on the the island's last remaining waterfront parcel at 7000 Fisher Island Drive, these 46 ultra-private homes sit at the juncture of Miami's Biscayne Bay and Atlantic Ocean and are designed by famed Miami renaissance architect Kobi Karp. Newly opened in 2016, the homes boast nearly 5 acres of prime island land and seascapes, with three-to-seven bedroom options sized from 3,800 to 9,800 square feet.
Search Homes for Sale at Palazzo Del Sol
Palazzo Della Luna
These 50 three-to-seven-bedroom waterfront homes at 6800 Fisher Island Drive range in size from 3,724 to 10,194 square feet and offer expansive luxury residences, penthouses, and lanai layouts. Along with the residences at sister property Palazzo Del Sol, they are Fisher Island's only 6-star homes. Amenities include a 4,000 square foot Sunset pool with separate Sunrise pool, a large 'Central Park' with tranquility garden, croquet green, and yoga lawn, and an ultra-exclusive design based on the island's famed Vanderbilt Mansion. The homes at Palazzo Della Luna are scheduled for early 2020 delivery.
Search Homes for Sale at Palazzo Della Luna
Palazzo Del Mare
Built in 2008, this striking Mediterranean-revival style building at 7193 Fisher Island Drive flaunts a fabulous location overlooking South Beach and the Government Cut, with mesmerizing views of the Atlantic Ocean horizons. Just 32 limited addition homes are spread across 10 sweeping floors, and feature European kitchens and marble floors with high end Gaggenau appliances, elegant Spanish flow-through designs, and four unique floor plans to choose from. The homes' ultra-exclusive amenities include a media room with theater seating, on-site spa with heated outdoor pool, a state-of-the-art fitness center, and private elevator lobbies to each unit.
Search Homes for Sale at Palazzo Del Mare
Bayview
Situated on the Northwest corner of this exclusive island is a self-contained old-world style community that boasts unparalleled views of the Atlantic Ocean, Downtown Miami, and the beautiful Biscayne Bay. Here you'll find six mid-rise towers with 111 two-to-six bedroom homes and penthouses highlighted by generous layouts from 2,000 to nearly 10,000 square feet. The homes are just steps from the award-winning P.B. Dye designed 9-hole golf course, the exclusive Marina & Yachting Center, and the world-renowned Fisher Island Hotel & Resort featuring celebrated restaurants and next-level luxury spas. These ultra-private homes at 4811-5393 Fisher Island Dr also showcase enormous terraces, a private waterfront swimming pool, and one of the most exclusive locations on the island.
Search Homes for Sale at Bayview
Bayside Village
Search Homes for Sale at Bayside Village
Oceanside
These six stunning Mediterranean-infused stucco towers have set the standard for ultra-luxury living on Fisher Island for the last 25 years, and feature a diverse selection of oceanfront condos and homes. The 134 residences face the turquoise blue Atlantic Ocean waters and showcase exquisite two-to-five bedroom designs with natural wood and marble flooring, spacious chef's kitchens, and stylish Spanish craftsmanship. Wraparound terraces overlook the sparkling white sand beaches, and world-class amenities abound, including a beachside swimming pool with swaying palms, private resident vehicle and golf cart parking, and unparalleled access to downtown Miami and the Brickell Financial District from their prime east side location at 7411-8062 Fisher Island Dr.
Community-Centric Schools
The isle's highly coveted, top-ranked Fisher Island Day School features innovative classes for students aged 2 through 8th grade, and was built by private funds from islanders. Its immersive curricula includes many community-centered projects, such as a fun design competition for Palazzo Della Luna's on-site kid's playroom. Because of the small size of the community, there are no public elementary or middle school on the island. Nearby magnet academy iPrep is ranked16th among all Florida public schools, and serves pre-kindergarten through 12th grade students as part of the Miami Dade Public system, while Key Biscayne's celebrated public Mast Academy is open to 7th through 12th graders.
The Best Thing About Fisher Island
Fisher Island is a private paradise for the privileged that sits just 3 miles from the internationally renowned culture and sophistication of Miami. Here, residents can enjoy an unparalleled level of safety due to the highly secure transportation to and from the island, along with an amazing array of island-wide amenities that are found nowhere else in the world.
Contact us today if you'd like to learn more about the privileges of home ownership on this exclusive Miami oasis from insiders who are experienced in finding our clients the top Fisher Island investments.
Video: What is it like living on Fisher Island in Miami Beach?