Where are all these people coming from? Why are they coming to Miami?
Most Downtown Miami residents are young professionals who enjoy a 24/7 lifestyle in an urban core with cultural and entertainment options.
Increasingly, residents from high-tax states like New Jersey, New York, California, Illinois, Massachusetts and Connecticut are making permanent moves to the Sunshine State.
Enacted at the beginning of 2018, the new tax law has had negative effects on primary homeowners in high tax states. For instance, almost overnight, the new State and Local Tax (SALT) deduction limit of $10K essentially made owning a primary home more expensive. In addition, the new tax law lowered the amount of interest a primary homeowner could deduct to $750,000 from $1,000,000 on the purchase of primary homes after 2017.

Which Downtown Miami neighborhoods have seen the highest growth?
Miami has hit an inflection point that will propel the city forward at a faster pace, creating even more demand. Truth be told, Miami was, and still is in some areas, in dire need of a renaissance. However, hyper-development has worked to stimulate the economy and population growth. Brickell has seen the most development, as we note below. In addition, we seen strong growth in Edgewater. Going forward, we expect Brickell will continue with strong growth, but see other neighborhoods, such as the Central Business District and Park West and Wynwood, will be the drivers of growth for the next 5-10 years.
Brickell
Brickell has seen the highest growth in Downtown Miami with its population tripling between 2000 and 2016. Swire Properties' vision of a future Brickell is what made this growth possible. Hatched in the last real estate cycle, it's vision was resurrected in 2012.

Ultimately, Swire Properties invested over $1 billion in Phase I of Brickell City Center, which included two residential towers Reach and Rise (delivered in 2016 with 773 units), a huge gorgeous shopping mall, the trendy East Hotel and two office towers. Brickell City Center opened its doors in 2016.
Phase II of Brickell City Center will see Brickell City Center expanding two city blocks including two condo towers (with a combined 1,000 units) and two office towers.
Other developers followed Squire Properties in droves to Brickell. From 2012 to 2018, Brickell saw the delivery of close to 5,000 condos. In 2017 alone, Brickell saw 1,400 condo units delivered, including Brickell Heights (600 units), 1010 Brickell (387 units), Echo Brickell (185 units) and Brickell Ten (155 units).
Not only has Brickell seen hypergrowth in residential development for sale and rent, it also has seen a significant increase in ancillary development that comes with hyper growth with the addition of countless restaurants, bars, grocery stores, gyms, movie theaters, etc.
With all this development, Brickell is no longer just a neighborhood for Miamians, as it's now routinely the preferred choice for visitors, who opt to stay in the new hotels like SLS Lux, Kimpton, JW Marriott, W Miami, Mandarin Oriental and Four Seasons Downtown instead of those on South Beach, which is only 15 minutes away.
Edgewater
Edgewater has seen significant development, adding 2,800 units from 2014 to June 2019. Most of this is attributed to projects that were delivered In the last 18 months, which saw Related Group deliver its Paraiso projects Gran Paraiso (317 units), One Paraiso (275 units), Paraiso Bay Views (396 units), Paraiso Bay Tower 1 (360 units). Edgewater's two newest projects, Elysee and Missoni Baia up the game.

Which other neighborhoods will see future hyper growth?
Park West / Central Business District near Miami Worldcenter
Other neighborhoods are set to follow Brickell's residential hyper-growth, especially the Central Business District and Park West. These neighborhood will greatly benefit from the addition of Miami World Center, which is slated to open in stages later in 2019. The CBD also has Bayside Marketplace and Bayfront Park.
Miami Worldcenter
Like Brickell City Center, which has had a transformative effect on the Brickell neighborhood, Miami Worldcenter is destined to have a similar transformative effect. Miami Worldcenter is an ambitious 17-acre mixed-use development in Miami's urban core, set between Northeast 6th and 11th Streets, and between Northeast Second and North Miami Avenues, at the junction of I-95 and I-395.
Miami Worldcenter will feature a top-tier indoor / outdoor mall, a huge Marriott hotel and convention center, an outdoor pedestrian mall, and over 1,000 Miami condos for sale.
This transformative project is exactly what Miami needs to become a truly urban environment, creating density in the core not only during the day, but also after dark – something that most Downtown Miami neighborhoods have lacked for decades.
For those who don't know Miami, Miami Worldcenter is located in the "Arts and Entertainment District". However, that is just a nice name for an area full of dodgy warehouse nightclubs, vacant parking lots and untoward activities, which have littered the neighborhood for years.
The addition of Miami Worldcenter will bring the neighborhood more in line with the great modern residences that have risen along the development's eastern flank along Biscayne Boulevard, namely, luxury condo buildings Marquis, Ten Museum Park, 1000 Museum (under development), 900 Biscayne and Marina Blue. As well as in line with the new Pérez Art and Frost Science museums in Museum Park further east along the bay and Adrienne Arsht Center for the Performing Arts, a few blocks to the northeast.
The Mall at the Miami Worldcenter will feature 765,000 square feet of retail, including a Bloomingdales and Macy's as anchor stores. Like that of Lincoln Road, the 7th street Promenade will feature specialty shops, restaurants, bars and nightclubs.
In addition, the 56-story 1,800-room Marriott Marquis Hotel and Convention Center will be one of the largest convention centers in the US and be directly connected to the mall and rest of the Miami Worldcenter. In addition, public transportation via the Metro Mover and All Aboard Florida will be very close by, making the center easily accessible not only by car.
We see great value in Miami World Center, not only for its adjacent residents, but also for Miami residents and visitors alike. Once further along, we expect to see announcements in the area of more towers with Miami condos for sale, as well as for rent, creating even more needed density. Ultimately, this project will be one big leap forward toward Downtown Miami becoming a truly 24/7 urban environment by creating a vibrant place to work, shop and live.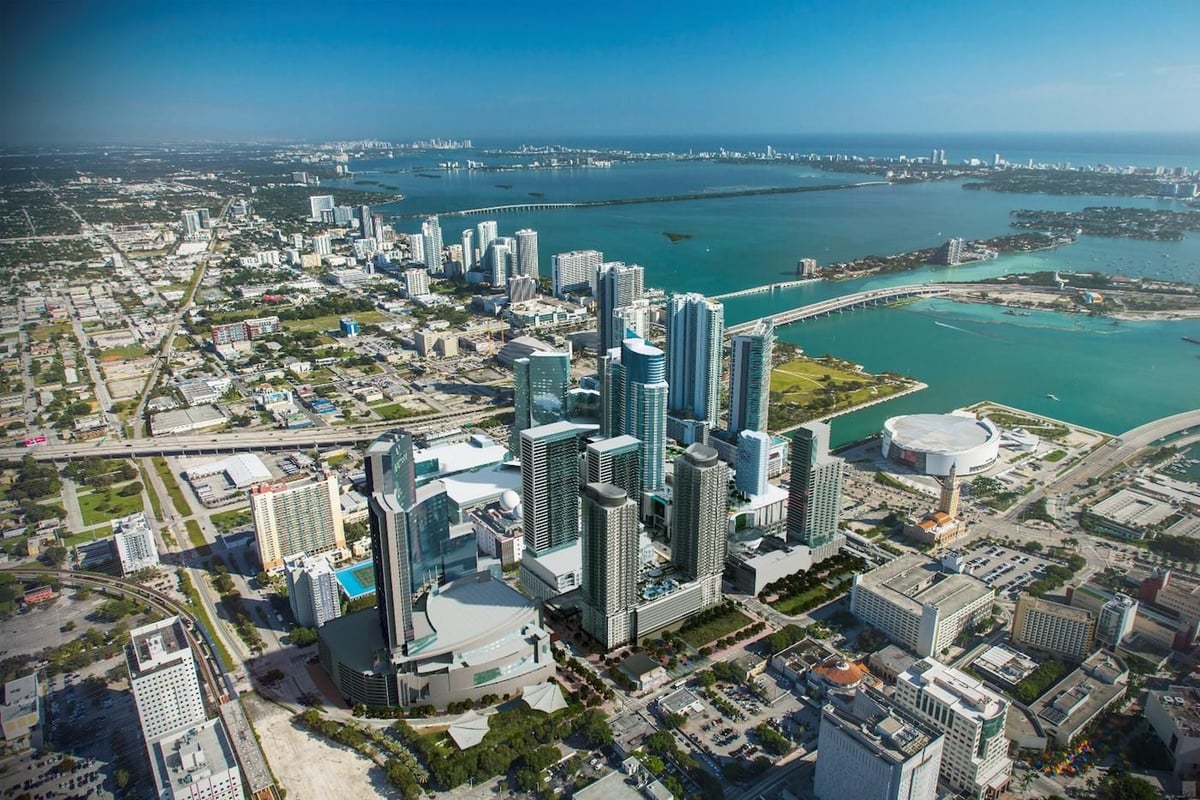 Wynwood
Wynwood which is undergoing massive gentrification will also be catalysts for hyper growth in residents coming to Miami. What was once known for its tired discount stores and warehouses, Wynwood is emerging as a commercial and residential center. While not a lot of residential development planned for Wynwood in the next year or so, we believe that Wynwood will grow into a residential and hospitality hubspot.
Wynwood will not be a high rise community, but we expect to see smaller projects across the neighborhood. The construction of two large commercial projects on 2nd Avenue have begun and the Goldman Garage has been completed and open, with more office projects announced this year. Wynwood will expand at a much higher rate than before, snowballing into one of the most promising neighborhoods in all of Florida.
The transformation of the one-time industrial corner of Miami dates to the 2002 debut of Art Basel Miami Beach. In the intervening years, the international jet set drawn to this art show has often sought out the artists working in studios inside of Wynwood's converted warehouses. This artistic influx contributed to Wynwood's evolution from a district filled with tired warehouses and discount retail storefronts to a neighborhood on the cusp of becoming a flourishing commercial and residential center.
The neighborhood achieved a new status in 2009, when Tony Goldman, who had already spearheaded gentrification efforts in New York and Miami Beach, created the Wynwood Walls, an open-air mural project with contributions from globally known street artists like Shepard Fairey and Ron English. Soon other big-name New York developers like David Edelstein and Moishe Mana were following Goldman's lead.
Development in the district took a huge leap forward in 2015, when Miami created the Wynwood Neighborhood Revitalization District, a zoning overlay to encourage the construction of more condominiums, rental apartments and retail shops. Since then, a slew of high-density mixed-use projects have been proposed. Altogether, they could add about 1,000 residential units and 3.9 million square feet of retail space.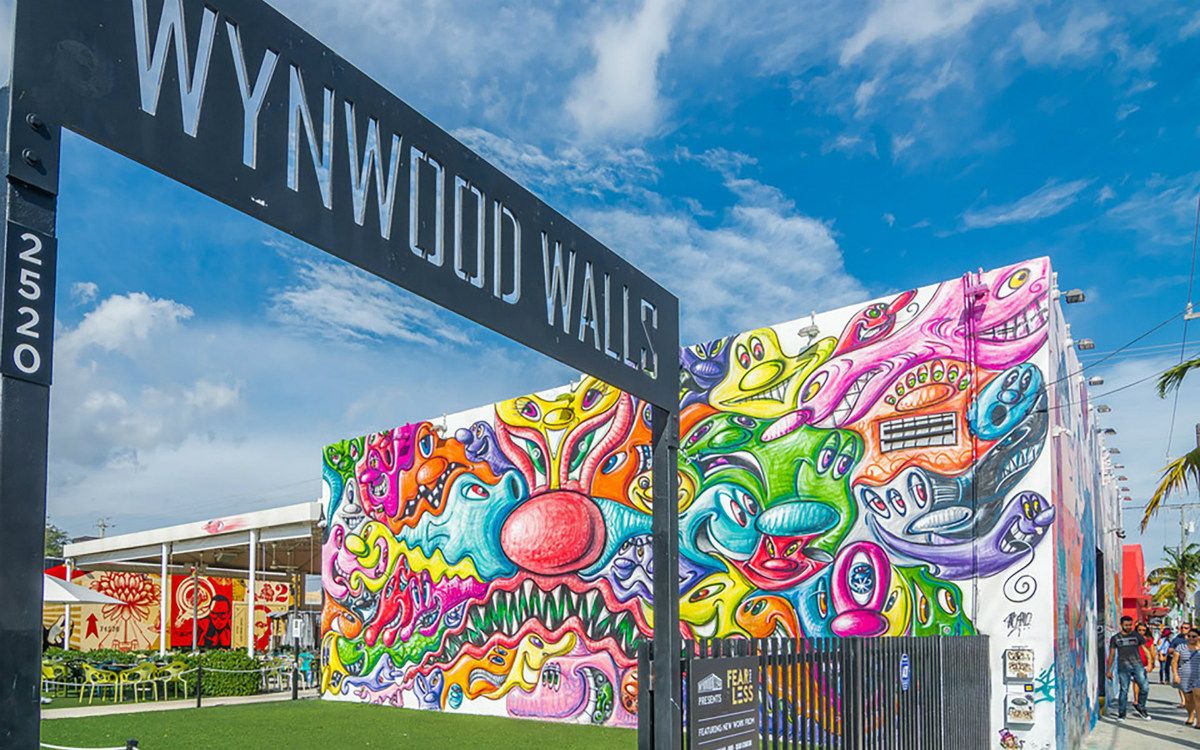 Why is now the best time to buy in Miami?
The Downtown Miami real estate market is currently in the sweet spot. Overbuilding in Downtown Miami has temporarily created excess condo supply. We soon expect prices to go higher because of virtually no future inventory coming online at a time that demand is rising.
This will create a unique short-term opportunity for buyers in the next 6 to 9 months (thru the winter). At some point in early 2020, the lack of new construction will be very pronounced, as the pipeline dries up and is not replenished at the same rate as Miami has been seeing.


Is there enough new construction supply to house all these people migrating to Miami?
Probably not. Groundbreakings and future condominium startups are virtually at zero, from Coconut Grove to Fort Lauderdale. In addition, New construction supply in Downtown Miami will fall off a cliff in the next 6 - 9 months as most everything in this real estate cycle will have been delivered by then.
At the same time, however, demand for Miami Fl properties is heating up because of tax migration and people are seeing the results of Miami's hyper gentrification. And, they love Miami now. With home prices in Florida at a fraction of what they are in some high tax states, we believe demand can heat up pretty quickly. If the dollar weakens, as Trump has been talking the dollar down, Miami could quickly see a rebound in buyers from Brazil, Argentina, Colombia, and Mexico, etc.


Which projects are now under construction in Downtown Miami?
As of July 1, 2019, Downtown Miami had only 7 projects (or 2,186) units under construction. Of the 7 projects, three projects totalling 1,452 units will be delivered by the end of 2019. Of those units under construction today, we are likely to see only 349 units completed in 2020 and the remaining 385 delivered in 2021.
| | | | | | |
| --- | --- | --- | --- | --- | --- |
| Under Construction Projects as of July 1, 2019 | # of Condo Units | Anticipated Occupancy | Average Price Per Sq. Ft | Average List Price per Unit | Size - Average Sq. Ft. per Unit |
| Brickell Flatiron | 549 | 2019 | $766 | $1,100,000 | 1,437 |
| Paramount Miami Worldcenter | 513 | 2019 | $706 | $1,130,000 | 1,600 |
| Missoni Baia | 249 | 2020 | $808 | $1,580,000 | 1,956 |
| Elysee | 100 | 2020 | $781 | $2,340,000 | 3,303 |
| Aston Martin Residences | 390 | 2021 | $1,000 | $2,240,000 | 2,240 |
| Yotel Pad | 215 | 2021 | $660 | $330,000 | 500 |
| Smart Brickell | 170 | 2021 | $657 | $550,000 | 838 |
| Total/Wtd. Avg. | 2,186 | | $780 | | |
Note that the weighted average of all units being delivered is $780 per square foot and 5 of the 7 projects were priced on average over $1,000,000. This demonstrates the upward trajectory of Downtown Miami residential real estate.
Which new development projects that are not yet under construction but are taking reservations and writing contracts?
As shown in the table below, only four projects that are taking reservations and writing contracts. We call that the Planning Stage projects are those that have been approved by the , which we consider those projects that are taking reservations or signing contracts. With such a scant number of projects in the pipeline, Downtown Miami is guaranteed to have an inventory crunch in 2020 and 2021.
Projects in the Reservation and Contract Stages are a bit more questionable as to when they will be delivered. Odds are that none of the projects below will be delivered in 2020 and only one project Una in Brickell will be delivered in 2021.
| | | |
| --- | --- | --- |
| Reservation and Contracts Stage as of July 1, 2019 | # of Condo Units | Anticipated Occupancy |
| One River Point | 426 | 2022 |
| Natiivo | 400 | 2022 |
| Okan Tower | 236 | 2022 |
| Una Residences | 135 | 2021 |
| Total | 1,114 | |
Note that during the last 5 ½ years, Downtown Miami saw 9,661 condos delivered. Add 1,400 expected to be delivered by the end of this year, that comes out to about Downtown Miami saw 3,064 condos delivered in 2018, on top of 1,821 condos delivered in 2017 and 2,209 condos were delivered in 2016.
Temporary excess inventory, high price incentives, a lack of new construction and favorable tax environment all favor Downtown Miami apartments for sale in 2019. Combined with the increase in migration from other states, we expect Miami to grow, in terms of its population, its economy and, ultimately, its home prices.
What is happening in the Downtown Miami apartments for sale market segment should not be confused with Miami Beach Luxury Real Estate, which doesn't follow the same trajectory as Downtown Miami given the scarcity of land in Miami Beach – these are two distinct segments with different market drivers. Overbuilding, however, has occurred in one particular neighborhood on the beach, Sunny Isles, which will likely track the Downtown Market, albeit at much higher prices.
What does all of this mean for Miami?
It's a good time to invest in apartments for sale in Downtown Miami, as we see this as an inflection point fueling a higher rate of tax migration, at the same time, in about 6 months in early 2020, future new construction deliveries will fall off a cliff. And, there is very little in the Planned Stages of the Development Cycle, which you will see below.
"Downtown Miami vs Miami Beach Real Estate"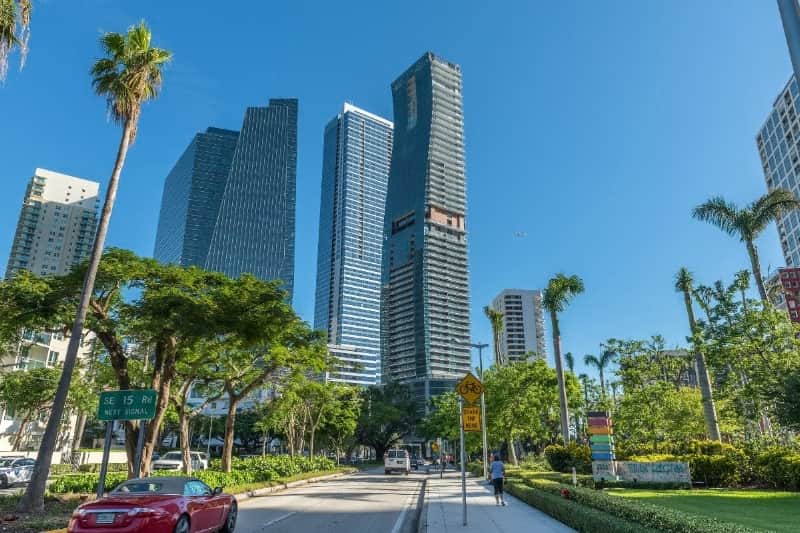 If you have been sitting on the sidelines waiting for the right time to invest in Downtown Miami Luxury Real Estate now may be just that perfect time. Low supply of new construction is a leading indicator of future price action. Even if developers fill the void and launch a bunch of new developments, by the time they are delivered, it will be approximately 36-48 months or even longer before the inventory is delivered.
In order to help home buyers and investors, we recently launched our Frequently Asked Q&A When Buying Miami Luxury Condos where we addressed issues like:
How Do I Know if Now is the Right Time to Buy?
Which Neighborhood Should I Consider When Buying a Miami Property?
Should I Buy a Miami Condo in a New Construction Project or in an Existing Building?
When Buying a Miami Apartment, How Do I Know I am Getting the Best Price?
What Are the Tax Implications when Buying Luxury Apartments in Miami?