Want to know the best neighborhoods in Miami to either live or invest in? You've come to the right place! There are many good reasons that more and more people are looking to buy, rent, sell or invest in property in Miami. The diversity of the coastal area offers a wide range of different residential and commercial buildings, but also a wealth of amenities.
Investors and home buyers from all over the world rush into Miami neighborhoods for their luxurious, historical, urban, chic, and serene atmosphere.
These are some of the best neighborhoods in Miami- whether you're looking to live or to invest:
Miami Beach
Miami Beach is a popular Miami-Dade County neighborhood and one of the top tourist destinations in the U.S. The place is rich in history and culture. The Art Deco Historic District of Miami Beach is famous for its remarkable architecture and listed in the National Register of Historic Places.
The neighborhood has an abundance of restaurants, shopping centers, night clubs, and many other entertainment centers.
Miami Beach students attend Miami-Dade County Public Schools, but the city also has prestigious private schools.
The average price per SF ranges from $233 – $2,350 for houses, and $273 – $3,311 for condos.
Browse Miami Beach homes for sale
South of Fifth
South of Fifth is among the most exclusive Miami neighborhoods, and it houses some of the most beautiful condos in all South Florida. Some of the most remarkable lux condo towers are in SoFi, as well as some of Florida's most chic hotspots. Residents enjoy theaters, orchestras, historic restaurants, live music, galleries, and various festivals nearby.
There aren't any K-12 schools in SoFi, public or private. Children who live in the neighborhood attend South Pointe Elementary, Nautilus Middle School, and Miami Beach Senior High School.
The average sales price for condos is $530 – $3,500 per SF.
Browse South of Fifth homes for sale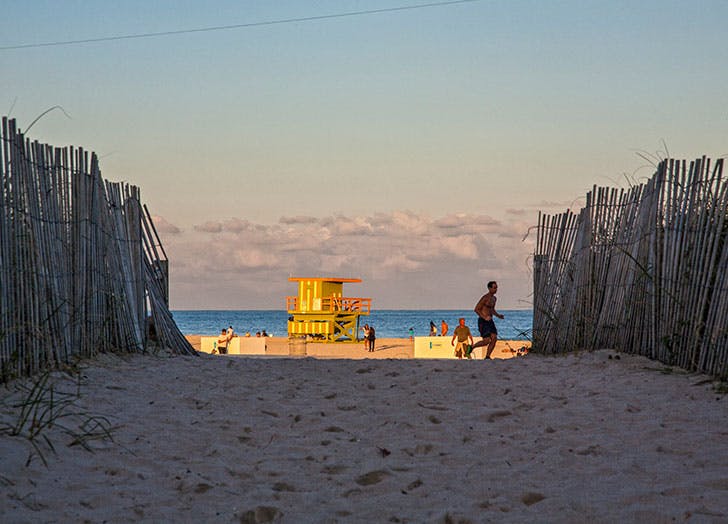 Fisher Island
Fisher Island is famous for its exclusivity, tranquility, and elegance. This tropical oasis was once a piece of land in the Biscayne Bay covered in coconut palms and mangroves. It is now known as a secretive, expensive tropical paradise for investors and vacationers, especially those looking for uncompromised privacy.
Being one of the most expensive neighborhoods in Miami, Fisher Island offers an exquisite island retreat for those looking for a complete luxury club experience.
Students from Fisher Island may attend Fisher Island Day School, an exclusive private school for children from kindergarten to 5th grade.
Fisher Island condos cater to the wealthiest part of society with price per SF of over $1000.
Browse Fisher Island homes for sale
Key Biscayne
Key Biscayne is one of the best neighborhoods in Miami to buy a house if you're looking for a quiet, breezy place with golden sand beaches. Its low-key vibe and rich natural beauty are appreciated by investors and residents, making Key Biscayne a perfect Miami neighborhood for many of them.
The island is home to most of the establishments and centers residents need, such as parks, recreation and entertainment centers, small charming boutiques, and restaurants with fresh seafood.
Key Biscayne students may attend Miami-Dade County Public Schools with a K-8 center in the neighborhood, and a high school just a couple of minutes away.
You can buy upscale condo units at $799 per SF in Key Biscayne.
Browse Key Biscayne homes for sale
Coral Gables
Coral Gables is one of the safest neighborhoods in Miami, with 64 percent fewer crimes than the rest of the state. It's a fully planned community with strict residential zoning, known for being protective over its historical landmarks. The neighborhood is also rapidly evolving into an important center for international business.
Coral Gables has a remarkable line up of schools and a wealth of activities for families, making it one of the best places to live in Miami.
The average price is $379 per SF.
Browse Coral Gables homes for sale
Coconut Grove
Coconut Grove is one of the best neighborhoods in Miami for families famous for its serenity, rich history, and many family-oriented activities. It is one of the safest neighborhoods as well, with crime rates 60 percent lower than the rest of Miami.
Children from Coconut Grove Miami can attend Coconut Grove Elementary School. The high-caliber school district of the neighborhood features some of Miami's most prestigious private schools. Like Carrollton School of the Sacred Heart and Ransom Everglades.
If you're interested in homes for sale in Coconut Grove Florida, the average price per SF is $505.
Browse Coconut Grove homes for sale
Aventura
Aventura means "adventure" in Spanish, and this neighborhood is true to its name. As one of the most fun Miami neighborhoods, Aventura features the famous Aventura mall, various commercial centers, and numerous parks.
Aventura is famous for its luxurious high rises, beautiful beaches nearby, and exciting entertainment as well as commercial establishments.
Students from Aventura may attend the Waterways K-8 Center or the Aventura City of Excellence School.
The average price per SF in this fun, charming neighborhood is $246.
Browse Aventura homes for sale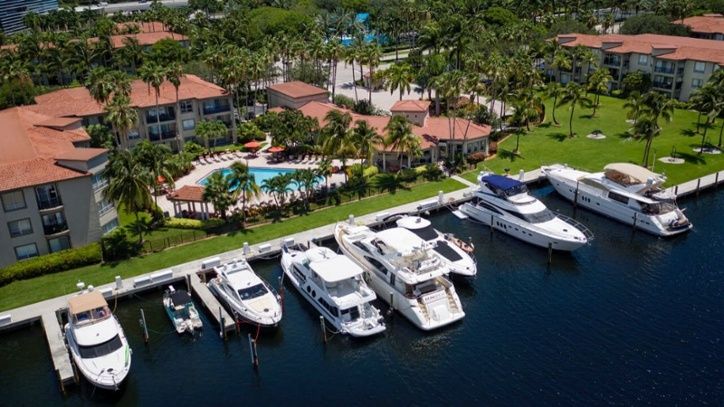 Sunny Isles
Sunny Isles is one of the best places to live in Miami for families. This gorgeous tropical island stands between the Atlantic Ocean and the Intercoastal Waterways. The exquisite white sand and warm ocean in Sunny Isles make this coastal community one of the most desirable places to live for many families.
Proclaimed as Florida's Riviera, Sunny Isles' offers a casual, relaxed life to its multi-cultural residents.
Students from the neighborhood are under the jurisdiction of Miami-Dade County Public Schools.
The average price per SF for condos in Sunny Isles Beach is $366.
Browse Sunny Isles Beach homes for sale
Bal Harbour
If you're looking for a luxurious, exclusive Miami neighborhood, famous for millionaire residents and chic shops, you should look into Bal Harbour. Celebrities and wealthy investors are attracted by the intimate atmosphere in the neighborhood, making it one of the most desirable places to live in for high-end society.
Bal Harbour is one of the safest neighborhoods in Miami and a wonderful place for families. It offers everything a family needs, including prestige schools, abundant shopping centers, and breathtaking beaches.
Students from the area fall under the Miami-Dade County Public Schools jurisdiction.
The average estimated price per SF is $1,070.
Browse Bal Harbour homes for sale
Downtown Miami
Downtown Miami is the commercial, financial, and cultural center of South Florida. The urban neighborhood is always alive, with numerous activities and businesses continuously attracting wealthy investors looking to enhance their real estate portfolio.
The modern neighborhood is close to all the conveniences a family or a single resident may need, including education centers, banks, private and government establishments, major museums, shops, and theaters.
Downtown Miami students are zoned depending on their neighborhood – those from Brickell go to Southside Elementary School, and students from the Central Business District may attend Riverside Elementary School.
The average price per SF in Downtown Miami is $410.
Browse Downtown Miami homes for sale
Brickell
Brickell is a rapidly evolving urban Miami neighborhood. Proclaimed as Miami's Wall Street by Forbes magazine, Brickell is one of the top neighborhoods in the area attracting young and established professionals. A large number of Brickell residents are wealthy individuals working in trade and finance.
Brickell homes some of the most popular Miami shops, entertainment centers, and lux restaurants. With a rich assortment of museums, sporting establishments, and theaters, Brickell residents have many places to visit.
Students from Brickell attend prestigious schools like Mater Brickell Preparatory Academy and Southside Elementary School.
The average price per SF in Brickell is $372.
Browse Brickell homes for sale
Edgewater
Located south of Upper Eastside and north of Downtown Miami, Edgewater is quickly becoming one of the best neighborhoods in Miami to buy a house. Edgewater's rapid developments and the neighborhood's proximity to Miami's financial district put it in the top list for investors and home buyers.
Edgewater has a wealth of historic 20th-century homes, but also many redevelopments. Mid-size construction and high-rise buildings bring a dash of the urban spirit to the area. Homes in Edgewater vary in size and exclusivity. From bungalows to gorgeous multi-store complexes, the variety of available homes for sale is abundant.
Most students from Edgewater attend Indian River Elementary School and Edgewater Public School.
The average price per SF is $354
Browse Edgewater homes for sale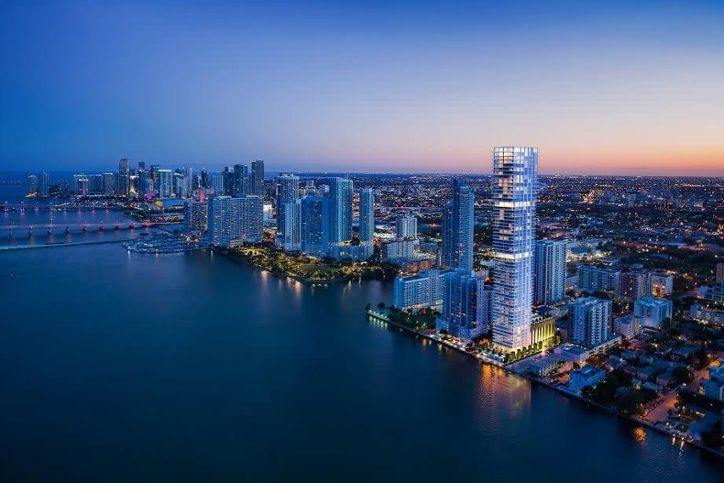 Wynwood
Wynwood, one of the most hip neighborhoods in Miami, is perfect for the tech and art crowds. What makes it one of the best areas in Miami is that it has incredible growth opportunities with a focus on shared living, open lofts, open space office environments, exclusive fashion groups, and their fashion-related crown, chic restaurants and cool galleries.
The Wynwood Fashion District and the Art District provide unique atmospheres, and residents enjoy the diversity offered by the neighborhood. Its urban charm and abundance of events draw many people in, often keeping them in Wynwood for a long time.
The Wynwood area is home to many reputable private and public schools available for students from the neighborhood.
The price per SF Wynwood ranges from $280 - $436.
Design District
Design District is the hippest neighborhood in Miami, famous for its chic urban style that attracts creative people of various lifestyles. From décor showrooms to art galleries and fine fashion boutiques, the urban spirit is evident in every corner of the Design District.
The Institute of Contemporary Art (ICA) is a part of the Design District, and it attracts many contemporary artists to the area.
Design District students attend Miami-Dade County Public Schools.
The median sales price for the Design District properties is $1,134,390.
Buena Vista
South of Little Haiti and north of Wynwood, you will wind the charming community of Buena Vista. The neighborhood is popular for its majestic Victorian homes, many of which have been converted to convenient condo residencies.
The preservation of old homes makes Buena Vista a very interesting neighborhood with a strong sense of history felt in the streets of this charming area. Many old-fashioned homes in Buena Vista were built in the 1920s, and they still look as incredible as they used to back then.
Being a family-friendly community, Buena Vista homes many schools for educating children from kindergarten to senior high school.
The average price per SF is $431.
Browse Buena Vista homes for sale
Miami Gardens
If you're looking for beautiful yet affordable places to live in Miami, the Gardens may be the right choice. Miami Gardens is a middle-class suburban community with a predominantly African American population.
Miami Gardens has a large collection of gorgeous houses and many interesting activities for residents. The neighborhood has a Hard Rock Stadium that welcomes the football team of the University of Miami, the Dolphins. It also serves as a home to the University of Miami Hurricanes football team, and it organizes the annual Orange Bowl College Football manifestation.
Miami gardens students may attend the Miami-Dade County Public School District, with many high schools close to the neighborhood.
The average price per SF is $138.
Browse Miami Gardens homes for sale
Upper East Side
Often called Northeast Miami, Upper Eastside is located north of Edgewater on Biscayne Bay. The neighborhood is a collection of beautiful subdivisions known for being exclusively residential. Considered as one of the best places to retire in Miami by many, but also one of the best places for families and singles, Upper Eastside offers security, privacy, and lush surroundings.
The households that are admitted to the waterways own the streets of Upper Eastside, and only residents and their guests can gain access to the roads.
Students of Upper Eastside attend several Miami-Dade County Public Schools, including elementary, middle, and senior high schools.
The average price per square foot is $304.
Browse Upper East Side homes for sale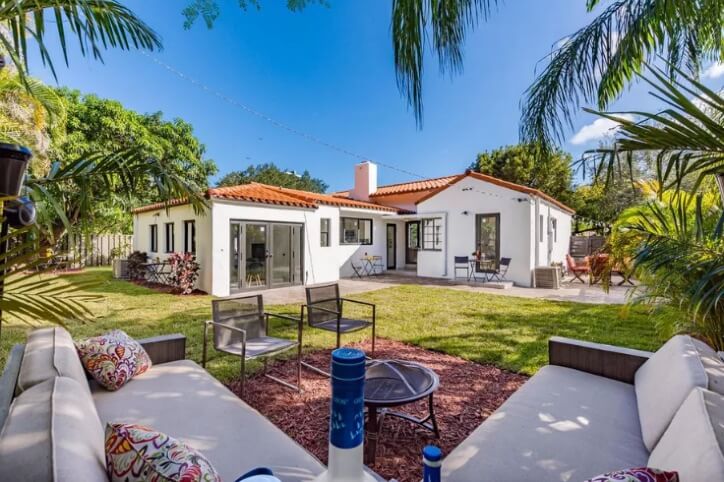 Little Havana
Little Havana is a neighborhood in Miami named by the biggest city and capital of Cuba, Havana. It is home to a big percentage of Cuban immigrants. This charming area is considered Miami's center for social, cultural, and political activities.
Little Havana is declared a National Treasure and listed in the 11 Most Endangered Places for its tremendous historical bearing.
The neighborhood is all about Cuba and Hispanic culture, with colorful murals and various monuments.
Little Havana students can attend schools in the neighborhood, including elementary, middle, and senior high schools.
The average price per SF is $248.
Browse Little Havana homes for sale
Pinecrest
Considered as one of the best parts of Miami for raising a family, Pinecrest offers a high quality of life. The neighborhood made it to the South Florida Business Journal's list of the ten best places to live in Florida.
Pinecrest is home to many reputable schools and one of the safest Miami neighborhoods. It is perfect for families, with ranch-style homes and gorgeous landscapes.
The average price per square foot is $272.
Browse Pinecrest homes for sale
South Beach Miami
South Beach Miami is famous for its playful vibe and trendy atmosphere. It's gorgeous beachfront residential as well as commercial properties keep attracting wealthy residents and investors from all over the country.
Its convenient location makes it perfect for families, with a majestic beach just a few minutes away and all the coastal attractions residents need. South Beach Miami has many wonderful amenities like lush parks, local youth activity centers, and a well-established school system, both private and public.
The average price per square foot is $226.
Browse South Beach homes for sale
Miami is one of the most attractive areas for wealthy investors and homebuyers for many good reasons. Whether you're looking for a luxurious residential complex on the coast, or a chic condo in a high, urban building, you will find your perfect home, commercial space, or investment in Miami neighborhoods.

Miami Real Estate News
"Moving to Miami: The Ultimate Guide"
"Which Neighborhoods Have the Most Desirable Houses for Sale in Miami"