Miami offers residents an abundance of sunshine, rich culture, a thriving business climate, world-class dining, and much more. Many of the residential neighborhoods that are close to downtown or South Beach feature high-rise luxury condominiums for resort-style living, but the Miami area also has plenty of houses for sale for those who prefer living in a single-family home. These are some of the neighborhoods with the most desirable houses for sale in Miami, Florida:
Miami Beach
Whether visiting or taking up residence, Miami Beach has long been the place to be in South Florida. Located on the barrier island that separates Biscayne Bay from the Atlantic Ocean, Miami Beach has three distinct areas: South Beach, Mid Beach, North Beach. Each of Miami Beach's sub-neighborhoods has its own culture and vibe that appeal to different types of buyers, but all of the areas have gorgeous houses for sale that highlight the sun and surf lifestyle of Miami Beach.
South Beach,

the first inhabited area of Miami Beach, was once farmland with a coconut plantation and did not incorporate as a city until 1915, after local businessmen embarked on their mission to make South Beach independent of Miami. The city began to grow and thrive with the Art Deco architecture that South Beach is famous for arriving in the 1930s. This Art Deco playground has been preserved and restored over the decades. Today South Beach remains a favorite playground for the rich and famous with vibrant nightlife, upscale shopping, art galleries, and culinary experiences to please all palates.

Mid Beach

is the part of Miami Beach that spans Collins Avenue and includes the area north of 23rd Street and Indian Creek and south of 63rd Street and Surprise Lake. The shores of Mid Beach are adorned with upscale hotels, restaurants, and bars. The Faena District, a three-block art complex with a bazaar, is also located in Mid Beach.

North Beach

is the most low-key area of Miami Beach; it extends north to 87th Terrace where Surfside begins. This area of Miami Beach is often understated. For those looking to buy a single family home in Miami Beach, they will appreciate North Beach for its lack of tourists and quieter nightlife. With its parks, outdoor stages, plentiful parking, and wide beaches, North Beach is the most family-friendly area of Miami Beach.
Coral Gables
Located southwest of downtown Miami, Coral Gables is one of the oldest cities in South Florida. When George Merrick founded the city in 1925, he was inspired by Mediterranean style architecture from the Andalusia area of southern Spain. Coral Gables has preserved that architecture with more than 1,000 buildings registered as historic landmarks, including the famous Biltmore Hotel. The city also offers incentives for those who keep with Mediterranean style when they build or restore an existing home or building. This aesthetic carries through the city with its plazas, parks, fountains, and winding roads. The spring fed Venetian Pool, constructed in 1923, remains a favorite landmark for visitors and residents alike.
Coral Gables' close proximity to downtown Miami, the Port of Miami, and Miami International Airport provide residents with easy access to jobs and transportation; however, Coral Gables has a thriving local economy as a large employment center in South Florida. In addition to the hundreds of upscale brands and retailers that have shops in Coral Gables, many at The Shops of Merrick Park, the city has more than 100 dining establishments that attract upscale corporate and leisure travels. The University of Miami is also located in Coral Gables and serves as the areas largest employer.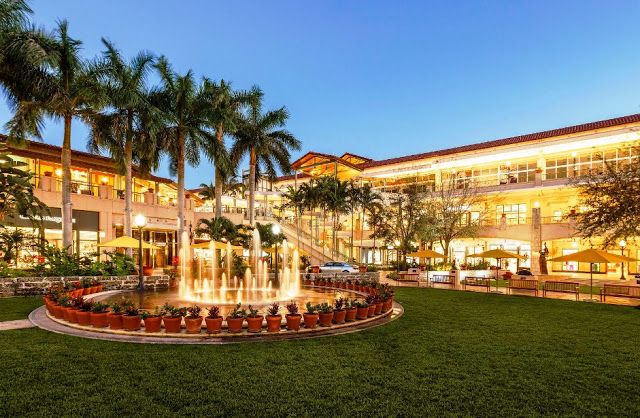 Pinecrest
The suburban community of Pinecrest is home to some of the largest and most beautiful homes in Florida. For those looking to live on the waterfront, Pinecrest is landlocked, but home lots with large acreage, and the sense of community in Pinecrest attract many buyers. Pinecrest began as a staging area for the construction of the Overseas Railroad to the Florida Keys in the 1930s. As the Miami area expanded, more people moved to the area and Pinecrest officially incorporated in 1996. The centerpiece of the city is Pinecrest Gardens, a municipal garden, which was once Parrot Jungle, but now serves as a place to relax and explore the area's flora and fauna.
Those looking to buy real estate in Pinecrest will find large estates with gated entries located on multi-acre lots as well as medium size homes. City laws and zoning are fairly strict creating a clean and orderly neighborhood comparable to storybook pictures of perfectly landscaped homes with white picket fences. Like other neighborhoods with desirable homes, Pinecrest offers convenient access to the dining, shopping, and entertainment in Miami, Miami Beach, and other nearby Miami suburbs.
Coconut Grove
Located southwest of downtown Miami along the shores of Biscayne Bay, Coconut grove is the oldest continuously inhabited city of Miami-Dade County. The neighborhood's rich history connected to the sea and vibrant culture infused with Bahamian and Caribbean immigrants from yesteryear make it a great area to call home. After first being settled by immigrants from the Bahamas via Key West, the City of Miami annexed Coconut Grove in 1925. The community has a colored history and remains one of the most diverse neighborhoods in the area. Once a hippie commune in the 1960s, Coconut Grove continues to promote an eclectic lifestyle that includes art, food, and living an active lifestyle.
Buyers will find a wide array of home styles in Coconut Grove, including contemporary homes, bungalows and those that pay homage to Mediterranean and Old Spanish architecture. Coconut Grove's beautiful mangrove-lined parks, winding streets, and buildings with climbing vegetation speak to the outdoor lifestyle that residents enjoy. The historic downtown area offers a wide variety of outdoor cafes, coffee shops, and boutiques. Coconut Grove also radiates a celebratory feel because of its many events and festivals including the Coconut Grove Arts Festival and the King Mango Strut Parade.
Contact us today for more information about finding the most desirable home in the Miami area.
Miami Real Estate News:
"Moving to Miami: The Ultimate Guide"
"It's Time to Invest in Downtown Miami Apartments for Sale"
"Why You Need A Highly Experienced Real Estate Agent in Miami"