There are so many reasons why the people of New York City love Miami. Most New Yorkers love Miami because of the glorious weather and the beaches. Some are learning to love Miami because of the great tax benefits Florida offers. The savings can be so great that many are considering moving their families to Miami, buying a Miami Beach condo to start or even a Miami Beach mansion. And some because, well, it reminds them of "home."
New York South, The 6th Borough
In many ways, Miami is considered New York's 6th borough. New York's Financial District is Miami's Brickell. More foreign banks have their offices in Miami than any other city, and many US banks have offices in Miami to manage their Central, South American and CARICOM countries' business. Brickell is a center for professionals who are investing in beautiful Miami luxury apartments like the Brickell Flatiron, by Ugo Colombo, and Una Residences, by Adrian Smith Gordon Gill architecture. From their homes and pieds-à-terre owners can walk to their offices in Downtown, work out in the gym or yoga studio, and enjoy dining in Mary Brickell Village.
Miami's Downtown is New York City's Midtown in many ways. The Seybold Building has 280 specialist jewelers. You also see many NY-style pizzerias and fabric shops. The number of luggage and camera stores resemble Herald Square. Bal Harbour's luxury shopping resembles Fifth Avenue, and Millionaire's Row is like Uptown's Park Avenue. The Row is a residential neighborhood on Miami Beach boasting beautiful mansions and superb waterfront apartments like the Ritz Carlton residences Miami Beach. Many New Yorkers have moved to Miami Beach since Frank Sinatra made it his vacation spot, and the numbers keep growing.
Some would say that Miami's Ocean Drive is NYC's Times Square where you see all the tourists. South of Fifth (SoFi) could be the Tribeca of Miami Beach. They both went from a no man's land to an upscale residential area with fine dining and a quiet feel. Miami's South Beach Flamingo Area links to East and West Village. Both are charming, both historic, and both have easy walking to stores and restaurants along tree-lined streets.
Wynwood and Williamsburg flourish with artists, art galleries, and studios. Louis Vuitton's and Louboutin's boutiques are at home in both New York's SoHo and Miami's Design District. Miami's South Beach West Avenue neighborhood compares to New York's Upper West Side. Edgewater with its waterfront park is a family neighborhood, close enough to everything but less expensive than Miami Beach proper or Brickell, rather like Long Island City and Greenpoint are quieter and less expensive, but still close enough to NYC's primary action.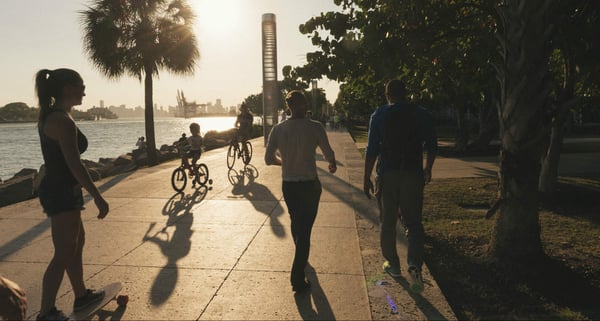 Miami's Beaches
With January as the coldest month averaging 62°F and July the hottest at an average of 82°F and 12 hours of sunshine every day, there are a lot of opportunities to enjoy the many beaches. Miami boasts so many different kinds of beaches so choose them to swim, sunbathe and socialize as you wish.
South Beach is as beautiful as the people, cars, and art deco architecture. Miles of white sand and blue ocean. For a quieter beach go to Bill Braggs Cape Florida State Park on Key Biscayne. As well as sand and sea, you have miles of quiet trails and a 19th Century lighthouse to visit.
Sunny Isles Beach at the end of North Beach is perfect for pampering. Luxuriate in the beautiful views and the beach club service. Mid Beach has the coolest vibe. Lined with pool and beach clubs, the busy nightlife is where it's at!
The Hamptons vs. Miami
While it is true that many New Yorkers still enjoy their weekend getaways to East End, and some are even moving there permanently, the winter is a much much quieter time. The sun and warm temperatures of Miami and year-round living has made many traditional Hamptons residents look south. Some buy their third home, and some test it out by renting a home until they are sure Miami is where they should spend their winters. Considering at peak times it takes about as long to drive to the Hamptons East End as it does to fly to Miami, more and more UHNWIs are choosing South Florida over the Hamptons to enjoy the exceptional lifestyle and transact business.
Price points in Miami are a fraction of those in Manhattan. Of course, if you are looking for Miami Luxury Real Estate, which is the top 10% of sales in the market, prices in Miami Beach along the ocean can top $2,000 per square foot. The luxury segment in Downtown Miami, however, is only a fraction of that, at around $600 per square foot. Therefore, owning a pied-a-terre in Miami or in South Beach doesn't need to be all that expensive.
Make the Most of the Miami Art Scene and its Culinary Delights
Miami offers amazing opportunities for art lovers never to miss New York. Art Basel Miami Beach will, as always, prove an exceptional experience. 250 of the world's leading galleries display works of modern masters as well as up-and-coming artists, sculptors, photographers and filmmakers. The season offers many other exhibitions and events. Basel-n-Brickell features local talented artists to provide a superb evening of art, music, food, and fun. Wynwood Shop's three-day event includes art, jewelry, and clothing collections. SCOPE Miami Beach is a six-day event exhibiting the works of emerging contemporary artists from 25 countries.
Aqua Art Fair in December is considered "Miami's contemporary art fair." These five days enable serious collectors to review and purchase works by emerging and mid-career artists.
The performing arts are also important to the Magic City. Musical experiences include every taste and interest from a special concert by Uruguayan duo pianists Enrique Graf and Ciro Fodore to "Magico." This visual concerto features photo-choreography of the world's greatest architectural and natural wonders. The world-famous artist DUAIV, will paint an original work on stage as the orchestra plays. His original work will then be auctioned in support of the Symphony at the post-concert reception.
To remind ourselves why New Yorkers love Miami, let us review of some of Miami's culinary delights. They range from the simple and fun to the totally unique. The Blue Ribbon Sushi Bar and Grill has added to its Manhattan location with its third restaurant in the newly renovated Plymouth Hotel on South Beach featuring its famous sushi and sashimi delights. Secondly, Chef Ampudia of Café Habana and Bar Bruno has opened Lolo's Surf Cantina (below) also on South Beach, and named it for his grandmother. La Mar by Gaston Acurio at Mandarin Oriental Miami features "novo-Andean" and "Asian-Peruvian" cuisine.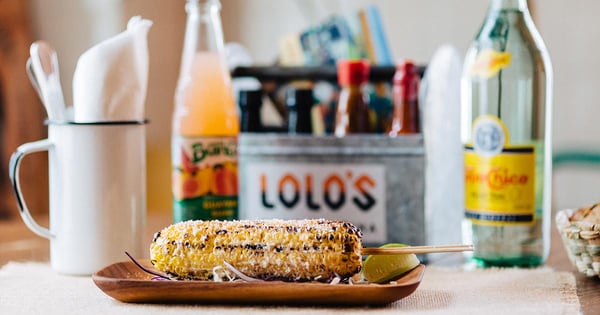 Seaspice, on the banks of the Miami River is the only brasserie featuring seafood. Gaze at the city lights reflected in the water and delight in the impressive views of Downtown. Seaspice is the only brasserie in town specializing in seafood.
There is a Zuma in New York, London, and Rome. The Zuma at EPIC offers the same phenomenal food, but on the Miami River, not the Thames or the Tiber. Cipriani is in Brickell on the waterfront and serves amazing Italian fare. For another unique dining experience, explore the menu at Miami Supercar Rooms in Wynwood. You and your motor-loving guests dine next to vintage Rolls Royce, Mercedes Benz, Ferrari and other special "sets of wheels."
The Deck at Island Gardens is one of Miami's most exquisite outdoor lounge and restaurant establishments. Wine, dine and dance outdoors. You are welcome to arrive by land or on your yacht. You may dine inside or in one of the waterfront cabana lounges. As you would expect, the evening comes with delightful Downtown views and Miami's spectacular sunsets.
Why New York Hedge Funds Relocate to Miami
Today's technology enables global business to be transacted anywhere 24/7, and dual residency enables financial executives to make big savings. New York's taxes are 14.4%, Jersey's taxes are 8%, and Miami Real Estate equivalent taxes are zero. That 14.4% tax saving may go a long way to pay for a second or third home. Make the Miami luxury home the primary residence, Homestead it, be out of New York for 181 days a year and there you have another reason. Add in the new Federal cap on state and local taxes for individuals living in high tax New York, and the argument is made.
According to Bloomberg, I Squared Capital will open an office in Miami later in 2018. Sadek Wahba and Adil Rahmathulla, the founders of I Squared Capital, are reportedly moving into the Sunshine State along with their business operations.
Miami Downtown Development Authority (DDA) met in April with senior members of Morgan Stanley's Institutional Equity Division and with the Managed Funds Association. "Project Apple" and "Project Sunshine" are code names for confidential deals focusing on other major investment houses moving south. The DDA's goal is clearly to have Miami rebranded as Wall Street South, and Palm Beach as Hedge Fund South.
Low taxes, a beautiful lifestyle, and the relative ease of getting to and from each city, will strengthen New York City's love affair with Miami Luxury Real Estate. Let us guide you there.
Miami Real Estate News:
"Relocating to Miami: The Ultimate Guide"
"Miami's Best Neighborhood to Live or Invest"