Miami Neighborhoods: Brickell
For decades, visitors flocked to South Beach, the trendy arts district where the rich and famous lived. While South Beach won't lose its place in the hearts of Miamians or visitors anytime soon, Brickell is a vibrant and sophisticated option for dining and shopping. Over the last decade, Brickell, including the island Brickell Key, has experienced exceptional growth and development, creating another great niche to explore in South Florida.
What to Expect
With glass, steel, and concrete on display at neighborhood's numerous high rises, the neighborhood is Miami's financial district and the financial hub for Latin America. As one of the busiest financial districts in the United States, the neighborhood is also one of the most densely populated areas of Miami. Things quiet down a bit a night on the business side. But, with all the residential development that has gone on in the last 10 years, evenings bustle with social activity at places like Mary Brickell Village and Brickell City Center.
The Vibe
The neighborhood caters to working young professionals during the day and those who want to have fun at night. Regardless of the time, and in contrast to other Miami neighborhoods like Coral Gables and Coconut Grove, the area is vibrant with a welcoming atmosphere characteristic of Miami. Residents, of which many are young working professionals and entrepreneurs, will find multiple cultural opportunities, a growing gastronomy scene, and wide variety of entertainment options.
Lifestyle
Buyers and renters who seek downtown urban style living in Miami will revel in their options in the neighborhood. Multiple high-rise condominium and apartment buildings offer young working professionals everything that they need in close proximity. Often times, most necessities are only a short walk away. Many of the luxury condo buildings in the neighborhood include spas and fitness clubs. Residents can walk to work. They can walk to any one of the many outdoor restaurants, stroll around the neighborhood, go boating, or running and jogging along Biscayne Bay. Or, just enjoy a cocktail on their terrace, overlooking Biscayne Bay, enjoying the warm winds.
Shopping and Restaurants
As recently as 2009, shopping and dining in the neighborhood was almost nonexistent. The opening of Brickell City Centre in 2016 changed the landscape of the area by providing residents with more options for living, dining, and shopping. This new shopping center transformed Downtown Miami. Ultimately, the project now features two residential high rise towers (Reach and Rise) and two mid-size office towers. In addition, BCC features the East Hotel that sits above a four-story shopping, dining, and entertainment complex. Saks Fifth Avenue and CMX, a Luxury VIP Cinema Experience anchors the shopping center.
Other shopping and dining options include Mary Brickell Village, home to a selection of boutiques and a wide variety of fine and casual dining options. The project also has other convenient stops such as a grocery store, fitness center, and a florist. Local favorites include going out for seafood at Bazaar Mar by José Andrés at SLS and rustic Italian food at Michael Schwartz's Fi'lia at SLS Brickell.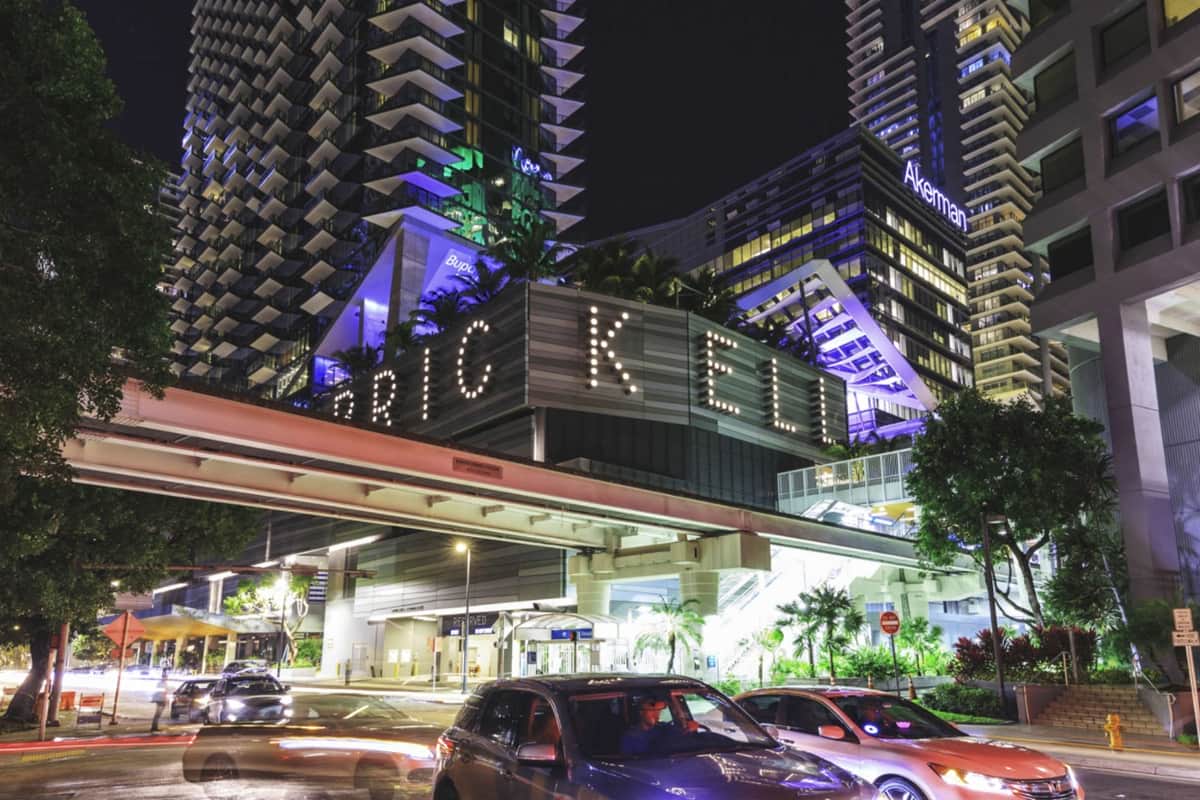 Culture
Miami oozes culture in every nook of the city. Years ago much of the "culture" was relegated to Miami Beach, however, now Downtown Miami, including Brickell, reign supreme. A short ride along Biscayne Boulevard, north of the Miami River, which is the northern border of the neighborhood, you will find Miami's Pérez Art Museum Miami (PAMM). This museum focuses on 20th and 21st century art from all over the world. Even those who aren't into modern art will enjoy an afternoon at PAMM where they can wander spectacular hanging gardens and take in picturesque views of Biscayne Bay. Most recently, the Frost Museum of Science opened its doors nearby. It offers several exhibitions as well as an aquarium and shows at the planetarium. Those who want a cultural dining experience can head to El Tucán, where they can take in a vibrant cabaret show that is a throwback to Old World Cuba.
Top Buildings
Brickell Miami growth of the last decade has been fueled the construction of tons of commercial and residential real estate. The construction of several high rise condominium and apartment building have attracted buyers and investors from all over the globe. Here are some of the top buildings in the neighborhood:
Icon Brickell —

Located along Biscayne Bay, this three-building project offers features the longest pool complex in the United States and great Biscayne Bay views. .

SLS Lux

- Located on South Miami Avenue, a few steps to Brickell City Center, SLS Lux features gorgeous condos that espouse the quality, beauty and elegance of the SLS brand.

Echo —

Located on Brickell Avenue, Echo Brickell is the building for residents who want the latest and greatest home technology. Floor plans include one to four bedrooms with interiors inspired by world-famous Carlos Ott. Aside from floor to ceiling windows with great views, each residence includes Apple® home technology, built-in coffee and espresso machines, wine storage, and much more.

Reach & Rise—

Reach and Rise condos are separate luxury residential towers that have direct access to Brickell City Center. Buyers can choose between multiple floor plans that range from one to four bedrooms. Each building has a private concierge and an expansive half-acre amenity decks that include gardens, barbecues, and outdoor fitness areas.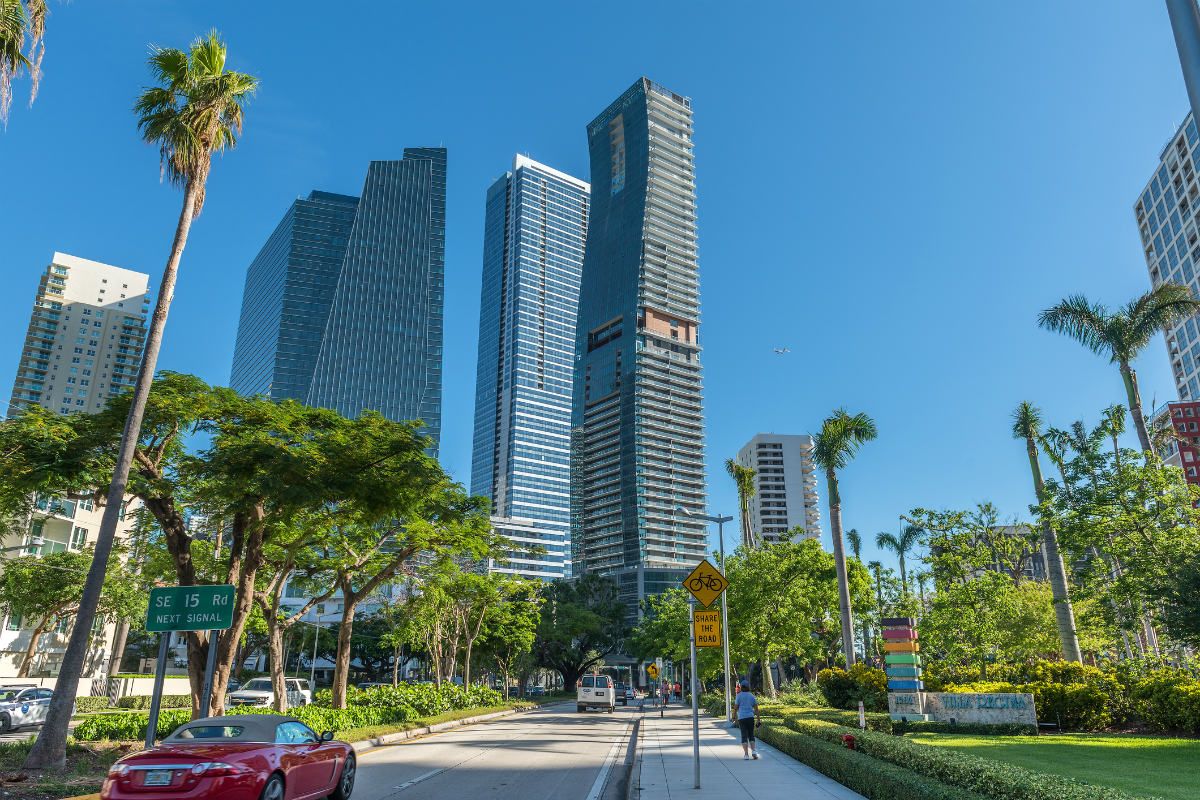 Pre-construction Condos
The amount of Brickell condos for sale continues to grow to support the area's popularity. Here are some properties that are in the early stages of development or have new construction :
Una —

Una Residences, located on the waterfront near the Rickenbacker Causeway, is a 47-story ultra-luxury South Brickell condo development. Each Adrian Smith + Gordon Gill Architecture designed residence will have private elevator entries, chef's kitchens, and much more. The project is scheduled to be completed in 2021.

Brickell Heights—

The twin tower development of Brickell Heights lies in the heart of Miami, next to Mary Brickell Village. The condos designed by David Rockwell exude modern glamor for those who want to be within five minutes of everything that Brickell has to offer. Exclusive amenities include a resort-style rooftop terrace and pool, access to the Equinox fitness center, and access to SoulCycle®.

Brickell Flatiron—

Developed by Ugo Colombo and designed by Luis Revuelta, residences residences are within walking distance to all of the action, including Brickell City Centre and Mary Brickell Village. The one to three bedroom Italian designed residences exude luxury. This building is also family friendly with a playroom and special pool for children, in addition to their Sky Pool.
Housing Market
Hurricane Irma slowed Miami's housing market for a short time, but sales have been rebounding and Miami has seen eight consecutive years of price appreciation. Miami apartments are less expensive than many other global cities, so those who want to buy in Brickell have an opportunity to purchase properties at a good value. If you are not ready to buy a property in Brickell, renting is a good stepping stone, as there are a lot of luxury options and the rental rates are relatively low.
"Miami's Best Neighborhoods to Live or Invest"
"It's Time to Invest in Downtown Miami Apartments for Sale"
K-12 Schools
Families with children attending K-12 who live in area are served by a number of excellent public and private schools. Outstanding private schools include Key Point Christian Academy, KLA Schools, and Brickell International Academy. Miami-Dade County Public Schools has a handful of schools in the neighborhood that are exceptional. Many of which are specialty schools such as School of Advanced Studies, New World School of Arts, Design and Architecture Senior High School, Mast Academy, and iPrep Academy.
"Enrolling Foreign Students in Miami Public Schools"
The Best Thing About The Neighborhood
The neighborhood has transformed from financial center to 24/7 work, live, play neighborhood. Miami has never had this, but Brickell is it - the closest thing one can get to Manhattan living in Florida - albeit, with much nicer weather. Of course, the neighborhoods continues to be Miami's financial district, where many banks, financial companies and hedge funds call home. In addition, Brickell has attracted many tech companies such as Facebook, Twitter, Yahoo, Oracle, Cisco, and many more.