Coconut Grove is "the new place to be" for Miami's ultra high net worth families. The Grove's tree-lined streets were always known for their artistic, bohemian, laid-back residents, and the calm lifestyle they brought to the oldest continuously settled part of the city. But so much has changed. The Grove's more recent residents also love the family-friendly, relaxed, and gourmet lifestyle. Their interest drove some special changes, and Coconut Grove is now a first choice primary home location. Let us explore some of the reasons.
What Changed?
The invisible hand of the market has played a huge part. Because the Grove is a unique cultural oasis in the heart of greater Miami, the Bahamian conch architecture and traditional beautiful Mediterranean designs encouraged new owners to renovate the homes' interiors. This was followed by people buying vacant lots or demolishing an existing home and designing their own "modern" place to live. These so-called McMansions brought in newer stores and restaurants. This, in turn, encouraged world famous architects and interior designers to create masterpieces such as Park Grove, Grove Arbor, and The Residences at Ritz Carlton Coconut Grove. The developments in Downtown added to the dynamic growth. As all these ambitious plans took shape even more prestigious commercial development entered this 5.6 square mile enclave. The result is what we are seeing today.
What You Can Expect
An ultra-luxury lifestyle balanced by a personal calm, living history and natural beauty, high-end real estate and tranquil parks and gardens, world-famous private schools and lazy weekends, cordon bleu dining and world-class shopping balanced by yachting in the bay and visits to national historic landmarks. Expect it all and enjoy it all because Coconut Grove has it all.
The Grove offers all that, so you and your family's personal lifestyle will be exactly what you make it. The Grove is considered Miami's safest neighborhood. Many homes are on quiet streets and in guard-gated communities. Many residents came and stayed, which makes for a stable and peaceful place to live. Young professionals who first moved to Brickell to work, started families and moved to the Grove so their children would have a perfect neighborhood and be close to some of the best schools in America, and their parents could easily commute back to Brickell, Downtown or Coral Gables.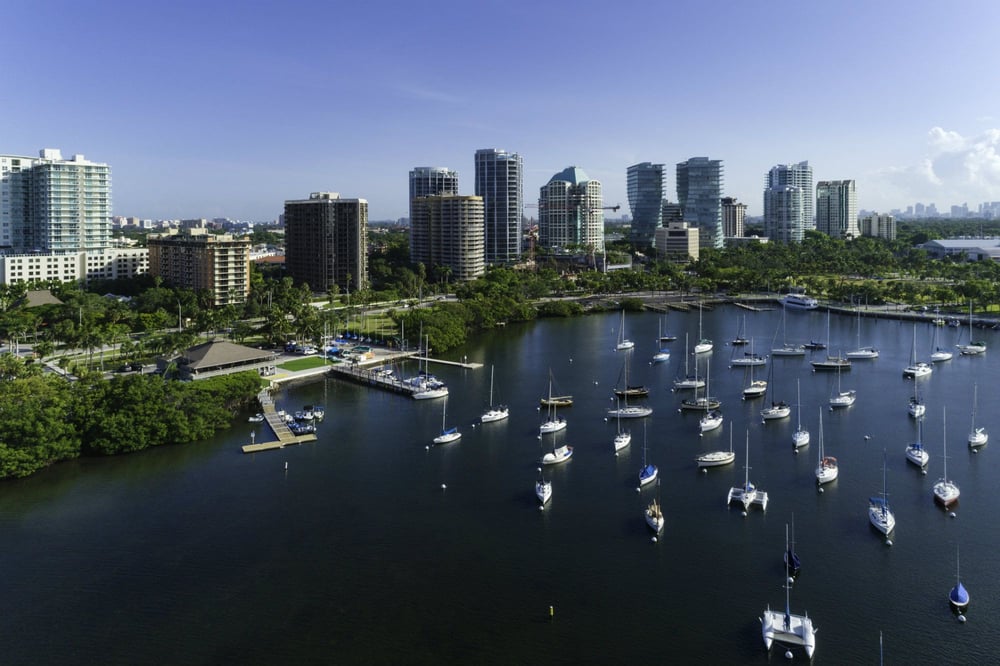 It is a given that Coconut Grove real estate delivers luxury condos such as Grove at Grand Bay and Grovenor House, as well as waterfront and dry lot mansions, and single family homes. But to meet the demand from the young professionals, it also offers excellent townhomes, some in gated communities. The demand for Coconut Grove condos is there, and the supply is meeting it. Because the Grove attracts such a wide range of residents, the lifestyle has also grown to satisfy a wide breadth of taste. Lifestyle involves physical recreation, cultural interests, dining, shopping, travel, and everything associated with a waterfront community as well as educational opportunities for a growing family.
Parks and the Open Air
The Grove's 16 parks and gardens are the envy of Miami. Vizcaya Museum and Gardens is world-famous for its interpretation of 17th and 18th Century Italian and French architecture. The house holds intriguing collections of art and the gardens are a wonder to behold. Barnacle Historic State Park also offers superb views of Biscayne Bay and has its own beautiful gardens to explore. The Kampong's botanical gardens featuring exotic blooms seems to be somewhere so few people outside of the Grove even know about. Bikers and runners head for David T. Kennedy Park (and some probably just go for a taste of the best frozen lemonade in Miami.) Kids love Peacock Park's playground while mom and dad enjoy the bay views.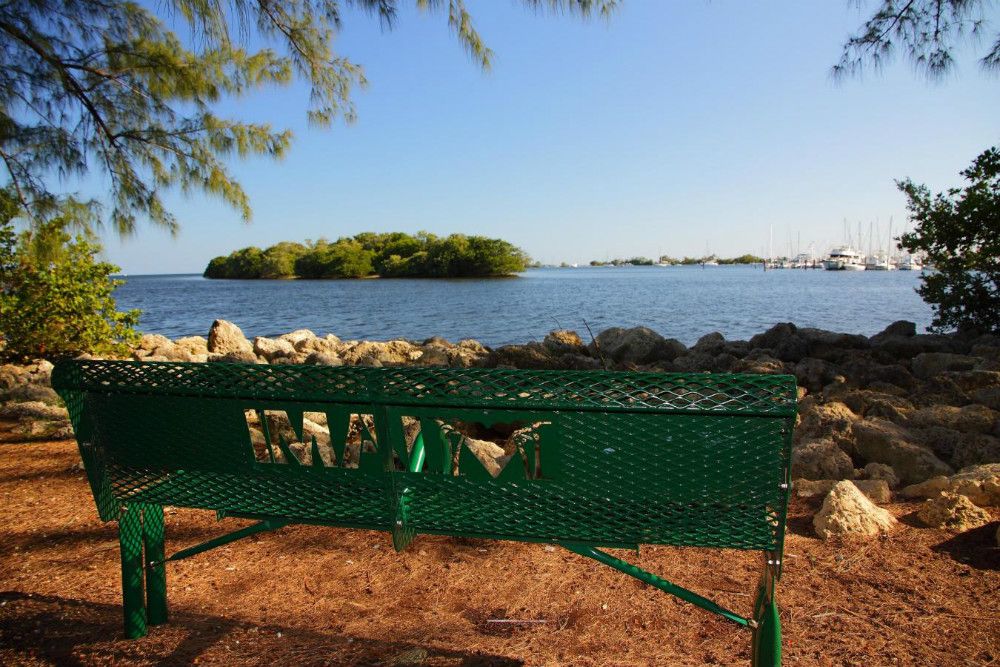 Shopping and Restaurants
When not simply enjoying the natural beauty of the open spaces, the Grove has much to offer diners and shoppers. Most of it within walking distance of a few blocks.
Coconut Grove's shopping caters to every taste and style. There are two open-air malls, CocoWalk, one may say, is more an upscale life center than simply a shopping mall, featuring high-end retail stores and boutiques, dining, cafés and a multi-screen cinema. Mayfair in the Grove is the other upscale retail, dining and commercial center.
Individual stores of note include The Bookstore in the Grove where you can browse for a book and meet with friends in the bookstore's rather smart café. H and H Jewels is a premier venue for specially designed jewelry for a unique gift for that special someone. Blonde Tulip provides bouquets for all occasions. Choose your arrangement or work with their designers while enjoying a meal in the Blonde Bistro. Unika offers fashion accessories by both well-known and up-and-coming designers.
From fine dining to sports bars, the Grove has it all. Enjoy this brief paragraph as a "sampler." The magnificent Panorama Restaurant and Lounge where "food is an art" serves international delicacies with a primarily Latin flare. Lulu in the Grove serves delicious food and drinks in ways most out-of-towners have yet to experience. The funky setting and sophisticated vibe is what guests experience as they dine on locally produced organic fare.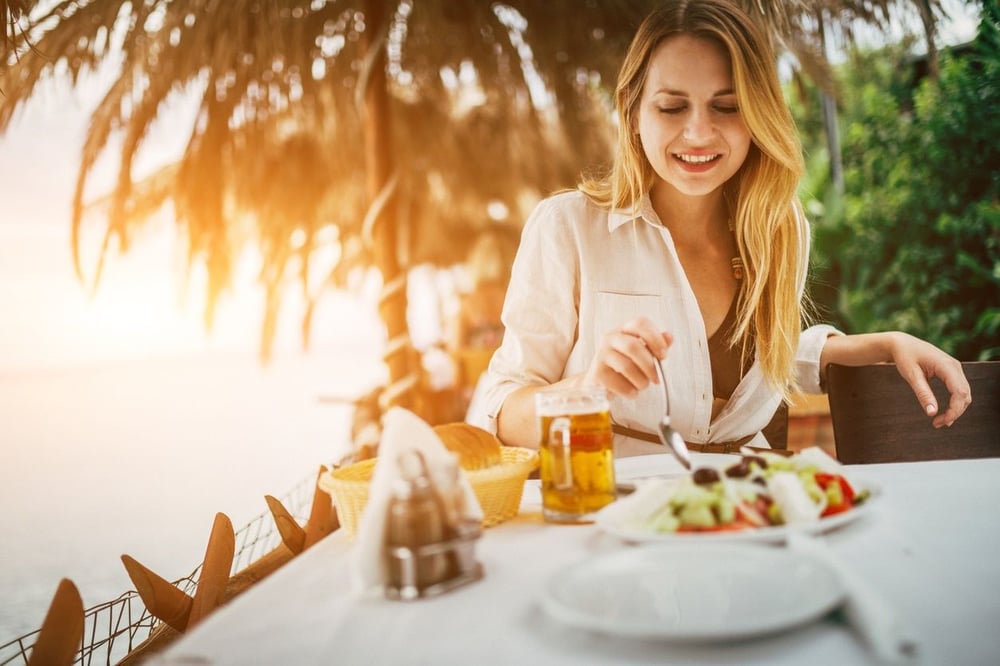 Ariete offers an amazing Cuban taste profile, Sopare di Mare is famous for its Italian charm serving Mediterranean-style seafood, pasta and cheese dishes.
LoKal is a casual burger bar which serves an interesting range of micro-brew beers. Green Street Café has become known as "Sidewalk-Dining Central" by its keep-fit clientele, college students, and folks just out for a stroll with their furry friends. Glass and Wine has a playground to keep the kids entertained while mom and dad enjoy an evening of craft cocktails or a fun weekend brunch. Alma is another Spanish restaurant featuring everything from glazed octopus to lamb delicacies. And to end, the Grove is home to Miami's oldest Indian restaurant, Bombay Darbur.
Public and Private Schools
Coconut Grove Miami is well served by both public and private schools. There are seven private schools, some faith-based such as Immaculata-La Salle High School where students learn "reason, religion, and human kindness." St. Stephen's Episcopal Day School educates to inspire students to become forces for good. The Vanguard School is open to children with learning difficulties, and the Coconut Grove Montessori School applies the philosophy of the great Maria Montessori enabling children to learn naturally. Ransom Everglades School's mission is to deliver private education with a public purpose. Students focus on good stewardship of nature and learn everything from biology to sailing.
There are four public schools; three elementary and one middle school. They are all committed to excellence. G. W. Carver Elementary offers a multi-lingual learning environment, and their Middle School is an "A" Grade establishment.
A Final Word
Coconut Grove's greatest benefit is that it offers a unique opportunity for everyone to live in a village atmosphere surrounded by one of the world's greatest cities. Choose your style of home, know that your commute to Brickell or Coral Gables is only minutes, know that you and your family have everything so close at hand to make the most of living. Miami luxury real estate developers have focused so much energy and inspiration that the Grove stands apart from every other community in south-west Florida for its high-end homes, be they condos, single family homes or mansions. Now that you have read our introduction to this beautiful neighborhood, please simply click this link to contact us so you can share your goals with us and we can use our expertise so you achieve them.