Coral Gables, nicknamed "The City Beautiful," is one of the first planned communities in Florida, meaning that the land was undeveloped until the city was designed and constructed. George Merrick founded Coral Gables in 1925. After being inspired by the architecture of southern Spain, Merrick and early planners drew from American's City Beautiful Movement from the early 1900s to create an Mediterranean Revival-styled community with plazas, fountains, parks, and monumental buildings that people in the Miami area wanted to call home.
What to Expect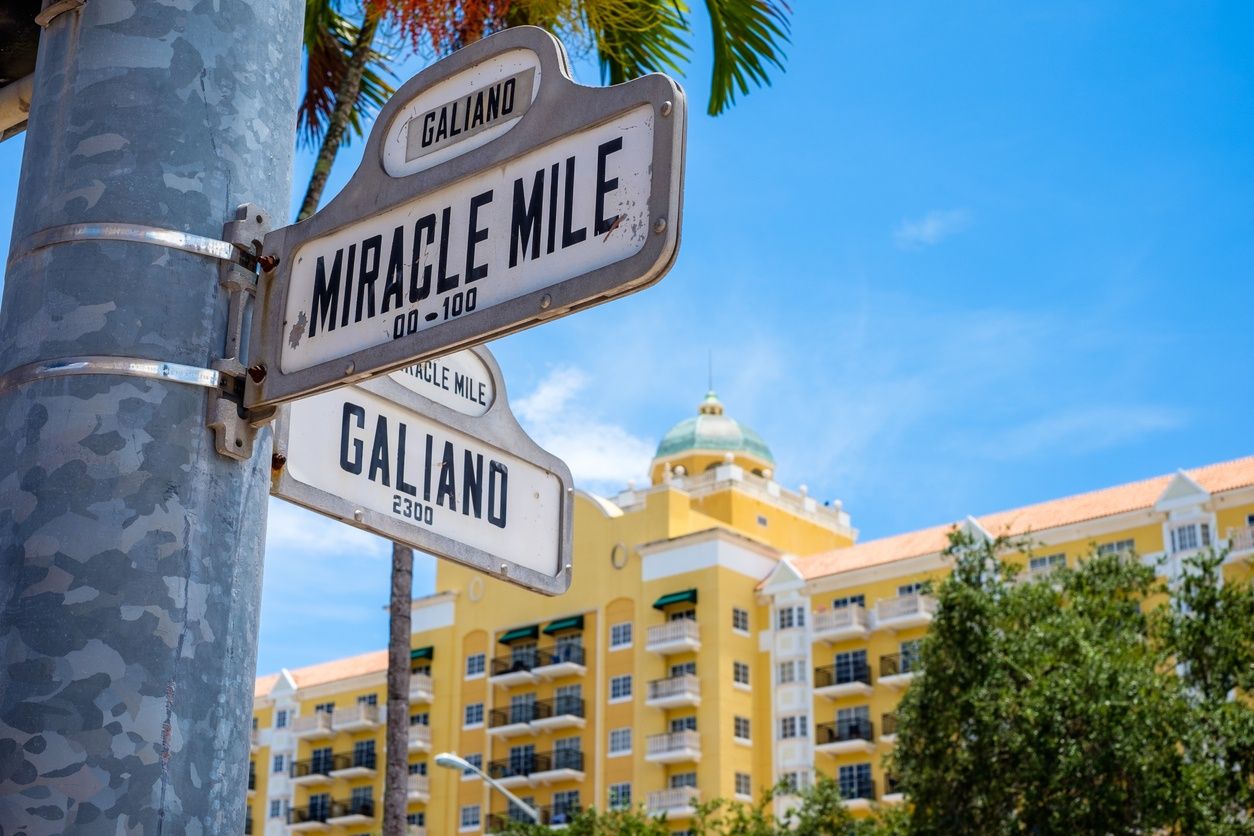 With continued preservation and restoration of the ornate buildings from the community's early days, Coral Gables remains a place where old and new are elegantly interwoven into its natural surroundings. More than 1,000 historic buildings, including the famous Miami Biltmore Hotel, line the streets of Coral Gables surrounded by new developments and buildings from the last century. The city is a major employment center and home to the University of Florida, so business carries on throughout the day, but Coral Gables' trendy bar and restaurant scene light up the night.
The Vibe
Coral Gables is removed from the Miami Beach party scene, yet it is far from sleepy. All types of residents call the city home including working professionals of all ages, families, and singles. The architecture, lush landscaping, dining establishments, and entertainment options give of an Old World vibe sprinkled with contemporary luxury.
Lifestyle
Residents of Coral Gables will enjoy upscale dining, world-class golf courses, and easy access to several points of cultural and historical interest. While there is a clear separation of commercial and residential areas in Coral Gables, residents may take the vintage trolley that connects the commercial districts and Grand Avenue. Those who are committed to an active lifestyle will find that Coral Gables is very walkable and has plenty of green spaces to engage in outdoor activities such as running and cycling.
Shopping and Restaurants
Coral Gables offers a wide array of shopping and dining experiences for residents. The Shops at Merrick Park is a mixed-use facility anchored by Neiman Marcus and Nordstrom. In addition to a few restaurants, the upscale shopping lifestyle center is home to famous designer brands such as Gucci, Jimmy Choo, Kate Spade, and Tiffany. Those who want more of a boutique shopping experience with an international flair will head to downtown Coral Gables.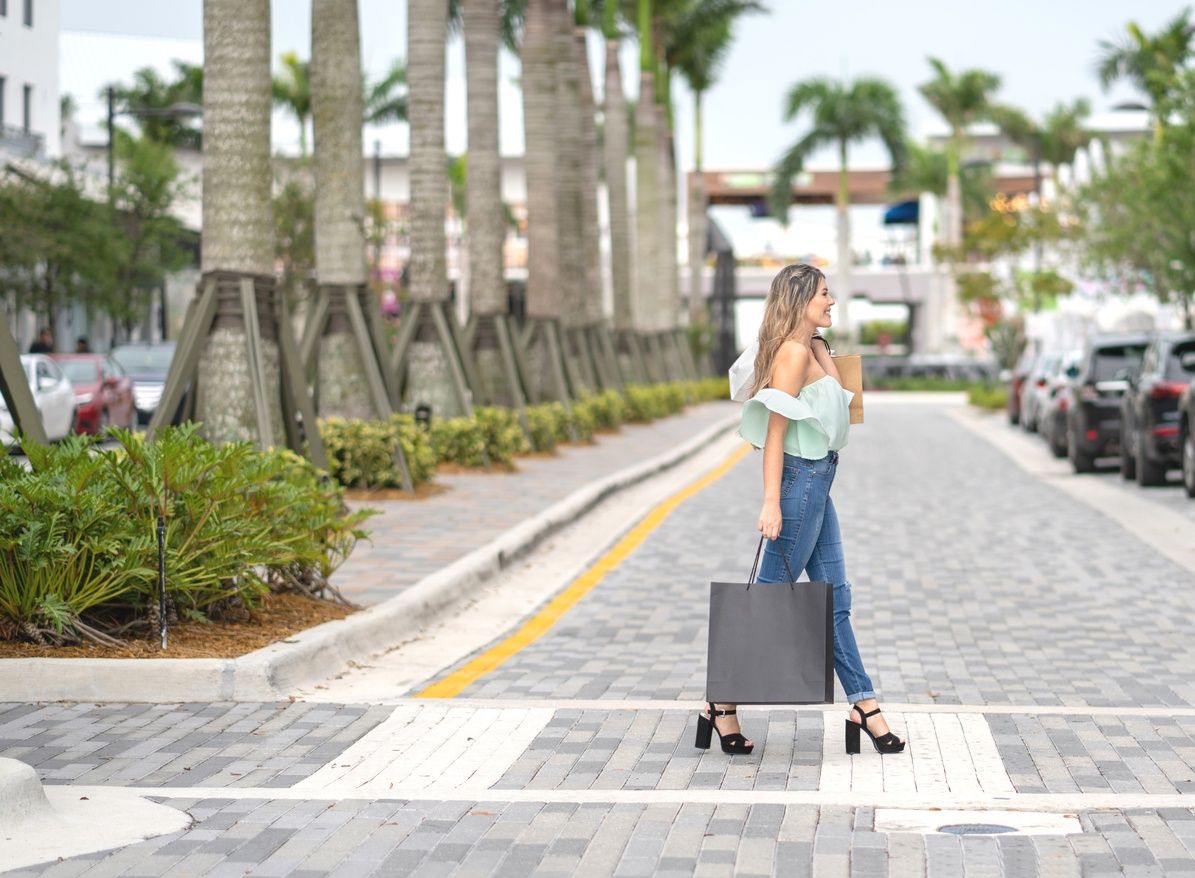 In 1997, Coral Gables incorporated its Business Improvement District (BID) which includes 19 blocks of historic downtown Coral Gables and the Miracle Mile, a pedestrian-friendly shopping area. Downtown Coral Gables and the Miracle Mile showcase the city's Spanish-infused Mediterranean feel with upscale boutiques and shops with all kinds of treasures, fine dining establishments, bars, and alfresco cafes for people-watching.
Culture
Downtown Coral Gables serves as the city's cultural center with the Coral Gables Museum and the Actors' Playhouse at the Miracle Theater. Additionally, the Gable Stage at the historic Biltmore Hotel, the Area Stage Company, and the Open Stage Club are long-standing venues that offer live theater performances. The University of Miami also offers opportunities for residents to immerse themselves in local culture by attending lectures, performances, art cinema, and visiting the Lowe Art Museum. The City of Coral Gables continues to support public art as part of the community through their distinctive grant program for non-profit cultural endeavors.
Real Estate in Coral Gables
Real Estate in Coral Gables is extremely diverse. The Biscayne Bay waterfront area is home large estates owned by movers and shakers in the business world, Hollywood stars, and sports celebrities. The area also offers gated communities of single family homes at a variety of price points. Those who want more of an urban feel with high walkability will opt for one of the newer luxury high-rise condominiums in downtown Coral Gables.
"Best Miami's Neighborhoods to Live or Invest"
"A Guide to the Most Distinguished Miami Mansions For Sale"
"Which Neighborhoods Have The Most Desirable Houses For Sale in Miami Florida"
Cocoplum
For ultimate luxury in a Coral Gables gated community, many home buyers opt for Cocoplum. This exclusive enclave is located east of Old Cutler Road and nearby Coconut Grove. It features native lush landscapes and canals that offer direct access to Biscayne Bay for the exceptional homes found in the community. Being a member of Cocoplum's homeowners' association gives residents amenities that include a state-of-the-art fitness center, a club house, tennis courts, and a yacht club. Homes at Cocoplum range between 2,800 and almost 12,000 square feet with lot sizes that maintain privacy for owners.
Other popular communities are: Gables Estates, Gables by The Sea, Old Cutler Bay & Tahiti Beach.
Public Schools
Families with school age children who live in Coral Gables are served by a handful of public schools in Coral Gables. Former U.S. Attorney General Janet Reno attended Coral Gables High School. This sprawling 26-acre campus offers gifted programs and the opportunity for high school students to focus in one of three academic areas during their studies. Middle school students may attend George W. Carver Middle School or Ponce de Leon Middle School—both of which are committed to international education by requiring language study. Little ones may attend George W. Carver Elementary, or one of the public prep schools, Henry S. West Laboratory School and Coral Gable Preparatory Academy.
"Enrolling Foreign Students in Miami Public Schools"
Private Schools
The public schools in Coral Gables are excellent, so private schools are few and far between in Coral Gables. Only one private school that serves grades 9-12 exists—Gulliver Preparatory School. Private school options for K-8 include Gulliver Academy and Riviera Day School. Faith-based private schools that serve the residents in the area who want their children to have a parochial education include Saint Theresa Catholic School, Saint Thomas Episcopal Parish School, and Saint Philip's Episcopal School .
The Best Thing About Coral Gables
It's difficult not to fall in love with Coral Gables. In addition to the picturesque landscapes and historical architecture, the cities spring-fed Venetian Pool, constructed in 1923, remains a favorite place for residents to spend the day. It's these historic spaces and green areas that make the area so beautiful. Aside from aesthetics, residents have everything they need to live a fabulous South Florida life without straying far from home if they work nearby. Yet, they are within 25 minutes of Downtown Miami, 20 minutes of Brickell, and 20 minutes of Miami International Airport. These convenient location offers easy access to more business opportunities, world-class dining, travel, and more.