Miami real estate offers superb opportunities for making the absolute most of the Florida lifestyle. Waterfront properties offer gorgeous views of ocean, bay, and city. Direct access for powerboats and yachts is another plus. Some homes are also estate properties with acres of enchanting privacy.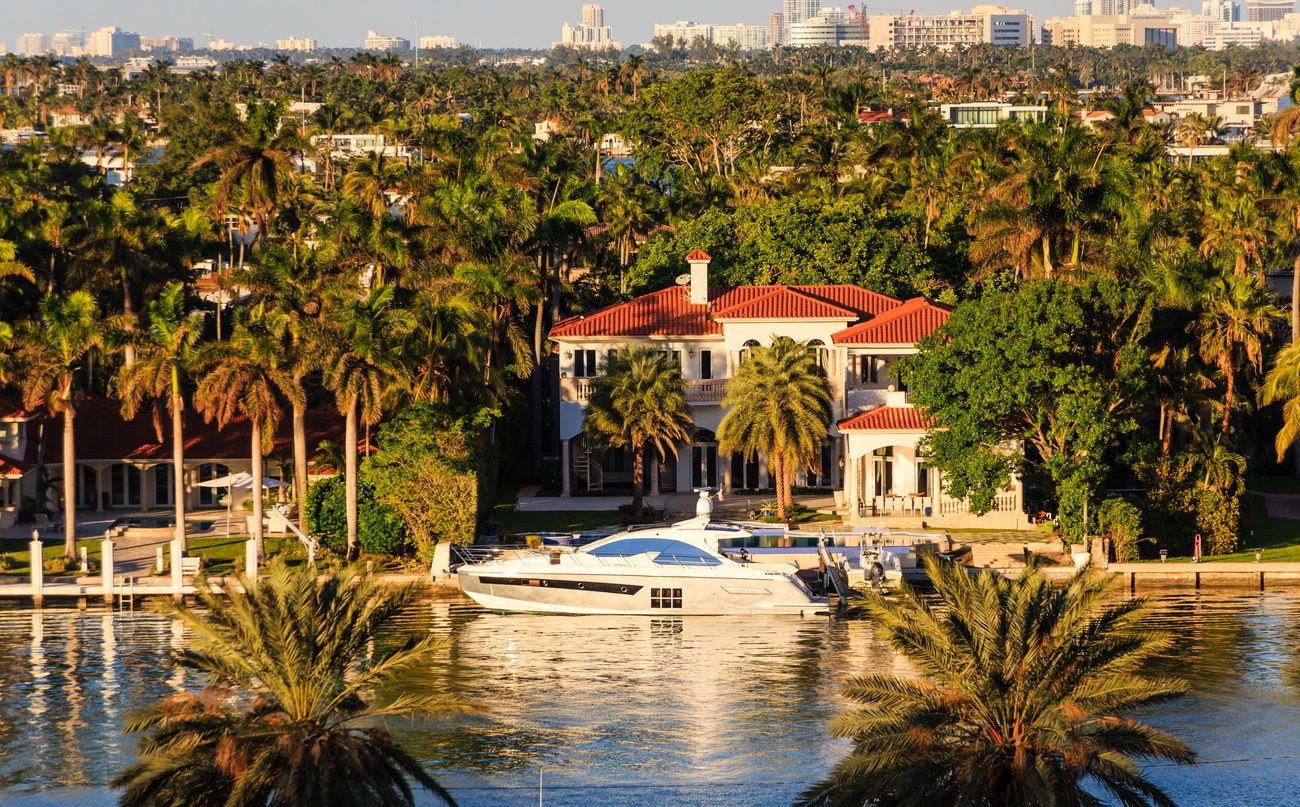 Some Miami mansions are brand new and reflect the passion of their designers and architects. Some are perfect art deco dating back to the mid-1930s, and some owe their heritage to a previous, world-famous owner. As with Miami luxury condos, these distinguished mansions deliver perfection, but at a grander level. A perfect lifestyle is critical and so is a safe investment. Miami mansions offer both. In this article we will guide our readers through some of the options they have available, partly to pique the imagination and partly to reinforce the fact that Miami is, indeed, the Magic City.
Miami Neighborhoods
Investors and residents find beautiful mansions both on the mainland and the islands. Three neighborhoods, Coral Gables to the south of the city, Coconut Grove to the west of Key Biscayne, plus Miami Beach including, of course, North Bay Road all come immediately to mind. Pinecrest, Aventura, and Boca Raton are also perfect locales for an exquisite home either on the water or a little further inland.
Other neighborhoods also have superb mansions and are famous for their waterfront homes. These include Cocoplum to the south of Coral Gables, La Gorce Island, then Sunset, Star, Palm and Hibiscus Islands just to the west of South Beach. Perhaps the most exclusive of all locations is Fisher Island (accessible only by private ferry or helicopter) just off the southern tip of Miami Beach. Fisher Island was where William Vanderbilt erected his winter estate. For clients looking for larger estate lots, Pinecrest, to the south of Coral Gables, and Southwest Ranches, to the north of the city, are a must.
To help our clients get a feel for what Miami's mansions offer, let us glimpse at a few superb examples. As we have always said, when our clients are clear about what they want and why they want it, we can apply our experience, expertise, and negotiating skills to ensure a perfect outcome.
Miami Beach Area Mansions
With its 7 miles of white sand, its 3 golf courses, 20 parks, amazing dining experiences, and a nightlife to suit every taste Miami Beach is a treasure trove of luxury.
4701 Pine Tree Drive on Miami Beach (MLS A10390042) is a magnificent Italian-style gated one acre estate home with 100 feet of intercoastal waterfront and a private dock. As well as a third story rooftop terrace with 360 degree views of the bay and city, the home has a movie theater, gym, spa, and game room. There are two guest houses, tennis and basketball courts, and an infinity edge pool. The property is offered at $29,500,000. As a bonus, the adjoining lot is available for purchase separately, which would give the new owner a little over two acres of phenomenal real estate.
Villa Jasmine (MLS A10384244) is a Mediterranean/Moroccan gem standing at the tip of Sunset Island. The half acre lot has 150 feet of waterfront and the private dock has a 22,000 lb boat lift. It was owned by Enrique Iglesias and reflects his incredible taste. The interior courtyard has a Moroccan-style fountain and a separate guest house with an observation tower. The home has all the interior features one might expect, including a gourmet kitchen, a cinema, and a spa. It is offered for sale at $18,500,000.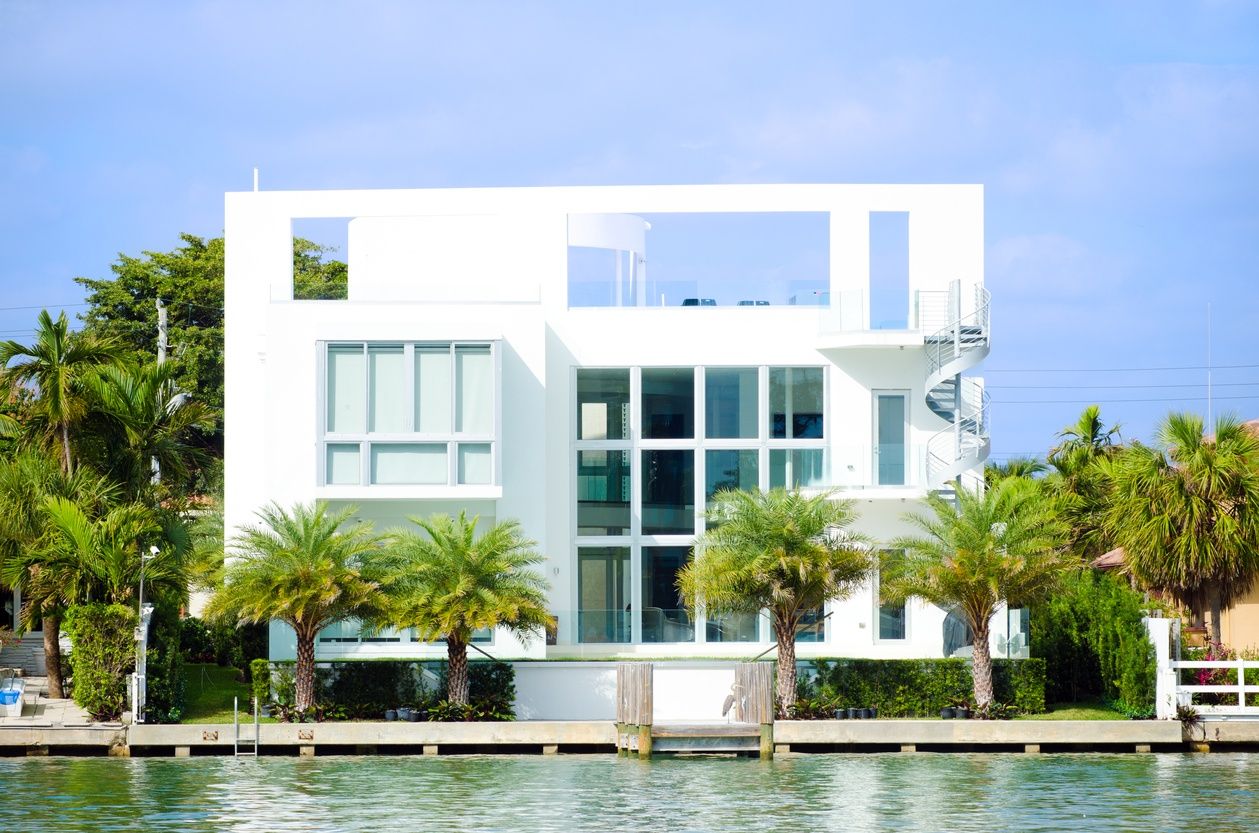 Moving to La Gorce Island, close to North Beach, this private oasis of serene beauty (MLS A2095121) has an ultra-modern 15,000 square foot mansion of glass, steel, marble, and wood to delight the eye, offered at $12,000,000. From its sky terraces to its two-story master suite accessed by a glass elevator, this home has everything including a three-bedroom guest house.
Palm Island in Biscayne Bay, connected to Miami Beach by a causeway, is a man-made, 82 acre private island. It is famous for many things, including having homes once owned by Al Capone, Nick Nolte, and the singer Ana Gabriel. Another of Palm Island's claim to fame is this ultra-modern home on a 30,000 square foot lot. Offered at $29,500,000 (MLS 2047739) this "Creston smart home," from its 2,500 square foot roof terrace to its Italian-design kitchen and separate, professional chef's catering kitchen, is the last word in refinement.
Hibiscus Island is a private, man-made island just to the north of Palm Island. Exclusive describes the island and perfect would describe this brand new, ultra-modern, five bedroom home offered at $12,000,000 (MLS 10409421).
A Key Biscayne masterpiece would be 400 Mashta (MLS A10458857) set in a secluded part of this gated community, it commands open views of the bay, Smuggler's Cove Lagoon, and overlooks Bill Braggs State Park. This home was featured in the Special Tennis Edition of Key Biscayne magazine.
Coral Gables and Cocoplum
Coral Gables is on the mainland just to the west of Key Biscayne. It offers some superb properties. Tahiti Beach Road, at the mouth of Coral Gables Waterway has a magnificent 21,235 square foot residence (MLS A10313301) designed by the world-famous Ramon Pacheco. Its private beach and its ocean views are a perfect backdrop to this Tuscan-inspired 10 bedroom masterpiece.
Sitting on Coral Gables Waterway in Cocoplum is the magnificent Casa Costanera (MLS A10128724.) Built in 2016 on a 1.3 acre corner lot and with 480 feet of water frontage, this 17,000 square foot mansion has 12 bedrooms, separate staff quarters, a magnificent interior design, and is offered at a little under $25,000,000.
Coconut Grove
Coconut Grove has so much to offer, and this beautiful bayfront home is a perfect example of that. Offered at $12,900,000 (MLS A10509129) it stands on almost half an acre, and has beautiful views of both the bay and the city skyline. It is in an idle location for doing business in Brickell and Downtown. The home has a den, a library, and a purpose-designed office. Guests and live-in staff have their own separate quarters.
This brief guide would not be complete without mentioning another beautiful mansion built on land originally owned by Howard Hughes. 37 Devon Court stands on almost an acre of perfection. It has an amazing rooftop terrace, an infinity edge pool, a tennis court and, of course, its own boat dock.
Pinecrest
Chateau des Fontaines (MLS A10498003) is a brand new 8 bedroom mansion standing on almost an acre of land. Also designed by Ramon Pacheco it speaks of "French splendor" from the moment you see it, and is offered for sale at $8,495,000.
Southwest Ranches
If acreage is attractive, then this 12,000+ square foot home on 7.21 acres is a must-see. From its 5 car garage to its 2 lane bowling alley and 12 seat cinema this home on Hancock Road (MLS H10402442) has everything.
Finally, let us end this brief guide to the most distinguished Miami mansions with a beautiful 2018-built home (MLS A10513525) on Landmark Ranch Estates. It stands on 2.35 acres, has its own pad, and is available at an offer price of only $4.8 million
Final Comments on Miami Mansions
Decide on your ideal Miami mansion home – waterfront, private island, or acreage – and click here to contact us to arrange your preliminary consultation and answer your questions.
Miami Real Estate News:
"Bal Harbour Vs Surfside Condos"
"Moving to Miami: The Ultimate Guide"
"These New Construction Miami Condos For Sale Will Change The Skyline in 2020"