Looking to buy luxury real estate in New York? You're in the right place. Before you get too far in your search, make sure you understand these nine essential tips on the New York real estate market.
1. Know the 3 New York City Property Types
There are three primary types of real estate for sale in Manhattan: co-ops, condos, and townhouses/brownstones. Co-ops make up 65% of the Manhattan residential real estate market, but their strict ownership requirements and rules around subletting make them a less-than-ideal option for most foreign buyers and investors in general. Condos offer more liberty, and make up around 25% of the Manhattan residential property available for purchase. There's also the possibility of a condop, a condo in a mixed-use building that is managed similarly to an apartment co-op. Townhouses are more rare in the market, around 5% at any given time and are very expensive.
Residential real estate in Manhattan presents a wide variety in price and style. Comprising about 25% condos, 65% co-operatives (co-ops), and 5% townhouses, the population and metropolitan style of Manhattan means there aren't many single-family homes for sale on the island. Whether you're an investor looking to make income from your property purchase or a new resident hoping to find a forever home, you'll want to know what types of property are available to you.
Below is a breakdown of the Manhattan real estate market to help you get a sense of the city's many offerings.
New York Co-Operative Housing
Co-operatives (or co-ops) are incredibly common in New York City. They consist mainly of old buildings built before 1985. Some of these buildings are prestigious buildings and have historical prominence, but lack amenities. These are intended for people purchasing a home to live in full time. Co-ops have a board which conducts interviews with each prospective buyer, including background checks and a review of your financials. This is because the board wants to evaluate whether they want to live with prospective purchasers and have them as their neighbors.
Purchasing a co-op apartment is different than any other purchase. A buyer purchases shares of stock in a company that owns a building. In turn, the buyer will receive a proprietary lease to use a particular apartment. Co-ops tend to impose very strict rules, including:
Prohibiting the subletting of one's apartment or whether one can use the property as a pied-a-terre
Requiring steep flip taxes, a percentage of the purchase price, to be paid to the Condo Board if an owner sells
Limiting the amount of mortgage one can take out on the property (some limit mortgages to 50% of the value, others don't allow mortgages at all).
Due to these factors, co-ops are not for investors, locals who plan on moving away any time soon, or individuals who don't want to put a significant portion of their cash into their home.
Search for Co Ops for Sale in New York
Condominiums in New York
Purchasing a condominium in New York City is much more flexible than purchasing a co-op apartment. A condominium refers to a large property that is divided into units and sold. Owning a condo is much like owning a single-family home, as the owner has many rights and holds outright title to the unit. Together, all of the unit owners own the land and common areas (such as elevators, lobby, fitness center, lounge, etc.). While there is a condo board in place, its job is to manage the building, not impose incredibly restrictive rules like the boards of co-ops. New York condos are the newest building stock in the city and are the main purchase option among foreign buyers, investors, parents making purchases for their children, and primary home owners who want to live in the newest buildings.
Search for Condominiums for Sale in New York
Townhouses in New York
Townhouses are similar to free-standing homes. Unlike condos and co-ops, the word "townhouse" does not apply to style of building management, but rather the type of structure. Townhouses, also called brownstones, are like single-family homes. The homeowner owns both the structure and the land the structure exists on. Townhouses sit on a small footprint in a city. However, because of their multiple floors (sometimes six or more), they have a large living space. Townhouses have few amenities but usually have some outdoor space in terms of a backyard. Depending upon the location, the average price of a townhouse in 2017 was as low as $6.8 million in the East Village to $13.6 million in the Upper East Side.
Search for NYC Townhouses for Sale
2. Know the New York Real Estate Prices
Headlines always discuss the latest news of the most expensive apartments that are selling (or not selling) in New York, like the $250 million purchase by Ken Griffin or $100 million penthouse purchase by Michael Dell. Newspapers aim to get your attention by highlighting expensive sales that have no relation to the rest of the market. It works for getting your attention, but you should avoid making real estate decisions based on headlines from the newspapers.
Instead, make sure you know the recent average and median sales prices for luxury new york real estate so that you can make informed decisions (June 2020).
Condos
Average Sales Price - $2,642,424
Avg. Price PSF - $2,067
Median Sales Price - $1,575,000
Co-ops
Average Sales Price - $1,207,446
Avg. Price PSF - $1,147
Median Sales Price - $795,000
New Development
Average Sales Price - $4,301,136
Avg. Price PSF - $3,071
Median Sales Price - $2,481,756
Luxury Real Estate
Average Sales Price - $7,649,618
Avg. Price PSF - $2,864
Median Sales Price - $4,800,000
Entry threshold - $3,240,000
3. Create a Realistic Wish List
Whether you're buying property as an investment, a pied-a-terre, or for future generations, sit down and make a list of what you expect the new residence to bring you. Also, consider what features are absolutely essential. If you need a certain amount of space, dream of architecture and character, or want amenities at your doorstep, then search for properties with these characteristics.
First, take some time to divide your ideal list into wants and needs. If you can buy a three bedroom at a great price, does it really matter if the windows face east or west? Is your dream terrace really a "need" if you might only use it a few months per year? Compromise may be required in some areas, but eventually the right door will open.
There are a lot of little details that go into making an offer on a New York City property. It's easy to get bogged down in who will be paying closing costs, cosmetic problems with the property, and other issues. It's important not to let those get in the way of the big picture! If this is the right property for you, focus on the more important pieces of information about the property. Will it pass inspection? Is it free of structural problems? Is the price right? If so, you've made a great start on creating your offer. Take a look at the property as a whole. Does it have good bones? A property with good bones has a good floor plan, decent ceiling heights, and the right exposure(s). Cosmetic issues are an easy fix. A property without good bones, on the other hand, will never look exactly right.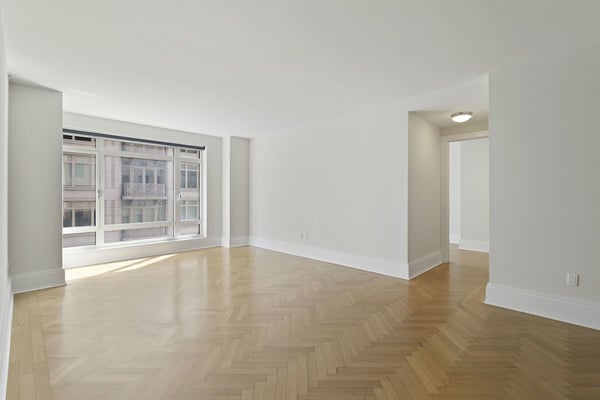 4. Know Where to Look for Luxury Homes in New York
When searching for real estate for sale in Manhattan, it's important to look in the right place, both physically and digitally. First, discuss with your broker what kind of area is appropriate for your residence. After all, the borough is a big place. Do you want a property that is on the verge of a boom, or one well-established with everything in reach? Budget often dictates where you can actually live, so be upfront with your broker about your finances. Your broker can help you maximize your purchasing power and get you in the neighborhood you want to be in.
One of the best options to do a search on your own is nyc.manhattanmiami.com which is our own site. In addition, StreetEasy has been the "go to" site for NYC property seekers, but recently a number of brokerages have boycotted the site, so now it doesn't include all inventory. The New York Times is also a good source.
You might be tempted to look at Trulia and Zillow, but I would avoid those sites. Unfortunately, they don't list Manhattan properties correctly and their property price Zestimates don't account for floor height and view, which significantly affects prices in the Manhattan real estate market. Therefore, avoid looking in one of these sites for Manhattan real estate.
Most of our clients prefer we do all the hard work and prepare a custom search based on their preferences and our deep building and neighborhood knowledge. If you'd like a custom search tailored for your interests, simply fill out the info on our tailored New York City real estate search page and we will send you a custom search.
4. Visit NYC Properties In Person
We've sold at least a dozen luxury homes in NYC for our clients who weren't able to visit the property. So, it's definitely possible to purchase NYC real estate without visiting the property via virtual tours, video and Facetime.
We, however, suggest you get your boots on the ground and start visiting some properties with your real estate broker. Once you start seeing a handful of properties, your wish list might change and your idea of what you want in a property will begin to solidify. You will need an experienced broker by your side at this stage. They will guide you in the right direction which may include off market properties and new development opportunities that are not public yet. In addition, they'll also be a valued advisor when it comes to making an offer or choosing an attorney. All of these steps are outlined in our Home Buying Guide.
Buying New York City property is a complex process, and making your offer is an important part of that process. Deciding on your offer is both an art and a science. You want to pay the lowest amount possible for your new property, but you also want to be sure that you don't offend the seller.
5. Know the Current New York Real Estate Market
Are you in a buyer's market or a seller's market? The answer to this question will inform how you proceed.
In a seller's market, properties sell quickly, without sitting on the market for a long time. Typically, they also sell near or above the property's asking price. In a buyer's market, on the other hand, properties may go for significantly less than the seller originally anticipated. Properties may sit empty long-term while waiting for the right buyer in a buyer's market.
In a buyer's market, you can make a lower offer for the property and expect the seller to seriously consider it. In a seller's market, on the other hand, you may need to make an offer close to the asking price.
In a buyer's market, a mortgage contingency is a normal request. In a seller's market, a mortgage contingency might not be accepted. If you know the market you are in, you can create a winning game plan.
On our Market Analysis page you can explore our up-to-date analysis of Manhattan Real Estate Prices, condo availability and more.
6. Learn to Compromise on Your Offer
It's very rare for the seller to accept the first offer on the property, especially when it comes to Manhattan real estate. Instead, be prepared to compromise. Leave some wiggle room in your offer! For example, do you need the seller to cover closing costs? If there are certain points that you're not willing to budge on, then you should also be prepared to negotiate points that are less important. The seller might be willing to leave certain items (such as appliances or furniture) that weren't included in the home sale originally, but you should expect to pay for those items.
If you make a low offer in a seller's market, the seller can choose to simply ignore your offer altogether with the confidence that something better will come along. If you're trying to avoid offending the seller with a low offer, try some of these steps:
Show the advantages of your offer. Are you making a cash purchase? Providing a quick sale, which can help the seller get the cash in their hands faster?
Explain why you're making the offer. Are you using the property as an investment property? Does it have significant issues that you'll need to fix up before moving in or renting it out?
Be firm and consistent. You don't need to insult the seller. Instead, remember to be firm in your offer so that they know what to expect from you.
7. Know How to Handle Bidding Wars
In a bidding war, more than one buyer is bidding on the same property at the same time. This means that as each offer comes in, the next buyer offers a slightly higher amount in an effort to convince the seller to sell the property to them. Should you participate in a bidding war? There are several times when it's worth increasing your offer in an effort to outbid a competing buyer:
The property is exactly what you're looking for. You're short on time, and you aren't sure you'll be able to find another property that will fit the same needs.
You know that the property is still reasonably priced even with the higher offer rate.
You are pre-approved for the increased loan amount.
Remember that if you win, you're going to have to pay the amount you've bid for the property. Make sure that your budget will support it!
8. Know When to Walk Away
Has the seller already accepted an offer on the property? If the final transfer of ownership hasn't occurred, you may still be able to purchase the property. However, you may have to make a cash offer at a significant increase on the current price to convince the seller to start over. Talk with your real estate agent to learn whether or not it's worth making an offer on New York City property that already has an offer accepted. Your real estate agent will also know when it's time to walk away and look at a different property.
Preparing an offer on New York City property is a difficult art. By working with your real estate agent, however, you'll quickly discover that it's easier to find the right property for you and make an offer that fits your needs.
9. Leave It To The Experts - Us!
Working with a real estate agent is the most effective way to make the negotiation process move smoothly. Your real estate agent knows how to negotiate, what you're willing to negotiate on, and how to bring the seller around to your point of view. Communicate openly with your broker and let them know where you're willing to compromise, then leave it up to them!
If you're looking for an experienced New York real estate agent, we're here to help!
Related:
"Purchasing a New Development Condo in NYC"
"Best New York Neighborhoods to Buy Real Estate"
Main image courtesy of Central Park Tower