In this blog series, we highlight the latest NYC new development projects by neighborhood. We provide insight into the character of each neighborhood, discuss general trends, and what is driving new development in each neighborhood. For the first in the series we are focusing SoHo, West SoHo and Nolita. These neighborhoods feed off each other as they are all close to one another, all being just below Houston.
SoHo has long been a favorite neighborhood to many, with its upscale boutiques, art galleries, celebrity filled restaurants, cobblestone streets and stunning cast iron architecture from the 19th and 20th centuries. While lots of people want to live in SoHo, housing stock is limited, especially new development. SoHo proper is bounded by Houston, Canal, Lafayette and Sixth Avenue. It is a neighborhood that has strict height restrictions and a lot of landmarked buildings. Therefore, new developments in SoHo tend to be boutique in nature and are few and far between. Because of this constraint, the city has seen West SoHo, which is now also called Hudson Square, seen a rapid expansion into a residential district from an industrial/office district. Development fans out even further to Nolita, NoHo, and Lower East Side, to some extent. By moving away from the core of SoHo, some developers have been able to build larger buildings with many more amenities.
West SoHo is a quieter area than SoHo, although rapidly changing after some zoning rule changes. It lies to the west of Sixth Avenue to the Hudson River. The neighborhood's character is a bit of mix of SoHo and Tribeca, which is due south. West SoHo is home to a lot of creative companies that have set up shop in the neighborhood like Saatchi and Saatchi, Edelman, SapientRazorfish, & Publicis. Busy during the day, there is a relaxed vibe in the evenings. In recent news, Google has announced it is going to take space for 8,500 employees at the new St. Johns terminal located in West Soho along the West Side Highway, which will be a boon to the neighborhood. Because you are so close to SoHo, you can be there in 5 minutes but also easily escape the crowds once they start building. From West SoHo, you can be in the West Village in minutes, which is also very charming to say the least. At the southernmost part of West SoHo bordering Tribeca, lies the Holland Tunnel, so there can be periods of traffic during rush hour.
NoLiTa (for North of Little Italy) is a tiny, charming area of only a few square blocks. The cafes, small boutiques of independent designers and burgeoning bar scene make it a destination. In addition, Nolita seems to be the epicenter of great Italian, vegetarian and organic restaurants that are not too expensive. It has some of the features of nearby neighborhoods SoHo and Little Italy, but it has a distinct charming vibe all its own. Except for the sleek 75 Kenmare, and a couple of new buildings on Bowery, there are virtually no new developments in NoLiTa
Greenwich West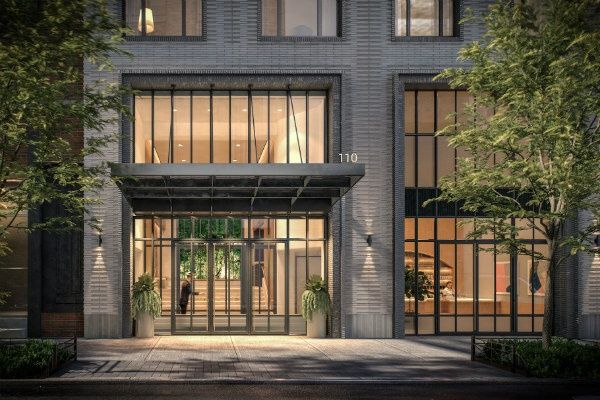 Address: 110 Charlton Street, West Soho, New York, NY
Project: Greenwich West is a 27-story mixed use development in West Soho, two blocks south of the West Village, that will have condo, office and retail components. On the top 22 floors will be 167 condos averaging 1,352 sq. ft. Prices start just under $1 million, which is quite good.
The handmade brick building will have an industrial look with a French aesthetic. It was designed by Paris-based designer Loc Anima and interior designer Sebastian Segers. We love the industrial-style casement windows that references the neighborhood's past. From its higher floors, Greenwich West offers residents breathtaking views of the Hudson River and the city skyline.
Just announced, Google plans to take space for 8,500 employees at the St. Johns Terminal, which is 2 minutes away from Greenwich West.
Amenities: 24-hour concierge, roof deck, children's playroom, fitness center and bicycle storage.
Available units: 5 apartments available, 835 square feet to 1,466 square feet, $1,400,000 to $2,840,000
565 Broome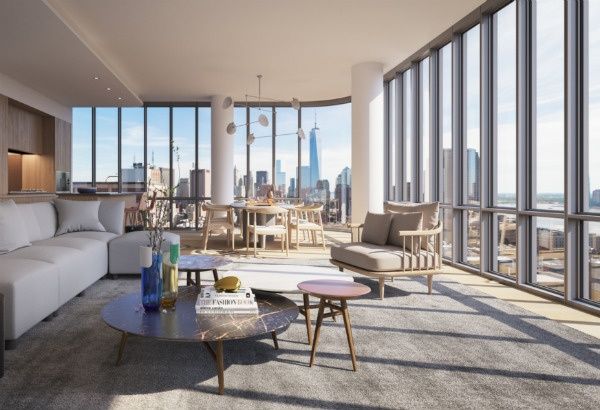 Address: 565 Broome Street, SoHo, NY
Project: 565 Broome lies right on the border of West Soho and Soho, just West of 6th Avenue. The legendary Italian architect Renzo Piano is the creator of this gorgeous twin tower that will rise 30 stories, soaring above its low-rise neighbors offering views of the Hudson River. The project will have 115 condos, ranging from studio to 4-bedrooms, including interesting duplex and penthouse units. Curved glass walls maximize views. Real stone, white oak wood, glass and concrete compose the minimalist interiors.
The architect Renzo Piano is world renowned for projects like The Shard in London, the Whitney Museum in NYC, the New York Times building in NYC, Centre George Pompidou in Paris and Eighty Seven Park condos in Miami Beach. The building was developed by Bizzi & Partners, who also developed 400 Fifth Avenue and 125 Greenwich. At the mouth of the Holland Tunnel, during rush hour, there can be lots of traffic on Varick Street, which the building faces. However, pop out the side door and walk 5 minutes East and you are on West Broadway in prime SoHo.
Amenities: It is unlike any building in SoHo or West SoHo because it has 17,000 square feet of amenities, including private gated Porte-Cochère, onsite automated parking, and 55-foot swimming pool, to name a few. You just don't find amenity filled buildings in SoHo, as space is scarce. In addition, it's very close to the Hudson Riverfront, which now has a lot of activities.
Available units: 11 apartments available, 915 square feet to 4,430 square feet, $2.380M to $30M
570 Broome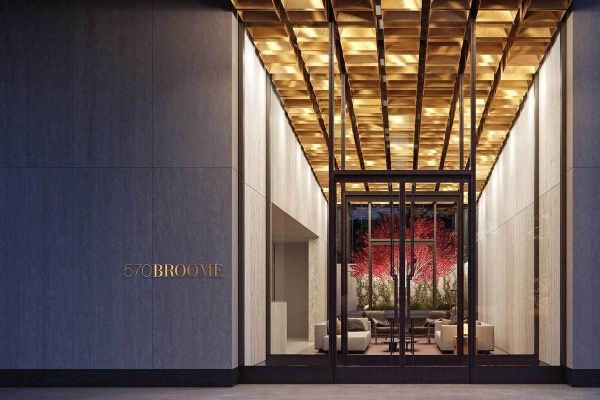 Address: 570 Broome Street, New York, NY
Project: 570 Broome is a 25-story boutique building in West SoHo that has only 54 units, ranging in size from 1 to 3 bedrooms.The silhouette of the building evoces staggered cubes and the facade is stone and glass. The architect, Tahir Demircioğlu's, was the lead designer at Costa Kondylis where he designed the W South Beach in Miami and Silver Towers and Atelier in NYC. Interiors were designed by SOM. Kitchens feature Calacatta marble and light wood cabinets. With 11-foot ceilings, the apartments are loft like.
One great feature of the building is upon entering the dramatic entrance on Broome Street, you will find that the glass enclosed lobby overlooks a Japanese maple tree in the rear garden. Because the building is at the mouth of the Holland Tunnel, west of Varick Street, you are likely to find lots of traffic at rush hour. However, the building is really very close to SoHo, so one can be in on Sullivan or West Broadway in 5 minutes. With its proximity to the river, higher floor units have great views of the Hudson River.
Amenities: Common areas at 570 Broome are designed to connect spaces as well as residents. The street level view of the back garden beckons from the moment of arrival. On the second floor, a private lounge with a game room opens onto a landscaped outdoor terrace. The fitness center includes Peloton bikes and a yoga studio. Additional services include a 24-hour attended lobby, complimentary indoor bike storage and private storage units available for purchase.
Available units: 9 apartments available, 677 square feet to 1,943 square feet, $1,350,000 to $5,650,000
77 Charlton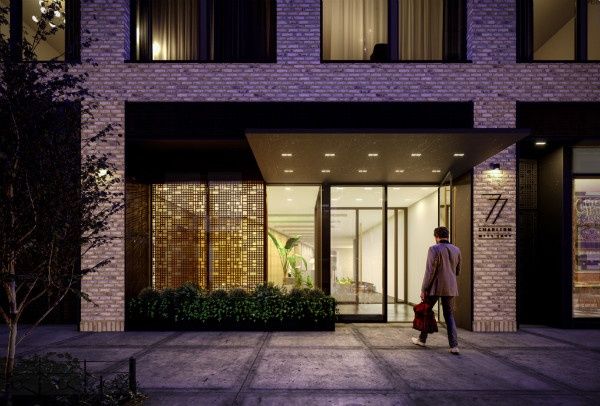 Address: 77 Charlton, West Soho, New York, NY
Project: 77 Charlton from Toll Brothers, the largest home builder in the United States, will be a dual tower development similar to 70 Charlton. It will have buildings on both Charlton and King Streets, with a garden in between. The building has 161 units with prices in what is called the "affordable luxury" segment. Studios start at $1.1 million, making entry prices just below $2,000 psf. For new construction , that's a pretty good price point. Interiors feature 6-inch white oak flooring and 10 ½ foot ceilings. Kitchens feature Thermador and Bosch appliances, quartzite countertops and custom oak cabinetry.
Amenities: 24-hour concierge, residents lounge, 14th Floor Sky Lounge, swimming pool, spa with treatment rooms , fitness center, pet spa, and a children's room.
Available units: 12 apartments available, 566 square feet to 1,850 square feet, $1,010,000 to $3,999,000
75 Kenmare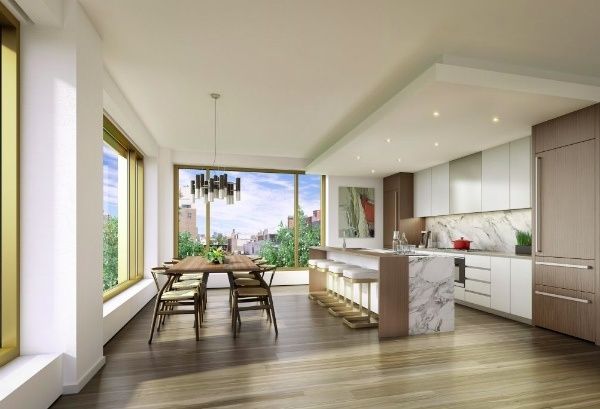 Address: 75 Kenmare, NoLIta, New York, NY
Project: 75 Kenmare is a boutique luxury development of only 38 units in the very heart of NoLiTa, on the corner of Kenmare and Mulberry Streets. The building is "sexy, cool and different". Designed by architect Andre Kikosk (who also did the interiors of One Hudson Yards), the brick facade of the building looks like vertical grooves, adding a unique texture to the building's facade. The interiors by rockstar Lenny Kravitz' design firm are thoughtful, modern and in high style and recently featured article: "How Lenny Kravitz Came to Design a $38M Rock 'n' Roll Lair"
The buildings' bronze-hued mullions are very unique. In addition, the luxury residences feature large windows, plane sawn oak flooring in the living room, and matte finished white oak flooring in the master bedroom. Kitchens feature custom white lacquer cabinetry with integrated Gaggenau appliances, marble countertops and backsplash, Elm-cladded Gaggenau refrigerator and breakfast bar. All VERY high end! One of the nicest condos for sale in New York city. While layouts are on the smaller size, the layouts are efficient and improve affordability, especially at this price point, which starts around $2,400 psf. The building offers green views for units facing north, as there is a park.
Amenities: An array of amenities are offered including a 24-hour attended lobby, landscaped courtyard, rooftop terrace, state-of-the art fitness center and underground automated parking garage.
Available units: 8 apartments available, 665 square feet to 1,855 square feet, $1.650M to $7.5M
70 Charlton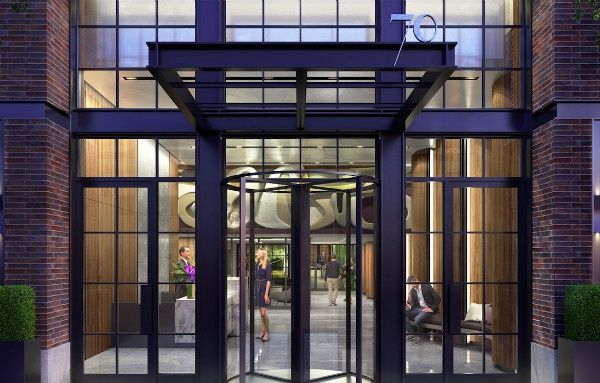 Address: 70 Charlton Street, West Soho, New York, NY
Project: 70 Charlton opened its doors in 2017, although the building still has remaining inventory to sell. Designed by Extell, one of the best developers in the Manhattan real estate market, the building has 92 residences between two buildings, one sits on Charlton and the other on Vandam Street. A courtyard lies between them. The project was designed by Beyer Blinder Belle with modern interiors by Workshop/APD. The design of the building is brick and steel. The architect has taken cues from the neighborhood's industrial roots with the use of brick and steel in its facade and large casement windows.
Residences feature grey wash oak hardwood flooring, miele appliances, Kitchens come in polished high gloss white lacquer or natural cerused oak cabinetry. While there is a generous 20-year tax abatement in place at the building, the building sits on a land lease, a rarity in NYC.
Amenities: For a boutique building, there are plenty of amenities, including saltwater pool, fitness center, among others. The building is a condop, a coop with condo rules.
Available units: 18 apartments available, 800 square feet to 2,856 square feet, $1,399,000 to $5,999,000
152 Elizabeth Street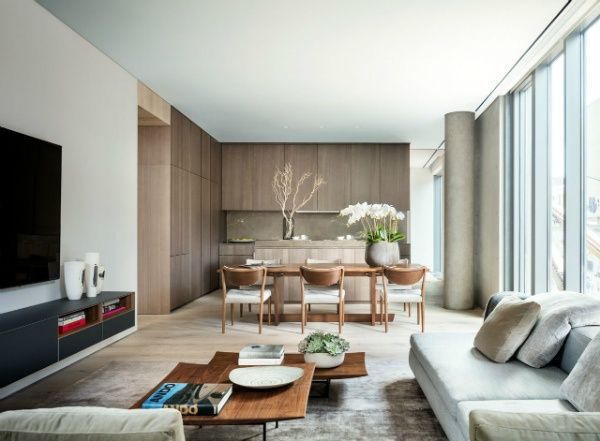 Address: 152 Elizabeth Street, NoLIta, New York, NY
Project: 152 Elizabeth is a very contemporary building of glass and concrete, designed by Japanese Pritzker Prize winning architect Tadao Ando. With only 6 residences, the building is truly boutique of today. Interior designer Michael Gabellini evoke a thoughtful sense of craft and refinement rarely found.
The building is comprised of two-and three-bedroom half floor units and four-bedroom residences spanning full floors. Direct elevator access. The fine details of each home include 14 inch or 20 inch oak wide plank flooring, concealed ventilation systems, floating walls, architectural wall reveals, recessed and ambient lighting, state-of-the-art humidification system is ideal for the preservation of artwork. Italian kitchens by Minimal with honed Fango marble counters, a sliding island countertop, Italian Eucalyptus wood cabinetry, and a fully integrated Gaggenau appliance package. Master bathrooms are clad in Bianco Sivec marble.
Amenities: Amenities include 24-hour doorman, parking, and storage units. One of the 152 Elizabeth's most distinctive features will be a 55-foot-high and 99-foot-wide living green wall that hugs the fourth and fifth floor terraces.
Available units: Only 2 apartments available: a 2,015 sq. ft. 2 beds 2.5 baths residence for $5,985,000 and, a sprawling 4,158 sq. ft. 4 beds 4.5 baths condo for $15M. The penthouse recently sold for $30M to venture capitalist Matt Cohler - a partner at Benchmark Capital.
42 Crosby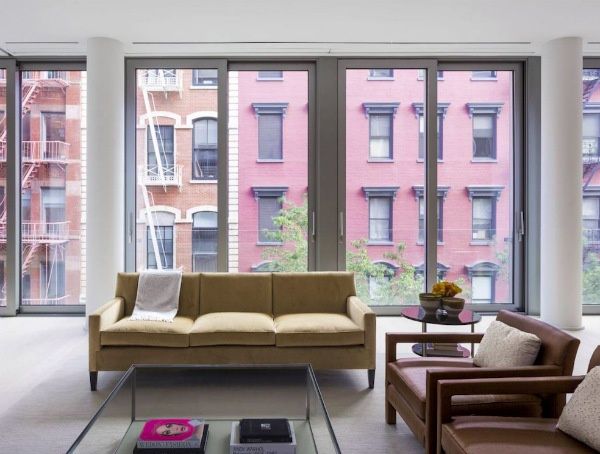 Address: 45 Crosby, SoHo, New York, NY
Project: 42 Crosby is an intimate condo in SoHo at Broome Street. This is Anabelle Seldorf's modern day interpretation of the classic cast-iron loft building that SoHo is so well known for. The facade is stainless steel and glass. There are 9 three bedroom homes and one five bedroom home, for a total of 10 loft condos.
The exposures of all the homes are East and South, so every apartment here is sunny most of the day. Rooms have floor to ceiling glass sliding doors allowing for indoor to outdoor living. Interiors are also by Seldorf, who complemented the exterior façade with custom stainless steel Boffi Kitchens, elegant Bardiglio and Thassos marble, and Terrazzo and ash planked wood floor. Crosby street has some of the last remaining cobblestone blocks in NYC. It is nestled between West Broadway and Lafayette. Here you will find trendy and chic stores housed in old factories.
Amenities: 24-hour concierge, cold storage, garage parking and residents storage units.
Available units: Only 2 apartments available: 5N, a 2,793 sq. ft. 3 beds 3 baths residence for $7.95M and, apartment 2N, an airy 2,798 sq. ft. 3 beds 3 baths loft for $7.995M.
210 Bowery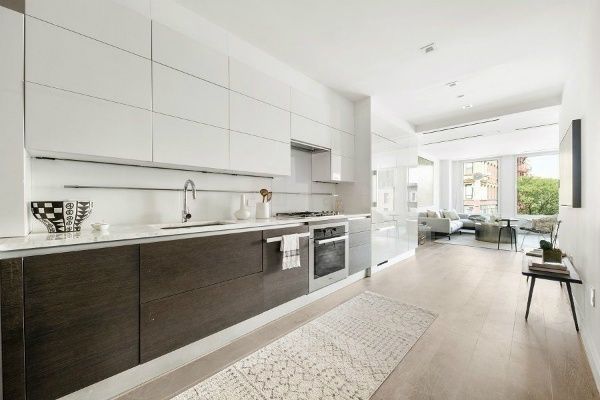 Address: 210 Bowery Street, NoLiTa, New York, NY
Project: 210 Bowery is a boutique building with a collection of only 7 condos, from two to three bedroom full floor condos. The apartments look out onto tree lined Rivington Street and many of them have outdoor space. Everything is top of the line and kitchens are by Scavolini. All apartments have direct elevator access.
This new development condo bring a bunch of things you usually don't see in new construction in Manhattan market, including custom closets which are a nice touch when done so well, radiant heat floors throughout the apartment, which is great for those cold mornings and snowy days, a spacious individual laundry room with fully vented washer/dryer, which is unheard of in NYC. And multi-zoned climate control systems.
Amenities: Virtual doorman, cold storage, common roofdeck with outdoor kitchen and views of the Empire State building and the Freedom Tower.
Available units: 15 apartments available, 813 square feet to 3,409 square feet, $1.525M to $9.2M
---
Buying a Condo in NYC
Guide Series:
Midtown Manhattan New Developments Condo Guide
East Village & Lower East Side New Developments Condo Guide
Financial District New Developments Condo Guide
West Village, Greenwich Village & NoHo New Developments Condo Guide