Go West! No, we're not telling you to move to California or the frontier, nor are we talking about the popular song from the Pet Shop Boys and Village People. Go West to West Chelsea and Hudson Yards, where there has been quite a transformative shift of New York's center of gravity. Notably, the advent of the Hudson Yards and rezoning of West Chelsea have resulted in hyper-growth in those neighborhoods, making Manhattan's west side one of the most desired and expensive locations on the island.
West Chelsea Luxury Apartments NYC
West Chelsea is now one of the most expensive neighborhoods in Manhattan after its' rezoning in 2005. Running from Ninth Avenue to the Hudson River and West 14th to West 30th Streets, it was once an industrial wasteland littered with parking lots, nightclubs, auto repair shops, manufacturers, and warehouses. Its only saving grace was the many top art galleries that were sprinkled throughout the neighborhood.
Now, only 14 years later, it is home to one of the largest concentrations of starchitecture. These internationally renowned architects, many whom are Pritzker-prize winners, include: Norman Foster, Jean Nouvel, Frank Ghery, Zaha Hadid, Soo Chan, Isay Weinfeld, Roman and Williams, Peter Marino, Thomas Jul Hansen, Annabelle Selldorf, Enrique Norten, Shigeru Ban, Neil Denari, Jeanne Gang, Cary Tamarkin and Anabele Seldorf.
Because of the 12-story height limit for most lots, overbuilding in this neighborhood will be impossible, allowing properties to retain their high values. Many homes for sale have Hudson River views or sit along the High Line Park, which opened in 2009. With most developable lots already having been scooped up, other than those noted below, we don't expect to see many more condo buildings come online in the next few years.
Many executives, bankers, lawyers, and tech workers at the companies coming to Hudson Yards will be living in West Chelsea with a quick, even walkable, commute to the office.
As the ancillary shops, restaurants, and art galleries open or reopen to fill in this new neighborhood, we expect that West Chelsea will continue to blossom into one of Manhattan's most intriguing neighborhoods.
Hudson Yards Luxury Apartments NYC
Hudson Yards is the largest private real estate development in the history of the country and Hudson Yards lies just north of West Chelsea from Tenth Avenue to the Hudson River and West 30th to West 34th Streets. It is built on top of rail yards where the LIRR park their trains that leave Penn Station, a remarkable engineering feat.
The first or Eastern phase of the Hudson Yards real estate project is comprised of 5 towers and a high-end mall. Two of the towers, 15 Hudson Yards and 35 Hudson Yards, are residential, and discuss in detail below. The remaining three commercial towers have attracted some of the best companies in America.
It is incredible that all of these companies have signed up to come to Hudson Yards: Blackrock, KKR, JP Morgan, Coach, Loreal, SAP, Milbank Tweed, BCG, Silverlake, Point72, Boise Schiller, Debevoise, Cognizant, DNB, CNN, HBO, Wells Fargo, Warner Brothers, Lyft, & Pelaton to name a few.
In addition, if the rumors are true and Apple, Amazon, and Facebook take space in Hudson Yards Manhattan's far west side may even become a mini tech hub. Google already has some offices there as well.
As these companies move in over the next year or so, the demand for Hudson Yards condos will significantly increase. In addition, many executives, bankers, lawyers, and tech workers at these companies will be living in West Chelsea, the new residential luxury enclave due south. Even Hell's Kitchen is seeing new development, but in the mid-market segment.
Apartments in Chelsea NYC
Chelsea proper or East Chelsea, which it is increasingly being referred to as, has been a prime location for some years, given that it is very convenient to both midtown and downtown offices. East Chelsea runs from Sixth Avenue to Ninth Avenue from West 14th to West 30th Streets, a prime location.
It's proximity to the historic neighborhood of Greenwich Village and the West Village, make it a very desirable location. Chelsea apartments include a mix of luxury high-rises and low-rises. In addition, there are many protected townhouses in the neighborhood, giving it a European feel on some streets. Top Chelsea condos include Walker Tower, Chelsea Stratus and Chelsea Mercantile, but very few new developments.
Given the location of Chelsea, developers have already built on lots that they could. We don't expect much new development to come on the market here, just some boutique buildings from time to time.
515 West 18 Street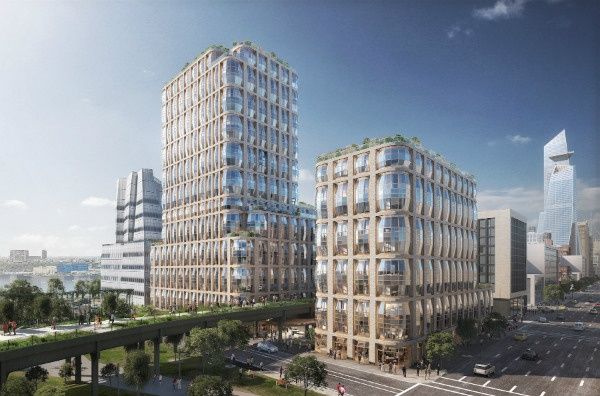 Address: 515 West 18 Street, New York, NY
Project: Thomas Heatherwick's bubble window creation, which was designed to reinterpret Chelsea warehouse style, including the casement windows which were popular at the turn of the century, will begin sales by the end of 2019. The result of this reinterpretation is stunning, especially from the inside of the apartments, as the neighborhood is framed through these special bubble windows.
Like many of its neighbors, the project consists of two separate buildings that straddle the High Line that are linked together under the High Line. The western tower will be 21-stories and the eastern tower will be 10-stories tall. There is something for everyone at 515 W 18th, as there are 1-, 2-, 3- and 4-bedroom residences across its 180 apartments. March & White who designed the interiors of 565 Broome and 125 Greenwich is the interior designer of record, so we are very excited to see what they have in store for us.
Amenities: Amenities are expected to include a spa, fitness center, on-site parking, and entertainment and social lounges.
February 2020 Update:
The Lantern House launched sales early February 2020, and will be delivered later this year in the early Fall.
Down Payment Requirements Are:
10% down with 10% in 6 months, with the remaining at closing.
Why We recommend Lantern House:
Pricing is really good! The developer priced the first units accordingly to current market conditions, not 3 years ago.The lowest-priced homes for sale will go fastest and are ideal for investment! This is the most trendy neighborhood to live in, and the proximity to West Village, Hudson Yards and the River makes it very appealing.

The High Line neighborhood is now essentially fully built after rezoning began in 2005. In addition, neighborhood zoning restrictions on height guarantee no overbuilding/excess in this neighborhood in the future, guaranteeing stability.

The XI at 76 Eleventh Avenue, the dual tower new development project that lies south of Lantern House is priced at $3,244 Per Square Foot, so Lantern House is a bargain in comparison.

One bedrooms and affordable two bedrooms in the neighborhood are a scarcity, making Lantern House very attractive.

The developer, Related Group, which manages all the properties it develops, is known for offering the highest service level. Their buildings retain value in any market and their rental residences always get top dollar.

Lantern House is 12 blocks to Hudson Yards and 4 blocks to West Village. With all the new investment banking, Facebook, Amazon, and Apple employees coming into the Hudson Yards in the next 2 years, finding a tenant for your investment property in West Chelsea will be a breeze. And, they will pay top dollar to be here.
To learn more about the building, amenities, and homes for sale, check out the Brochure and our Sales Office Tour in the link below:
Brochure
Sales Office Tour & Video
Available units: 1-Bedroom starts at $1.395 million, 2-Bedroom $2.4 million and 3-Bedroom residences from $3.775 million.
15 Hudson Yards
Address:15 Hudson Yards NY (at the corner of West 30th and 11th Avenue)
Project: Fifteen Hudson Yards was designed by Diller Scofidio + Renfro in collaboration with Rockwell Group. This 88-story glass tower features an elegant silhouette, formed by four graceful arcs of glass at the top of the tower. The views south are protected and stunning, with open views overlooking a low rise West Chelsea. 15 Hudson Yards is located along the High Line and is adjacent to The Shed, a huge cultural event space.
Over 40,000 sq. ft. of amenities with one amenity above all others. There is an out of this world rooftop terrace at 15 Hudson Yards called the Skytop which is shielded from the wind with 60' of glass screen wall. This is 900 feet above New York City. Adjacent to the Skytop is a lounge, private catering kitchen and dining room. This is something never seen before in NYC. In addition there are two floors of amenities on the 50th and 51st floors.
When 15 Hudson Yards was released a few years ago, pricing was excellent given the product being delivered. Of course, it was still burgeoning neighborhood. Now that the Shops at Hudson Yards are open (as of March 2019), one can see the value here as opposed to other new development projects in Manhattan. It is truly a 5-star building and about 15-20% less expensive than 35 Hudson Yards, which just started sales. Given 15 Hudson Yards' physical position, this building may have the best views in the whole project.
Amenities: 75-foot pool, a whirlpool, and a private spa with treatment rooms; a fitness center, co-working space; a beauty bar; and wine storage along with a dining room and tasting room.
Available units: 2 bed from $4.36M, 3 bed from $6.39M and 4 bedroom homes for sale from $11.97M
35 Hudson Yards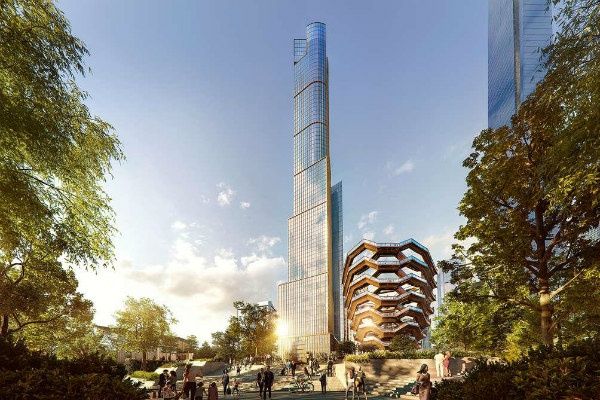 Address: 35 Hudson Yards (11th Avenue between West 30th and West 34th Streets)
Project: Thirty-Five Hudson Yards was designed by David Childs of SOM with interiors designed by AD100 designer Tony Ingrao. This limestone tower rises 92 stories and offers great views of the city and the Hudson River. Starting on the 50th floor, the condo residences are sleek with floor-to-ceiling windows that have great views. The vibe at 35 Hudson Yards is that of a Four Seasons hotel. The materials are so rich and tasteful, unlike a lot of other NYC condo buildings.
Unique to the building, 35 Hudson Yards will be home to the flagship Equinox Hotel, Club and Spa, a 150-room, five-star hotel with ballroom. Equinox Club with indoor and outdoor swimming pools, SoulCycle, Equinox Spa and the first of its kind Equinox Hotel.
Pricing here is steeper than the homes for sale at its sister building 15 Hudson Yards. And, given the position of the building and what is expected to come in terms of other towers in next few years, 35 Hudson Yards may not have better views than 15 Hudson Yards. But, we love the slick style. One feels like they are at a the Four Seasons Hotel or Mandarin Oriental. The richness of the materials in not only the interiors, but also the common areas really stands out.
Both 15 & 35 Hudson Yards offers the 20 Years Tax Abatement
Amenities: 3 on-site restaurants offering in-residence dining. In addition to the hotel amenities, residents will have a full suite of private amenities: business center, board rooms, lounge, residents-only fitness center, playroom, game room, dining room, and grand terrace with catering services.
Available units: 2 bed from $5M, 3 bed from $7.825M and 4 bedroom homes for sale from $17.75M
The Eleventh | XI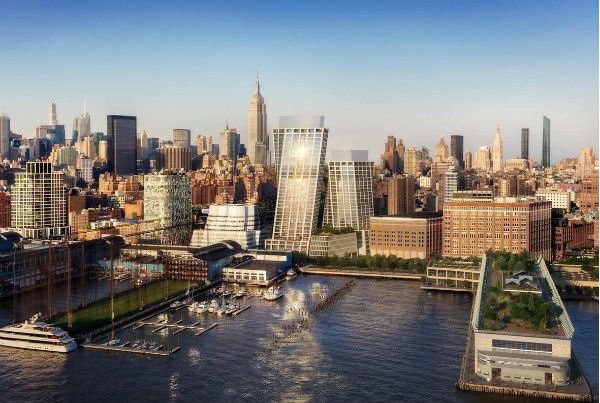 Address: 78 Eleventh Avenue, New York, NY
Project: The Eleventh, also known as XI, is comprised of two avant-garde twisting towers that straddle the High Line between the Hudson River and 10th Avenue, just north of the Meatpacking District. Clad in a travertine facade and bronze oversized windows. We like the fact that the project exudes luxury from the details of both the travertine facade and the richly appointed interiors.
The taller of the two towers XI is set along the Hudson River and has amazing water and city views. The shorter of the two, X is set along the Tenth Avenue and will feature New York's first Six Senses Hotel and Spa. The architect Bjarke Ingles has done this twisting dual tower thing before in Miami with the Grove at Grand Bay. The execution of the twisting towers in NYC is similar to that of Bjarke Ingels in Miami. Each building has their own interior designer, with Gilles et Bossier designing X and Gabellini Sheppard Associates designing XI.
Amenities: The XI Club is over 18,000 sq. ft. of amenity space for residents managed by The Six Senses Hotel. The Club will include 75' pool, luxury spa, fitness center, lounges and wine cellar, children's and teen's playroom.
Available units: 1 bed from $2.35M, 2 bed from $3.35M, 3 bed from $6.6M and 4 bedroom homes for sale from $9M
The Fitzroy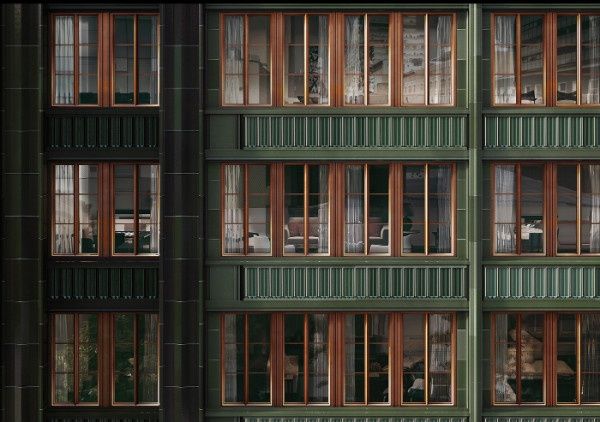 Address: 514 West 24 Street, New York, NY
Project: We love everything about the Fitzroy on the inside and out! Perhaps, one of the most beautiful buildings in West Chelsea, there are only 14 residences in either ½ or full floor configurations. The Fitroy is a boutique building that is built to stand the test of time. Developed by JDS, which always develops the best projects (think 111 West 57 Street and Monad Terrace in Miami Beach, for example), really did bring beauty back to NYC (their marketing slogan).
From the green terracotta facade, to the oversized copper clad oak casement windows, to the Smallbone kitchens, to the black enameled Lacanche range, to the 8' foot solid core oak doors, oak hardwood floors, to the 11' ceilings and the slab marble walls and floors in the bathrooms, Roman and Williams really hit a home run with this building. All residences have North and South exposures, although the south view is blocked by buildings lining the northern side of West 23rd Street. The William Holland Cuprosa Bateau copper soaking tub is an over the top addition.
Amenities: 24-hour concierge, fitness center with yoga and cardio studios, wine cellar, storage room for each home, rooftop lounge with summer kitchen, children's art studio, and bicycle storage.
Available units: 2 bed from $4.95M, 3 bed from $5.95M and 4 bedroom homes for sale from $21M
Jardim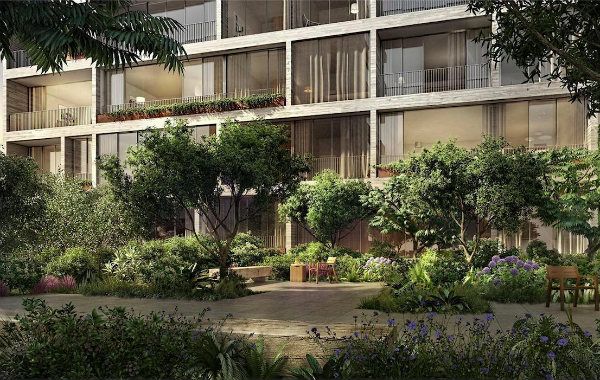 Address: 527 West 27 Street, New York, NY
Project: Modernist, Brazilian architect Isay Weinfield, who designed all the five-star Fasano hotels and restaurants brings South American style to NYC. This can be seen in the way he uses nature and natural materials together. Many of the apartments have integrated indoor/outdoor living terraces, which helps in this regards. In addition, the wood choices and the fact that the building is called Jardim, which means garden in Portuguese are fitting. It's an effortless looking, but absolutely beautiful design.
The doors and walls are wrapped in oak wood with matching Italian cabinetry by Molteni & C. The kitchens feature stainless steel appliances and countertops. Jardim has, perhaps, one of the nicest bathrooms we've ever seen with hand crafted natural materials and finishes. In addition, there is a carved limestone sink in the baths complete with oil-finished oak vanities and wainscoting, graphite marble walls, floors and vanity tops, along with brass faucets and rain showers. Simply gorgeous. Jardim also features floor-to-ceiling sliding glass doors and windows showcasing the greenery of the gardens between the two 11-story towers.
Amenities: 24- hour doorman, skylit indoor pool, fitness studios, children's playroom, bicycle storage, storage lockers for purchase, automated parking system for lease and second level garden. .
Available units: 1 bed from $1.985M, 2 bed from $3.495M, 3 bed from $3.995M and 4 bedroom homes for sale from $8.975M
Soori High Line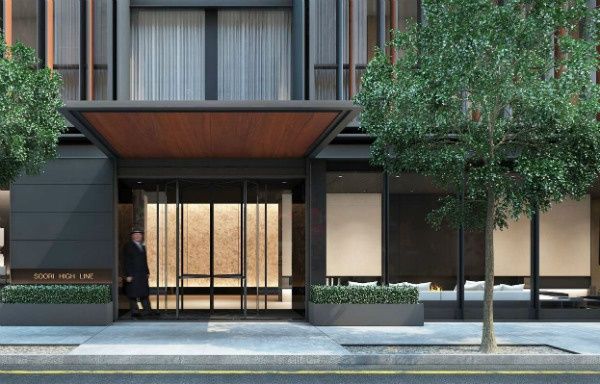 Address: 522 West 29 Street, New York, NY
Project: Soori High Line is a very unique project in New York City and located one block south of Hudson Yards in West Chelsea. If you have ever been to Southeast Asia, you may notice the references from luxury hotels you might find in Singapore and the islands of Indonesia. The architect, Soo Chan, is from Singapore and has designed some award winning projects like the Soori Bali.
Each of the apartments at Soori High Line is richly detailed and has light filled interiors. While not a view building, the residences feel like a home and are rich in details such as floor-to-ceiling windows in living and dining rooms, elegant gas fireplaces with floating marble slab hearths, and limestone flooring with radiant heating in all living areas. That's a first for NYC. Other features include oak paneled walls, Poliform closets, and Varenna kitchens. Some residences have 19 foot ceiling heights, private courtyards, terraces and heated swimming pools. Yes, indoor swimming pools!
Amenities: 24-hour doorman, concierge, lobby lounge, gym, spa suite, dedicated yoga and pilates studio, residence lounge, storage facilities, and private parking spaces for purchase.
Available units: 3 bed from $5.75M and 5 bedroom homes for sale from $22.5M
550 West 29 Street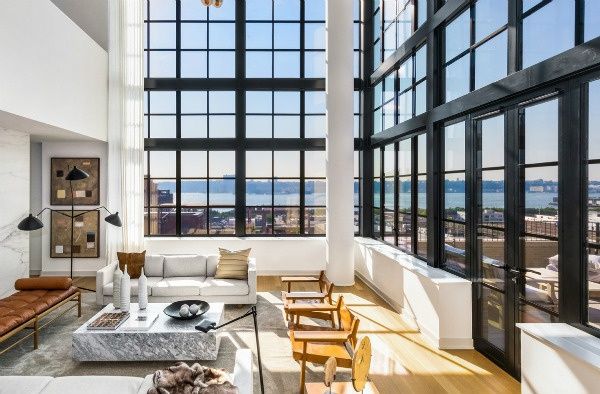 Address: 550 West 29 Street, New York, NY
Project: SoHY, which stands for South of Hudson Yards, is a brand new Cary Tamarkin boutique building near the corner of Eleventh Avenue. Covered in limestone brick SoHY's metal casement windows and double height living spaces are what makes this building stand out from the competition.
While the residences have that loft feeling, the building is totally new and has an array of luxury features such as wide-plank oak flooring, high ceilings, Italian cabinetry, Pietra Cardosa countertops and backsplashes, built-in pantries, Lefroy Brooks faucets, and a suite of fully integrated high-end appliances from Wolf, Sub-Zero, and Miele. Many of the units also feature gorgeous Hudson River views and private outdoor space
Amenities: 24-hour doorman, fitness room, sauna, bicycle room, and private storage units for every apartment.
Available units: 2 bed from $3.25M, 3 bed from $3.85M and 4 bedroom homes for sale from $9.95M
515 West 29 Street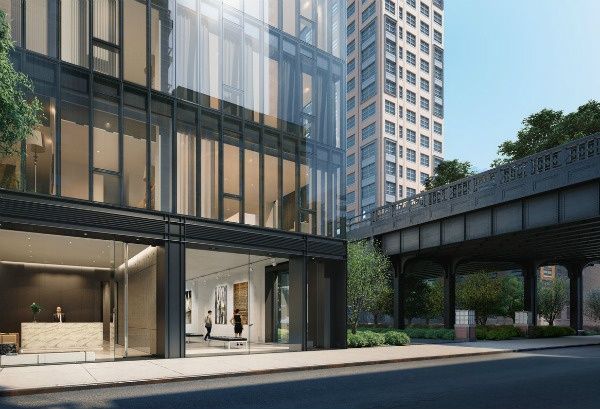 Address: 515 West 29 Street, New York, NY
Project: Five One Five is also designed by Singaporean architect Soo Chan, who designed Soori High Line on the same block. 515 West 29th Street is an 11 story boutique building with a collection 15 units in either full floor or duplex configuration. Sweeping views of the High Line are the key focal point of this floor-to-glass building.
The minimalist apartments have rich textures and top of the line everything, including Bulthaup kitchens and Molteni & C. custom closets featured throughout the residences, a rarity in NYC. Baths are covered in marble. and proximity to Hudson Yards can't be beat, as you are 1 short block away.
Amenities: 24-hour doorman, gym, landscaped roof terrace with grill, additional storage, private elevator opening directly into each residence, and bike room.
Available units: 2 bed from $4.25M and 3 bed homes for sale from $4.35M
Zaha Hadid | 520 West 28 Street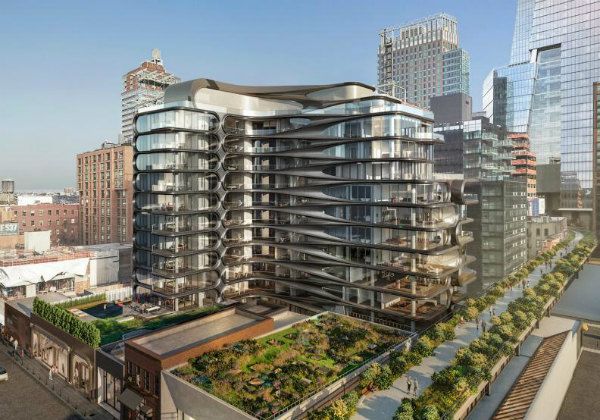 Address: 520 West 28 Street, New York, NY
Project: Designed by the late Pritzker Prize winning architect, Zaha Hadid, 520 West 28th is an iconic new landmark to New York City along the High Line Park at 28th Street. Perhaps the most unique boutique condominium building in West Chelsea, 520 West 28th St. offers 39 exclusive two- to five-bedroom residences. Hadid's architecture is really a piece of art. Her work has been defined by organic forms and graceful curves, which most architects steer clear from.
The futuristic look is not only relegated to the exteriors, as the interiors continue the organic shaped theme. The kitchens feature white lacquered islands that ZHA designed with Italian brand Boffi, which mirror the flowing lines seen throughout the building. Other details include a robotic garage and bathrooms with electrochromic glass that frosts over for added privacy at the push of a button. Now, that's very futuristic!
Amenities: 75-foot sky lit pool, first ever residential private IMAX theatre, entertainment suite and High Line terrace, fitness center, reservable Turkish hammam suite for absolute privacy, automated parking with secured parking portal and private automated storage and secured viewing room (inspired from a Swiss bank vault).
Available units: 2 bed from $4.495M, 4 bed from $9.975M and 5 bedroom homes for sale from $29.75M
500 West 25 Street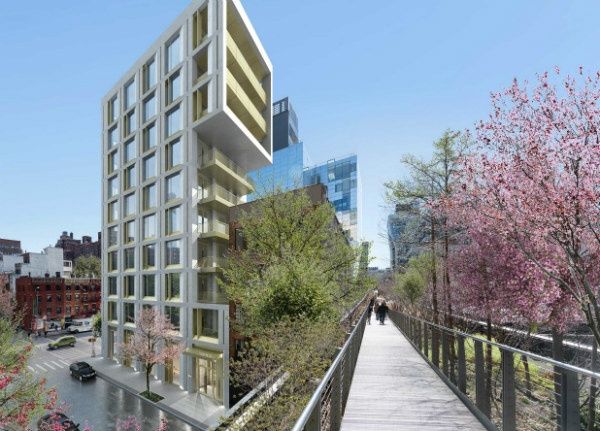 Address: 500 West 25 Street, New York, NY
Project: Situated directly on the High Line at 25th Street, 500 West 25th has just 7 full-floor residences and one duplex penthouse. 500 W 25 Street is a true boutique building inspired by modernism and the High Line itself. Most of the units feature outdoor space and each residence has three exposures. The interiors are modern minimalism, with simple lines and light filled interiors. Ceiling heights are 10' 6". The facade is limestone, and the windows have metal insets.
Amenities: TBA
Available units: TBA
555 West 22 Street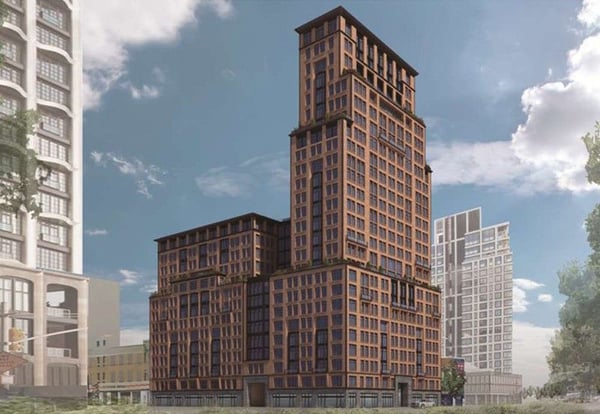 Address: 555 West 22 Street, New York, NY
Project: This building is going to be a hit. If you are interested in getting into the best project in West Chelsea directly on the Hudson River before its even launched, get in touch with us right away and we will put you on our priority list for information.
Robert A.M. Stern is the architect for this project. He is New York's favorite architect and has brought NYC its most iconic condo buildings such as 15 CPW, 220 CPS, 520 Park, 20 EEA, & 70 Vestry, and Superior Ink.
555 West 22nd Street will sit between Norman Foster's 551 W 21st Street and Anabelle Seldorf's 220 Eleventh Avenue along the Hudson River. This extraordinary building will go on sale sometime in 2020, with delivery in 2022. The Offering Plan is still subject to approval, after which the sales team can share more specific details.
Sign up below and be the first to know about this amazing Robert A.M. Stern building. His first in Chelsea!
Amenities: TBA
Available units: TBA
---
Buying a Condo in NYC
Guide Series:
Midtown Manhattan New Developments Condo Guide
East Village & Lower East Side New Developments Condo Guide
Financial District New Developments Condo Guide
West Village, Greenwich Village & NoHo New Developments Condo Guide