The Upper East Side is an area of tree-lined streets, spectacular heritage buildings, the best private schools in the country, a large assortment of boutiques, acclaimed restaurants and cultural institutions. It is home to some of the most expensive zip codes in the country. But, at the same time, it has some of the most reasonably priced properties in the city. That is because the entire Upper East Side of Manhattan covers a lot of ground - from the eastern side of Central Park, at Fifth Avenue, all the way to the East River, with the southern border of 60th Street to the northern border of 96th Street. The Upper East Side real estate market incorporates several small neighborhoods, including Prime Upper East Side, Carnegie Hill, Lenox Hill, and Yorkville.
Generations of wealth are concentrated in the many cooperatives in prime Upper East Side and Carnegie Hill. You will find these neighborhoods along Fifth Avenue, with the the southern border of Prime UES being 60th Street and the southern border for Carnegie Hill being 86th Street. The Eastern borders for these neighborhoods are Park Avenue and Third Avenue, respectively. These neighborhoods are where the Astors, Rockefeller's, Roosevelt's, Morgan's and Carnegie's called home. More recently, familiar residents include the Bloomberg's, Koch's, Paulson's and Kennedy's , among many others. While you will find some of the most expensive homes for sale in the city here, the vast majority of properties are coops. It is an area that is devoid of condominiums. In fact, in Prime UES there are only a handful of condo buildings on each of Park, Madison or Fifth Avenues, putting these neighborhoods largely out of reach for property investors, especially foreign investors. Because these neighborhoods are fully built, we see minimal new development here. Occasionally, one might see a hotel or rental building converted to condos in these two neighborhoods, but those opportunity have largely passed.
Further east is where you will find the action in new development and where you will find the most Upper East Side apartments for sale. Recent development has been spurred by the Second Avenue Subway line, opened in 2017, which has breathed new life into Second Avenue, First Avenue and York. The new Q train travels along 2nd Avenue from 96th Street to 72nd Street, then west a bit to 63rd Street and Lexington and then further west to West 57th and Seventh - in only 20 minutes. A few more minutes along the Q and you are at Times Square, substantially shrinking the time to get to Midtown from anywhere in the Eastern reaches of the UES, namely Yorkville or Lenox Hill.
Lenox Hill is located in the lower section of the Upper East Side, just due East of Park Avenue to the East River running from 60th Street to 79th Street. Here you will find a lot of shops, restaurants, bars, dry cleaners - everything you need for daily living, which you don't necessarily find in prime UES and Carnegie Hill that easily. Lenox Hill is well known for the many great hospitals located in the neighborhood. Lenox Hill has seen some new development along Second Avenue and First Avenue, although not to the same extent as Yorkville.
Yorkville is located from 79th Street to 96th Street from Third Avenue to the East River and home to Carl Shurz Park, Gracie Mansion, private schools and many mom and pop shops. Prior to the Second Avenue subway being built, Yorkville was considered by a lot of people to be in no man's land. It was very far away in that the closest subway was the 4,5,6 train on Lexington. If you lived on First Avenue, you would have had to walk to Lexington to reach a subway adding 20 minutes or more to your commute. But, the Second Avenue subway line and, to a lesser extend Uber, has made Yorkville a real option to many in New York who at one time wrote off the neighborhood as just too far away. We are very pro-Yorkville, having seen the beginning of its renaissance. We expect more interesting developments to continue to transform the neighborhood.
UES New Developments
Condo Overview
Beckford House & Tower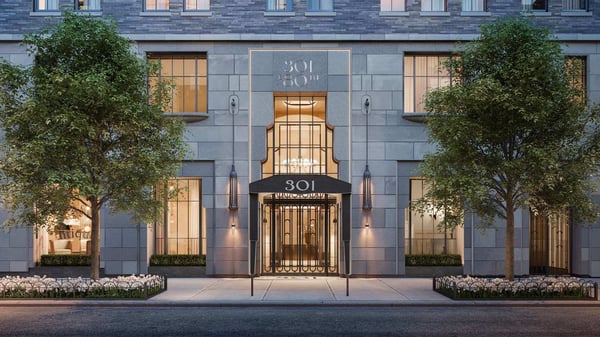 Address: Beckford House is located at 301 East 81st Street and Beckford Tower is located at 301 East 80th Street in the Upper East Side. Beckford House and Tower is the most elegant new construction condo project in the UES since 20 East End Avenue. Between the two residences, there are over 100 units in 1- to 6-bedroom configurations.
These two towers are so timeless we expect they will be heirloom residences that will be handed down over many generations.
The two handsome limestone- and brick-covered buildings exude elegance and take us back to turn-of-the-century NYC. The craftsmanship, grand spaces, and exquisite detailing are remarkable. We absolutely love everything about the interiors and are quite partial to the Christopher Peacock kitchens - some of the most elegant kitchens we have ever seen.
The homes for sale are quite reasonably priced for new construction at this level of sophistication, with Schedule A (first release) pricing averaging $2,231 for the entire project sellout. Prices start at $2 million for 1-bedrooms (there is only a handful), $2.5 million for 2-bedrooms, $3.975 million for 3-bedrooms and $5.75 million for 4-bedrooms. New York owes William Sofield much adoration for delivering these two gems. Sofield is best known for his commercial work, including boutiques for Harry Winston, Bottega Veneta, Yves Saint Laurent, Tom Ford, and Gucci, to name a few. In addition, his impeccable taste can be seen in the gorgeous interiors at the ultra-luxury 111 West 57th Street as well as the elegant 135 East 79th Street, close by in the UES.
Amenities: 24-hour concierge, library, game room, gourmet catering kitchen, children's playroom, basketball court and fitness center.
Available units: Residences are sized from 1,088 square feet to 3,645 square feet, $2M to $9.95M
Estimated Occupancy: Ready for occupancy in 2020 and 2021
40 East End Avenue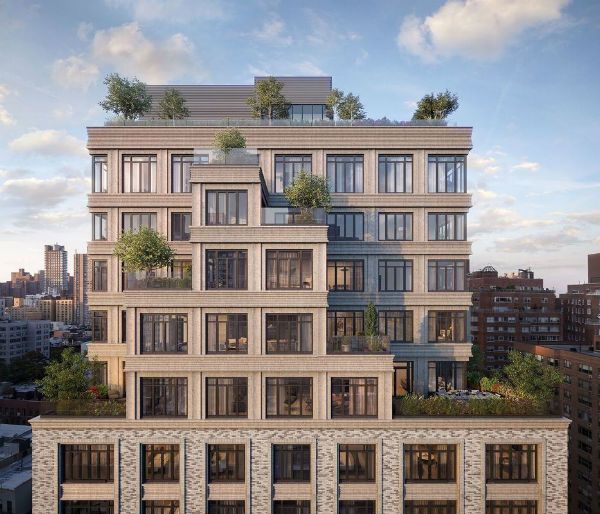 Address: 40 East East End Avenue, Upper East Side - Yorkville
Designed by architect Deborah Berke, 40 East End Avenue features 29 residences, from 2 to 5 bedrooms, over 18 stories. Residences feature lots of floor-to-ceiling windows, white oak hardwood flooring, Gaggenau kitchen appliances, marble slab countertop and baths. The amenities at 40 EEA offer both glamour and convenience. The most glamorous amenity is the entryway and parlor lounge: signature bronze entry doors welcome visitors and residents into a sophisticated ambiance, with chevron-patterned black and white marble floors, walls of cerused white oak paneling with bronze inlays, an impressive double-height parlor lounge anchored by a sculptural marble staircase and dramatic chandelier.
East End Avenue is home to the best private schools in the country, like the Chapin School and Brearley. East End Avenue is a tiny 11-block avenue that runs from East 79th to East 90th streets and from York Avenue and dead ends into Franklin D. Roosevelt Drive. Because of the FDR dead end, East End Avenue feels more like a cul de sac or gated community than a city street. 20 East End Avenue, a new condo development one block south, did very well in terms of price appreciation and prestige from offer to delivery. We expect similar results here!
Amenities: 24-hour concierge, library, game room, gourmet catering kitchen, children's playroom and fitness center.
Available units: Residences are sized from 1,472 square feet to 3,645 square feet, $3.16M to $12.8M
Estimated Occupancy: 2019
The Kent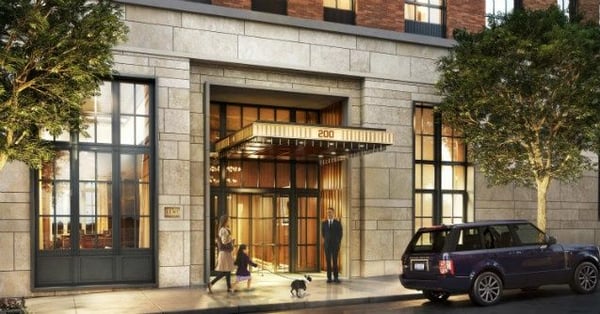 Address: 200 East 95th Street, Upper East Side - Yorkville
Project: The Kent is Art Deco-inspired ground up new construction located at 200 East 95th St., one avenue from the new 96th St. Second Avenue subway stop. It's an Extell project, so we know the building developer is top notch (they also did projects like One57, The Carlton House, and Aldyn), are the elegant materials used throughout, the gracious proportions which make everything very grand and, of course, the rare 20-year tax abatement! The rich materials really stand out here with a choice of high end Ivory or Onyx custom kitchen cabinetry, ebonized or brushed oak wood flooring, and Alexis Azul marble baths.
Proportions are large, with gracious layouts and high ceilings. Oversized casement windows are 8' x 10' with some at 8' x 12'. The ceiling heights are from 10' to 15' tall. As a result of the new Second Avenue Subway line, a lot of high end development in the neighborhood will fall behind Extell, making the area more and more relevant. The 20-year tax abatement provides for nominal taxes for the first 12 years, then steps up every 2 years until the 21st year, when the taxes are unabated. This rare tax abatement for condo buildings has been eliminated by the city.
Amenities: 24-hour concierge, stroller valet, lobby cold storage room for fresh food and flower deliveries, 55-foot indoor heated pool, Camp Kent children's playroom designed by Williams New York, and finally but not last, "The Garden Salon" residents' lounge with fireplace, billiards table, catering kitchen and the "Sound Lounge" by Kravitz Design, envisioned by Lenny Kravitz.
Available units: 11 apartments for sale, 1,481 square feet to 3,564 square feet, $2.993M to $12.9M
Estimated Occupancy: Immediate
1010 Park Avenue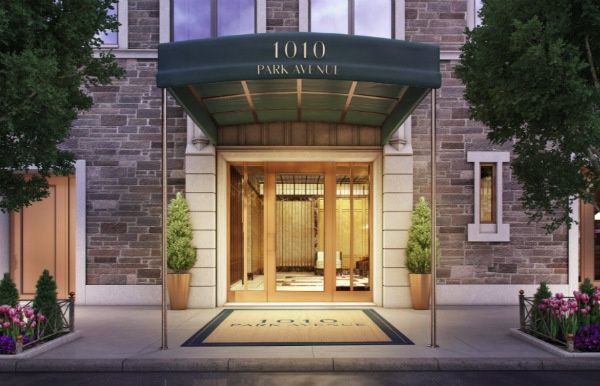 Address: 1010 Park Avenue, Upper East Side - Prime
Project: One of only a handful of condo buildings along Park Avenue, 1010 Park Avenue is being developed by Extell and designed by architects Beyer Blinder Belle. 1010 Park Avenue will house 11 large boutique residences complimented by three levels amenities. Interiors and common spaces were designed by David Collins using the finest finishes and materials.
1010 Park Avenue features nine full-floor residences and two extraordinary duplex homes. For each meticulously designed residence, the experience starts at the private lift lobby which opens onto a formal reception foyer. This gracious salon features direct views of tree lined Park Avenue from the oversized double casement windows. The grand public spaces of each home exhibit generous pre-war proportions, enhanced by oversized windows, Continental Oak Versailles flooring and custom molding and millwork detail. Seldom do we see condo buildings pop up on Park Avenue, as there are really no lots to build on or convert into condos.
Amenities: Three levels of amenities including state-of-the-art wellness and activity spaces, children's playroom, and indoor swimming pool.
Available units:2 homes for sale, priced from $12.95M to $18.5M, sizing 3,881 square feet each.
Estimated Occupancy: 2019
180 East 88 Street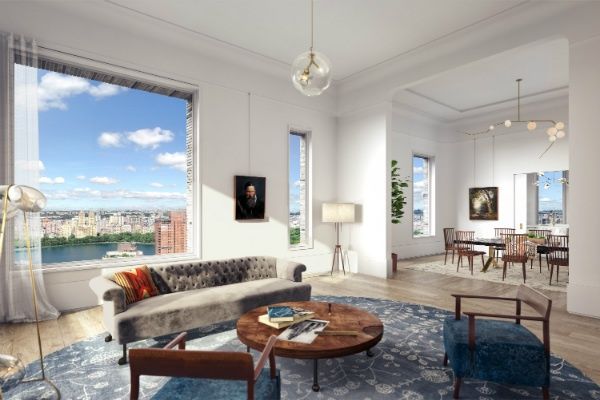 Address: 180 East 88 Street, Upper East Side - Yorkville
Project: 180 East 88th is a new full-service luxury condominium in Carnegie Hill with only 48 half and full-floor homes that offer up to 14'+ ceiling heights and views far beyond Central Park on the highest floors. The building is being developed by DDG and was designed based on a classic pre-war aesthetic, but with a twist - with concrete catenary arches at its base, waist, and crown.
DDG always comes thru with excellent finishes. Here residences include a very high level of finish rarely seen in new development. It's a refined but freshly updated pre-war aesthetic. Residences feature custom wainscoting, picture rails and baseboard reveals in primary living areas. Ceiling heights are up to 14'-2″ and 28′-8″ in duplexes and the windows are up to 9' tall. Finally, the building includes an unprecedented amenity program spans eight floors.
Amenities: 24-hour concierge, half-court basketball court, one of New York's only private indoor soccer pitches, a children's playroom, game room, resident lounge and proper wine storage.
Available units: 8 available condos, 597 square feet to 2,370 square feet, $1.295M to $6.725M
Estimated Occupancy: 2019
27 East 79 Street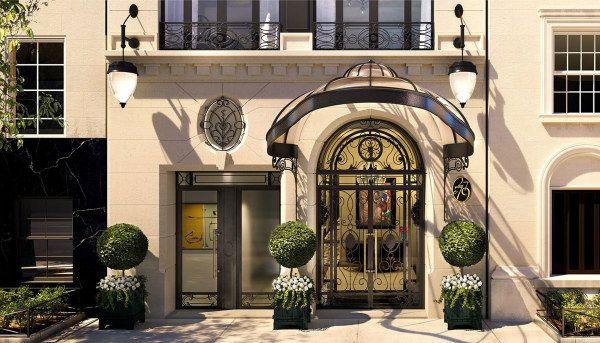 Address: 27 East 79th Street - Prime Upper East Side
Project: On the pristine block of East 79th Street between Madison and Fifth Avenues, only steps from Central Park, rises 27 East 79th St, the only condo building to ever grace the block. The Beaux Arts style facade has Art Nouveau touches, while taking cues from its prewar neighbors. Clad in limestone, the building will be adorned by iron grillwork of the entry doors, Juliet balconies, and glass-domed marquee. Oak parquet de Versaille flooring, custom moldings, and large windows and direct elevator access are some main features of the residences. The kitchens feature French La Cornue ranges, Miele appliances and custom millwork by architect Cabinet Alberto Pinto. Baths are clad in marble. While this storied neighborhood has mostly coops and townhomes, 27 East 79th Street is a condo building, which welcome foreign buyers and investors.
Amenities: Concierge desk staffed with 24-hour doorman.
Available units: Only one home for sale, priced close to $12M, with living space of 3,006 square feet.
Estimated Occupancy: 2019
20 East End Avenue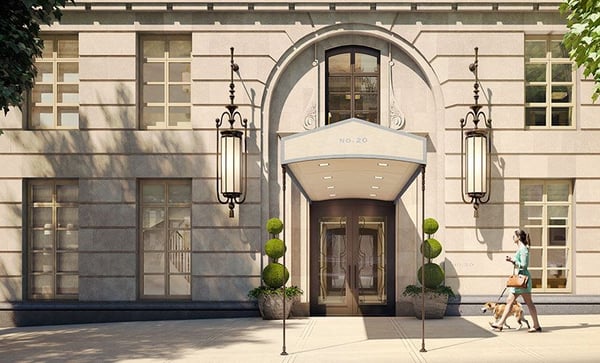 Address: 20 East End Avenue, Upper East Side - Yorkville
Project: 20 East End Avenue, designed by renowned architect, Robert A. M. Stern (famous for 15 Central Park West, 520 Park and 220 Central Park South, among others), is one of the most elegant new developments in the Manhattan market. Located on East End Avenue at East 80th Street, the Indiana limestone structure features only 43 units, mostly larger, stately apartments (including two townhomes with separate entrances).
Robert A.M. Stern designed the interiors here and the attention to detail makes this building standout in comparison to many of its competitors. Ceiling heights are 11' in principal rooms, something you can never find in a renovation of an old building. Residences feature herringbone white oak flooring stained in a dark walnut hue, custom designed baseboards, ceiling moldings, and solid wood doors, emphasize the richness of the interiors. Kitchens feature custom wood cabinetry, Brazilian granite countertops, and all the appliances are Gaggenau.
East End Avenue is a true residential enclave in the Upper East Side, full of neighboring parks and the country's best private and public schools (i.e., Chapin School, Brearly School) are very close by. East End Avenue is home to Carl Shultz Park, which features Gracie Mansion, a playground, a hockey rink, large and small dog runs, and a sculpted garden. In addition, steps away is the East River Esplanade.
Amenities: 24-hour concierge, porte-cochère, library, fitness center and sauna, billiards and game room, wine cellar with private dining area, and children's game room.
Available units: Only the maisonette apartment is available for sale. 4,737 square feet of living space priced at $10,895,000
Estimated Occupancy: Immediate
12 East 88 Street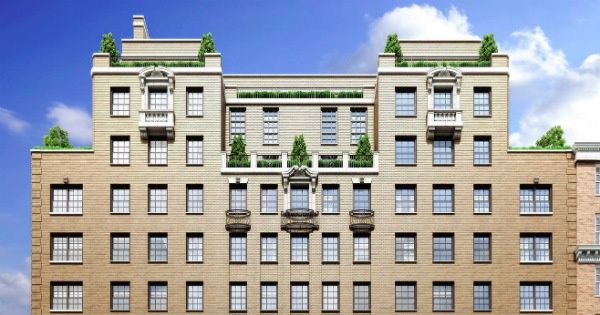 Address: 12 East 88th Street - Carnegie Hill
Project: 12 East 88th Street is located in Carnegie Hill, adjacent to the Guggenheim Museum and two steps from Central Park. The development is a conversion of a Rosario Candela pre-war residence into a modern residence with classic details. Architect Rosario Candela is known for his many works including 740 Park Avenue in Manhattan and infamous Coop in the city.
Residences have been thoughtfully expanded, remade, and rescaled for the needs and tastes of modern residents without sacrificing the unrivaled quality, history, and detail. One of our favorite interior design firms Champalimaud updated the interiors. The building also features amenities including a fitness center and children's playroom leading onto a landscaped terrace, 12 East 88th Street embodies the qualities of the quintessential Upper East Side residence.
Amenities: 24-hour doorman with full concierge services, private garden courtyard, children's room, residents lounge with media room, bike room and fitness center.
Available units: Homes for sale ranges in size between 951 square feet to 4,030 square feet, and priced from $1.495M to $7.35M
Estimated Occupancy: Immediate
Citizen 360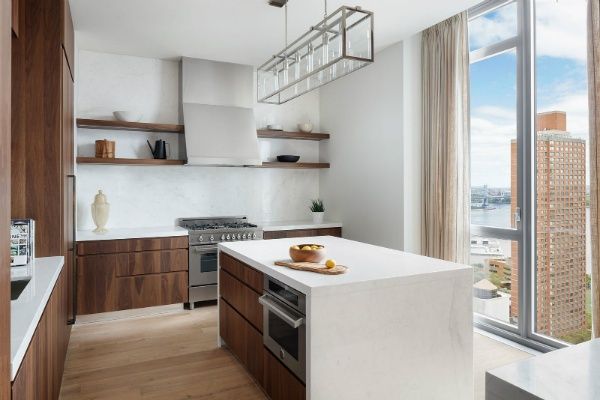 Address: 360 East 89th Street - Yorkville - New York
Project: Citizen 360 was developed by Anbau and designed by SHoP architects with interior design by Clodagh. Clodagh's strength in designing resorts and spas is capitalized on here with a focus on understated elegance and an emphasis on tranquility. From the calming lobby with a garden wall and water feature, to amenity spaces designed for creativity and a sense of community, Clodagh's serene sensibility permeates all aspects of residents' daily lives.
Sunlit, spacious residences emphasize flexible living and feature a smoked walnut entry door, white oak flooring, and floor-to-ceiling windows framing sweeping views. SHoP elevates the streetscape while providing residents with light and open city views through a signature window design and glass cantilever. The building features 1-to 4-bedroom residences.
360 East 89 Street is an excellent option per $ sq.ft. when looking for real estate in Manhattan, either you are buying for investment or primary use.
Amenities: 24 hour doorman, fitness center with yoga and training studio, wellness lounge, children's playroom, art studio, entertainment suite, screening room, lounge with catering kitchen, automated parking and storage units for purchase.
Available units:6 homes for sale, 1,489 square feet to 2,862 square feet, $2.575M to $6.15M
Estimated Occupancy: Immediate
The Carlton House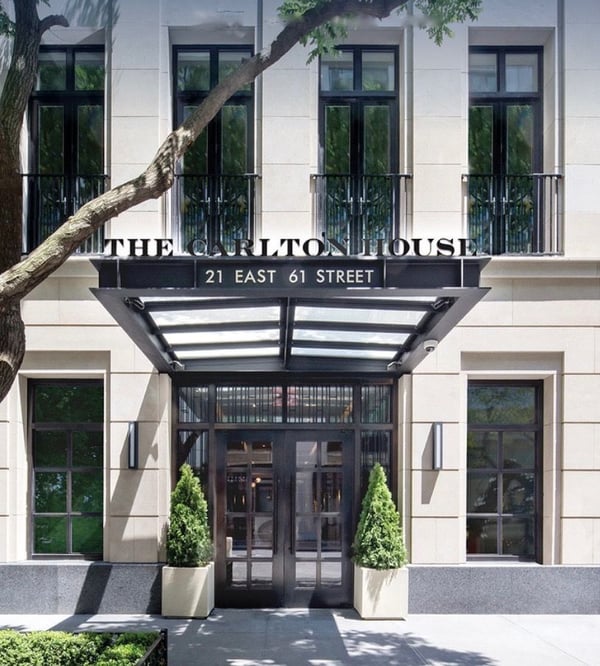 Address: 21 East 61 Street, Prime Upper East Side
Project: The Carlton House has been transformed into 68 exceptional 2-6 bedroom residences. The brick and limestone exterior of The Carlton House is being meticulously preserved and restored to its original gracious appearance. Handsome new windows and terrace doors offer the latest in beauty, functionality and energy efficiency. Interiors are by Katherine Newman Design, one of Architectural Digest's "Top 100" interior design firms.
Residences feature finely crafted wide-plank white oak floors, custom kitchen cabinetry, and decorative details fabricated from natural materials. Some residences offer outdoor spaces that are perfect for private relaxation or for outdoor parties, with views of the Manhattan skyline and Central Park. The building is perfectly set along Madison Avenue and East 61st Street, one of the most coveted neighborhoods on the Upper East Side.
The Carlton House is surrounded by a collection of haute couture ateliers and boutiques along Madison Avenue, one of the world's most chic shopping destinations. These residences are also steps from Central Park, the Plaza Hotel and Fifth Avenue. The Carlton House offers the finest in culture, dining and entertainment. While it is technically a Coop, the building has Condo rules, so investors, even foreign investors, are welcome. We think this is the perfect residence for a pied-a-terre or primary home.
Amenities: 24-Hour Doorman and Concierge, Indoor Swimming Pool, State-of-the-Art Fitness Center, Steam Rooms, Game Room, Bike and Private Storage Available , Cold Storage Room
Available units: As of February 21, 2019, there's a 4,060 square feet residence available for $11,750,000.
Estimated Occupancy: Immediate
Vitre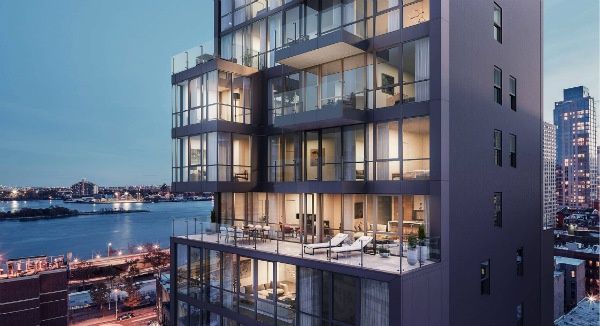 Address: 302 East 96th Street, Yorkville, Upper East Side
Project: Vitre is a new addition to the Upper East Side at Second Avenue and 96th Street, taking advantage of its proximity to the new Second Avenue Subway. Vitre boasts crisp lines, modern styling, and a characteristic glass façade. Residences incorporate modern interior design with high performance floor-to-ceiling windows, up to 9'-8" ceilings, and smoked European white oak flooring throughout. The kitchens feature custom cabinetry in a wire-brushed oak paneling with contrasting white lacquer upper cabinets, Carrara marble backsplash and islands, Bertazzoni cooktops and ovens, Blomberg refrigerators and Marvel under-counter wine storage. Graciously sized and selectively appointed with the finest in modern European-inspired design, the bathrooms evoke a spa-like experience. Unique to the building are the private parking spaces available for purchase, which is unheard of in NYC.
Amenities: 24-hour attended lobby, residents lounge with sundeck patio, a rooftop sundeck, bike storage, and concierge services by Hello Alfred.
Available units:Homes for sale range in size between 522 square feet to 2,290 square feet, priced from $940k to $3.795M
Estimated Occupancy: 2019
Park Mansion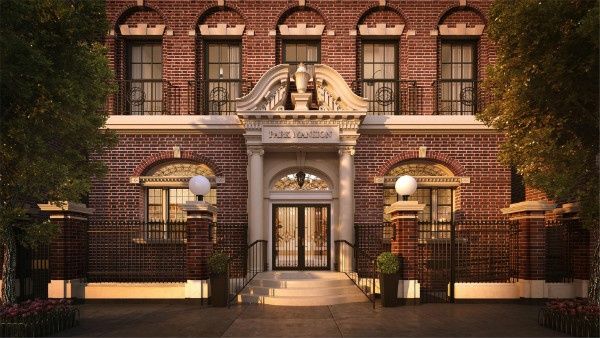 Address: 320 East 82 Street, Yorkville,
Project: The Park Mansion is a beautiful Beaux-Arts building built in 1900 by the architecture firm of Janes and Leo. It has been reimagined as a luxury boutique condominium offering full-floor 3-4 bedroom residences. Residences feature kitchens by Arclinea, outfitted with all top-of-the-line Miele appliances, Quartzite marble counters and custom cabinetry. In addition, residences will feature a generous breakfast bar for informal dining and a vented exhaust for large-scale cooking, master bathroom with floor-to-ceiling Calacatta polished marble walls and Bardiglio white marble radiant heated floors, 11' ceilings throughout, white oak flooring, two full sets of washer/dryer units and private storage.
Amenities: doorman, fitness room, and private storage and bicycle storage.
Available units:4 homes for sale, 2,343 square feet to 3,540 square feet, $5.45M to $6.5M
Estimated Occupancy: Immediate
33 East 74 Street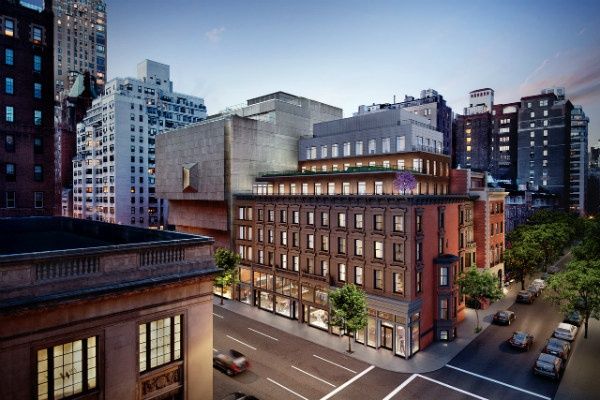 Address: 33 East 74th Street, Prime Upper East Side
Project: 33 East 74 is quintessentially refined and uncommonly private, designed for the most discerning of buyers. It is the antithesis of Billionaire's row, luxury living in the context of preservation. Nestled in the heart of the Prime Upper East Side at 74th and Madison is a collection of ten spectacular residences that were once a row of 19th Century brownstones. These have been reimagined by renowned architectural firm, Beyer Blinder Belle, into 10 custom designed condominium residences, ranging from 3,850 sq. ft. to over 10,000 sq. ft.
Four of the residences have outdoor space, three of which are penthouses featuring private terraces over 2,000 sq. ft. Interiors are by one of our favorites, Champalimaud Design. 33 East 74th Street will feature the finest in luxury living with a breathtaking attention to detail. These bespoke condominiums embrace the quiet confidence and classic elegance that define the neighborhood.
Amenities: 24-hour concierge, storage room and fitness center.
Available units: Only 1 residence available, a 10,000 square feet townhouse priced close to $40M
Estimated Occupancy: Immediate
UES New Construction...Coming Soon....
301 East 80th St and 301 East 81st St - are stately designed dual towers by Icon Realty Management with a stone facades and gridded windows on Second Avenue in Yorkville. One is a 30-story tower and one is a 19-story tower both designed by SLCE and Studio Sofield. They will house 72 Units and 32 Units, respectively. Estimated Occupancy in 2020 and 2021, respectively.
The Hayworth @ 1289 Lexington - on the northeast corner of Lexington and East 86th Street in Yorkville. This 21-story tower was designed by HOK Architects. Being developed by Kuafu Properties, Stillman Development and Ceruzzi Properties. Estimated Occupancy 2019
Other Upper East Side Condos For Sale:
---
Buying a Condo in NYC
Guide Series:
Midtown Manhattan New Developments Condo Guide
East Village & Lower East Side New Developments Condo Guide
Financial District New Developments Condo Guide
West Village, Greenwich Village & NoHo New Developments Condo Guide