In this blog series, we are highlighting the latest NYC new development projects by neighborhood. Our goal is to provide insight into the character of each of the neighborhoods, what is driving new development in these locations and general trends. This is the second in our series, in which we will be focusing on Central Park luxury apartments for sale and Billionaire's Row condos.
Super-tall, thin, sexy and elegant! One would think I was referring to the latest runway models at fashion week, but, actually, I am referring to the new super-tall, ultra-luxury condominium towers that have been rising along Billionaire's Row. This is located along the 57th Street corridor, between 53rd and 60th streets and Park Avenue and Broadway.
Expect to pay $20 million to $30 million for entry-level apartments in many of these trophy buildings, although certain buildings, like One57, which in 2013 was the pioneer in the neighborhood, and Central Park Tower (the tallest residential building in the Western Hemisphere), have smaller units and, therefore, lower prices (perfect for pied-à-terre). While the intersection of 57 Street and Fifth Avenue has long been the epicenter of luxury in Manhattan, in terms of retail, it hasn't been the most exclusive of New York residential real estate since the Gilded Age. That, however, has forever changed.
Why here? Central Park View Apartments from the 57th Street corridor open up to the most spectacular sweeps of the Park's landscape. The proximity of the 57th Street corridor to Central Park's southern edge has fueled this ultra-luxury building boom. "As of right" zoning in this area makes it much easier to build a super-tall building here than in say the Upper West Side or Upper East Side, where they are all but forbidden. In addition, many of these skinny buildings are only now being made possible because of technological advances in construction, allowing narrow buildings pop up in seemingly impossible spaces.
Why Manhattan? The Manhattan real estate market has had a great long-term historical track record in terms of price appreciation, resiliency, and stability. For these reasons, many owners will use these ultra-luxury apartments as vertical safety deposit boxes, keeping large chunks of their net worth out of international and domestic gyrating stock markets, as well as far away from political turmoil and economic uncertainty. While there are periodic corrections, such corrections are nothing like what happens with the price of gold or even the stock market - remember 2009!
These super towers, like supermodels, are vying to be the most beautiful, fashionable, adored and exclusive in the city, if not the world. So, which are the contestants that are vying for to be the best new residence on new Billionaire's row? Here is the cast:
Central Park Tower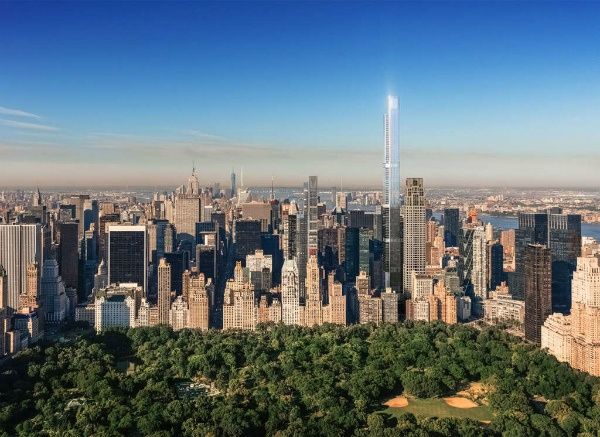 Address: 217 West 57th Street, New York, NY
Project: Soon to be the tallest residential building in the world, standing at 1,550 feet tall, Central Park Tower, at the corner of Broadway between 57th and 58th Streets, will boast amazing helicopter Central Park and NYC views when completed in 2020.
With a sellout of $4 billion, this will undoubtedly be one of the most expensive condo buildings in the world, with an average price per square foot in the original Schedule A pricing in the offering plan at close to $7,000. Twenty of the condo units will be priced at $60 million or more. These Central Park condos will start on the 32nd floor, with apartments available in 2 to 8 bedroom configurations. The smallest unit is 1,435 sq. ft., while the largest is a whopping 17,500 sq. ft.
The architect of the Central Park Tower apartments, Adrian Smith + Gordon Gill Architecture, has a lot of experience designing supertalls-- having designed the Burj Khalifa, the world's tallest building located in Dubai.Extell is developing the building and has a lot of experience in this space having started Billionaire's row on 57th St, with the introduction of One57, the 1,004-foot condominium tower that sits one avenue due East of Central Park Tower between 6th and 7th Avenues. The building will cantilever over to the East, allowing for central park views for all north facing residences. For the interiors, Extell tapped Rottet Studio, which has designed interiors of the St. Regis, Four Seasons and Langham branded hotels.
Also known as the Nordstrom Tower, the building will house the flagship luxury department store on its first 7 stories. Condo amenities will include a grand ballroom on the 100th floor, able to seat 126 people, a landscaped terrace with a 60' pool and an indoor pool on the 16th floor.
When completed, Central Park Tower will usurp 432 Park as the tallest building in NYC by 51 feet. It will also rise 50% higher than 220 Central Park South, the new 953 foot Robert A. M. Stern tower that lies directly north of the building. While there is surely to be some strange interactions between these two buildings being so close together (220 CPS lies due north of the building and Central Park Tower cantilevers over the Art Students League), the top half of the building will have the best views in the city.
Amenities: 24-hour concierge, children's playroom, fitness center and bicycle storage.
Available units: Residences range from 2 to 7 bedroom apartments. Consult us for availability.
111 West 57 Street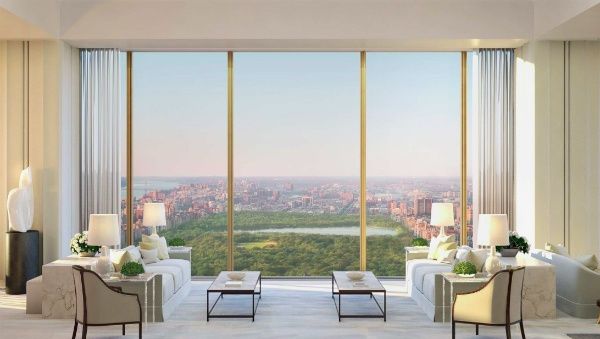 Address: 111 West 57th Street, New York, NY
Project: The world's skinniest skyscraper, 111 W 57th Street, is rising 1,428 feet above the old Steinway & Sons 1925 headquarters. The building will be considerably higher than its neighbor One57, which is 1,005 feet tall, making it one of the tallest in NYC. The views from this building are going to be stunning. Even more so than One57, the building bisects Central Park, creating a perfectly symmetrical view of the park.
The terra cotta and bronze façade should be very interesting when completed. And, we like the full floor and duplex concept for the tower, making the building very exclusive, with a maximum of only one unit per floor. The building will have 60 luxury condos with prices in the tower starting at $14 million, in line with many of its ultra-luxury competitors.
Ceiling heights up to 14-foot tall, floor-to-ceiling windows with bronze mullions, Smallbone of Devizes kitchens are just a few features of these gorgeous apartments. SHoP architects and interior designer Studio Sofield are working with Property Markets Group, JDS & Spruce Capital, the developers of the project, so we expect it to be top notch.
Sales originally started a couple of years ago before construction started, but as the NYC ultra-luxury segment became saturated, the developer decided to delay sales and re-launch when the building was closer to being ready. That way, buyers could go into the building to see the finishes and the amazing views. The building relaunched in October 2018 and occupancy is slated for early 2019.
Amenities: Private porte cochere, 24 hour concierge, 82-foot lap pool, outdoor terrace and lounge, fitness center, private dining room, meeting rooms, study.
Available units: Full floor 3 bedroom 3.5 bathroom residences with 4,491 of interior space starts at $18M. Penthouse 74 is a duplex residence with 7,128 sq. ft of interior space, 4 bedrooms and 5.5 bathrooms with amazing river to river views, and asking price of $57M.
One 57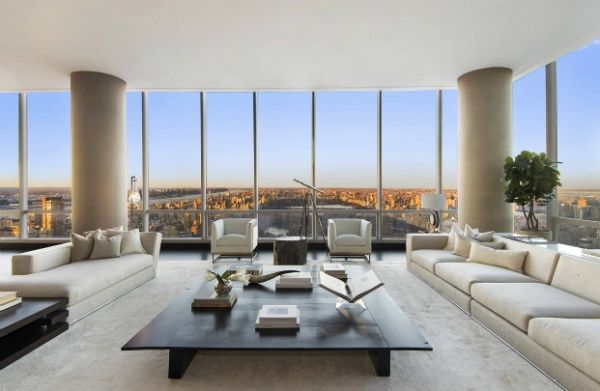 Address: 157 West 57th Street, New York, NY
Project: If it had not been for One57's foray into this market, Billionaire's Row likely never would have happened. Full credit should be attributed to Extell for taking the risk and coming up with a great building like One57 from both the inside and out.
One57 has breathtaking symmetrical views of Central Park to the north, as the building lies almost smack dab in the middle of 6th and 7th Avenues, between 57th and 58th Streets, almost bisecting the park. The building was designed by French architect Christian Portzemparc and the interiors by Thomas Juul-Hansen. One57 houses mostly large units in the 3,000 to 6,800 sq. ft. range, but also has some 2 bedrooms and 1 bedroom apartments as well. Residences feature kitchens by Smallbone of Devines, marble slabbed bathrooms,
Although this building launched a while ago, there are still some smaller developer units left. The One57 Signature Collection is located on the higher floors and have some of the best views around of Central Park, with prices starting at $17.5 million. The One57 One Collection is located on the lower floors, some with and without, Central Park Views. Prices range from $3.75 for a 1 bedroom without a Central Park view to $10 million for a 3 bedroom with peeks of the park.
The 5-star flagship Park Hyatt NY Hotel is housed in the lower half of the building. In addition to One57 amenities, residents can have 24-hour room service, housekeeping service, dry cleaning and laundry, etc.
Amenities: 24-hour concierge, swimming pool, Spa Nalai, fitness center, library, screening & performance room, conference & private dining room, valet parking.
Available units: Per Streeteasy as of December 2018, the current average price per sq/ ft. at One57 is $5,147. One bedroom starts at $3.75M, Two bedroom starts at $7.5M and 3 bedroom apartments a bit below $10M.
432 Park Avenue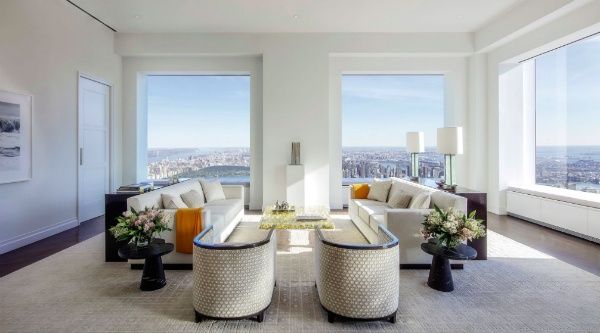 Address: 432 Park Avenue, New York, NY
Project: One of the tallest residential buildings in New York, 432 Park is 1,398 feet tall. It is located between 57th and 56th Streets and Park and Madison Avenues - perhaps the most expensive block in Manhattan.
With such a large building floor plate of 8,500 square feet, prices of full floors are very expensive. Entry-level apartments, however, start at close to $14 million. On the lower floors, buyers can purchase staff quarters and private office condos exclusively for sale to owners.
The architect Rafael Vinoly designed the 432 Park Avenue apartments' exteriors. His design is inspired by the perfect square, which he used for the building's floor plate of the building, as well as sections of the building exterior, and each of the windows, which are 10-feet by 10-feet. The ceiling heights are huge, with 15-feet slab to slab. Interiors are minimalist, designed by Deborah Berke Partners.
While there is no hotel component at 432 Park Avenue, residents have an array of first class amenities, including a private dining room and motor court. In addition, there are swimming pool and a fitness center you won't have to share with hotel guests. In addition, there is housekeeping, room service, and parking.
Amenities: 24-hour concierge, 75-foot swimming pool, lounge, restaurant, sauna, library, performance venue, conference room, yoga studio, children's playroom, onsite parking, valet service.
Available units: Per Streeteasy as of December 2018, the current average price per sq/ ft. at 432 Park Avenue is $7,395. Two bedroom residences starts at $14M and three bedroom condos with 3,575 of living area starts at $19M.
53W53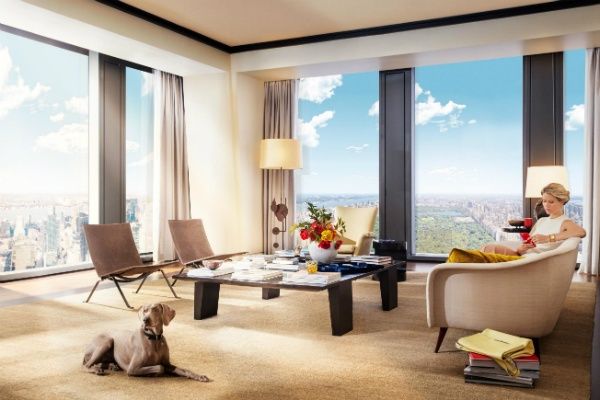 Address: 53 West 53rd Street, New York, NY
Project: 53 West 53rd is rising 1,050 feet tall into the New York skyline, a bit shorter than its original 1,250-foot design, but still a super tall. The tower, located one building east of 6th Avenue between 53rd and 54th Streets, will rise 72 stories and feature 145 ultra-luxury condos. While the building is a bit further afield from 57 Street and Central Park than some of the others in the 57th Street corridor, we expect Jean Nouvel's design to triumph because of his truly one-of-a-kind architecture.
French architect Jean Nouvel's design is at the same time "out there" but also very cool, as only Jean Nouvel knows how to do it. The Pritzker Prize winning architect has long been revered as a risk taker for his creative experimentation that always results in cutting edge designs. And, he really has outdone himself here. The building tapers to a set of peaks at the tower's apex and the building's skin will be an exoskeleton.
Interiors are warm and were designed by Thierry Despont. And, because of the exoskeleton, there are no columns to worry about. The triple glazed windows are cutting edge and minimizing noise. The kitchens are Molteni & Co., one of our favorite Italian brands, and the baths, also designed by Despont, features Italian-finished Verona limestone in neutral tones.
Amenities: Lounge and private dining room with views of central park, 24-hour concierge, 65' lap pool, membership to the MoMa, private theater, fitness center, housekeeping services, in-building restaurant and room service, children's playroom, etc.
Available units: Current residences for sale range from an 1,771 sq. ft. one bedroom for close to $5.2 million to a 7,973 sq. ft. 4 bedroom penthouse with cinematographic 360-degree views of Central Park, Hudson & East Rivers, and Downtown skyline for $63 million. Occupancy early 2019.
220 Central Park South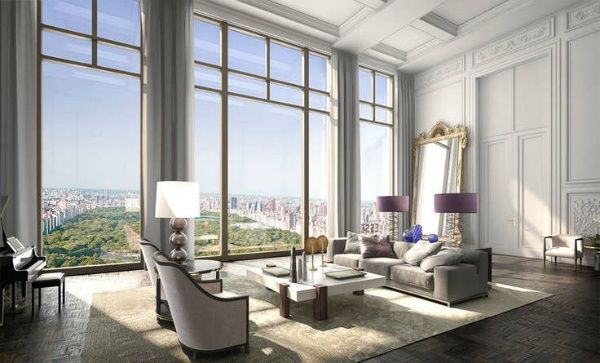 Address: 220 Central Park South, New York, NY
Project: Set on Central Park South between Seventh Avenue and Broadway, 220 Central Park South is one of the most promising contenders of all the buildings along the 57th Street corridor. It has some of the best DNA out of the bunch, but it isn't perfect either.
First, it boasts permanently unobstructed views of Central Park from most units. Second, the building's architect is the revered Robert A. M. Stern of the neighboring 15 Central Park West Apartments (15CPW) who, also, is the architect of another ultra luxury project in the corridor, such as 520 Park Avenue. Stern knows how to design for the ultra-wealthy set and has had a great track record in this market segment. Finally, Vornado Realty Trust, the heavyweight developer and REIT, which created Bloomberg Tower (aka One Beacon Court), among countless others, is developing the building.
220 Central Park South will have much in common with its elegant neighbor, 15 Central Park West, albeit a much more slender version of its neighbor. The building will feature a limestone façade, classic styling, house and tower combination, and a private car court on 58th Street. The building is 950 feet tall and has 100 units over 65 stories. The floor-plate of the building at the base (7th floor) will be 7,440 sq. ft., shrinking to 6,591 sq. ft. from the 48th to 64th floors.
Although both buildings have shifted in opposite directions to maximize views, it remains to be seen how both 220 Central Park South and 217 West 57th Street will visually interact with each other once erected. Since 220 Central Park South has permanently unobstructed views of Central Park, any interplay between the buildings in the sight lines South of 220 CPS will be offset by the extraordinary and tremendously valuable direct Central Park views.
The only building that is anticipated to have a higher sellout (at a whopping $4.4 billion of condos) is Central Park Tower (aka Nordstrom Tower or 217 West 57th Street), which sits directly south of 220 Central Park South. Central Park Tower will, no pun intended, tower over 220 Central Park South by 50%, making it the tallest New York Condo building in Manhattan.
Amenities: Private dining rooms and entertaining spaces, an expansive athletic club and spa, 24-hour concierge.
Available units: Consult us for availability. With 83% sold, the developer still have units for sale. Closings began in November 2018 and among the sold units are the city's priciest listing, a $250 million penthouse with 23,000 square feet of interior space.
Aman New York Residences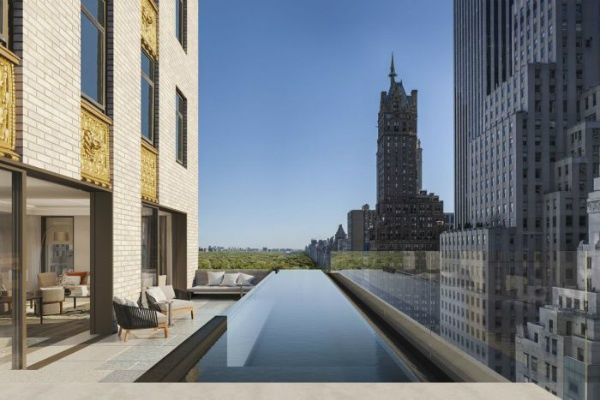 Address: 730 Fifth Avenue, New York, NY
Project: Located at the top of the gorgeous pre-war Crown Building, the Aman New York Residences will feature the first urban Aman Residences, however, there will be only 20 residences. The bottom floors will house a new Aman Resorts New York Hotel with 83 rooms. While this is not a super tall, it is along Billionaire's Row at 57th and Fifth and boasts views of Central Park to the north.
Residences will receive the unrivalled, intuitive service for which Aman is known for. In addition, residents can use the amenities of the hotel.
The building is being developed by Vladislav Doronin, who is the CEO and majority shareholder in Aman Resorts. He is also developing a few condo buildings in Miami that we like, such as Una Residences and Missoni Baia. The interiors are being designed by Jean-Michel Gathy of Denniston, a long time Aman collaborator.
Amenities: 24-hour concierge, wrap around garden terrace on the 10th floor, lounge, pool, luxury spa and therapy rooms, cigar bar, wine library, piano bar, jazz club, Aman members club, and two restaurants, one Japanese and one Italian.
Available units: According to the offering plan, a 1,150-square-foot one-bedroom is asking $5.9 million; a three-bedroom with 4,384 square feet is priced at $26.6 million, and a 6,287-square-foot four-bedroom will ask $58.3 million. The 5-story one of a kind penthouse. which was listed for $180 million and which we understand has been sold, features a piano lounge and gallery, game room, two kitchens, a wraparound terrace and two swimming pools.
520 Park Avenue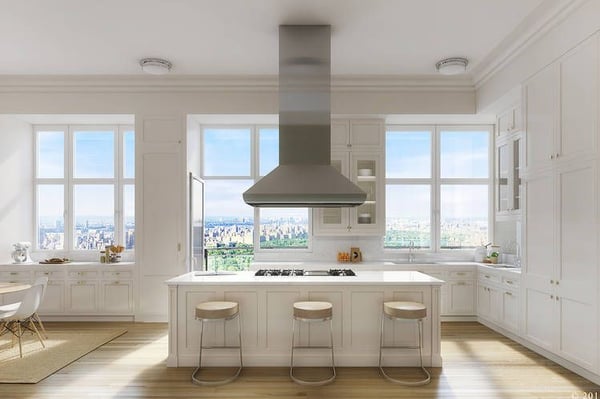 Address: 520 Park Avenue, New York, NY
Project: 520 Park Avenue is being developed by the Zeckendorf's, the same team behind the uber-successful 15 Central Park West, 18 Gramercy Park and 50 United Nations Plaza. Its 31 units will rise only 51-stories, making it by far the shortest of the bunch in the 57th Street corridor. Actually, this is a few blocks north and given the low-rise neighborhood in the Upper East Side, on East 60th Street between Park and Madison Avenues, apartments will have great views of Central Park and the city while, at the same time, being in a traditional New York neighborhood.
The building's design take cues from New York's grand apartment buildings from the 1920s and 1930s, as well as modern interpretations of these bygone apartment houses, such as 15 Central Park West, 220 Central Park South and The Four Seasons Private Residences Downtown NY, which also were designed by the same architect, Robert A. M. Stern.
Each of the units is either a full-floor, duplex, and for the penthouse, triplex residence. Each will offer classic layouts in a modern setting, with distinctive entertaining spaces, formal living and dining rooms, soaring ceiling heights and the finest finishes. Duplexes and the triplex have balconies with great Central Park views. The building's floor plate is small in comparison to some of its competitors, allowing for a 4-bedroom full floor of just 4,600 square feet, as well as a 6-bedroom duplex of over 9,200 square feet.
Given the pedigree of this building, such as its superb location, a hugely successful developer (the Zeckendorfs), and revered architect Richard A.M. Stern, there is no doubt that this building will be successful with a certain crowd. Because there are so few units, we expect this building to have an exclusive and clubby feel.
Amenities: 24-hour concierge, grand salon off of the lobby, garden, double height swimming pool room, fitness center.
Available units: While the building is completed and residents have moved in, there are a few developer units left. An entry-level apartment starts at $20.5 million, but 10 floors higher would add another $10 million to the price, given the views.
Baccarat Hotel & Residences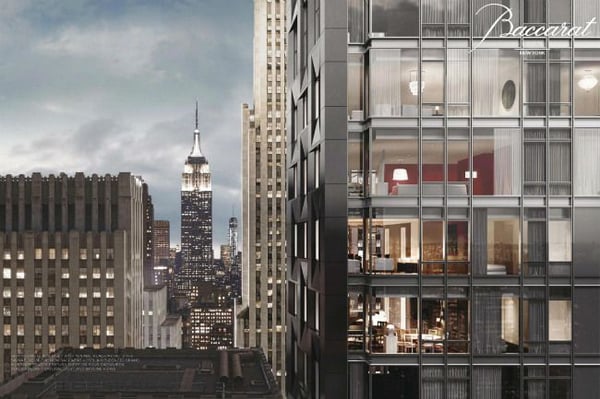 Address: 28 West 53rd Street, New York, NY
Project: Since its founding by Louis XV in 1764, Baccarat has had a rich heritage of beauty and culture. The Baccarat name lives on via Starwood Capital, which purchased the brand began its foray into hotels and residences with its flagship Baccarat Hotel and Residences New York. French glamour abounds at Baccarat Hotel & Residences New York, with the finest materials, soaring spaces, and custom Baccarat pieces throughout.
Located one of the most prestigious blocks in NYC, just off Fifth Avenue at 20 W 53rd Street, Baccarat Hotel & Residences New York sits just across the street from the Museum of Modern Art (the MoMa) near some of the finest restaurants and hotels in the world. Lower floors are dedicated to the hotel, with the upper floors housing 61 residences starting on the 18th floor. Floors 44 through 47 will feature full-floor residences with 14-foot ceilings and floors 48 and 49 will feature the double-height penthouse.
Baccarat Residences New York enjoys the highest level of service and amenities one would expect from a five-star hotel. Residents have complete access to hotel amenities, including five-star restaurant, bars, spa, fitness center and pool. Services also include 24-hour concierge, home maintenance and personal shopping. Residents will have special privileges at Baccarat's future projects in Morocco, Shanghai, and Dubai.
Architects Skidmore, Owings & Merrill designed the building and the hotel and residences are being designed by French interior designers Gilles & Boissier and Tony Ingrao, respectively. Starwood Capital developed the property.
Amenities: Complete access to the amenities of the hotel, including Chevalier restaurant, Baccarat Signature Bar and 10,000 sq. ft. wellness and aqua center featuring spa by La Mer and a 55' swimming pool.
Available units: Current residences for sale range from an 1,728 sq. ft. two bedroom condo for $6.3 million to a 2,525 sq. ft. 3 bedroom home for $10,900,000.
Additional NYC Buildings With Central Park View
---
Buying a Condo in NYC
Guide Series:
Midtown Manhattan New Developments Condo Guide
East Village & Lower East Side New Developments Condo Guide
Financial District New Developments Condo Guide
West Village, Greenwich Village & NoHo New Developments Condo Guide