Over the last few weeks, NYC has solidified its position as the second most important tech hub in the world (behind only Silicon Valley), with massive office leases signed by tech companies such as Facebook and Amazon in and around Hudson Yards.
The bigger story, however, is that with every new Facebook or Amazon lease, there are many more smaller NYC technology companies setting up shop that were not even here 5 years ago, that we never heard of, and which are now taking up enormous amounts of office space in Manhattan (and to a lesser extent, Brooklyn).
Manhattan office leasing just had its most active year since 2001, with TAMI (technology, advertising, media and information services) industry tenants accounting for 61% of all new Midtown and Downtown leases.
New tech office leases mean more high paying jobs, as average wages of NYC Tech jobs is 49% higher than average NYC private sector wages. Many tech jobs also offer bonuses and stock options too!
Why NYC as a Tech Hub?
New York City is the perfect place to apply technology to solve real world business problems that industries face. Technology and automation will increasingly transform all facets of life and power the US economy.
Since NYC is the epicenter of so many industries, (i.e., global commerce, finance, advertising, media, entertainment, fashion, healthcare and professional services), it makes perfect sense for these tech companies to co-locate here.
These Tech giants know that NYC's large and highly-educated talent pool is well equipped to solve problems facing these industries.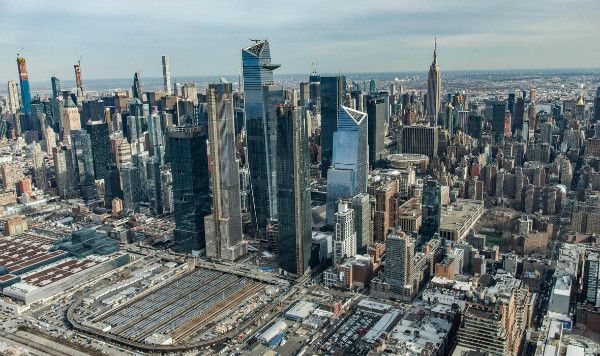 In which neighborhoods are these tech companies taking new leases?
Many of these new leases have been signed at new cutting edge Class-A offices in and around the new Hudson Yards and we are now witnessing the emergence of a new tech corridor in Manhattan's far west side. While some of these office spaces have already been built, many others will be delivered in 2020 and 2021, guaranteeing a bright future of Hudson Yards real estate, West Chelsea and the NYC Tech industry.
Here are just a few tech companies in New York that are heating up the Hudson Yards and the Far West Side…
Facebook
In November 2019, Facebook agreed to take 1.5 million square feet over 30 floors in Hudson Yards across three buildings. In addition, in mid December 2019, it was reported that Facebook was in talks for additional 740,000 square feet at the renovated Farley Post Office Complex nearby at 34th and 8th Avenue. Apple, apparently lost out to Facebook for this location.
These two new huge leases will bring Facebook's footprint to more than 3 million square feet of office space in NYC, enough to house over 14,000 employees, making Facebook one of NYC's largest corporate tenants in the city, similar in size to JP Morgan Chase. Facebook's current NYC HQ is located at 770 Broadway where it has leased 700,000 sq. ft.
Apple
According to reports, Apple could take up to 750,000 of space in Manhattan as well. Over the summer Apple checked out Essex Landing in the Lower East Side, Hudson Yards and the Farley Post office redevelopment, where they have been rumored to have lost out to Facebook. Apple currently has a small office location in Flatiron in addition to its many retail locations.
Amazon
Less than one year after the HQ2 debacle (when Amazon reversed its decision to host its second headquarters in Queen in January 2019), Amazon has returned to NYC and signed a lease to take 355,000 sq. ft. in Manhattan at 410 Tenth Avenue and 33rd Street (below) within the Hudson Yards neighborhood.
Amazon's new office will house more than 1,500 employees of the e-commerce giant, a far cry from the 25,000 it promised over the next 10 years. However, Amazon will likely take more and more space as their needs change.
In 2017, Amazon inked a deal for 360,000 sq. ft. at 5 Manhattan West, just across the street from Hudson Yards. Amazon is adding a 700,000 square foot fulfillment center in Queens in addition to its existing center in Staten Island.
Amazon also has 400,000 sq. ft. in Midtown and the HQ of Audible in Newark.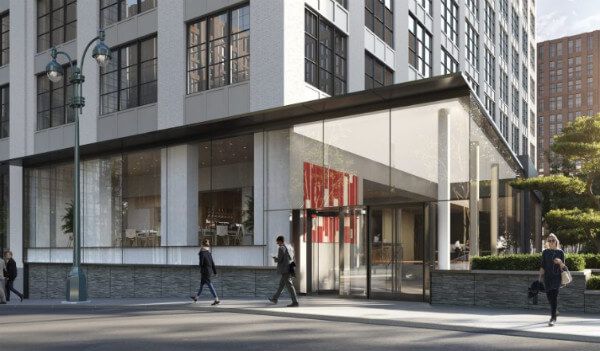 Google
Google is spending $1 billion for a new campus across three buildings: 315 and 345 Hudson Street and 550 Washington Street, with the redevelopment of the Saint John's Terminal. The new campus in West Soho will add 8,000 new Google employees to the already 8,000 currently in Chelsea. Google expanded its lease at Pier 57 to 320,000 square feet. Before this expansion, Google had 2.9 million square feet of space at the former Port Authority building in Chelsea as well as Chelsea Market.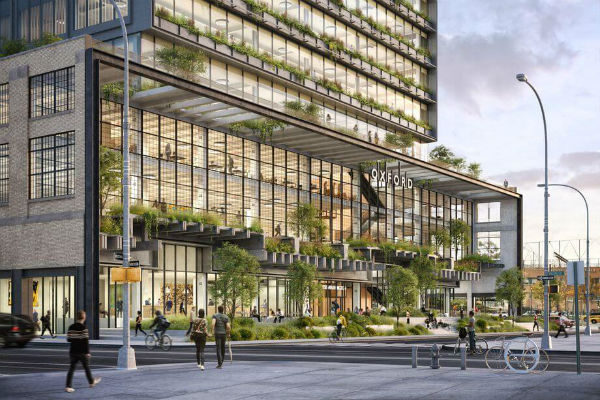 Disney
Now a tech company, Disney(+) is building 1.2 million square feet of office space in West Soho (aka Hudson Square). When completed, Disney will consolidate its NYC locations into one new facility. Hudson Square is rapidly becoming a dynamic, innovative hub for media, technology and other creative businesses, including not only Disney but also Google!
---