Aventura is unique among Miami area neighborhoods because of its status as an exquisitely planned city that was designed to create an upscale atmosphere for the region's professionals, investors, and celebrities. It boasts an ideal location equidistant to downtown Miami, Ft. Lauderdale, and the heart of Miami Beach, as well as innovative charter schools, a cutting-edge performing arts center, and exceptional recreational amenities. The city's wide array of competitively priced luxury condominiums offer dazzling mid-range to high-end options, amazing intracoastal views, and access to some of the best shopping, golfing, boating, and sailing in all of South Florida.
What to Expect From Aventura: An Excellent Reputation
One of the key attributes of this well-thought out community is its wide selection of choice accommodations. Although the neighborhood is just 3.2 square miles, it offers an excellent selection of luxury condominiums at multiple price points and sizes for every lifestyle need. Aventura is also home to a select number of ultra-luxury developments on famed Williams Island, a longtime leader in Miami's cultural renaissance. In addition, developers just unveiled a one-of-a-kind five-star residence on South Florida's last private island oasis that features designs by the famed architectural team of Sieger Suarez.
Due to its strong track record of putting resources back into the community, the city has benefited from multi-million dollar beautification projects, community centers, and top tier shopping district expansions that are attracting even more investment dollars to this young, vibrant hub of nearly 40,000 people. Because of this expert planning, the thriving suburb has earned itself the moniker "The City of Excellence".
The Vibe in Aventura
Because the city's leadership has had its fingers on the pulse of the community from its inception through to today, Aventura is a tranquil, upscale municipality with well laid-out routes and an abundance of green spaces. There are plenty of paths making it easy to walk to and from the many restaurants, shopping centers, parks, and breathtaking beaches. Here, residents enjoy an active lifestyle with access to championship golf courses and high-end recreational activities, such as the multi-million dollar paved promenade that loops around Turnberry Golf Course and showcases the suburb's beautiful lakes, stunning architecture, rolling hills, and breathtaking Atlantic Ocean vistas. The city is also at the forefront of environmental consciousness, and has received Florida's Green Government certification for its efforts to implement conservation and quality performance initiatives.
The Luxurious Lifestyle
This well-manicured suburban retreat attracts many leaders in the tech and entrepreneurial sectors, including singles and families seeking a tranquil yet vibrant coastal residence with easy commutes to both Miami and Ft. Lauderdale. Investors are also paying attention to the growth of high-end condominiums at favorable price points as compared to downtown Miami, and the city has become a mecca for northern buyers and celebrities due to its recent multi-million dollar expansions, including an ultra-luxury line of shops and restaurants at the famous Aventura Mall, an upcoming open-air shopping plaza boasting 215,000 square feet of retail space, and a cutting-edge performing arts center that attracts internationally-renowned acts.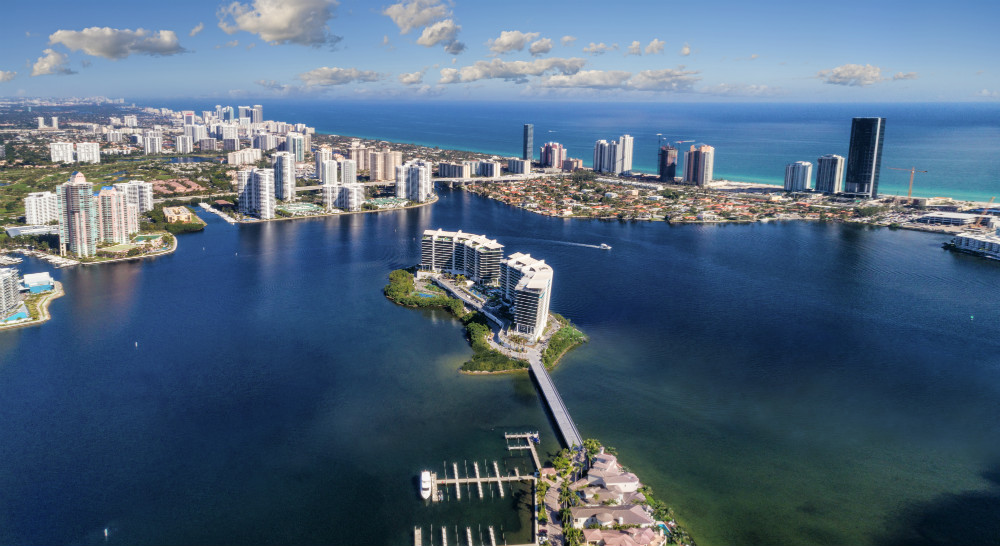 The Shopping, Restaurants, and Culture
High-end, sprawling shopping malls reign supreme in Aventura, as do top tier recreational activities. The city's dedication to improvement can be seen in the many exclusive entertainment options that have been added over the last decade to create a thriving yet intimate culture of quaint sophistication.
Shopping
Aventura Mall
Aventura Mall draws nearly 30 million shoppers annually and recently moved from the 5th to the 2nd largest mall in the U.S. due to a 315,000 square-foot expansion that includes high end retailers such as Burberry, Fendi, and Louis Vuitton, as well as an epic 3-tiered redesign highlighted by a delectable new food hall. Besides its amazing shops, the mall also play host to fun interactive art pieces that delight the senses and entertain adults and kids alike.
Esplanade at Aventura
Scheduled for a late 2019 opening and sitting adjacent to Aventura Mall, this open air shopping center will feature celebrity chef dining, outdoor plazas with pedestrian walkways, and a unique blend of celebrated retailers, many of whom are new to Florida.
The city also has several other shopping complexes, including Aventura Commons, Town Center, and The Promenade Shops.
Restaurants and Bars
One of the most exciting parts of living in Aventura is the continual addition of sumptuous, celebrated restaurants and chic, one-of-a-kind eateries. Many upcoming big-name chefs and restaurateurs are set to open new establishments that will complement the community's current selection of exceptional dining. Here are just a few of the highlights:
Bourbon Steak
Showcasing over 850 wines in its award-winning cellar and a reputation as one of Miami's most acclaimed steakhouses, this famed five-star chophouse is truly a one-of-a-kind culinary experience. The premier cuts served by celebrity chef Michael Mina feature the restaurant's signature butter-poached flavors delivered to guests in an elegant and modern gilded setting at the Turnberry Isle Hotel.
Lique Miami Waterfront Restaurant and Lounge
This sleek and sophisticated night spot showcases a French Riviera vibe along with a cigar and hookah lounge, indoor restaurant, patio terrace, private dining room, and deck lounge overlooking the Intracoastal waterways. Here guests can enjoy unique Mediterranean-Asian fusion dishes while reveling in the stunning scenery below.
Aventura Mall Food Hall and Restaurants
Featuring more than a dozen high-end bistros and full-service restaurants such as Boston-based Figs + Mozzarella by Todd English and Cvi.che 105, the newly unveiled Treat Food Hall brings in celebrated cuisine to complement the center's glamorous shopping excursions.
Recreation
Turnberry Isle Resort
Home to the celebrated Soffer and Miller championship golf courses that each feature 18-holes of Raymond Floyd-designed fairways and LPGA-worthy challenges, this ultra-exclusive oasis in the heart of the city also showcases fabulous dining establishments and bragging rights as one of Travel+Leisure 'World's Best Resorts'. The luxury establishment includes the 68-slip Turnberry Marina, which recently underwent a multi-million dollar renovation.
Aventura Community Recreation Center
Showcasing multiple mind-body classes, kids camps, after school programs, trips and tours, tennis courts, youth athletics, a fitness center, an indoor basketball court, and open access for Miami-Dade County residents, the city's well diversified recreation center includes something for everyone.
Aventura also features a number of stellar parks, including Founders Park, Waterways Park, and Veterans Park. Nearby beaches include Halouver Beach and the Oleta River State Park.
Arts and Entertainment
Aventura Arts & Cultural Center
This state-of-the-art, 330 seat center opened its doors in 2010 under the elite management team at The Broward Center for the Performing Arts, and is highlighted by entertaining cultural events to include film series, ballet performances, musical concerts, and comedic acts.
Kalos Music & Art School
Besides its stellar musical curricula, this center plays host to a distinct selection of local and regional acts for residents to enjoy.
The Exceptional Living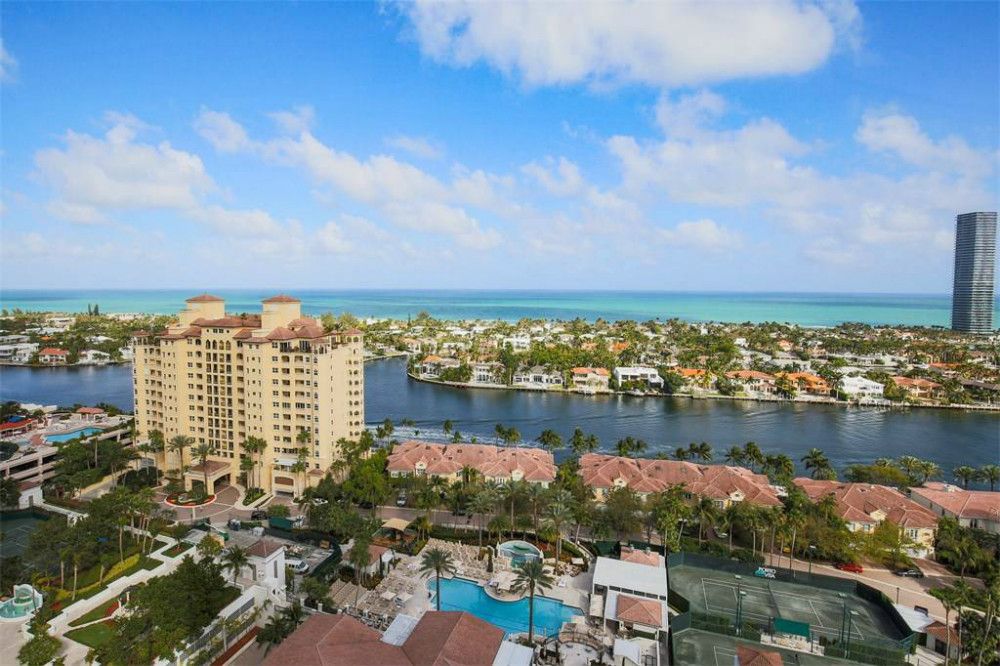 The luxury living in Aventura features a diverse range of condominiums, villas, and penthouse collections that are highlighted by magical waterfront vistas and next-level lifestyle amenities. Here are five of the most exceptional locations for homeowners and investors alike.
"Best Miami Neighborhoods to Buy Real Estate"
This charming 8-acre oasis is the last private island in South Florida, and is only accessible through the gated communities at Williams Island and Island Estates. It's sole address at 5000 Island Estates Drive was newly opened in early 2018 and houses the sweeping 16-story dual interconnected towers known as Privé at Island Estates. These 160 exquisitely crafted homes all provide out-of this world waterfront views from their 10-foot deep terraces, with up to 6,500 feet of outdoor living space. Their unparalleled level of privacy is only matched by the singular lifestyle amenities offered by the residences, which include an on-site marina with private jetty, two-level fitness center with spa, private beach and club, onsite cafe, and 24 hour security, valet, and concierge services.
Williams Island
Known as Florida's Riviera, this ultra-luxury retreat offers homeowners 9 residential towers and a Mediterranean Village consisting of 3 low-rise buildings that overlooks the isle's beautiful west side marina. The well-known residences of Bella Mare and Bellini are situated on this stunning resort-style hamlet, and the island offers homeowners exclusive membership to the Williams Island Club featuring a Grand-Slam Tennis Center, Spa, Fitness Center, Marina, celebrated dining at the Island Club Prime, and a wide array of fun social events and gatherings.
Peninsula I & II
With their magnificent Intracoastal and Atlantic Ocean vistas and fabulous 'floor-through, see-through' designs, these two millenial towers situated just north of elite Williams Island provide Aventura residents with some of the best sunrise and sunset panoramas in South Florida. The beautifully appointed two-to-four bedroom residences are situated in two beautiful 32-story towers, and are highlighted by imported cabinetry, marble and granite features, private terraces, and cozy boutique architectural elements throughout the buildings. Each high-rise includes 230 homes, and residents can enjoy an onsite state-of-the-art fitness center with sauna, a full-service business center, fitness trails, pools, and a unique, holistically-centered greenhouse.
This stunning architectural wonder is situated less than 5 minutes north of the Peninsula residences and showcases a sleekly elegant, wavelike design which perfectly captures the glistening cobalt Dumbfoundling Bay waters below. Crafted by world-renowned architect Carlos Ott, with interiors by famed design firm Yabu Pushelberg, these two mid-rises at 3250 Northeast 188th Street were built in 2015 and showcase 190 next-level residences featuring exotic marble and granite elements, private elevators and foyers, and midnight kitchens in the master suites. The property includes a limited collection of 18 finely-crafted penthouses that overlook the sweeping, 5-acre waterfront locale that is a stone's throw from the city's best shopping, beaches, and community centers.
Home to nearly 400 exclusive luxury residences, this quadruple complex at 19955 NE 38th Ct includes a pair of 32-story highrises and twin 7-story villas with two-to-five bedroom selections. Located on the breathtaking Intracoastal waterfront at the midway point between north and south Aventura, the condominiums and penthouses are highlighted by the resident-owned Villa Grande Club that includes access to multi-level casual, private, and catered dining rooms, an exquisite piano bar, a trendy sports lounge, a European-style spa, and an indoor gym with outdoor exercise area, saunas, and heated pools. The development also includes a 21-slip private marina, and the homes offer quick access to both Aventura Mall and the upcoming open air shops of Esplanade at Aventura.
The Schools
Aventura has a number of highly ranked elementary and middle schools to choose from, including nearby Aventura Waterways K–8 Center, which is part of the Public Miami Dade School system. The Aventura City of Excellence School, a K-8 charter that's within the city limits, is consistently ranked among the top 3 of Miami area elementary schools, while Ojus Elementary School is just a few minutes south of the city and serves students in grades K-5. High school classes are taught at the well-rated, public Dr. Michael M. Krop Senior High School located just outside the city limits in Ives Estates, and the city will soon have two new 9-12th grade wings at the upcoming Adventura Charter High School. The arts are also a big focus in Adventura, with structured school year programs for children and teenagers available at the city's widely celebrated Kalos Music & Art School.
"Enrolling Foreign Students in Miami Public Schools"
The Best Thing about Aventura
Aventura offers a hip, upscale suburban community with favorably priced luxury homes, excellent educational options, and a selection of next-level island residences that are surrounded by beautiful Intracoastal waterways, in a locale that offers quick and convenient access to the urban centers of Miami and Ft. Lauderdale as well as the glamour and sophistication of Miami Beach.
If you would like to arrange a consultation to find out more about home ownership and lifestyle perks in this exclusive Miami suburb, please contact us today.