If you are overwhelmed by the hundreds of new development condo options in the Miami area, then you are not alone. According to a new report from Condo Vultures, nearly 2,800 units are on the market asking at least $1 million. That much inventory at such a price point is a first for Miami. First time buyers, especially foreign investors, need a highly experienced real estate agent in Miami when looking for properties. A real estate professional that has been in the business a while, has seen its ups and downs, and knows firsthand the track record of the South Florida developers. You don't want to get stuck in the wrong development at the wrong time in the wrong location! It will cost you dearly in the long run.
With this in mind, we have compiled a small selection of our favorite new development condos and luxury apartments for sale in Miami at the moment. We focused on Miami condos for sale from the best developers with proven track records. The selection includes properties in Miami, Miami Beach, Coconut Grove, Fort Lauderdale, Boca Raton & West Palm Beach. Our short list has something for everyone, whether you are moving to Miami, or looking to buy a pied-a-terre with ocean views on Miami Beach, a second home for the family in West Palm Beach, or the perfect rental property in the burgeoning "New" Brickell neighborhood.
I hope you enjoy our curated selection of Miami and South Florida new development condos. For additional questions, just schedule a time to chat with me or Miami real estate agents.
Warm regards,
Anthony Guerriero
1. Eighty Seven Park
Designed by Renzo Piano, the oceanfront luxury condo offers 66 residences in Miami Beach at the northern edge of the North Shore Open Space Park. With over 80% of the units under contract, the building recently topped off at the eighteen floor.
Schedule to be completed on Summer of 2020, the condo tower will offer a full-time botanist that will take care of residents plants on their balconies, as well as at a 2 acre private park on the grounds. Other amenities at 87 Park include 24 hour concierge, butler service, a hammam spa, an outdoor Fugo juice bar and finally but not last, Enoteca, a wine bar offering owners over 100 wines, wine tastings, special events with food pairings, canapes and tapas, special events, and wine tastings.
Our favorite floor plans are: 01 line, a 3 bed / 3.5 bath, 2,421 sq. ft. residence with direct ocean views with starting prices of $6,100,000. And the 04 line, a 2 bed/ 2.5 bath, 1,594 sq.ft residence with park and partial water views for $3,550,000.
2. Ritz Carlton Residences Miami Beach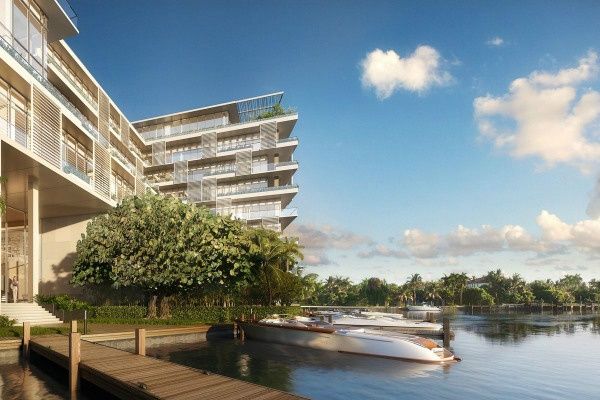 With 111 luxury condos, the waterfront Ritz Carlton Residences opened late 2019 in Miami Beach. Combined with the ultra luxury services of the Ritz Carlton brand and the exquisite design of Italian architect Piero Lissoni, the project is set to be one of the best condo projects in South Florida.
Surrounded by tropical landscaping, the Ritz Carlton Residences Miami Beach condos feature a wealth of luxury amenities including: 24 hours attended lobbies & valet parking services, a waterfront social room with bar and catering kitchen, pool deck with gorgeous views of the lake and on-site private car with chauffeur to the residents.
And more, the project will offer the exclusive Ritz Carlton Residences Helicopter service to the lucky condo buyers. Residents will take a short ride on the house yacht via a private waterway and link up with the chopper at a floating launch pad (aka the navigable marine heliport) located in Biscayne Bay.
Our favorite floor plans are: Residence 220, a 3 bed / 3.5 bath, 2,634 sq. ft. condo with western views asking $2,256,000. And Penthouse 16, a 4 bed/ 4.5 bath, 4,507 sq.ft two level residence, with plunge pool and outdoor kitchen, and gorgeous views of Biscayne Bay and Downtown Miami for $8,800,000.
Ritz Carlton Residences Miami Beach Condos for Sale
3. Monad Terrace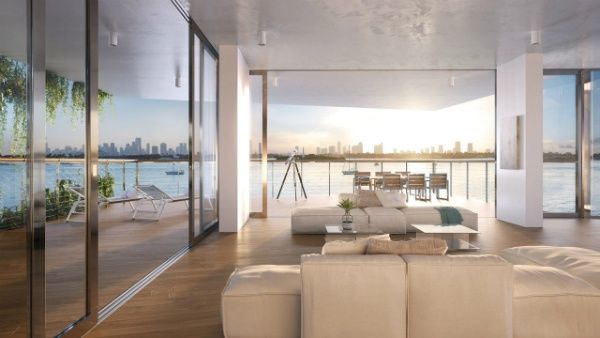 Jean Nouvel is another starchitect behind this new tower that is currently under construction right off West Avenue in South Beach. JDS is developing 59 luxury condos that will offer pristine views of Biscayne Bay and scheduled to be delivered by 2019.
Finishes are amazing with gorgeous Calacatta Gold marble in the kitchen countertops, bathroom walls and floors. The project has an abundance of design elements but our favorite is the honeycomb façade that will capture, diffuse, and reflects incoming light, while providing privacy at the same time. Jean Nouvel also designed a manmade lagoon between the two towers of Monad Terrace, which will be the focal point, capturing the building's reflections and creating a play of light from every angle. This was also highlighted on a latest Forbes article.
Amenities include a sun deck with 116-foot swimming pool overlooking Biscayne Bay, cafe and juice bar, residents lounge and storage for bicycles and water sports.
Our favorite floor plans are: Apartment 3E, a 2 Bed+Den / 2.5 Bath, 2,282 sq.ft. residences with West & South exposures for $2,320,000. And apartment 5F, a 3 Bed / 3.5 Bath, 2,658 sq.ft. residence with triple exposure: West, South, North with an asking price of $4,600,000.
4. Aston Martin Residences Miami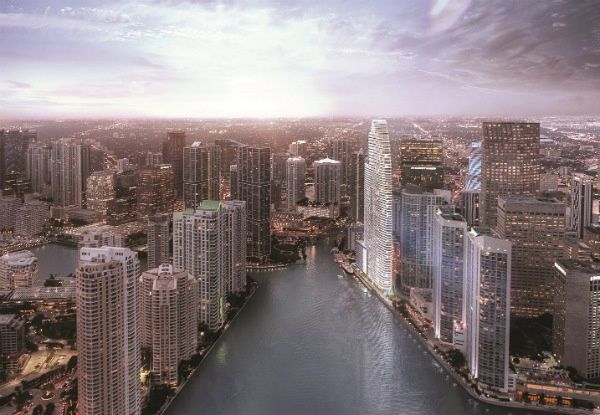 Construction already started at 300 Biscayne Boulevard Way in Downtown Miami for the Iconic British auto brand Aston Martin's tower. The brand who recently launched the AM37 powerboat in partnership with Quintessence Yachts is going full force in the design world. By expanding into the luxury Miami Real Estate market, the brand is building 391 condos designed by architecture company Revuelta and Argentinian Bodas Miani.
Interiors and amenities are by Aston Martin's design team, with Chief Creative Officer, Marek Reichman in charge. Divided into 4 floors and totaling 42,275 sq, ft., amenities will include besides the basic ones (fitness center, residents lounge, etc), golf simulator, two cinemas, beauty salon, barber station, boxing room, a curated art gallery and many more. But the ultimate one is definitely the butler service that will take owners from the luxury high-rise to the beach (on a in-house yacht). Aston Martin Residences are schedule to be completed by 2021.
Our favorite floor plans are: Panoramic Residence 5009 is a 2 Bed+Den / 2.5 Bath condo totaling 1,584 sq.ft of interios and asking price of $1,243,900 ($785/square foot), very competitive comparing with other condos for sale in Downtown Miami & Brickell. Another unit we like (and perhaps our favorite) is Panoramic Residence 2301. This will be the perfect pied a terre option for a large family: a 4 Bed+Studio / 5.5 Bath condo with 3,827 sq.ft. in interior spaces and 396 sq,.ft. of exterior space. Asking price $4,384,900 / $1,114per sq.ft.
Aston Martin Miami Condos For Sale
5. One Thousand Museum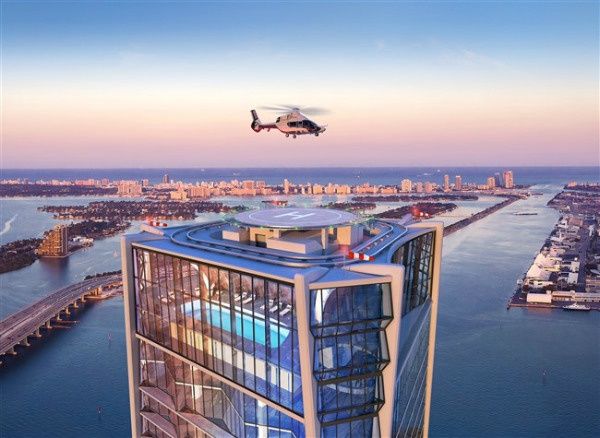 1000 Museum is a 62 stories ultra luxury residential tower by late Pritzker Prize-winning architect Zaha Hadid, that recently topped out in Downtown Miami. Located on 1040 Biscayne Boulevard this curvaceous structural exoskeleton sits right across Museum Park, once called Bicentennial Park and now home to the Peréz Art Museum.
Miami was a city that Zaha Hadid called a home away from home and here her creation would fortifying that Miami has become a true global city and an international hub for business, art and culture, as described by developer Louis Birdman to Haute Living. The project already won several awards and Wealth-X, a global ultra high net worth intelligence and data company, reported that One Thousand Museum made the top 10 billionaire skyscraper homes list around the world.
Inventory at 1000 Museum is composed of only half-floor and full-floor condos (which is rare in the Miami area), sizable residences ranging from 4,500 sq.ft. to up to 16,000 sq.ft, the last being the 45 million penthouse that comes with a private helipad and spectacular bay and city views.
Divided into two full levels, the building amenities sprawls over 30,000 sq.ft and includes: a double height aquatic center, fitness facilities with outdoor and indoor areas, spa with plunge pools and relaxation lounge, private movie theater and a bank quality vault.
Our favorite floor plans are: Apartment 1902, a 4 Bed / 5.5 Bath residence with 4,635 sq.ft. of living area and asking price of $5,650,000. And apartment 1202, a 5 Bed / 6.5 Bath residence with 8,344 sq.ft. of interior space and asking price of $13,250,000.
6. Elysee Miami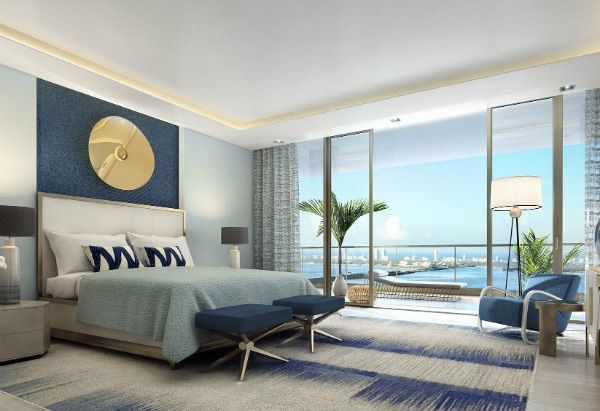 Already in construction and with estimated delivery for late 2019, Elysee is a telescopic shaped 57-story condo tower in Miami's East Edgewater neighborhood. Developed by Two Roads and designed by Arquitectonica, the project is rising at 700 Northeast 23rd Street and will have 100 half and full floor condos with 10–11 ft ceilings, that will range in size from 2,300 to 4,000 square feet.
Amenities interiors at Elysee are by French designer Jean Louis-Deniot, and includes a resort type lap pool, poolside bar, outdoor summer kitchen, spa, a Blow Dry bar and children's room. And on the 30th floor, a residents sky lounge with a bar, wine and dining rooms, chef's kitchen, library, and a game room.
Our favorite floor plans are: Apartment 1902, a 3 Bed / 4.5 Bath residence with 2,727 of interior space and asking price of $1,732,500. And apartment 3501, a 3 Bed / 5.5 Bath condo with 3,300 of sq.ft. living area and asking price of $2,656,500.
7. Missoni Baia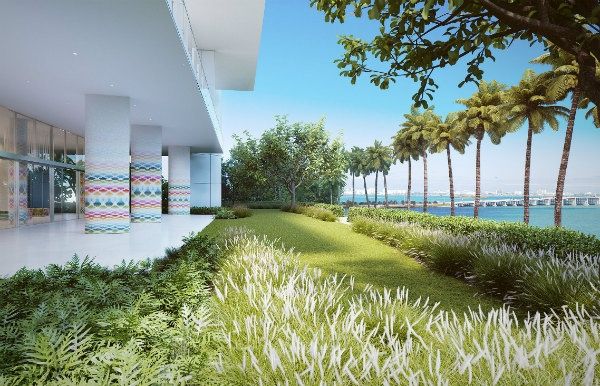 Vladislav Doronin from OKO Group is the man behind the 57 story luxury condominium tower currently in construction in Edgewater. Doronin plans to invest $700 million in the neighborhood that borders Design District and Wynwood, and $1 billion overall in Miami. For this project he partnered with legendary Italian fashion house Missoni, who are known for colorful knitwear designs and this year celebrates their 65th anniversary.
This is not the only name brand real estate development currently been marketed in South Florida. Aston Martin, Porsche, Armani and Fendi, all jumped into the Miami luxury condo game recently. Missoni Baia is rising on 777 NE 26th Terrace and will include 249 condos ranging from 1 to 5 bedrooms, ranging in sizes from 776 square feet to 3,788 square feet.
Common areas will be outifitted by Missoni Home furniture collection, and amenities includes: bayfront pool, spa and beauty salon, children's playroom, pet spa and a 1,700 sq.ft. fitness center.
Our favorite floor plans are: Apartment 1206, a 2 Bed / 2 Bath with 1,219 sq.ft. of interior space and asking price of $854,900. And apartment 2301, a 3 Bed / 4.5 Bath residence, with unobstructed Biscayne Bay views and 2,575 sq.ft. interior space. Asking price $2,019,900.
8. Una Residences Brickell
Developed by Russian billionaire Vlad Doronin (same as Missoni Baia), Una Residences in Brickell is a 47 story tower with 135 condo residences at 175 Southeast 25th Road and Brickell Avenue, the street which introduced Miami to high rise condo living in the Seventies.
The developer already has the financing in place and is planning to delivery the building by 2021. Designed by architecture firm Adrian Smith + Gordon Gill Architecture (AS+GG), Una Residences was inspired by the iconic Riva yacht and showcases a sculptured façade of modern lines and ribbon-like curves. These Brickell luxury condos will have floor-to-ceiling windows, extra-wide terraces that are carefully integrated into the great rooms and bedrooms, and sliding doors that will make the transition very seamless between inside and outside.
Una Brickell will be landscaped by a lush garden designed by Enea and amenities that will include a private marina, three pools, private movie theater, a fitness center with yoga and personal training areas, a spa with indoor and outdoor private massage treatment rooms, and 24-hour concierge.
Our favorite floor plans are: Line 03, from floors 19 to 37, a 3 Bed / 3.5 Bath residence with 1,995 sq.ft. of living area and SW exposure, and starting price of $2.3mm. Line 02, from floors 38 to 43, a 5 Bed / 6.5 Bath apartment with 4,786 sq.ft. of living area, SE exposure and starting price of $7.3mm.
Una Residences Brickell Condos For Sale
9. Brickell Flatiron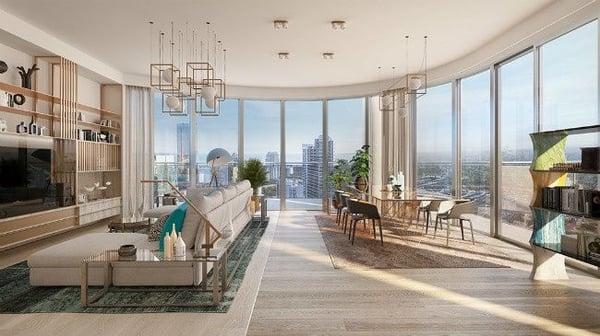 Named after the Flatiron building in New York due to the triangular lot where is being built, Brickell Flatiron is a 64 story luxury condominium tower in Miami's finance neighborhood of Brickell. Within walking distance of Brickell City Centre, the property is located at 1001 South Miami Avenue and it is been developed by Italian Ugo Colombo, one of the most respected developers in Florida and well known for his exquisite craftsmanship on his projects (aka Grosvenor House, Santa Maria and Epic). Even with the current slowdown, the project is close to 90% sold and recently fetched $13.2 million for the penthouse.
Designed to an exceptionally high standard, the luxury Miami condos for sale at Brickell Flatiron are outfitted with custom kitchens by Snaidero and Miele appliances. Hotel inspired amenities are divided into three floors: The Sky Club on the 64th Floor featuring a full service spa that includes a hydrotherapy circuit, gym, a rooftop garden and the Sky Pool that offers breathtaking 360-degree views of Miami and Biscayne Bay. And on the 17th & 18th floors, residents will be able to enjoy the state-of-the-art Flatiron Theater, billiard and cigar room, children's room, and an outdoor lap pool.
Revuelta is the architecture firm in charge, and interiors are by Italian Massimo Iosa Ghini.
Our favorite floor plans are: Apartment 3201, a 2 Bed / 2.5 Bath with South East exposure and 1,401 sq.ft. of interior space, and asking price of $1,165,000. And penthouse 5607, a 3 Bed / 3.5 Bath with 1,912 of interior space, North West exposure and asking price of $1,645,000.
Brickell Flatiron Condos For Sale
10. Arbor Coconut Grove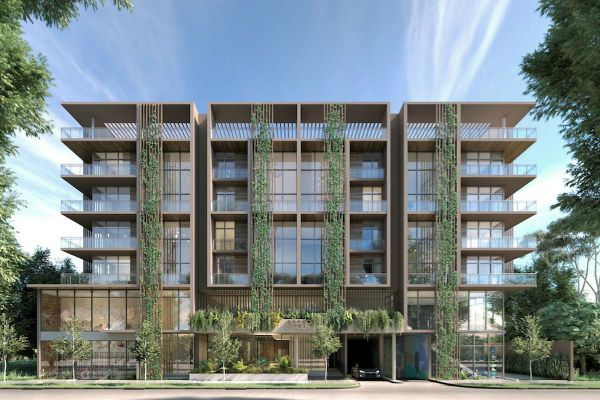 Arbor is an adorable boutique condo being built at 3034 Oak Ave in Coconut Grove, one of the oldest communities in Miami. Located along Biscayne Bay, Coconut Grove is well know for their excellent private schools, parks, and the Grove Harbour Marina. The neighborhood is very charming, with small town style mom and pop shops, excellent restaurants, and their signature commercial center Cocowalk is currently getting an extreme makeover.
Back to Grove Arbor, the 52 units condominium tower has an estimated delivery date for 1st Quarter of 2019 and is located behind Cocowalk, in a quiet street that are surrounded by townhouses. All condos have high ceilings and family friendly floor plans that feel like home. Urban Atlantic Group and Oak Ventures are developing the project together with architecture firm Behar Font & Partners, Witkin Hults landscape designer & interior designer Samuel Amoia. Amenities includes a lush courtyard pool, residents social lounge, fitness center and rooftop terrace.
Our favorite floor plans are: Apartment 505, a 2 Bed / 2 Bath condo residence with 1,474 sq.ft. of interior space for $2985,000. And residence TH6, a 3 Bed / 5 Bath home with 2,257 sq.ft. and asking price of $1,355,000.
11. Park Grove
Park Grove is a 270 units luxury condominium divided over three towers that caters primarily to locals, unlike most of other areas in Miami. Developed by Related and designed by OMA and REM Koolhaas, the towers brings another level of architecture to the quiet seaside neighborhood of Coconut Grove. As described on this Robb Report article: "residences are light-drenched, open-concept interiors and floor-to-ceiling walls of glass that open to expansive patios overlooking Biscayne Bay." The meticulous interior design job is done by New York based firm Meyer Davis, while William Sofield was the man in charge of kitchens and bathrooms.
Elevated above sea level, the resort style ground floor amenities at Park Grove include a rooftop pool deck with amazing bay views, 5 acres of private gardens by Enzo Enea, full service spa, an actual size private movie theater, and a restaurant by Michael Schwartz.
Our favorite floor plans are: Apartment 1901, a resale on the Park Grove Residences tower (the third one), is a 3 Bed / 2.5 Bath with 1,390 of interior space and asking price of $1,700,000. And on One Park Grove, the first tower, residence 14C, a 2 Bed / 2.5 Bath with interior space of 2,232 sq.ft. and asking price of $3,222,000.
12. Grove at Grand Bay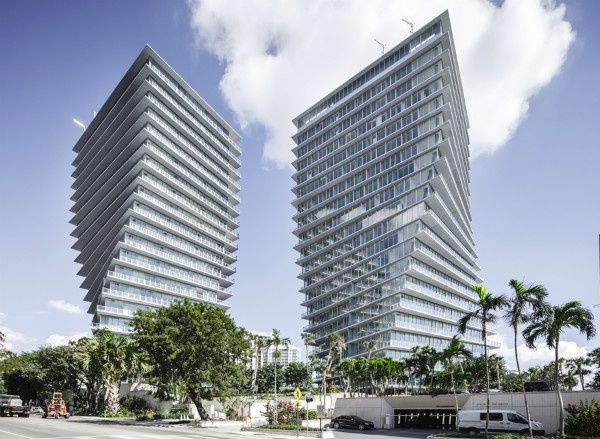 Built in 2016 by Related, Grove at Grand Bay is a luxury condominium composed of two towers that both rise in a "twist". The architects for the project, Bjarke, Ingels Group (BIG), have created one of the most interesting cutting edge designs we have ever seen. Only 95 condos featuring private elevators, 12-foot ceiling heights, European designed kitchens, Miele appliances and 12-feet deep terraces with summer kitchens. A true Miami style indoor-outdoor living with breathtaking views of Biscayne Bay.
Sitting 18 feet above sea level, the lobby at Grove at Grand Bay is pretty grand with 20 foot high ceilings and amenities boasts a glass enclosed tennis court and outdoor event space, rooftop swimming pools, tennis courts, spa, pet spa, private chef onsite and butler staff.
Our favorite floor plans are: Apartment 502S, is a 4 Bed / 5.5 Bath home, with 3,838 sq.ft. of interior space and asking price of $3,400,000. Apartment 901S, a 5 Bed / 6.5 Bath home, with 4,647 sq.ft. of living area and an asking price of $4,999,000.
Grove at Grand Bay Condos for Sale
13. Oceana Bal Harbour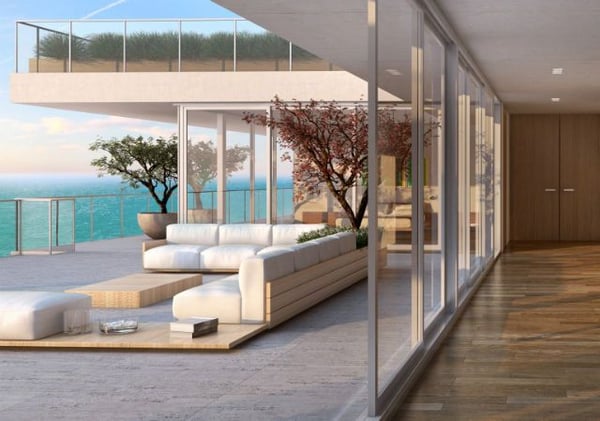 Oceana it is a 28 story luxury condo in Bal Harbour, a quiet and exclusive beachside community at the northern tip of Miami Beach. The exclusive 240 units oceanfront condo was built in 2016 by Arquitectonica and Argentine developer Eduardo Costantini. The East-West flow thru residences are magnificent and offers unobstructed views of both Intracoastal and Ocean.
As mentioned in this Forbes article, Eduardo Constantini said: "My philosophy in real estate as well as in collecting art is to have the best. In all of my projects, prime location, five-star service, innovative design and the latest technology are all a must,". So he went above and beyond, curated the all-star team of architects and interior designers for the project, including Piero Lissoni, Enzo Enea and Bernardo Fort-Brescia. The lobby showcases 10 museum-quality masterpieces of modern art. And in the outdoor common areas, residents enjoy two pieces by Jeff Koons, the "seated Ballerina" and "Pluto and Proserpina".
The resort style Oceana Bal Harbour is surrounded by 5.53 acres of land with 400 feet of beach frontage. The artful complex boasts five-star amenities, including 24-hour concierge services, a world-class spa, private cinema, a grand salon with chef's kitchen and bar, and the residents only Ballerina restaurant.
Our favorite floor plans are: Apartment 602N, a 3 Bed / 3 Bath residence with 2,130 sq.ft. of interior space for $5,050,000. And apartment 701, a 4 Bed / 4.5 Bath home, with 3,992 sq.ft.of living area and an asking price of $7,990,000.
Oceana Bal Harbour Condos for Sale
14. Four Seasons Residences Surfside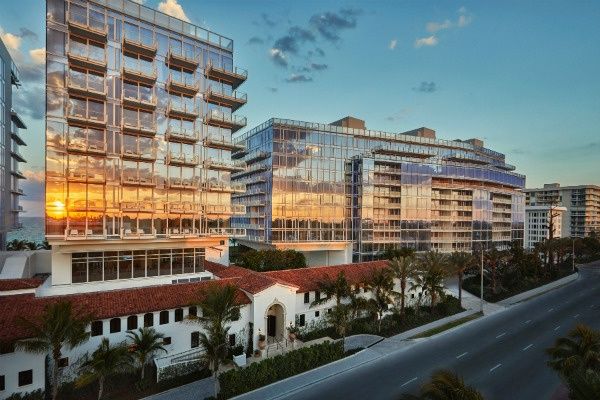 The Surf Club Four Seasons Private Residences is composed of 150 private condos built at the site of the old Surf Club in the beach town village of Surfside. Oceanfront condos feature floor-to-ceiling glass walls and up to 20 foot-high ceilings, with expansive and bright living spaces that offers astounding views of the Atlantic Ocean and Biscayne Bay. Prices at Four Seasons Surfside range from $3.5 mm to $19 mm, and in size from 1,400 square feet to 7,000 square feet.
Designed by Pritzker Prize winner Richard Meier, the 9-acre property offers amenities like Four Season's a la carte services including butler and housekeeping, spa, private club, four swimming pools, cabanas, a fitness center and oceanfront gardens. Also, two amazing restaurants, Thomas Keller's Surf Club and Le Sirenuse, the Michelin-starred restaurant from Positano.
Our favorite floor plans are: Residence N811, a 2 Bed / 2.5 Bath home with 2,031 sq.ft. of living space and asking price of $6,000,000. And residence S707, a 3 Bed / 3 Bath home with 2,506 sq.ft. of interior space an asking price of $6,000,000.
Four Seasons at the Surf Club Condos for Sale
Case Study for a Condo Hotel Unit at The Surf Club: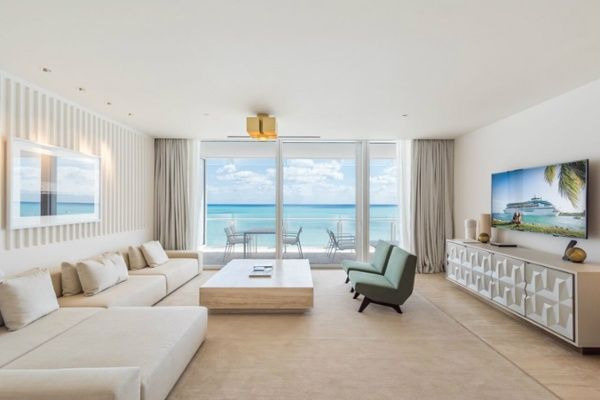 Want to get into the most spectacular 5-star hotel property in Miami, but still want to make a decent return from that investment, all while using the property yourself any time you want? Then take a look at this case study regarding unit N-811 that our agent Wendy Mendoza has for sale at the Four Seasons at The Surf Club in Surfside, Miami Beach.

An oceanfront 2-bedroom / 2.5 bath turnkey residential suite with 2,031 sq. ft., unit N-811 is listed at $6,250,000. The suite sits in the condo hotel portion of the project, allowing owners to put the property into the hotel program if so desired. It is the only residential suite with an assigned parking spot and the comps support the list price.

Over the last 12 months, the owner earned a net $190K (after property taxes and common charges), a 3% yield on $6.25 million. All while the apartment was occupied only 46% of the time. A 3% yield at less than a 50% occupancy rate is impossible to earn in a regular condo unit. This could be a great apartment for someone who can fly down to Miami whenever the apartment is free and enjoy all the things the hotel has to offer.

And, this isn't just any hotel. It's The Four Seasons at The Surf Club, which has the longest ocean frontage in Miami, 5-star everything, including The Surf Club Restaurant by Thomas Keller and the lovely Le Sirenuse Restaurant from Positano, where the essence of the Almalfi Coast is brought to Miami Beach!
15. Four Seasons Residences Fort Lauderdale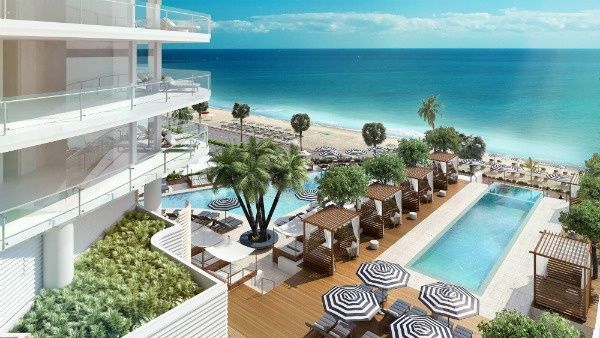 Construction at already started on its Four Seasons Hotel and Private Residences Fort Lauderdale in Broward County. The nautical theme project is being developed by Nadim Ashi (who also built the Four Seasons in Surfside) and designed by Kobi Karp in collaboration with British designer Tara Bernerd and landscaper Fernando Wong, who is importing coconut palms and mahogany trees for the two-story porte-cochère.
With only 90 private residences and 130 guest rooms, the 22 story oceanfront project will be managed by Four Seasons and has an estimated completion date for late 2020. Buyers at Four Seasons Fort Lauderdale will also have the option to purchase fully furnished condos designed by Tara Bernerd. Besides the legendary Four Seasons Hotel services like housekeeping and room service, amenities include beach butler providing an array of a la carte services, yachting services and on the third floor, Ocean Terrace restaurant designed by Martin Brudnizki.
Our favorite floor plans are: Apartment 1206 is a furnished 1 Bed / 2 Bath residence with 1,458 sq. ft. of living space and asking price of $2,295,000. Apartment 1901 is an unfurnished 4 Bed / 5.5 Bath residence with 4,210 of interior space and an asking price of $7,700,000.
16. The Residences at Mandarin Oriental Boca Raton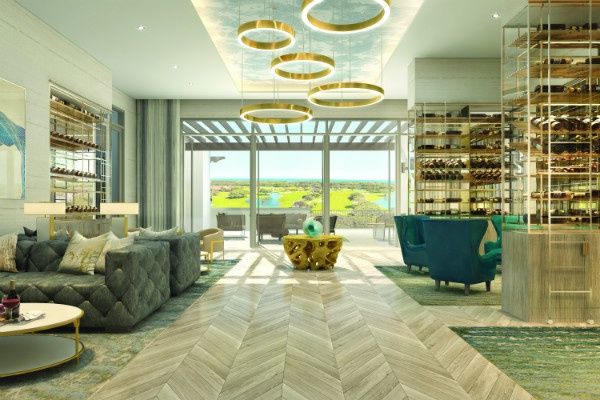 The Mandarin Oriental Hotel Group of Hong Kong is coming to Via Mizner in Boca Raton and will be the 9th location worldwide offering their luxurious private homes, along with New York, London, Las Vegas and Boston. With a estimated completion date of 2021, the property will be one of the most luxurious residential projects in South Florida. The 12 story tower offers a restricted collection of 85 luxury Miami condos for sale at starting prices of $2mm, ranging in size from 1 to 4 bedrooms.
Besides the exclusive services by the acclaimed Mandarin Oriental, residents will enjoy world-class amenities including the legendary The Spa at Mandarin Orient, private cellar, a club room, private movie theater and access to Via Mizner Golf & City Club, featuring a Jack Nicklaus Signature Golf Course.
Mandarin Oriental Boca Raton is a collaboration among MOHG, Penn-Florida Companies, SB Architects, EDSA and designer firm HBA.
Our favorite floor plans are: Apartment 510 is a 2 Bed / 2.5 Bath home, with 2,977 sq.ft. of interior space and asking price of $2,100,000. And apartment 5F, a 3 Bed / 3.5 Bath, 2,658 sq.ft. residence with triple exposure: West, South, North with an asking price of $4,600,000.
17. The Bristol Palm Beach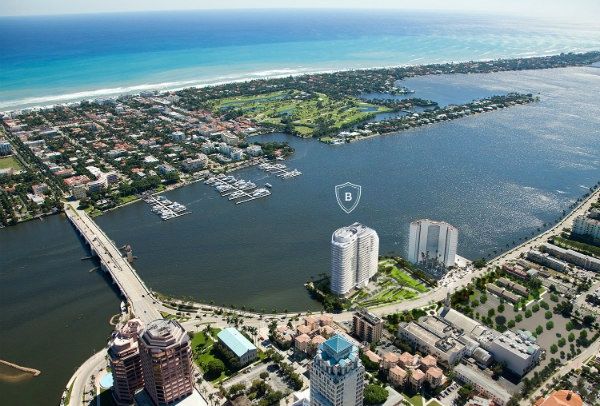 The most expensive condo building ever built in the Palm Beach area is nearly sold out and among the sales transactions are the full floor residence purchased by philanthropist Sydell Miller. Another buyer of the 69-unit condominium is former investment banker Raymond L. Golden who paid $10.4 million for an apartment and with so many other sales, The Bristol will soon give a significant tax property tax bump to the city of West Palm Beach.
Residences at The Bristol feature generous floor plans, floor-to-ceiling glass, and amazing views of Palm Beach island, Intracoastal Waterway and Atlantic Ocean. The condos' amenities include a lobby designed by New York interior designer Amir Khamneipur, exclusive residents-only club lounge, terrace gardens designed landscape architects EDSA, the Bristol Spa and a private restaurant overlooking the Intracoastal.
Our favorite floor plans are: Apartment 5A, a 3 Bed / 4.5 Bath 4,368 sq.ft. residence with asking price of $7,500,000. Apartment 22B, a 3 Bed / 4.5 Bath, 4,367 sq.ft. condo with gorgeous water views for $11,500,000.
18. Porsche Design Tower Miami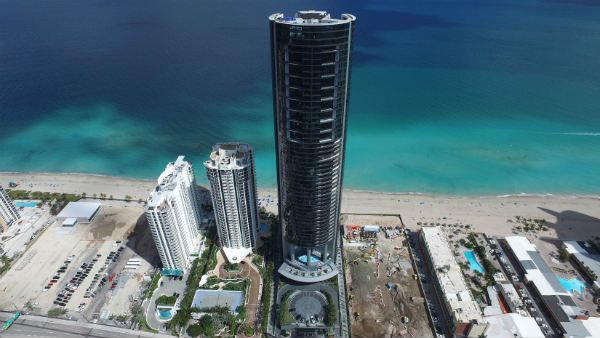 Porsche Design Tower Miami is one of the most iconic towers in all of South Florida. This 57-story tower is made for the automobile lover, as it features a robotic parking system that allows owners to park their cars in their own garage on the same level as their residences. The cylindrical design with emphasis of mechanicals at its core allows for gorgeous unobstructed views throughout the building. Double-height and flexible floorplans enhance the views.
Porsche Design Tower Miami is probably one of the most cutting edge buildings in the Miami area. What else would one expect with coming from a Porsche brand. Porsche Design Tower Miami condos for sale are grand, at 3,800 sq. ft. to over 9,000 sq. ft. and currently priced from $4 million to $16 million. Featuring staff accommodations, private elevators and balconies from 800 to over 1,600 square feet, these impressive residences will allow for a true outdoor lifestyle, in complete privacy. Balconies are equipped with private pools and summer kitchens. Residences come with either two or four car garages, depending upon the size of the apartment. Keep your Bentley, Aston Martin, or Porsche - or all three of them from your living room.
Amenities, like the rest of the building are first class - oceanfront swimming pool, sunset plunge pools and deck, first class food and beverage services at the pool or on the beach, bars, ballroom with catering kitchen, private cinema, billiards, auto racing simulators, golf simulators, ocean view spa and fitness center, concierge services, and valet.
Developed by Dezer Development and designed by Sieger Suarez Architects in conjunction with the Porsche Design Studio.
Our favorite floor plans are: Currently, there are an array of options on the resale market priced from $837 per sq.ft. for West facing units but below you can request a detailed availability list.
Porsche Design Tower Condos for Sale
19. Natiivo Miami

Natiivo is a new 50-story pre-construction project that is coming to the Downtown Miami area. Natiivo will be the first purposely designed, built and licensed AIRBNB building in the heart of Downtown Miami. Offering fully finished and furnished turnkey residences, the property will feature studios, 1, 2, and 3 bedroom condos, and prices ranging from the mid $300,000 to the mid $900,000. This full amenity building will have 24-hour concierge, spa-inspired fitness center and pool, and an owners closet in every residence (a must for AIRBNB'ers).
Some of the main reasons why we think this is a slam dunk:
This is the perfect solution for investors that want to use their investment when they visiting Miami.

Full-time residents are encouraged to rent out their apartments when they are out of town and can't get in trouble for doing so…

Most AIRBNB rentals in Miami are illegal, as condo buildings are not zoned for nightly or weekly rental. Authorities are cracking down and issuing fines of thousands of Dollars. Natiivo is specifically zoned for nightly/weekly/monthly rentals.

Prime Downtown Location near the Miami Worldcenter

Pricing is great.

We can help you manage it! Hands-free and worry-free ownership.
If you are interested in this project, now would be the time to reserve a unit, as pricing is in its Friends and Family stage. As they sell some of the units, the developer will increase pricing. Every day we are receiving requests for "AIRBNB legal properties", however, there really are very few in the Miami market. With the lack of inventory of this type of unit in the Miami market, we think this project will sell very well to both locals, New Yorkers, and foreigners. While Natiivo won't be for everyone, we believe that there is a high demand for this type of housing, especially in Miami.
Our favorite residences for sale are: Studios, 1, 2, and 3 bedroom condos, priced from the mid $300,000 to the mid $900,000.
20. Palazzo Della Luna
Developed by PDS Development, LLC and veteran developer Heinrich von Hanau, Palazzo Della Luna is located on Fisher Island's last remaining prime waterfront parcel. It's a 10 story condo featuring 50 luxury oceanfront residences that ranges from three to seven bedroom in sizes. The pinnacle of this new construction Miami Beach project is a $40 million penthouse, the highest condo price on Fisher Island.
Each residence will have private elevator entries, European oak wood flooring, open floor plans and deep terraces with stunning views. Palazzo Della Luna will be connected with the the developer's previous project Palazzo Del Sol, via a "Central Park" type landscaped garden designed by Enzo Enea that will include a croquet lawn, a court of bocce ball and yoga lawn.
Among the amenities, a 6 star multilingual concierge, butler staffed aperitivo bar and lounge, children's playroom by Kidville, movie theater and pool side cabanas available to purchase.
Our favorite homes for sale are: Line B, a 3 Bed / 3.5 Bath, 3,793 sq.ft. residence with West & East exposures starting at $7.3mm. And line C, a 4 Bed / 4.5 Bath, 4,956 sq.ft. residence with West & East exposure starting at $11,099,000.
Palazzo Della Luna Condos for Sale
Fisher Island Real Estate
A short ferry ride from Miami Beach, Fisher Island is one of the wealthiest zip code in the US and home of celebrities like Oprah, Ricky Martin, Julia Roberts and others. As described on this Forbes article: One of the reasons Fisher Island is special is due to its unique location and accessibility. It's a true tropical island paradise situated just across from Miami Beach and surrounded by the Atlantic Ocean and Biscayne Bay. With no roads or bridges leading to it, Fisher Island is accessible exclusively to residents and club members via auto-ferry or private yacht.
What is it like living on Fisher Island in Miami Beach?
Miami Market Stats
South Florida's residential markets are on the upswing, according to the latest Elliman reports as noted in an October 18, 2018 Real Deal article.
"Generally speaking for much of 2018, we're seeing this trend of rising sales, rising prices and stabilizing inventory in the Miami Dade County" said Jonathan Miller, who authored the report. "Each quarter seems to repeat the prior quarter."
Miller attributed the market improving in large part to the changes in tax legislation, which brokers and developers say is pushing wealthy out-of-staters to relocate from high tax regions like the Northeast and California to South Florida.
You can read the whole report below:
3Q — 2018 Miami Beach / Barrier Islands Sales
Miami related blogs:
"Miami's Best Neighborhood to Live or Invest"
"The Rise of Bal Harbour and Surfside Real Estate"
"New York City's Love Affair With Miami Luxury Real Estate"
"Think About Resale Value When Buying a Miami Apartment"