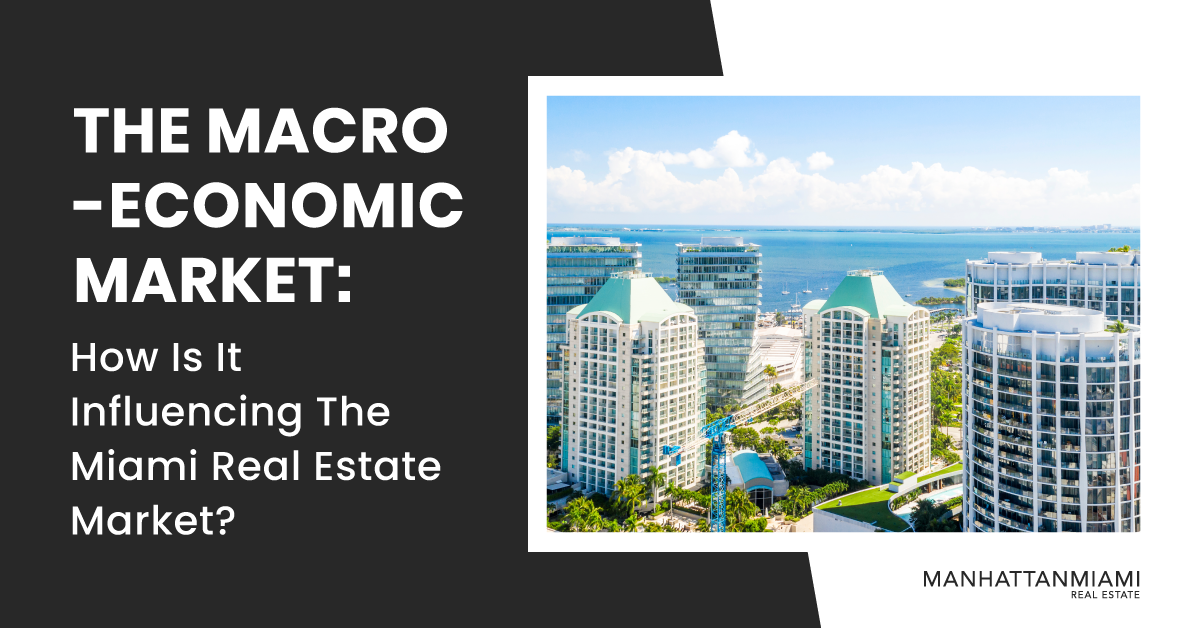 In order to more fully understand the Miami real estate market today and better predict its future, you must take the macroeconomic market into consideration. The broader macroeconomic climate has a marked effect on real estate buyers and sellers in a number of key ways.


Drivers of Funds Toward Real Assets
A combination of two potent factors–negative rates and large quantities of liquidity–occurring at once is driving investment funds toward real assets. According to the 2022 Miami Real Estate Forecast, the current market for real and financial assets is extremely bullish and liquid. A great deal of economic stimulus has persistently pushed the market forward and prompted steady growth. All this liquidity will keep driving cash into real estate and other assets like stocks and bonds. Consider that, in the year between December of 2019 and 2020, ETFs and mutual funds grew to $160 billion from $120 billion, a rise of thirty percent.

Due to the economy becoming so overstimulated, an inflationary level previously unseen by anyone currently living has been created. The costs of food, gas, and goods have shot up far and fast, and it's not going unnoticed. More and more consumers are reading the high rate of inflation as a signal to put their excess liquid capital to work for them ASAP.

Adding fuel to this investing frenzy, negative real rates have made sitting on cash a losing option. Many are investing their cash simply to keep ahead of the negative rate environment. Again, this has led to surges in investing in stocks, bonds, and real estate.

All this points to strong interest and motivation for continued interest in investing in real estate in Miami.


Rising Interests Rates
Interest rates are finally rising once again, and it will undoubtedly affect buyer psychology and mortgage rates. The shift from low rates to rising rates will raise some doubts about real estate as an investment and the future of the real estate market. But, it will have very little influence on the Miami real estate market.

The Fed's raising of interest rates in 2022, along with its reduction of the number of its bond buybacks, eases up on its pedal-to-the-metal efforts to introduce greater liquidity into the market, but it remains to be seen as yet how this will impact the market confidence and how that will influence investment choices and returns on investments.

Certainly, there will be an adjustment period, and, during this period, volatility will increase, but so too will economic growth and development. So, how the market will emerge from this adjustment period is still anyone's guess.

As any good real estate agent in Miami understands, however, regardless of how this plays out, low inventory and high demand remain powerful drivers of the local real estate market. Between global investors and nationwide relocations, there's still a sustained high number of homes for sales and demand for rentals in spite of rising interest rates and inflationary concerns.

Miami has experienced a 30-percent rise in rents, with seasonal, beach rentals, for example, going from $8,000 to $20,000 per month. As for homebuyers, in addition to seeking homes for sale in Miami for themselves, many are purchasing homes to flip or rent out as an investment property. With cap rates rising from four or five percent to 10 percent and property appreciation up 20 to 50 percent, a rise in mortgage interest rates as we're seeing seems insignificant.


Miami Life
Economic activity in present-day Miami is on the rise, with signs pointing to a rapidly developing 2022 market that differs vastly from the one before it. Miami has become one of the most important cities in the country, with business booming and tremendous growth. Many multinationals already use the city as a regional hub and an increasing number of financial and tech institutions are migrating here. One of the drivers of this growth has been the modern-day shift toward working from home. Much of this movement into the city is coming from California, the northeast, and South America.

Miami is also experiencing a profound "wealth effect" representative of the country as a whole. In many cases because of the COVID pandemic, there's been a significant surge in wealth, giving the baby boomer generation the ability to retire. The younger generation, meanwhile, is seeking ways to avert the traditional workforce, opting for entrepreneurial and freelance opportunities, side gigs, earning money on the internet, and retail investing. This lattermost item includes a movement toward real estate investing where, previously, younger adults weren't interested in investing in real estate and preferred to rent their residences over buying them.

While many homeowners are looking to take advantage of the current high levels of demand for real estate, a scant few of them have any interest in leaving town once the sale is done. This keeps interest in Miami real estate high and keeps real estate investment dollars in Miami. It also forces people who've recently sold a home in Miami during this incredible sellers' market but wish to remain in Miami to purchase their new home in the same seller's market. Many are finding they can barely afford to upgrade from the home they just sold. It means that even if they're able to buy at a lower price than that at which they sold, their homeowner's taxes will still go up. This onus of high carry costs and property taxes has discouraged some from selling. This only increases demand for an increasingly limited inventory.


Latin American Markets Surge
Real estate growth in the Latin American segment of the Miami market is forecasted to surge, as national migrations and influxes of wealth both continue. South America's economic and socio-political environment, including nationalization risk, high inflation, a devalued currency, and stalled social programs, has driven money away from the continent. The hostile atmosphere for wealth generation there has led many investors to seek outside opportunities, such as in the U.S. Among these, Miami factors are predictably high.

These factors of the macroeconomic real estate market are driving the continued growth in Miami real estate.