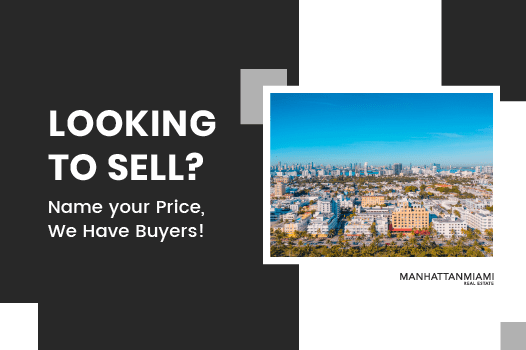 When looking at real estate today, there's no denying it's a seller's market. It's no wonder, with so many people changing their living situations to adapt to the changes of COVID. Properties are getting eaten up like hotcakes, and that's driving supply down. With fewer homes for sale, buyers must compete for what is available. Moreover, while not at their recent lows anymore, interest rates are still low, giving buyers the opportunity to take out larger loans to afford more expensive homes.

All this makes it the perfect time to sell your home. If you've been thinking about selling your home, you can pretty much name your price. And, don't worry about finding those buyers to pay that price or more; leave that to real estate agents in Miami who know the buy-side and sell-side of the local market, ManhattanMiami.


Selling Your Current Home
You already know many of your reasons for selling your home. Here's how to make it the most profitable sale and easiest experience possible.


Naming Your Price
Start by getting an appraisal on your home; it's a small expense that's worth its weight in gold or at least dollars. An appraisal can tell you approximately what your home is worth on today's market. You can, then, use this figure as a basis for your asking price. Given today's market, you know that there's no need for you to take less than the appraised amount. So, all you need to do is figure out how much above that amount you'd like to take in. A big part of that answer will involve how much you'll need to spend to move into your next home.


Getting More Than You Asked For
There are a few easy ways to pump up the offers you'll get on your home. You can make small, inexpensive improvements to the exterior and interior of your home to make it even more desirable. There are also government incentives from which qualifying home sellers can benefit.


The Exterior
Curb appeal is one major factor in the appeal of the overall home. Any touch-ups to the landscape, or even simply cleaning up the landscaping you've already got, can do a lot to improve those all-important first impressions of your home.


The Interior

Inside the home, there are certain repairs and renovations that don't cost a fortune but can look like they did. For example, Rather than replace a whole sink, you can upgrade the faucets. Rather than replacing the doors, you can replace the doorknobs. Replacing molding can make old walls look new again. Little touch-ups like this can give a home new life, and the home seller, ie. you, a greater likelihood of a higher offer and selling price.


Homeowner Exemptions
According to the Miami-Dade Property Inspector, home values can be influenced by homestead-related rules that benefit homeowners. For example, if your home qualifies as a homestead, portability allows you to transfer up to $500,000 of the difference between the market and assessed value of your home to your next homestead property. This, in essence, allows you to take unrealized value from the sale of your home in addition to the realized gains from the direct sale.


Employ the Experts
Taking all this into consideration, you still won't likely get the highest selling price you can for your home by going FSBO (for sale by owner.) Expert real estate agents in Miami like ours at Manhattan Miami have specialized insight into the local market and can help link you with the potential homebuyers most likely to make you the highest offers on your home. We can help you determine which small upgrades and improvements would make the biggest difference to your unique pool of prospective homebuyers based on our knowledge of the current market and insight into buyer trends.


Your Next Home
Many would-be home sellers are hesitant to sell their homes because they worry they might not find a home in the same price range that's a step up from their existing home. Moreover, the key to making a profitable move is to avoid overpaying for your next home. Here are some tips for how to move up as you move on.


Same Home, Better Location
Instead of looking for a higher quality home in your area, look for the same quality home in a higher quality area. You could find a more desirable neighborhood for your needs and goals and a new, perhaps more compatible community, even if the home needs a little work.


Build or Renovate One
You don't have to limit yourself to the available homes everyone's competing for on the market. There's plenty of land for sale with excellent potential for building your own home. Whether you're looking to upscale, downscale, or keep it the same, you can design and build the home of your dreams with the money you save from buying raw land. Alternatively, you can buy a fixer-up and fix it up.


Search Off-Market Listings
The homes listed on the major real estate websites are not the only homes for sale in Miami. There are many homes–many of the best homes–that buyers and sellers trade off-market. Expert real estate agents in Miami like us know where to find these off-market listings and make these exclusive homes available to you too.


Get Started Now
Stop wasting time waffling or procrastinating about selling your Miami home. Interest rates won't stay this low forever, and no market stays a buyer's or seller's market forever. Now's the time to strike while the iron is hot. And, you don't have to do it alone. Contact us at Manhattan Miami to hear how we've helped other homeowners like you to take advantage of this hot Miami real estate market.