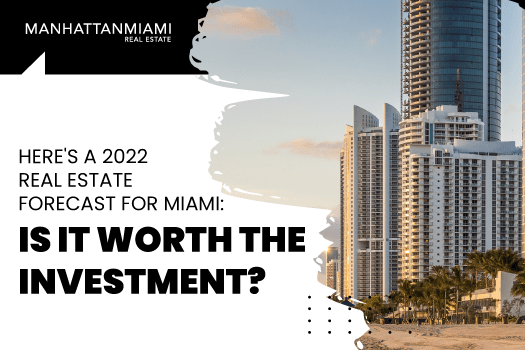 Miami has long been a desirable location for vacationers and retirees, as well as those who eschew the colder climes of the north. Recently, the Miami area has seen a massive influx of new residents who have relocated to the area for its economic conditions, which has contributed to significant job growth due to the number of new businesses established.

As a result, new homes are being built, and many are ready for new buyers. Miami has a population density of more than 13,200 people per square mile, and that number continues to grow, so there's always a demand for housing. Tax incentives for both investors and potential residents appeal to many who envy the warm climate and relaxed lifestyle that Miami embodies.

Homes for sale in Miami have always commanded a premium price due to the area's popularity, but it's now appealing to investors as well as prospective residents. This is due, in part, to the cruise ships that bring foreign investors to the area. In addition to Miami proper, several sub-markets are very appealing, such as the following.
Coral Gables, a sub-market of Miami, has appreciated by more than 25% in the last three years for homes between the $1 million and $2 million range. However, homes in almost all ranges have seen similar increases. For example, properties that rent between $5,000 and $12,000 monthly have increased by 22% since 2020 and 33% since 2019. Although in those years, properties rented for 95% of their listed price, they're now renting for 2% more than their listed price. This is quite an attractive draw for those who want to invest in the rental real estate market. Since rental rates have continued to increase since 2017, rental property investors can expect to see continued appreciation in any properties they own. Annual yields from 8.6% to 12% are typical, depending on the size and location of the property.
Key Biscayne is one of Miami's most popular and family-friendly neighborhoods and is especially attractive to those who have small children. It scores high on safety, privacy, community involvement, schools, and activities that appeal to the younger set. Many of the single-family homes for sale in Miami are located on the waterfront, so those who own boats or would like to are particularly drawn to the location. Although many of the homes are of the 1950s era, owners often demolish them for new construction or completely remodel them. This ensures that the community remains a draw to the modern family. Entry-level homes are generally priced at around $1.8 million, and condos often include beach service and access to marinas.
Historical Trends
Miami's historical trends should allay the fears of anyone who is considering investing in the area. Properties have appreciated more than 4% over the past five years and real estate appreciation has been consistently above average for the past 10 years. Neighborhoods that have seen the highest appreciation and are among the best and most popular include:
Bayshore
Buena Vista
Edgewater
Key Biscayne
Midtown
Park West
and selected areas of specific streets.

Landlords and investors have experienced an impressive ROI due in part to the increasing popularity of renting rather than buying. Many people can afford to rent a home that they couldn't qualify to purchase. Renting also provides more flexibility in case of a change in life events. Since needed repairs are the owner's responsibility, many people find renting more appealing overall.
Landlord-Friendly Atmosphere
Miami is very appealing to landlords because of the landlord-friendly and investor-friendly laws, such as:
No rent control laws
No cap on security deposits
Evictions are straightforward and simple
Unconditional move-out notice is allowed for repeated lease violations
Investors who want to profit from the tourism trade find Miami's rental laws very conducive to low vacancy rates. The millions of unique visitors to the area every year usually need a place to stay, and renting homes is very popular with families and groups that are temporarily in the area.
Strong Economy
Miami is the 12th largest in GDP in the nation for metropolitan areas, and it has a booming urban economy. Since it's also a mecca for retirees, vacationers, and beach-lovers, there's an almost unending need for housing. In addition, since cruise ships also frequent the area, there's a strong international market, and foreign investors often want to start a business or buy a residence or rental property.
Property Management
Anyone who's considering investing in property in the Miami area should decide beforehand how they plan to manage their property or properties. Although it may be less expensive to do your own property management, many investment property owners opt for a professional firm to manage their investment. This alleviates stress, particularly for long-distance owners, and provides more freedom to do other things. However, choosing the correct property management firm is essential, so potential investors should do their homework diligently. Not all property management firms are created equal. A property management firm will have local contacts for all maintenance matters and be cognizant of local laws and ordinances.
Considering Miami?
Those who are interested in homes for sale in Miami, whether for a residence or as an investment, should schedule a call with us to get more information and to speak with one of our knowledgeable and licensed real estate staff. We've been in the Miami area for a very long time, and we're sure to be able to locate a property that you'll love. We'll also be able to advise you of the areas that are best and the few that you should avoid, so call us today to set up an appointment. We look forward to speaking with you and working with you.