Warren Buffett said it best, "Price is what you pay, value is what you get . . . It is wise to be fearful when others are greedy and greedy when others are fearful."
Some recent reports on real estate in New York City have made some people fearful. When we look at the broad picture and the overall statistics in those reports it is fairly clear as to why those people are fearful, however, one must dig deeper to understand the whole story.
Manhattan condo buyers remained cautious in the 3rd quarter 2018 due to concerns over the new tax law (FN1) implemented at the end of 2017, despite a very strong economy, record breaking stock market, and still relatively low, although rapidly increasing, interest rates.
Manhattan real estate is seldom in a buyers market, so if you are interested in a safe long term investment, now may be the time to buy. This is not going to be a prolonged event or repeated any time soon. In fact, during Q3, the high end of the market (>$5M), which began a correction in 2016, started to bounce back somewhat, as discussed below.
May 5, 2019:
Manhattan Market Update
Those trying to time the absolute bottom of any market (real estate or stock market) will find it next to impossible, but sometimes there are clear signs...
A significant uptick in sales activity in April suggests the bottom may have passed!
What's Really Happening
April signed contracts in Manhattan rose by double digits compared to last March (up 15.6%) and same time last year (up 11.6%), according to Urban Digs. Signed contracts are a leading indicator in any real estate market. A significant increase in the number of signed contracts usually precedes positive price movement. We will be keeping an eye on this number as we move forward in 2019, but these green shoots are a very good sign that the market is stabilizing and even starting to turn around. Very welcome news after a disappointing first quarter.
The new tax law that was passed in December 2017 really sucked the life out of the Manhattan market over the last year. But, now that people have a better understanding of its affects after filing their 2018 taxes (due April 15th) some of that uncertainty has dissipated. If you recall, the law capped at $10K the amount of state income and local taxes (i.e., property taxes) (SALT) that a primary homeowner could deduct from their federal tax return, a miniscule amount for a New York primary homeowner. This was a total surprise to most New Yorkers and caught many off guard. But, while the SALT cap did suck the life out of the market due to uncertainty, it had less of an impact on the high end of the market because of offsets in the form of lower tax rates, a higher AMT threshold and other loopholes.
With the tax change behind us and a tick up in sales activity, we think 2019 is the right time to buy a condo in Manhattan. Consider the following on this report from Douglas Elliman:
Slow sales in 2018 have led sellers to adjust their expectations to a lower level. Numbers provided by Jonathan Miller Samuel.
Buyers now have more options to choose from, as inventory has built up from slower sales volume. This also puts downward pressure on prices.
Mortgage interest rates have declined 40 basis points (almost ½ point) since last May, making the financing environment very appealing.
GDP of 3.2% in Q1 2019 and killer job growth (lowest unemployment rates since 1969), all while inflation data is muted, keeping interest rates at reasonable levels to help fuel the recovery.
With lower prices, adjusted seller expectations, recently cut rates, certainty about the tax change's impact and latest sign of a booming NYC and US economy, buying now is very attractive. We expect to look back on Q1 2019 as the absolute bottom of this market cycle.
---
February 3, 2019:
Manhattan Market Update
Today, we feel that the current Manhattan housing market is a once-in-a-decade or possibly a once-in-a-generation investment opportunity. In Q4 2018, Manhattan evolved into a pronounced buyers market, as inventory rose, sales slowed and median asking prices declined. There is significant new supply coming online this year at a time when there are still unsold new development units from the past 2 years. The market has been weak and sellers are highly negotiable. At the same time, New York City's economy is robust. We believe the combination of these factors make it a great time to make a long-term investment - setting up 2019 as the perfect time to buy.
This is a very rare occasion. Over the last 20+ years, Manhattan has been in a buyers market only two other times: in 2001 right after 9/11, which lasted just six months, and in 2008-2009 after Lehman Brothers collapsed triggering a credit crisis that lasted one year. The current buyers' market began in late 2015, but only in the ultra-luxury segment, a small sliver of the market. Since then, however, the buyers' market has widened. First to the luxury segment in 2016 and 2017 and now to all inventory segments, especially in 2018 after the new unfavorable federal tax law was enacted (discussed at length in our previous updates) which pushed many buyers to the sidelines.
As you can see from the chart below from Compound, if you buy Manhattan real estate at the right time (i.e. during a buyers market), the rewards can be plentiful: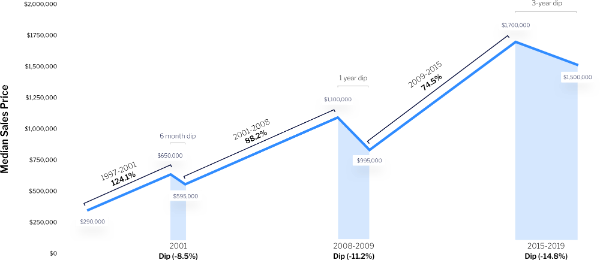 As for details on how the 4th Quarter of 2018 performed:
Q4 2018 contracts signed were down 3% over the same quarter last year, the lowest level since 2012. The 3% decline, however, is attributed to a huge 19% decline in contracts signed for condos, offset by a large increase in contracts signed for coops.
Contract prices were down across all inventory types. Contract activity is more representative of the health of the current market than closed sales data, which often include legacy contracts entered at a time not necessarily representative of today's market conditions.
In terms of closed sales, the median condo sales price has fallen by 8.1% to $1.48 million, the lowest it's been in several years.
The number of condos sold in the fourth quarter fell from the third quarter by 22.7% and by 13.0% year-over-year, which means that sales volumes are slower than they've been in a very long time.
The median sales price per square foot rose, but the increase was skewed by very large dollar closings at two ultra-luxury buildings that started closings, 520 Park Avenue and 220 Central Park South.
Well, what does all of this mean?
There is a window of opportunity to buy now.
Buyers have more spending power than before.
Buyers also have many more options from which to choose.
Developers have gotten more creative by offering new incentives, while individual sellers are significantly negotiating on price.
Buyers have leverage in demanding things that two years ago were a deal breaker for a seller, such as allowing mortgage contingencies or covering transfer tax and common charges.
Keep in mind that this rare occasion is happening at the same time the NYC economy is booming and in a position to keep growing and growing in years to come (i.e Google West Soho expansion, Hudson Yards opening in March 2019, etc.).

While deals are happening, a lot of potential buyers are sitting on the sidelines in a wait-and-see mode. Our caution to them is that it is impossible to time the bottom of any market. Often, a buyer will wait too long, miss the dip and lose their leverage. Interest rates have come off their 2018 highs, making it a good time to enter or renter the market, before they start ascending again.
---
Headlines Don't Tell the Whole Story
While headlines regarding the quarter have been concerning, they don't tell the entire story. We need to look at what is happening today in the market and not 1, 2 or 8 quarters ago, which is what the quarterly market reports usually focus on. If you look at the number of Contracts Signed in the quarter, a leading indicator, this quarter was roughly the same as the same quarter last year.
Signed contracts in Manhattan showed a slight 1% decrease over the number signed in Q3 2017.

The best performing segment in terms of contracts signed was $5M - $10M (which saw a 30% increase in contracts signed primarily driven by sales at two new development, The Belnord and 100 E 53rd).

The second best segment was for homes price at $10M+, which saw a 10% increase in activity.

While we won't know what units are under contract for, prices these units will be ultimately traded at until they close and are recorded, which could be many months from now, the bounce back in activity from a prolonged slumber is reassuring. For sure, discounting played a role in these sales.
Closed sales in the 3rd quarter 2018, however, show a different picture. When looking at closed sales, you are assessing only units that closed in the quarter, regardless of when the contract was signed. In the case of New Development, that could have been 3 years ago in some instances. Therefore, closed sales info can be somewhat dated, albeit still good information to capture trends.
Overall closings in Manhattan fell 8% (although up 5% over Q2 2018)

New development closed sales tanked, with a drop of 37%. This led some developers to significantly discount new development prices on those buildings that were overpriced to begin with or outside of the most prime in demand neighborhoods. Core Group reported the average new development discount at a near record 14% in the quarter, up from 8% last year.

Buyers driven away from the lofty prices of new development turned to resale condos, which increased 2%, while coop closed sales declined 8%.

Inventory in the quarter grew significantly, at 13%, which will result in longer future marketing times.

Resale coop inventory rose the most at 26%, while resale condo inventory rose 4%. New development inventory was down 5%.

The average price of a condo was $2.66 million, down 2.3%. The average price per square foot for resale condo units declined 5%.

The average price of a new development was $4.33 million while new development price per square foot rose 4%.

The average price per square foot for the luxury market (top 10% of sales) rose 2.7% and the luxury entry threshold fell to $3.85 million.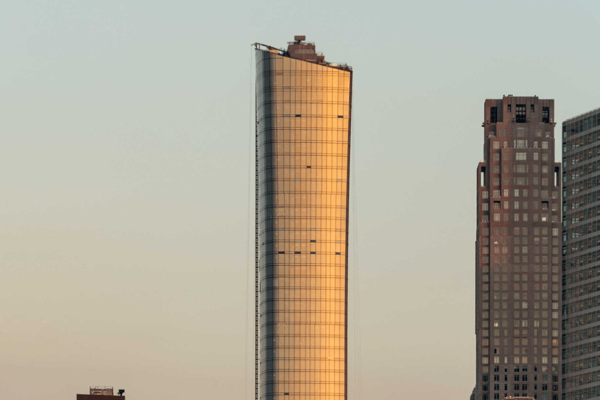 Photo credit: 111 Murray
The Macro Environment
The Dow and NASDAQ are riding high. Profit-taking may well make prices fall but, regardless of talks about international trade wars, stocks are high, and profit-taking looks very attractive.

Unemployment rate is down, and, statistically, the USA has full employment. Full employment encourages spending. Spending by consumers generates more profits for stockholders.

Deregulation is in full swing, so business development is very likely to continue on its upward drive.

There is no credit bubble, but the Chairman of the Fed says interest rates will go up incrementally through 2019. Higher interest rates encourage buyers to take out fixed-rate mortgages sooner rather than later.

High growth rates across the economy tend to make people wonder how long it will all last, so many hold back on major purchases. Economists, today, say there is no credit bubble on the horizon, so the consumer-driven economy looks sound.
Why we are confident in Manhattan Real Estate
To sum it up, we feel that this is a pretty good buyers' market to be in, especially compared to 2008.
With sellers finally negotiating, buyers now have power

Interest are relatively low historically

The economy is booming

Deregulation is in full swing

Lowest unemployment in 69 years

New York City has the highest employment level in 50 years and NYC Industry is now well diversified outside of just finance

No Credit Bubble like 2008; Banks have tough requirements and do their due diligence

Company profits have never been higher, especially with the new low rate of 21%

Overbuilding in urban markets is generally absorbed quickly
Drilling down into the detailed numbers suggests New York City real estate market is strong. Most people will read the broad reports, but the astute buyer will listen to real estate specialists. To paraphrase Warren Buffett said when others are fearful this may just be the right time to buy in NYC.
For a further discussion schedule a time to chat with me by clicking on my name.

Warmest regards,

Anthony Guerriero
Manhattan Condo Market News:
"Upper East Side Apartments for Sale Guide"
"Upper West Side Apartments for Sale Guide"
"Learn more about the recent changes to the Mansion Tax and Transfer Taxes"
"Best Manhattan Neighborhoods to Search for NYC Condos for Sale in 2019"
"Answers to the 10 Questions Landlords Ask Most Often When Renting Out a Condo"