Why now? Temporary excess inventory, high price incentives, a lack of new construction and favorable tax environment all favor Downtown Miami Luxury real estate in 2018.
The Downtown Miami real estate market is currently in the sweet spot, where overbuilding in Downtown Miami has temporarily created excess condo supply, which, in turn, has led to lower prices. This will create a unique opportunity for primary home buyers and investors in terms of lower prices in 2018. This unique opportunity, however, will be short-lived, as the lack of new construction will dry up the pipeline of new construction condo deliveries by 2020.
What is happening in the Downtown Miami Luxury Real Estate market segment should not be confused with Miami Beach Luxury Real Estate, which doesn't follow the same trajectory as Downtown Miami given the scarcity of land in Miami Beach – these are two distinct segments with different market drivers. Overbuilding, however, has occurred in one particular neighborhood on the beach, Sunny Isles, which will likely track the Downtown Market, albeit at much higher prices.
Excess Inventory Will Keep Prices Low for 2018
With 3,365 new condos being delivered in Downtown Miami in the second half of 2017, we expect 2018 to finally be the right time to buy in Downtown Miami. To put this number of condos in perspective, new condo deliveries in the second half of 2017 represented 1/3 of the 10,258 new condos being delivered in Downtown Miami during this real estate cycle, which began in 2012. By the end of 2017, 8,500 condos, or 82% of all new condos in this real estate cycle have been delivered.
With such a large supply of condos coming online at the same time, prices will stay low throughout 2018. It's simple Economics 101, supply and demand: excess condo inventory has put downward pressure on Downtown Miami prices which will continue throughout 2018, but new building has stopped, so the market could turn around quickly.
Downtown Miami Prices are Depressed
The flood of new condo deliveries has caused prices of resale condos in Downtown Miami to decline to $405 per square foot, down 10% since the peak in 2015. For a world class city, this is a very low price per square foot. In comparison, the average non-luxury price per square foot in Manhattan is $1,800, Downtown Boston is $935, Downtown San Francisco is $1,100 and Washington D.C. is $550.
As the Barron's article "How to Time Miami's Condo Market" in September 2017 points out, there is a big discontinuity between pricing on existing resale inventory and newly delivered condos coming to market. In the article, they cite an example of the disparity in prices between resales and new developments that could lead to opportunities. For example, at 1060 Brickell Avenue, a condo built in 2008, sold in March 2017 for $302 per square foot and right next door at 1080 Brickell Avenue just built in 2016, a similar but new apartment sold for $509 per square foot. The ultimate question is whether prices will converge, whether new development pricing will drop or resale prices will rise. With such an excess of inventory, we expect prices to be low for a short time, but then recover once the excess inventory is absorbed.
Prices Won't Stay Low for Long
Prices in Downtown Miami won't stay low for very long as Downtown Miami is truly reinventing itself into a 24/7 world class city. In addition, we are seeing much higher average prices of around $800 to $1,100 per square foot for Aston Martin Residences and 1000 Museum (by Zaha Hadid), respectively. Arguably these buildings feature higher quality materials and cutting edge design compared to some of other buildings in Downtown Miami, but the long-term trend here is for prices to rise, potentially significantly, from a very low current base price. Accordingly, the long-term price growth prospects for Downtown Miami Luxury Real Estate are excellent and Florida currently leads the nation in the rate of job growth, almost twice the national average.
Lack of new building and favorable tax environment to lead to rising prices
As of today, the pipeline of future new condo deliveries in Downtown Miami (and Miami Dade area) has dried up, with only 652 units coming online in 2018 and 1,000 coming online in 2019. And none scheduled for delivery in 2020 or beyond. New condo inventory has been kept in check, as developers cancelled projects and banks have pulled back on financing new projects. Accordingly, primary home owners and investors have a huge opportunity in 2018 in Downtown Miami where there is a strong rental market.
With the recently enacted tax reform capping State and Local Income Tax and Property Taxes at $10,000 per year per couple, we expect some migration of people from high tax states like Connecticut and New York to low tax states like Florida. This could mean a significantly lower tax bill if these people relocate to Miami and could result in a boom for Downtown Miami and Florida in general, where there are no state income taxes.
In addition
Biscayne Corridor, Downtown Miami & Brickell areas finally have more density to its nascent downtown, that created luxury enclaves in Brickell and along the Biscayne corridor. These luxury new developments, like Missoni Baia, Elysee, Una Residences and Brickell Flatiron, to name a few, are destined to change the face of Edgewater and Downtown Miami. Truth be told, Miami's renaissance is badly needed and with the addition of these developments, Miami will have hit an inflection point that will propel the city forward at a faster pace, creating even more demand.
Foreign buyers have been the main driver of many of these sales in Downtown. And, while there is a lot of talk about foreign buyers only as real estate investors, in fact, many of them are either planning to use their condos themselves, either as a pied-a-terre or as a primary home. This is especially true for the South Americans who are fleeing crime and faltering economies back home. However, as Miami hits this inflection point, we expect to see much more domestic demand.
To finalize
If you have been sitting on the sidelines waiting for the right time to invest in Downtown Miami Luxury Real Estate, or other areas in South Florida like Fort Lauderdale & Boca Raton, now may be just that perfect time.
In order to help home buyers and investors, we recently launched our Frequently Asked Q&A When Buying Miami Luxury Condos where we addressed issues like:
How Do I Know if Now is the Right Time to Buy?

Which Neighborhood Should I Consider When Buying a Miami Property?

Should I Buy a Miami Condo in a New Construction Project or in an Existing Building?

When Buying a Miami Apartment, How Do I Know I am Getting the Best Price?

What Are the Tax Implications when Buying Luxury Apartments in Miami?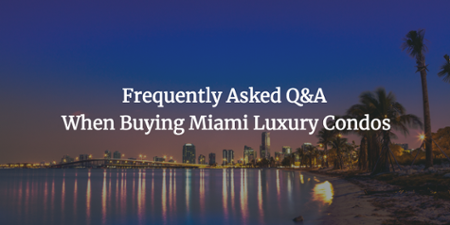 Miami Real Estate News
"An Analysis of The Best Cities to Invest in Rental Properties in 2019"
"How Capital Gains Tax Can Be Reduced or Deferred When Selling Property"
"These New Construction Miami Condos For Sale Will Change The Skyline in 2019"