A rare 20-Year tax abatement has popped up in Manhattan at a handful of condominium projects across the city at:
Waterline Square - a trio of luxury towers in the Upper West Side along the Hudson River from West 59th to West 63rd Streets;
15 Hudson Yards and 35 Hudson Yards - two super luxury towers anchoring the Hudson Yards mixed use development between 10th and 11th Avenues between West 30th and West 34th Streets;
One Manhattan Square - a luxury tower along the East River in the burgeoning Two Bridges neighborhood of the Lower East Side; and
The Kent - a luxury tower in the Carnegie Hill residential neighborhood of the Upper East Side
This extended term 421-a tax abatement is significant, as it allows for a full 12 years of property tax exemption followed by an 8-year phase out period. To qualify for such a generous abatement, each of these projects had to include an affordable housing component. However, don't be fooled, these are truly luxury buildings with lush interiors, interesting architecture, and tons of amenities.
421-a died a certain death in January 2016, when the law expired. These 5 buildings, however, had already been approved before the 421-a expired. While the 421-a tax abatement NYC has been recently resurrected, condo buildings are now excluded. The backlash and publicity received from luxury buildings receiving huge tax abatements was just too great politically for it to pass. Therefore, don't expect to see many more of these in Manhattan. If the building didn't qualify before the law expired, it is never going to get one.
For an investor determined to maximize yield when investing in real estate in Manhattan, buying in one of these buildings is a no brainer. For instance, for a $2.7 million two-bedroom apartment at The Kent in the Upper East Side, over the first 12 years the tax savings would be approximately $300,000 alone, not including the tax savings over the following 8 years (the phase out period).
Waterline Square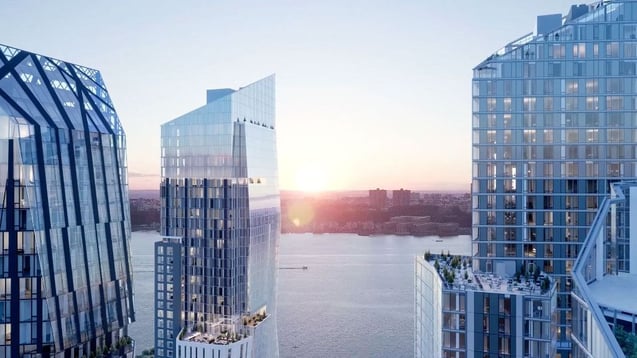 A trio of starchitect-designed luxury towers comprise the 5-acre master plan development developed by GID, now named Waterline Square. Each building has its own architect. The Richard Meier building will feature interiors by Champalimaud, the Rafael Vinoly building will feature interiors by Groves & Co., and the KPF building will feature interiors Yabu Pushelberg.
The project sits on the last of the undeveloped land in the Upper West Side, along the Hudson River between 59th and 63rdStreets. Each of the buildings will host condominiums up top with rentals in their bases, with one- through five-bedrooms sprinkled throughout. Across the three buildings, the project will have 263 condo units. Waterline Square will feature shared a huge amount of amenity space at over 90,000 sq. ft, as well as Waterline Square Park which will cover 3 acres of the property.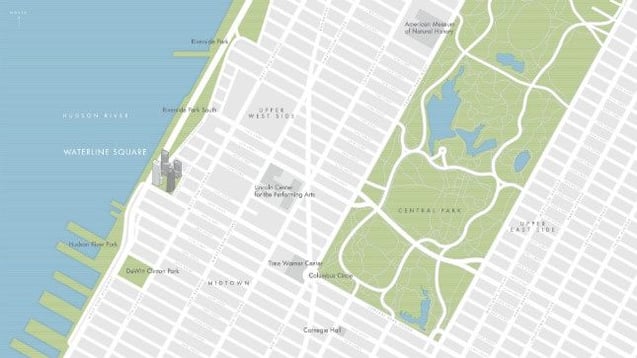 Waterline Square Park

Encompassing nearly three acres, the park at the center of Waterline Square celebrates regeneration and beauty, creating a living, natural connection between the buildings. It is at once a backyard and an oasis, accessible from each of the three towers, graced with sculptural fountains, manicured lawns, meandering paths, cascading water features, and a fully equipped children's playground.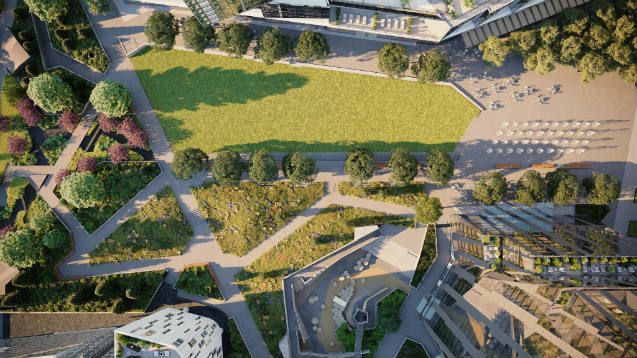 1 bedrooms start from $1,800,000
Two bedrooms start from $2,800,000
Three bedrooms start from $4,500,000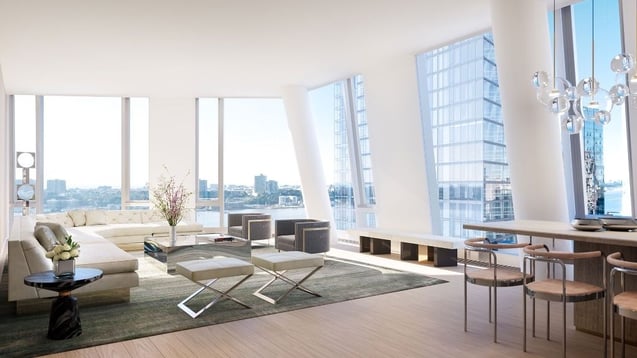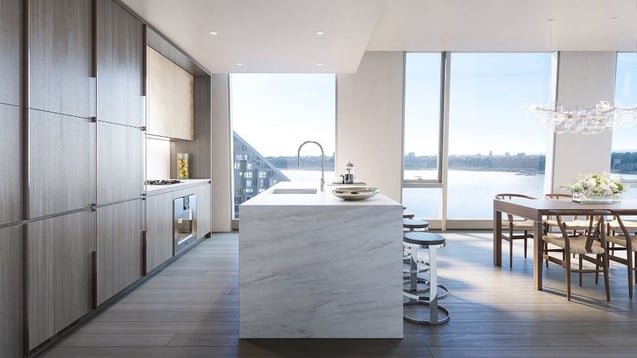 15 Hudson Yards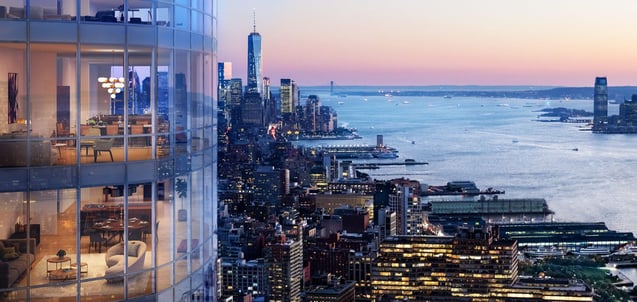 15 Hudson Yards will be the first residential building coming to Hudson Yards, the new epicenter of Manhattan. The 28-acre mixed-use redevelopment project due west of Penn Station on the Hudson River has drawn some of the largest companies in the world (away from Midtown), including KKR, Loreal, Coach, SAP, to name a few, to this new neighborhood. The 70-story super luxury building launched sales in September 2016.

The building takes the form of what looks like two double barrel shotguns fused together, its multi-cylindrical appearance is a standout in a city full of right angles. At 910-feet tall, 15 Hudson Yards is being developed by The Related Group and Oxford Properties, and designed by Diller Scofidio + Renfro, with David Rockwell in collaboration with Ismael Leyva architects.

This spectacular building will feature amazing Hudson River and New York City views. The building and the adjoining mall, anchored by Neiman Marcus and with restaurants curated by Thomas Keller, will both open by the end of 2018.
Two bedrooms start from $3,875,000
Three bedrooms start from $6,430,000
35 Hudson Yards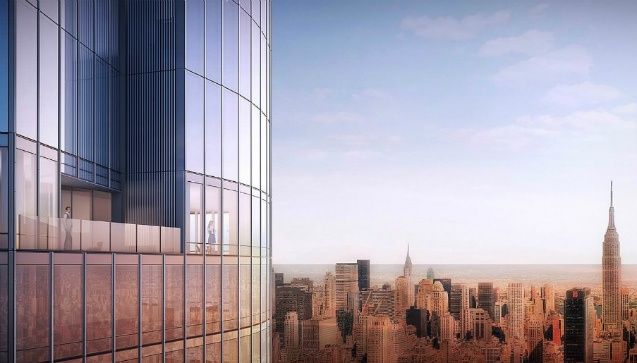 35 Hudson Yards will be the tallest residential tower in Hudson Yards, at 1,009 feet tall, located at West 33rd Street and 11th Avenue. Clad in limestone and glass, 35 Hudson Yards will rise at West 34th Street and 11th Avenue at West 33rd Street.
Also known as Equinox Tower, the 900-ft tower will house a flagship Equinox Hotel on the lower floors, first-class offices, and 137 private residences on the highest floors. Yabu Pushelberg, known for their designs at St. Regis, Four Seasons, and other luxury hotel projects worldwide, has added this Equinox Hotel to their impressive list of achievements. Fitness-minded residents will adore the 60,000 square foot gym. Residences should go on sale in 2019.
Prices yet to be released, but expected to be higher than those at 15 Hudson Yards.
One Manhattan Square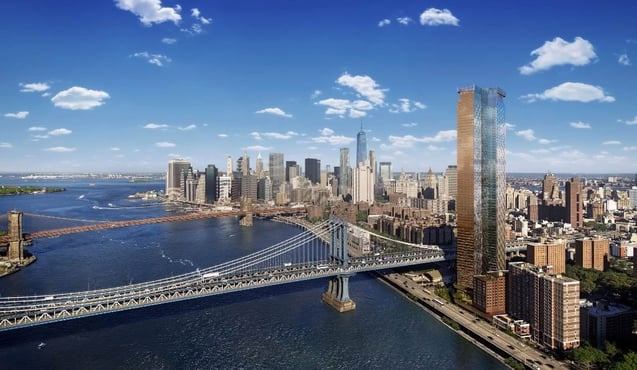 One Manhattan Square is an 80-story modern glass tower that has some of the best views in the city, from every direction. The building sits on the eastern edge of the Lower East Side, along the East River just north of the Manhattan Bridge.

Meyer Davis, the award-winning studio behind world-class hotels, elite private homes and Oscar de la Renta's flagship retail boutiques, has designed residences that rival five-star resorts. The luxurious interiors combine style, quality and function. The building's 100,000 sq. ft. of amenities will include basketball courts, Turkish baths, bowling alley, golf simulator room, squash court, sauna, sunken tranquility garden, 75-foot swimming pool, billiards room, cigar room, and private theater.

The Lower East Side, once a shunned neighborhood, is in a period of flux, with a lot of development going on in this trendy gentrifying neighborhood.
One bedrooms from $2,038,000
Two bedrooms from $2,038,000
Three bedrooms from $3,527,000
The Kent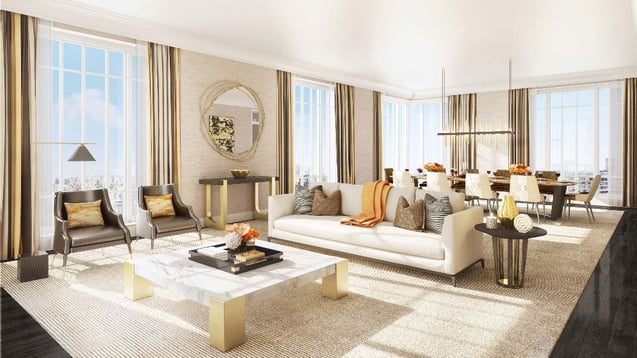 Art Deco-inspired ground up new construction, The Kent, is located at 200 East 95th Street, one avenue from the new 96th St. Second Avenue subway stop which opened this past January and close to all the elite private schools in the neighborhood, like Dalton, Sacred Heart, Nightingale-Bamford, Spence, Brearly, and Chapin.

It's an Extell project, so we know the building developer is top notch (they also did projects like One57, The Carlton House, Aldyn and One Manhattan Square). The architect is Beyer Blinder and Belle and interiors were done by Champalimaud.

The richness of the materials really stand out here, with a choice of high end Ivory or Onyx custom kitchen cabinetry, ebonized or brushed oak wood flooring, and Alexis Azul marble baths. In addition, the residences have gracious proportions (the 6th floor has 14-foot ceilings). This 30-story building has only 83 units, so each of them is very spacious.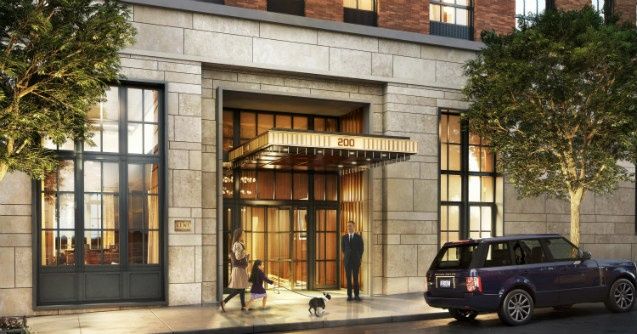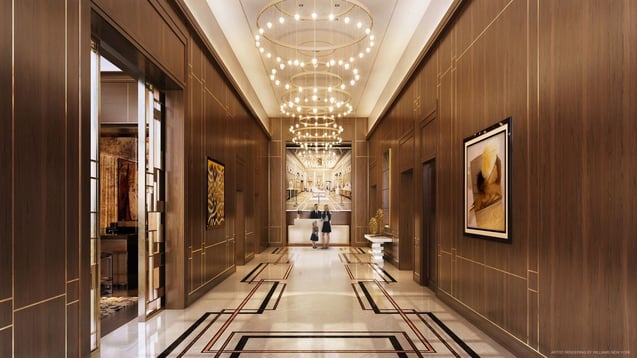 Two bedrooms start at $2,998,000
Three bedrooms start at $3,742,000
Four bedrooms start at $6,077,000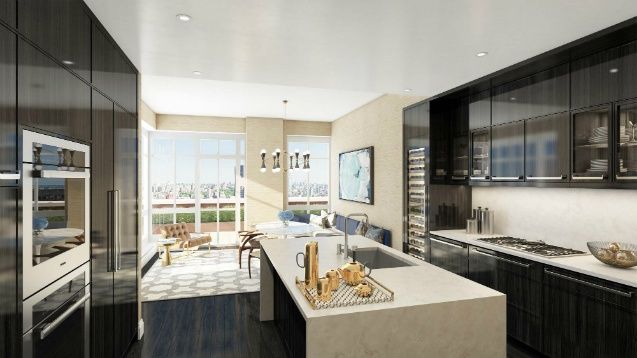 Additional resources regarding the 421a Tax Abatement.
Manhattan Miami Real Estate News
"How Capital Gains Can Be Reduced or Deferred When Selling Property"
"US Tax Reform Effects On Real Estate Investors And Home Owners"
"NYC's Tech Sector is on Fire and Heating Up Hudson Yards"