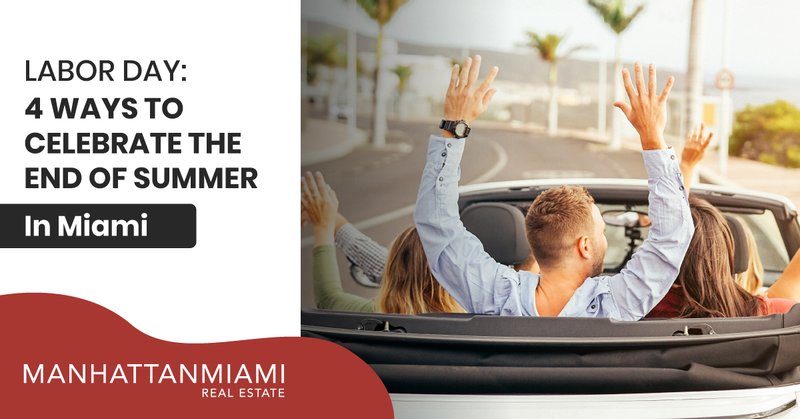 You have worked hard all year. Now, it is time to celebrate your dedication and the end of summer. So, check out these festivities and have a fun-filled Labor Day weekend in Miami.


Yacht Parties
You're in Miami. Get out on the water and treat yourself to a yacht party. Here are two of the many yacht parties to possibly check out.


Board the South Beach Lady Yacht on Saturday, September 4, 2021, at 8 pm. The yacht sails at 8:30 pm and returns at 12 am. This 125-foot yacht offers four levels, eight flat-screen televisions, seating on the bow, an open-air promenade, a partially covered fourth deck, and a DJ Sky booth. Enjoy a light buffet and entertainment by DJ Prince and DJ Snap. Wearing white is preferred but not mandatory. The South Beach Lady is located at 1318 North Ocean Drive in Hollywood.


Party on the SeaFair and enjoy four days of activities with one ticket. On Friday, September 3, 2021, join the Day Party and the Meet and Greet at Brick Miami, located at 187 NW 28th Street in Miami, from 3 pm to 9 pm. Come to the Yacht Party on The Seafair Mega Yacht on Saturday from 3 pm to 7 pm. This party features a food buffet, pool party, day party, and five DJs on three floors. On Sunday, party the night away with Night Finale Party at Exchange Miami, located at 1532 Washington Avenue in Miami, from 10 pm to 3 am. Finish at the Labor Day Weekend Finale Day Party on Monday from 3 pm to 9 pm.


Looking for some nightlife over the Labor Day Weekend? The South Beach Pub Crawl features four local bars, nightclubs, and lounges. Enjoy free admissions and free shots with no lines. What could be better than that!?


How about a luau? The Miami Luau celebrates the FAMU versus JSU Orange Blossom Classic Football Game. Located at Virginia Key Beach Park, you can join the party on Saturday, September 4, 2021, from 12:00 pm to 10:00 pm.


If you want to experience a film festival, you don't need to go to Cannes. The annual Urban Film Festival allows you to view Indy films and meet the filmmakers. The Lyric Theatre, located at 819 NW 2nd Avenue, hosts the three-day event to spotlight emerging filmmakers, assist them in distributing their films, and educate the public. The films cover the daily lives of urban communities and cultures.

Whether you party on a yacht or enjoy the film festival, Miami provides you with an opportunity to participate in a unique experience over this Labor Day Weekend. If you end up falling in love and find yourself not wanting to leave, give us a call at Manhattan Miami Real Estate and we can help you find your ideal home so you never have to leave the fun.
Get out and enjoy!