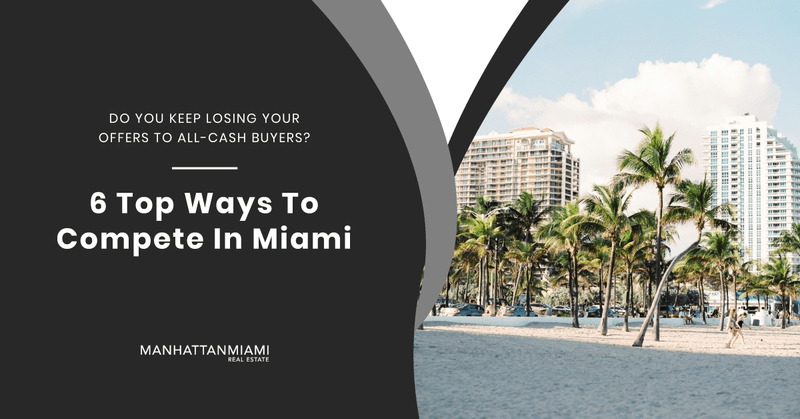 With a limited number of homes for sale in Miami, it is hard to compete against all-cash buyers. Here are 6 ways that can help your offer get accepted in this hot real estate market.


Waive the Mortgage Contingency
A mortgage contingency protects the buyer from losing their deposit if the buyer is not approved for the financing. You, as the buyer, will need to be comfortable about losing your deposit if the financing doesn't go through. But this will give a seller confidence that you have the money available or will do everything possible to get it.


Have a Flexible Timeline
Be flexible with a seller's timeline. The seller might still be looking for a house of their own. How flexible you can be will depend on your situation. Be able to explore options that will help with a seller's timeline. Sometimes this simple gesture is all it takes to outbid an all-cash offer.


Hire the Right Realtor
Hiring an experienced realtor can be of help when it comes to competing against all-cash buyers. If you should find yourself in a bidding war, a knowledgeable realtor will help you with all available options to get the house you want.

If you're moving to a different city, you might be able to find a real estate company that has offices in both cities. For example, if you're moving from Florida to New York City, a realtor like Manhattan Miami Real Estate can be of help.


Bid Higher
When looking for homes for sale in Miami, be prepared to bid higher than the competition. Many of the all-cash offers today are from companies that put bids on almost every available property.

A higher bid will get the seller's attention. The seller's broker will tell you there are offers over the asking price, but not what those bids are. So it can be a guessing game, and your realtor will be able to help. Don't get caught up in a bidding war. Know your budget limitations, and know when it is time to walk away.


Pre-Order the Appraisal
If possible, have the appraisal lined up in advance. The bank, mortgage broker, or direct lender can help you pre-order an appraisal. When you make your written offer, let the seller know that you have already ordered the appraisal.


Write a Nice Letter
Many sellers are sentimental about their home and would like to see it go to a new owner that will take care of the home as much as they did.

Writing a letter to the seller explaining how much you love the yard or kitchen could help. You have to be careful with these letters because they can raise fair housing law questions. Sometimes it is better if you have your realtor relay your interests in the house to the seller.


It is not easy to compete in today's crazy real estate market. These tips, along with a knowledgeable realtor, can help you buy your new dream home.