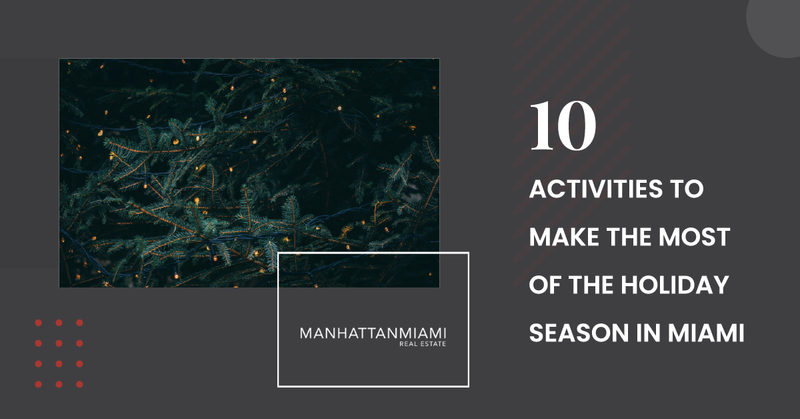 There is no shortage of festive things to do for the holidays in Miami. Here is a list of 12 of the best activities to get you started.

Deering Estate: Deering Estate is home to the popular Festival of Trees. Guests can stroll the decorated grounds while enjoying hot chocolate and cookies. Kids are welcome at this family-friendly festival.

Tchaikovsky's Nutcracker: No holiday season is complete without a viewing of Tchaikovsky's Nutcracker, presented by the Miami City Ballet. All of your favorites from the traditional performance will be on hand, including the Waltz of Flowers and the Dance of the Sugar Plum Fairy.

Zoo Lights: Everyone will have a roaring good time at Zoo Lights at the Miami Zoo. The zoo is awash in twinkling lights, creating a magical wonderland. Visitors will be able to take in the light show while also viewing the animals that call this place home.

Winterfest Boat Parade: Lean on the best of Miami living by attending the Winterfest Boat Parade, located in Fort Lauderdale. Gathering along the 12-mile parade route is a great way to enjoy the beautiful weather during this time of the year.

Matzo Ball: Be sure to stop by Matzo Ball for some of the best tastes of the season. In addition to delicious food, you can also dance and drink your favorite Miami-inspired cocktails at this nightclub.

Vizcaya Museum & Gardens: This historic estate is the place to be during the holidays. The celebration includes the chance to walk through the stunning gardens, food and drink options, and craft stations.

Santa's Enchanted Forest: Known as the world's largest holiday theme park, this venue will delight people of all ages. The enchanted forest includes rides, animal performances, light shows, and the tallest Christmas tree in South Florida.

Bayfront Park: A visit to Bayfront Park is a must-do this holiday season. This park features a 52-foot high Christmas tree, light shows, and a popular Christmas ceremony.

Winter Shorts: Want some drama? Head to City Theater's production of eight winter shorts that will leave your heart bursting.

Tri-Rail Winter Celebration: A train ride is a magical way to celebrate Christmas. The festival features 20 tons of snow, bounce houses, food trucks, holiday carolers, and more.

Celebrate the magic of the holidays in South Florida with this list. Even if you are not an expert on Miami real estate, this guide will provide you with the recommendations you need to immerse yourself in the holiday fun.