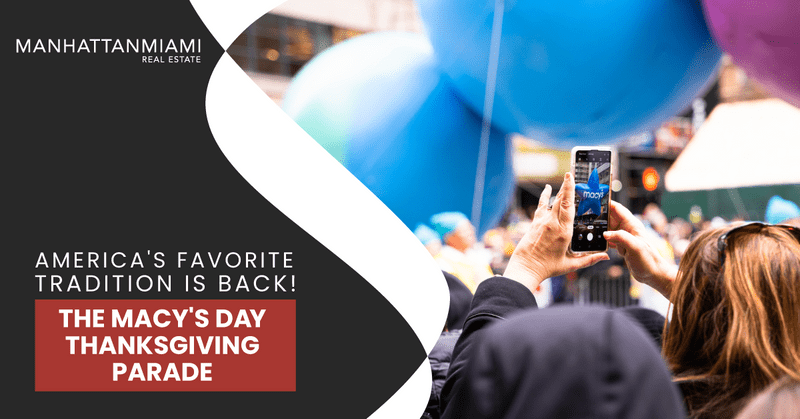 When looking for things to do for Thanksgiving in NYC, most people automatically think of the iconic Macy's Thanksgiving Day Parade. After a year off due to the COVID-19 pandemic, the parade is back and welcoming the public to line the route and cheer on their favorite performers once again. Here is everything that you need to know about this festive parade.

Back After a Year Off: It is sure to be a celebratory atmosphere when Macy's welcomes back spectators to its annual event. Last year's event was a special parade made just for television. Rather than millions of spectators lining the streets to catch the festivities, the parade was filmed in a one-block area in front of the Macy's flagship location on the famed 34 Street in the heart of Manhattan. The performances were filmed over the course of three days prior to Thanksgiving.

What to See at the Parade: This will be the 95th year of this Thanksgiving Day classic. This spectacular event kicks off the holiday season in the Big Apple with a variety of live musical performances, soaring balloons, intricately decorated floats, marching bands, and a host of celebrity appearances. A number of new balloons will debut during the 2021 event. The highlight of the parade is the appearance of Santa at the end of the route, signaling the beginning of the holiday season.

Precautions for the 2021 Parade: Recognizing that the world is still in a pandemic, organizers have put a myriad of safety precautions in place. All of the volunteer staff and parade participants must show proof of vaccination. In addition, these staff members will be required to wear face masks despite being outside. Macy's is committed to following the recommended social distancing guidelines along the route. As a result, the number of participants and performers has been reduced by approximately 20%.

What to Know: The parade usually brings about two to three million people together along the designated route to take in the grandeur. This is in addition to the millions of people around the world that tune in to watch the parade on the television. Officials will announce the public viewing locations and guidelines for entrance later in November. Be sure to stay tuned if you plan on celebrating your Thanksgiving with a trip to watch the parade. The parade begins at 9 am local time and runs for approximately three hours.

Whether you are in town to check out Manhattan Miami Real Estate agents as you are planning to move to New York or if you are just here to soak in the magic of the holidays in New York City, a trip to the Macy's Thanksgiving Day Parade belongs at the top of your bucket list.