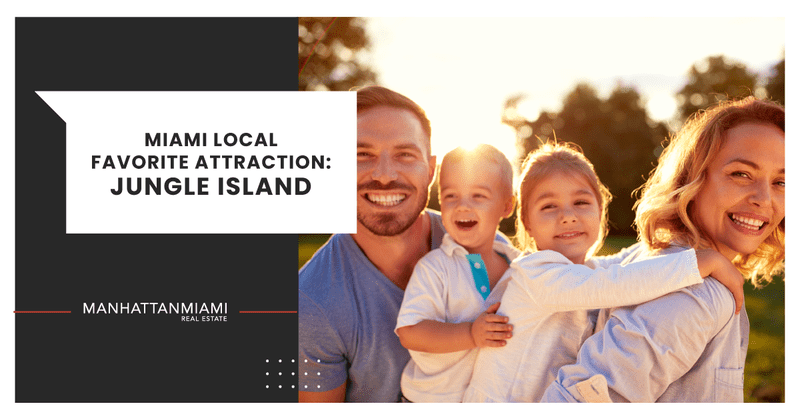 If you'll be traveling in South Florida, be sure to add a stopover at the Jungle Island attraction in Miami to your itinerary. It's the perfect action-packed family adventure on the way to or from Miami Beach. Adults and kids of all ages will thrill at the chance to mingle with sloths, lemurs, kangaroos, tortoises, and other rare, adorable animals while exploring the park's lush, tropical grounds.

The unique island park off MacArthur Causeway features thousands of tropical birds along with giant reptiles and fascinating primates. Winged residents include about 1,106 macaws, parrots, and other exotic birds. The noisy, opinionated fauna reside on 18 pristine landscaped acres of otherwise quiet and peaceful flora with grounds featuring around 500 species of plants and flowers.

Visitors to the Jungle Island zoological park delight in cute animal antics like a parrot riding a miniature bike and other engaging shows. The Winged Wonder performance features singing Amazon and Andean condors. Wild Encounters stars tigers, apes, and even a liger while Reptile Giants showcases alligators, crocodiles, and snakes. In addition to the entertaining shows, visitors enjoy informative exhibits and hands-on interactions amid streams and waterfalls, underneath a canopy of tropical trees. They can also sign up for a VIP behind-the-scenes guided tour.


Founded in 1936, the iconic eco-park on Watson Island between Downtown and South Beach is one of the oldest and best attractions in Miami. The well-loved South Florida landmark opened under the name Parrot Jungle in suburban Pinecrest. In 2002, it was purchased for Pinecrest Gardens and moved to its present island location. The name was changed back to Parrot Island in 2007.

The popular attraction has continued to evolve over the years. It went through several major renovations after suffering damage from Hurricane Irma in September of 2017. The park now has pop-up waterslides, zip lines, a Nerf battle stadium, jungle-themed escape rooms, and an outdoor wind tunnel flight experience that sends participants soaring over the Miami skyline. Visitors can enjoy all these features and other attractions while the park continues to undergo millions of dollars worth of renovations.

Renovation plans for Jungle Island include a resort hotel and an eco-themed adventure park. The resort will have stunning views of the Magic City skyline and Biscayne Bay. Future visitors can also expect ziplining among trees, bungee jumping, a lazy river, a crystal lagoon, and a virtual reality experience.


Jungle Island is more than a popular attraction for families with kids that frequent South Florida's beaches. The newly-renovated Treetop Ballroom with outdoor spaces and a private beach also serves as a destination for special events. It provides an excellent day out for any large or small group from company picnics to intimate day or nighttime events. The park's event specialists and chefs help guests plan weddings, bar mitzvahs, showers, and other gatherings.

The experts at Jungle Island can create and customize a dream event in a spectacularly beautiful South Florida setting.