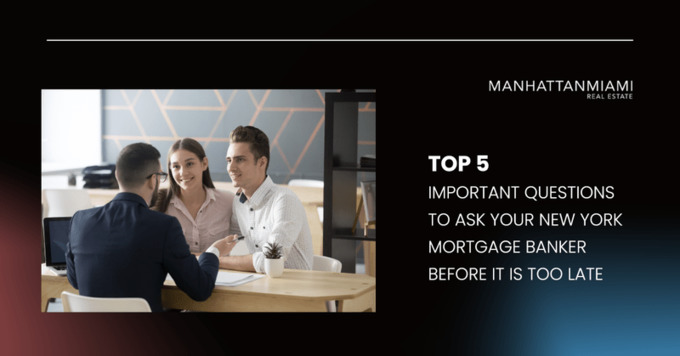 You are going to want to meet with a mortgage banker before you start the search for homes for sale in NYC. This will help you to gather information so that you can make the best decision for your financial future. Because New York City is such a unique housing market, it is imperative that you do your homework before jumping into the process of buying property.

A professional will be able to guide you through the process and answer all of your questions so that you feel confident about the decisions that you are making with your money. Here are five of the most important questions to ask a professional real estate company in New York before deciding on a home loan.

How Can I Get Pre-Qualified for a Home Loan?

One of the first steps in the home-buying process is getting pre-qualified for the loan. You will need to fill out a residential loan application, including information about your income and assets. This is when you will also authorize a credit check. In most cases, it will take a lender mere minutes to pre-qualify you for the loan. You will generally understand the dollar amount of what you are qualified to borrow after you go through this step.

Be sure to take your pre-qualification letter with you when you tour apartments or homes. You can print this letter to take with you to showings to demonstrate that you are a viable prospective buyer that is ready to pull the trigger. This can be especially helpful in a seller's market such as today when properties are snapped up quickly. The goal is to present yourself as a strong buyer so that you are more attractive to sellers who are in the position to be picky.

Can You Pre-Qualify a Building?

In addition to getting your own pre-qualification lined up, you also may want to ask your chosen lender to pre-qualify any prospective buildings you are looking at. This building pre-qualification may save you from loads of headaches down the road. This process will mitigate the risk that comes with trying to buy in a seller's market by pre-approving the building that you are considering.

Elements that a lender will look at include pending lawsuits, insurance coverage, cash reserves on hand, and more. This pre-qualification may also look at sponsor information, including what percentage of the total units in the building are sponsored-owned. The document generally lists what percentage of the units are owned compared to the number that are divvied up for renters as well as if the building is a co-op or a condominium designation.

What is a Portfolio Loan?

In a market as expensive as New York City, many buyers turn to portfolio loans for their lending needs. A portfolio loan means that the mortgage lender or the bank cannot sell the loan. This differs from a saleable loan which allows the lender to sell the loan to a vendor such as Fannie Mae or Freddie Mac. With a portfolio loan, you will know that the bank will continue to hold the loan within its own books and cannot sell the loan elsewhere.

Because the loan is specific to that bank, you will find loans that are not conventional in nature. This translates to more versatility and options, particularly if you do not fit the traditional lending parameters. For example, a portfolio loan may be helpful if you are trying to get into a building that is less than 51% occupied by owners, meaning it does not satisfy most types of traditional lending rules. With a portfolio, the lender has more discretion to override these usual lending criteria so that you have more options at your disposal.

What is the Difference Between a Conventional Loan and a Jumbo Loan in NYC?

Conventional loans are mortgages that are not insured by the federal government. While conforming loans must follow the rules set by Fannie Mae and Freddie Mac, non-conforming loans have a bit more flexibility. In pricey housing markets such as New York City, these conforming loans have a higher balance pricing. Loans that are needed above the $822,375 mark are considered to be jumbo loans in NYC. This means that you will need to use a portfolio lender rather than going the conventional loan route.

Because the loan that you need is dependent on the price of the property and the amount of money that you need to borrow, there is not a good deal of flexibility in what you choose. However, understanding the differences between the portfolio loan and its conventional counterpart will help you to interpret your choices.

Should I Choose an Adjustable-Rate or Fixed-Rate Mortgage?

Although fixed-rate loans are still relatively low, an adjustable-rate may be your best bet if you do not plan on keeping the property for more than a few years. Be sure to consider your personal situation and risk tolerance when deciding. For example, how comfortable are you with the idea of fluctuating payment amounts? If you need to adhere to a strict budget each month, the idea of a shifting payment may make you uneasy.

You should also consider if your finances may be changing in the future. If you know with relative certainty that your income will go up significantly over the next five years, an adjustable-rate mortgage may be a risk that you are willing to take. This can be a good idea if you want to use that extra money to set aside for other investments.

Understanding these parts of the lending process will empower you to make the most informed purchasing decision. When this much money is on the line, you will never regret taking the time to thoroughly understand the process.