Forget Silicon Valley – many of today's top tech executives are choosing New York's Silicon Alley.
Gone are the days when all techies longed for bike trails and open spaces. Now, many in a new generation of techies are choosing the vibrancy of busy downtown living. The urban sophistication of the Big Apple, with its stunning architecture, cultural opportunities, and international restaurants are an about face – and an irresistible lure for many.
In addition, here they can rub shoulders with the hustle and bustle of other industries.
It's no wonder then, that the tech focus in Silicon Alley is a bit different than that of Silicon Valley. While California has long had a computational and hardware focus, New York tech is more focused on applying that new technology to industries such as media, advertising, publishing, commerce, marketing services, fashion, financial services, and retailing.
What better place could there be in which to incubate information-centric applications for industries which have long been cornerstones of the New York economy?
The number of people employed in the New York high-tech ecosystem is growing by leaps and bounds. According to a 2014 report, the number of jobs in technology was growing at 5 times the rate of jobs in other sectors of the economy. Positions include a) tech jobs in tech industries, b) tech jobs in non-tech industries, and c) non-tech jobs in tech industries.
Non-tech jobs in tech industries? Yes, think of all the support staff, such as the cooks and bakers who serve (free) meals to Facebook's 1,000 employees at their New York facility.
Even better news for techies – between 2010 and 2016 tech sector salaries in New York grew 3 times faster than salaries in other sectors of the economy. In fact, reports are that tech jobs pay almost 50% higher than the average city-wide wage.
The tech expansion in New York did not come about by accident. Former Mayor Bloomberg was keen on diversifying the New York economy from its dependence on Wall Street. With his encouragement, In 2010 New York City developed his Applied Sciences NYV initiative. This initiative led to the opening of Cornell NYC Tech, which is a partnership between Cornell University and Technion-Israel Institute of Technology.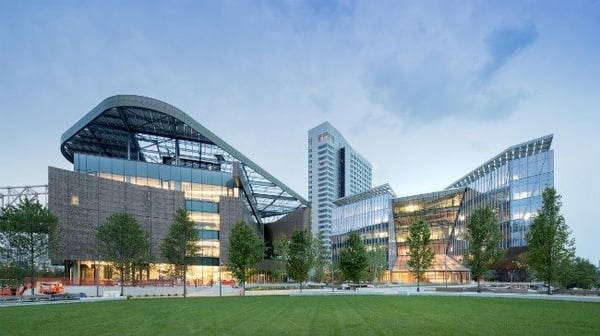 Cornell Tech (above) began operations in 2012 at a temporary site, the New York City offices of Google. September 2017 saw the opening of the 5-acre first phase of its Roosevelt Island campus, which is expected to span 12 acres by 2037. The Roosevelt Island land was donated by New York City for this purpose.
Other programs, such as the Center for Urban Science and Progress, the Institute for Data Sciences and Engineering, and Carnegie Mellon University's Integrative Media Program are also offshoots of this initiative.
While New York City has not yet created a world-changing tech company like Facebook or Google, it is home to several well-known tech companies such as Tumbler, Buzz Feed, Gilt, ZocDoc, and many more. Meanwhile, Silicon Valley giants have been migrating to the city.
Companies such as Google, Facebook, Amazon, LinkedIn, Twitter, Pinterest, Dropbox, eBay, Yelp, and Yahoo now have a presence in New York. These companies are not only adding thousands of jobs; they're also alleviating vacancy rates in Lower Manhattan, Downtown Brooklyn, Dumbo, and Brooklyn Navy Yard.
The trend is expected to continue, as venture capital investments in NYC tech are increasing steadily, and solidifying New York City's future as a tech hub.
Will the technology trend affect the housing market? It certainly should, as more young techies migrate to New York to take advantage of all the city has to offer.
At Manhattan Miami Real Estate we specialize is helping International and domestic buyers locate and purchase exactly the homes they want, and do it at the right price. We also help executives relocating from abroad to find rental housing.
Manhattan Real Estate News:
"Why Invest In Manhattan Real Estate"
"Best Manhattan Neighborhoods To Buy A Condo in 2019"