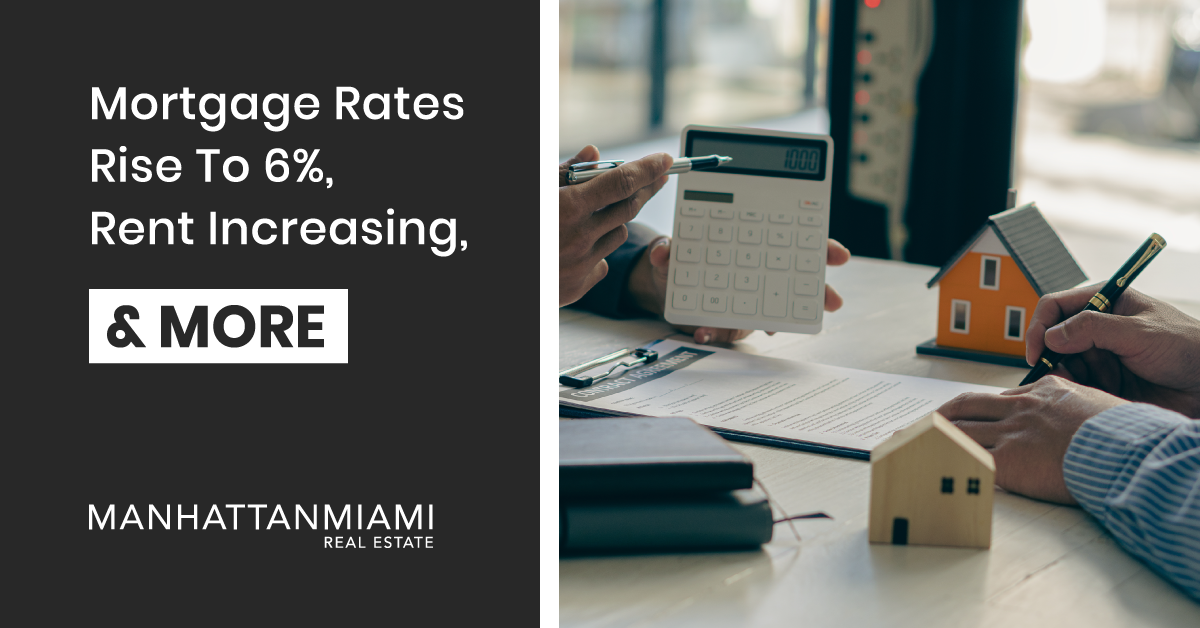 Whether you talk with any of the real estate agents in NYC or have otherwise been looking into homes for sale in NYC, you may have been caught off-guard by the rise in mortgage rates that has happened over the past year. The last week of June 2022 hit a new peak for an average 30-year fixed mortgage (just over 6%), exceeding the 5% metric from just two months prior. This shift also marked a massive transition from a charging bull market toward a hostile, snarling bear market.

While this indicated a further rise in mortgage rates, those people who are in the know can recognize that 6% is more than fair for a home loan; anyone who was in the business back in the 1980s will note that the mortgage rate was 18%. However, 6% may seem insane to recent memory-peak pandemic interest rates were just 3%. Even if rates rise more quickly than most people anticipate, any apparent chaos may be relatively fleeting in nature.

Before the pandemic, your average mortgage rate for a 30-year fixed loan was roughly 4%. While March 2020 had a brief spike, the rate tended to be 2-3% until the close of 2021; at that point, inflation rose in response to factors like hitches in the supply chain and Russia's invasion of Ukraine. It was after these incidents that the Fed aggressively looked into elevating interest rates to counter inflation.

The elevated level of federal funding contributed to greater mortgage rates, which cooled off a rise in home prices. In the last week of June 2022, the average interest rate for a 30-year fixed-rate mortgage with balances capped at $647,200 rose to 5.65%, the highest since the 2008 housing crisis (5.4%). As you might expect, some brokers have commented on buyers, especially first-timers, becoming priced out of their market or requiring a more shallow investment in the housing region.

Regardless of how mortgage rates shift, the main factor in the housing market lies at the feet of a startlingly low number of on-market properties, ensuring that prices stay up while sales stay down. People may still be looking to buy, but there are fewer purchases than the market would have seen early into the year 2022. The home-shopping surge of 2020-2021 left shoppers and housing agents with plenty of war stories, meaning that a slowdown could keep the market from sickening.

No one wants to look over a new home via FaceTime while operating under the threat that you either need to make an offer now or never. Anyone who is willing to endure that situation and compare and contrast one property to another is likely to be a very happy home-buyer. Some shoppers have even found themselves considering the rental market, despite it having its own strain of chaos. Some new home-buyers have considered renting until they see how much rent has increased, causing them to bite the bullet of paying off a property they own instead of struggling with a month-to-month bill to keep a roof over their heads.

Speaking of rent in New York City, one TikToker, by the name of Stephanie Leigh, went viral for calling out astronomical rents for subpar apartments within the city. For some context, the median rent for a Manhattan apartment is $4,000 per month. Leigh is a Manhattan-based content creator with a focus on lifestyle and fashion and nearly 50k followers on TikTok who shared that her landlord had arbitrarily chosen to elevate rent back in June of 2022. In a fleeting 60-second clip, Leigh tours two units in the same East Village and balks at the discovery that one of them goes for $12k/month.

She starts by walking through a two-bedroom space, priced at $8k/month, containing an open kitchen, washer/dryer, and living room with oversized windows. She remarks on how the second spot is too small for her bar stools, meaning a small kitchen table would occupy the already limited space. She also showcases the master bedroom with its lacking closet space and antiquated bathroom. Leigh remarks that while the apartment is hardly an eye sore, it is far from $8,000 quality. Leigh finishes by stating that this is her eighth move throughout New York, indicating that she has a good grasp of housing costs throughout the state.

Leigh's remarks can be compared to the latest figures from the Manhattan market; May 2022 saw exactly 5,776 apartments up for rent. Despite being a number in the thousands, this is more than a 70% drop from the number of units available in the city a year earlier. May 2021 had over 19,000 units open as many New Yorkers stayed away from the city and people waited for vaccines to become available.

When Leigh reaches the second, more costly, property, she quips that it not only exceeds her budget but that the sole reason for its high listing was a large terrace. Understandably, viewers were floored. One commenter expressed disbelief that it was worth paying so much, while another questioned if the city had laws involving rent levels. A third commenter pointed out that anyone able to afford a $12,000 apartment has enough capital for a mortgage and questioned New Yorkers' willingness to rent instead of buy.

During the later portion of 2021, much of NYC's rental market started to recover from record valleys. This new era had residents dealing with large increases in the cost of lease renewal, only to later discover that they were in a bidding war and forced to offer more and more money to keep their units.

Currently, Leigh is far from the only TikToker to point out NYC's nosebleed rental costs. One video highlights a prospective tenant being unable to fully open a door to an expensive unit because its stove blocked the way. To further cement how high demand is in the area, Leigh posted a follow-up video explaining that the $8k East Village unit was occupied just two hours after her initial upload.