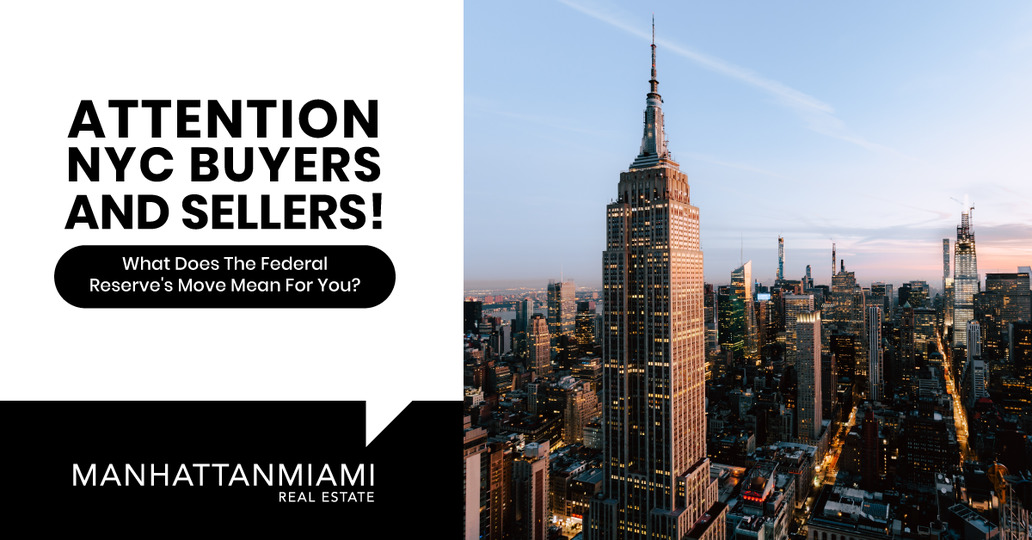 Recently, the Federal Reserve increased its rate for target federal funds by a fourth of a percentage from almost zero to stem inflation. There are also plans to implement six additional increases before the year is over, which is causing concern for sellers and buyers of real estate in NYC.

However, the price increase for homes for sale in NYC will likely not be detrimental to the sales market in the area. Homes in the region, as well as condos for sale in NYC, have seen record sales in the last two or three quarters. However, the changes in prices are going to affect first-time homebuyers in most instances. There are also other factors that could halt real estate sales in NYC, including extreme economic inflation and a lack of real estate properties for sale.

This decision by the Federal Reserve was an attempt to manage what has been the highest inflation in four decades, according to Bankrate.com's chief financial analyst Greg McBride. The rate established by the Fed is the interest rate that banks use to borrow and lend funds to one another overnight. The rate is not the same as what customers pay to borrow the money, even though it will impact mortgages and other consumer loans which are already become more expensive.

Important Information About Mortgage Rates
McBride says that mortgage rates are based on long-term financial goals. He asserts that by the time the public sees a boost in interest rates, mortgage rates have already reflected these price boosts. Currently, the average interest rate for a 30-year fixed mortgage is around 4.55% due to a recently 22-point increase, according to data from Bankrate. It is also important to note that mortgage rates have gone up four points in March 2022, the first increase since May 2019.

Mortgage rates are half a percentage point higher than they were six months ago. This price hike and higher-than-normal home prices have made homeownership too expensive for many individuals. The mortgage rates will likely go down as inflation goes down. Meanwhile, the high mortgage rates could temper demand for people who need financing and are buying a home for the first time.

Comparing Interest Rates
Looking at the current interest rates can make homebuyers uneasy, but Brittney Baldwin, the loan officer and vice president of National Cooperative Bank, says that historically speaking, the current interest rates are still historically low.

Baldwin says that additional interest rate increases can affect overall loan amounts and which houses buyers can afford to purchase. Real estate inventory is low, and the market is very competitive, so Baldwin advises buyers to have open discussions with their loan officers to discuss their budgetary limits.

Looking At the Overall Economy
Even though it may not seem like it to consumers, the Federal Reserve's interest rate increase is designed to bring about positive change for the economy, according to regional vice president of William Raveis Mortgage Melissa Cohn. She asserts that it is important to reduce prices to fight inflation. Cohn also shares that these are uncertain financial times for the world and Russia's recent Ukraine invasion could have a huge impact on the US economy.

Many people are concerned that the US-enforced ban on oil in Russia could take the United States into stagflation. This is a mixture of consistently high inflation with economic demand that stays the same despite energy prices that are already high. This economic scenario would bring about significant changes in the real estate market since buyers are delaying their plans to purchase a home as they budget for other necessities. This also occurred in the 1970s because of the decade's oil crisis which stemmed from inflation and mortgages that increased into the teens, according to Cohn.