The Sheffield is located two blocks from Columbus Circle and Central Park at 322 West 57 Street at Eighth Avenue on Billionaires Row, just a few steps from the Time Warner Building and Nordstrom. The position of the Sheffield at the edge of Midtown West allows for great views of Central Park, the Hudson River and the City from this 58-story residential tower. It also has the most exciting amenity space in all of NYC - on the top two floors of the building!
A brief summary about this NYC Condo Building
Originally built in the 1970's, The Sheffield condos NY were gut renovated in 2006 into a luxury residential tower. In one of the most well know condominium conversions in the city, Cetra/Ruddy Architects created stunning interiors using a subtle palette, instilling a clean and crisp feeling throughout. Kitchens have Poliform Varenna white glass and taupe cabinets and Cararra custom Italian marble counters and backsplash. Baths feature Italian travertine and granite tiling. Throughout the apartments the flooring is nordic ash wood, leaving the spaces light and airy. There are many layouts to choose from, from generous studios to four bedroom residences, with some offering over 3,000 square feet of living space.
Arguably the best amenity space in all of New York, the Sky Club at Sheffield is located on the 57th and 58th floors of the building with amazing views all around. Residents have access to its indoor/outdoor saltwater pool on the 58th floor, sunrise roof deck lounge overlooking all of Central Park on the 58th floor, sunset lounge on the 57th floor, children's playroom, outdoor barbecue, sundeck, a yoga and spin studio and a state of the art fitness center with 180-degree views.
Other amenities in this Midtown Manhattan condo include 24-hour Doorman and Concierge, private-entry driveway, water feature, access to onsite parking in the basement (operated by an independent operator) and Fresh Direct preferred delivery & temperature controlled storage.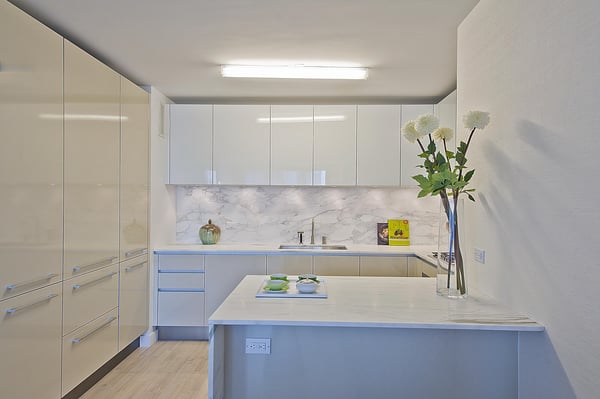 Sheffield Sales & Rentals comps:
Why we recommend the Sheffield to our buyers
The building has an excellent location due to the proximity of Central Park (2 blocks north), Time Warner Center and Lincoln Center. It also has easy access to a number of subway lines (1, 9, A, C, D and B). Also, the building location offers an easy way out of the city by West Side Highway.
Besides the excellent location at 322 West 57th Street, buyers like the community feeling that the building offers. The friendly staff is composed of almost 25 employees including 6 full time doormans that makes living at The Sheffield a happy experience. Amenities like the private driveway makes that trip upstate to Woodbury Commons or Stew Leonard's feel a little less stressful when unloading your purchases back at home.
Also, in terms of real estate appreciation, the building held up value quite well compared to other condo buildings in the city and others Columbus Circle apartments for sale. With the development of Billionaire's row along 57th Street bringing a higher end retail component to the neighborhood, we know that prices at Sheffield will continue their rise.
If a buyer is looking for a Central Park apartment view, The Sheffield is one the best priced condo options in the city. Most of the apartments above 29th floor with a North orientation offer great park views, and together with the West views that offers ample river views, these type of apartments can be quite stunning. Sheffield prices are two thirds or half the price compared to other condos in the immediate area, including Time Warner Center Condominium and Park Imperial.
Apartments layouts at the Sheffield
The Sheffield is mostly composed of Studios to 3 bedrooms apartments. The studios averages around 575 sq.ft. in size, 1 bedrooms around 775 sq.ft., 2 bedrooms 1,400 sq.ft., 3 bedrooms 1,600 sq.ft. and a few 4 bedrooms homes around 2,100 sq.ft. The building also offers a handful of comfortable 5 bedrooms floor plans.
Selling your Sheffield Apartment with Manhattan Miami
Selling your apartment at the Sheffield is a big decision. There are many financial and legal consequences of selling a home, so it is important to discuss your plans with your accountant, lawyer, and New York real estate agent. As a former resident broker of the Sheffield, we can be a great resource to a seller, whether you are a current homeowner or investor, we know the building quite well, and understand the nuances of successfully selling your condo.
Contact us today for a comprehensive CMA of your apartment at the Sheffield. After that we can schedule a meeting in person to align your selling goals with one our Manhattan Real Estate agents or a brief conference call if you are out of the country. In the meantime, you can always check our in-depth Step-by-Step Home Selling Guide that educate sellers about the New York Real Estate selling process, so you know what to expect when selling your home.
As a former broker resident, Anthony Guerriero has managed several units for investors throughout the years. Currently the average price per sq. ft. for a condo at the Sheffield is a bit below $2,300 with the past sales at $1,878 as per StreetEasy. On the rental side, the current price per sq. ft. is $77.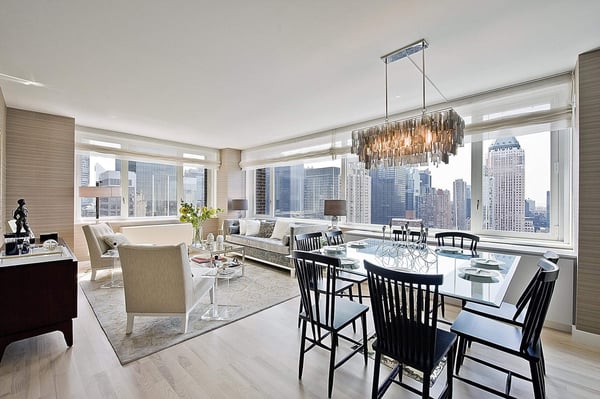 Schools close to Sheffield 57
Shopping options close to Sheffield 57
Restaurant options close to Sheffield
Supermarkets Close to Sheffield
Whole Foods Market at Shops at Columbus Circle

Stiles Farmers Market at 52nd Street

Gristedes located at 221 8th Avenue


Entertainment
Other NYC Condo Buildings Close to Sheffield
Related NYC Real Estate News:
"FAQs: Buying an Apartment in NYC"
"Why Now is the Right Time to Invest in Manhattan"
"Park Loggia is the Latest Condo in Columbus Circle NYC"
"Best Manhattan Neighborhoods to Search for NYC Condos for Sale in 2020"