Miami's coastal skyline and its real estate market are both growing in the most luxurious way thanks to some of the best award-winning architects in the world. Some of these buildings are open and ready for residents, but for others we'll need to have a little patience as we wait for their doors to open. Once complete, these 6 new buildings will have everything a Miami buyer could want in luxury real estate, from innovative and stunning designs, to top-of-the-line amenities and unbeatable ocean views.
87 Park by Renzo Piano
Renzo Piano is a Pritzker Prize-winning architect and his ability to capture the elegance of a coastal city is demonstrated in this building at 87 Park. 70 open-layout homes are inside this 233 ft, 18-story luxury residence tower just off the Atlantic shore in Miami Beach. Its very own private park was designed to give residents an opportunity to break away from the mundane and enjoy arts, culture, and special events close-to-home. Amenities and services include:
Pool with plenty of lounge chairs and cabanas at the ready
The Fugo Bar, a simple set-up underneath an awning with view of the nearby ocean
Gym with health coaching, classes, and quality equipment
Spa including a steam room and sauna
Butler, valet, and 24-hour concierge services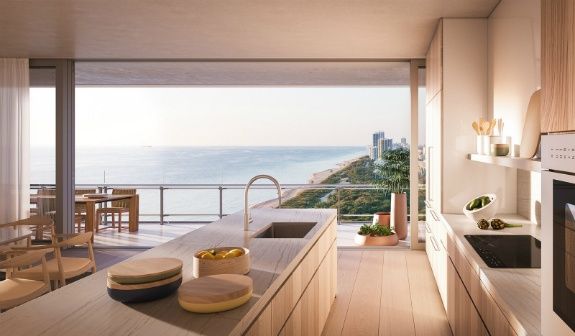 Learn more about 87 Park.
Four Seasons Surf Club by Richard Meier
The Surf Club at Four Seasons is a private 12-story residency in Surfside featuring amazing hotel luxuries and high-scale living space with a full view of the ocean. Richard Meier crafted 150 residences with glass walls and high ceilings, collaborated with Joseph Dirand to accommodate each space with custom designed furniture, and partnered with Lee Mindel on the interior finishes. Amenities and services include:
A spa and fitness center
Restaurants with a variety of seating options indoors and outdoors
Private lobbies
Concierge, butler, and grocery provisioning services by Four Seasons
Children's programs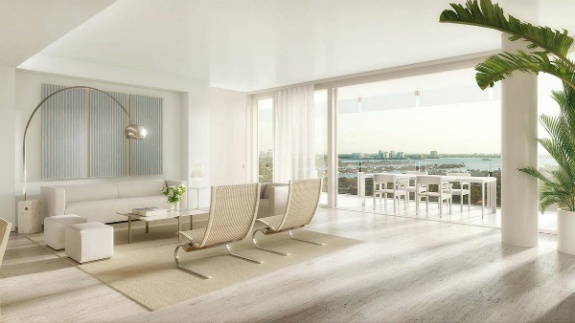 Learn more about Four Seasons Surf Club Miami.
Park Grove by OMA and Rem Koolhaas
Park Grove will be perfect for families who want to exist in a beach-side haven. The property will be 80,000 square-feet with 5 acres of private gardens created by Enzo Enena. You will also be able to experience one of Miami's most stunning views from private rooftop pools. Park Grove will live in the Coconut Grove neighborhood of Miami, where you can visit the Vizcaya gardens and museum, send your kids to top-notch private schools, and reap all the benefits of living on the coast. Amenities and services include:
Children's indoor and outdoor play areas
500 unique pools
Spas equipped with treatment rooms
Private dining areas
28-seat private screening room
Wine tasting room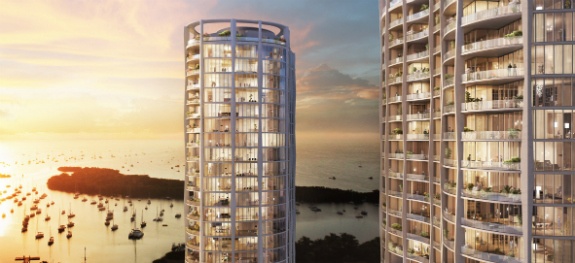 Learn more about Park Grove.
1000 Museum by Zaha Hadid
Zaha Hadid's design can best be expressed in her own words, "I believe in the idea of the future." This shows one of the reasons why she is the first woman to be awarded the Pritzker Prize. This conceptualized 60-story building will give to Downtown Miami a futuristic twist. Speaking of twists, the unique curves of the tower will create the space for oversized terraces. Not only will the outside look like it's from the future, but the smart, high-speed elevators and Crestron home automation infrastructure will make you feel like you've transported there yourself. Features include:
State-of-the-art kitchen appliances
Custom Italian quartz countertops and walk-in closets
Panoramic views of the Atlantic Ocean, Biscayne Bay, and the Miami skyline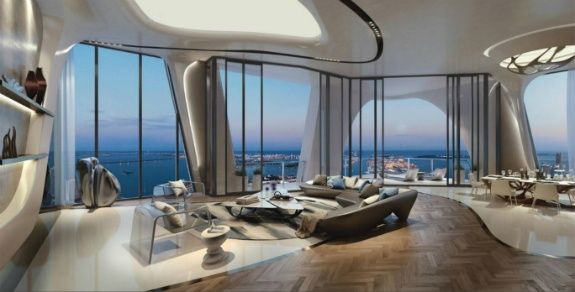 Learn more about 1000 Museum Zaha Hadid.
Monad Terrace by Ateliers Jean Nouvel
Another Pritzker Prize-winner, Ateliers Jean Nouvel, designed this layered South Beach Bay building with en-suite elevators and 18-foot-high ceilings. He plays up the beauty of simplicity, with light and water as his inspiration, but he also pays homage to other natural elements with stone countertops and wooden details in the kitchen. Amenities and services include:
24-hour concierge service and lobby attendant
116-foot swimming pool with sun deck and hot tub
Café and juice bar
Storage space large enough for water sports equipment
Climbing gardens with plenty of privacy and tropical foliage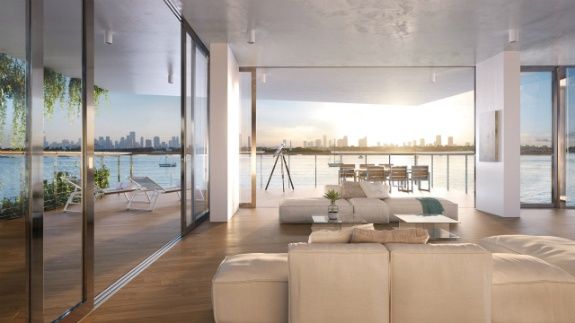 Learn more about Monad Terrace Miami.
Grove at Grand Bay by Bjarke Ingels
The twisted wide-based structures of Grove at Grand Bay are sculptures to be marveled at. Ingels created these 98 homes as a beautiful addition to the Miami skyline. At first glance, these eco-friendly buildings located in Coconut Grove, appear to be made entirely of glass and this illusion becomes even more alluring at night when the lights from inside create a translucent appearance. Amenities and services include:
2 rooftop pools and decks with luxury lounge seating and bar
Spas for both residents and their furry friends
Library
Children's play room with plenty of space and a TV
2,500-square-foot fitness center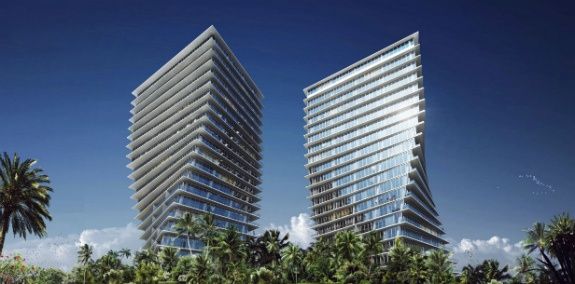 Learn more about Grove at Grand Bay.
These buildings give us a great glimpse at the future of the Miami luxury real estate market for luxury buyers. If you're considering Miami for your next residential property purchase, get in touch with one of our trusted team members in Miami. At Manhattan Miami we want to help you find the right property for the right price that will also get you the most for your money in the long-run.
Miami Real Estate News:
"Enrolling Foreign Students in Miami Public Schools"
"New York City's Love Affair With Miami Luxury Real Estate"
"Which Neighborhoods Have the Most Desirable Houses for Sale in Miami Florida"