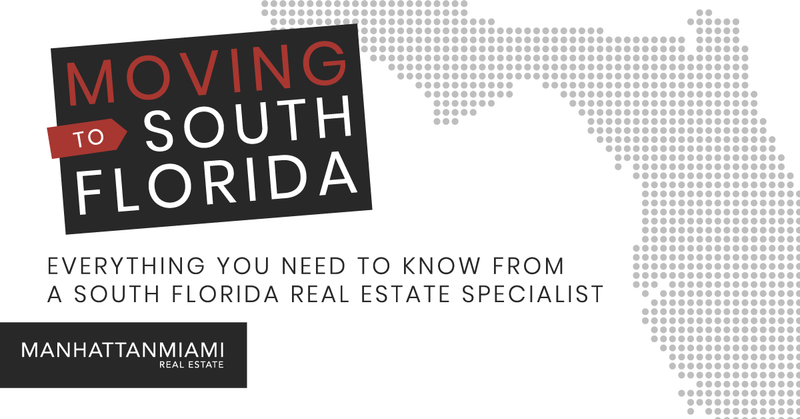 Whether you plan to retire at the beach or you have a new job opportunity in one of the area's business hubs, south Florida offers a surprisingly wide range of housing options for people with different needs and different tastes.

This guide will tell you everything you need to know about moving to South Florida from a South Florida realtor.


Weather
South Florida reaches an average of 90 degrees in the summer and typically remains in the 70s throughout the winter, making it great for people who enjoy a tropical climate.

The warm weather does come with its downside. The humidity levels can get uncomfortably high, and houses near the beach may risk damage from a hurricane.


Cost of Living
Florida has a slightly higher cost of living than the national average. You can make up the difference, though, thanks to the fact that Florida doesn't make residents pay a state income tax.


Location Options
When moving to South Florida, location is key. Miami and Fort Lauderdale are two of the most popular options with 2,701,767 and 182,760 residents, respectfully.


Miami
Miami is the largest city in Florida and the largest city in South Florida, making it a particularly busy and exciting place to live. Miami has a bustling art scene, great food, beaches, and a high-energy party atmosphere. While many people wait until after the work week, businesses stay open late for those mid-week celebrations, too.

The cost of living can get rather high, but there are plenty of job opportunities, especially if you work in the hospitality or tourism industry and speak Spanish.

Many celebrities and models strut the beaches for both fun and work, so the beautiful scenery transcends the beaches.


Fort Lauderdale
Fort Lauderdale has a calm and relaxing vibe as opposed to the hustle and bustle of Miami, giving it a more family-friendly and retirement-friendly feel. Known as the "Venice of Florida", the city has an intricate and beautiful river system similar to that in Italy, complete with the option to take gondola rides. Residents who prefer the beach can enjoy that, too! Fort Lauderdale has a much lower cost of living than Miami, but it has the same amount of crime.


Real Estate Market
Experts project that the South Florida population will increase by 12% in the next decade, increasing demand for real estate. In fact, single-family homes have increased in price by 24.4% since last year with no signs of slowing down in the hot Florida real estate market.

Houses in Miami-Dade county have a median selling price of $410,000, while houses in Broward County have a median selling price of $350,000. Of course, prices vary greatly based on the size of the house, location, amenities, and, of course, access to the beach.

If you're looking for homes for sale in Miami, take action as soon as you can before the market continues to increase higher than the amount of sunshine you'll get after you move into your new home.

Call a real estate agent at Manhattan Miami Real Estate today.