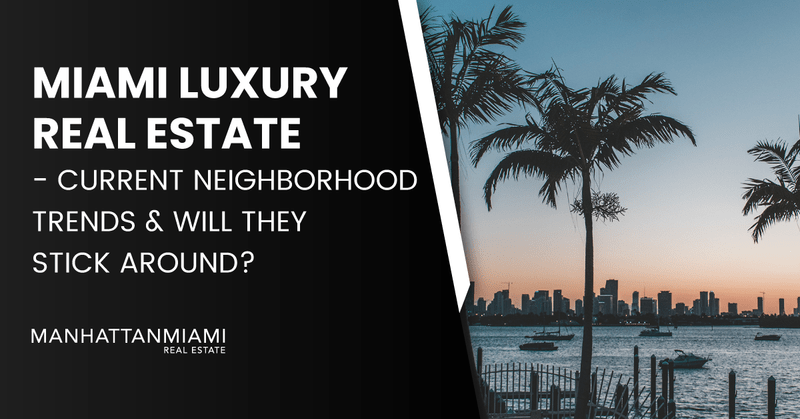 The real estate market in Miami is constantly on the move. You may wonder how different neighborhoods fare in comparison and which are the best neighborhoods to buy a home in Miami. Many potential homebuyers and investors also want to know whether the market will continue on this rapid upward trend. Keep reading to discover how each neighborhood compares.

High-End Neighborhood Demographics

This article will concentrate on luxury housing, both on the water and dry lot homes. All properties considered will be worth at least three million dollars. High Pines, Coral Gables, Coconut Grove, South Miami, Ponce Davis, and Pinecrest will be compared to the areas of Miami Beach, Key Biscane, and such islands of Miami Beach as Hibiscus, Star, and Palm Island, plus the Sunset Islands. This paints a picture of some of the best returns in recent performance in order to provide a framework for those looking to invest in the most popular and worthwhile Miami real estate.

Performance Over the Past 10 Years
Miami is seeing a mass migration of incoming residents in recent years looking for the perks of tropical living. Over the past 10 years, the area has experienced steady growth in the single-home markets, both waterfront, and dry land. Miami Beach and locations in close proximity to Coral Gables have seen the highest increase in value during this timeframe. In particular, the Covid pandemic has caused a sharp rise in buyers looking to live on the beach. Another region that has experienced an unusual recent uptick is that around the private schools of Miami. When it comes to waterfront homes, Miami Beach is the clear winner. The islands can compete with regard to pricing due to the many new construction projects popping up in the past couple of years.

Future of Miami's Luxury Housing Market
You may wonder if it's possible for the Miami real estate market to continue at its current speed. While there's no way to predict the future with absolute certainty, firms in the know such as Manhattan Miami Real Estate can evaluate current factors to gain some insight. In order for current conditions to stop their movement, supply would need to increase or demand would have to see a decline.

Right now, people are still coming in droves wanting to relocate to Miami. This makes demand steadily high. The popularity of Florida doesn't seem to be waning at all. Along with its beautiful weather, beaches, and nightlife, the Miami area is also quite friendly to businesses. Banking, financial services, and tech are all popular sectors.

When it comes to supply, there remains a shortage of homes overall. Even the rental market is tight with high prices. Those selling their homes are seeing multiple offers with premium prices. Given these current conditions and the steady growth performance demonstrated over the past 10 years, it is unlikely that current market conditions will slow down any time soon.