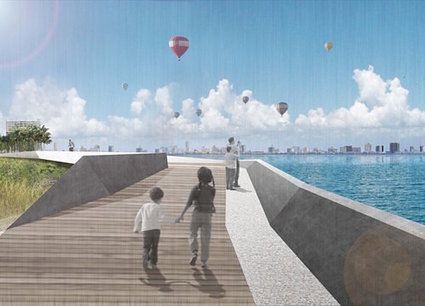 The public space will ultimately stretch from the Rickenbacker Causeway to the Julia Tuttle, with an additional 5 miles along the Miami River, following a 1979 law that requires every new development to reserve 20 feet of land from the water for public access.
Source: miami.curbed.com
The Biscayne Line, the proposed 7-mile bay walk along Biscayne Bay from the Julia Tuttle Causeway south to Downtown Miami may just become a reality. The Related Group, which has a ton of Miami luxury real estate projects sprouting in the Edgewater and Omni neighborhoods, may finance the project, which would be a boon for property owners in these and nearby neighborhoods, as well as the Related Group itself, as it will be able to sell more luxury condos in these developing neighborhoods.
While properties built after 1979 are required to reserve 20 feet from the water for public access, many of the older bay front properties in the Edgewater and Omni neighborhoods are fenced and private, inhibiting walking or biking along Biscayne Bay. Anyone who runs, bikes, or walks around these Miami neighborhoods will know that they have to either zigzag through the streets to their destination or use pedestrian-unfriendly Biscayne Boulevard.
By creating floating docks along those parts of the bay front that is fenced off, Related will connect Miami neighborhoods and create a more compelling reason to invest in this area. Creating a contiguous bay walk will change the surrounding neighborhoods for the better, making Miami luxury real estate projects, like Icon Bay, Paraiso Bay, One Paraiso, Grand Paraiso, Bay House, as well as Paramount Bay, more compelling investments.
Potentially, a 5-mile river walk along the Miami River may be in the cards, especially if the bay walk is successful.