Upper West Side apartment buildings are some of the most sought after in the city, and for good reason. We love the Upper West Side neighborhood, having lived there for more than 5+ years after moving to NYC many years ago. Located just west of Central Park to the Hudson River, it is one of New York City's most iconic neighborhoods. Its beautiful tree-lined streets, pre war architecture, and inviting brownstones appeal to a wide audience, making it a favorite of New Yorkers, as well as movie and tv directors. I'm sure most everyone remembers how the neighborhood was portrayed when they watched You've Got Mail, When Harry Met Sally, Seinfeld and, most recently, The Marvelous Mrs. Maisel.
While its residential crowd provides for a more quaint atmosphere than, perhaps, Midtown or some parts of Downtown, it's a great neighborhood for everyday living. There are areas of the UWS that are vibrant both day and night (think Zabars, Fairway, Citarella, Fiorello's, The Smith, Trader Joes, Bar Boulud, AMC Theaters, to name a few). And, the neighborhood is filled with a great cross-section of people, including families and singles. The character of the neighborhood prompted us to locate our office in the Upper West Side, in the Lincoln Center neighborhood at the corner of West 67th and Columbus Avenue.
Upper West Side Real Estate Market Guide to New Developments
Since the Upper West Side is already very established, the neighborhood doesn't see a lot of large-scale new development of new homes. With the addition of new projects like Waterline Square and One West End Avenue, the neighborhood is now fully built. Accordingly, we don't expect to see any future large-scale new development in any one part of the UWS. Rather, we'll see a handful of new boutique buildings or conversions every year, but nothing on a grand scale like we have seen over the past 10 years along the Hudson River.
Besides Waterline Square and One West End Avenue, we find that the most exciting new developments are homes in the most prime parts of the UWS. For example, Park Loggia, The Belnord, 200 Amsterdam, 250 West 81st St. and 50 West 66th St. all have Upper West Side condos for sale in the prime parts of the neighborhood. Of course, there are some stunning outliers like 555 West End as well. Below you will find a brief summary of some of the best new Upper West Side apartment buildings with units for sale.
The Park Loggia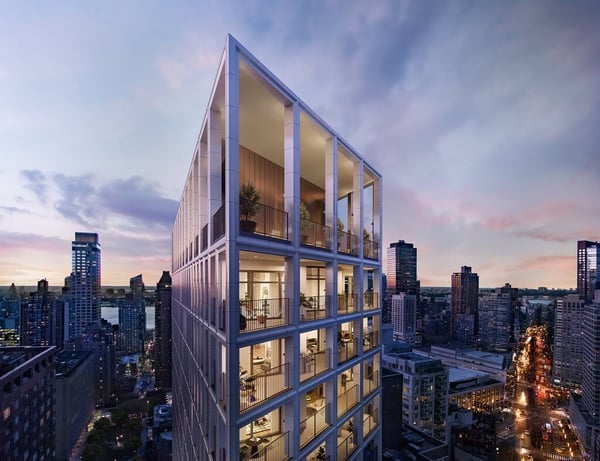 Address: 15 West 61 Street, New York, NY
Project: Park Loggia is a ground up new development at the corner of West 61st Street and Broadway, one of Manhattan's most coveted locations. If you're looking for the best apartments on the Upper West Side, you'll have a hard time finding one with a better location than this. The building is literally a one minute walk to Central Park, Columbus Circle and Lincoln Center, depending upon which direction you choose to go. Designed by Skidmore Owings & Merrill (aka SOM), the handsome building's main features are the deep useful loggias (most with some Central Park view), oversized windows, and elegant warm interiors. Homes that have views east see tree lined and double wide Broadway and 15 Central Park West, a beautiful limestone building built in pre-war style and perhaps the most expensive condo building in NYC. High floors have sweeping views. With nearly 20,000 square feet of amenities designed by AD 100 designers Pembrooke & Ives, the project includes indoor and outdoor spaces for entertaining, dining, fitness, and leisure activities to suit every taste. Apartments at 15 West 61 Street are on the smaller size, which makes them a bit more affordable given the high rent district in which it is located.

Amenities: Rooftop Park Loggia with Central Park views, outdoor terrace & gardens with barbecue and fire pits, private dining, game rooms, and a resident lounge with fireplace.
Available units: 21 apartments available, 653 square feet to 2,029 square feet, $1.615M to $6.6M
555 West End Avenue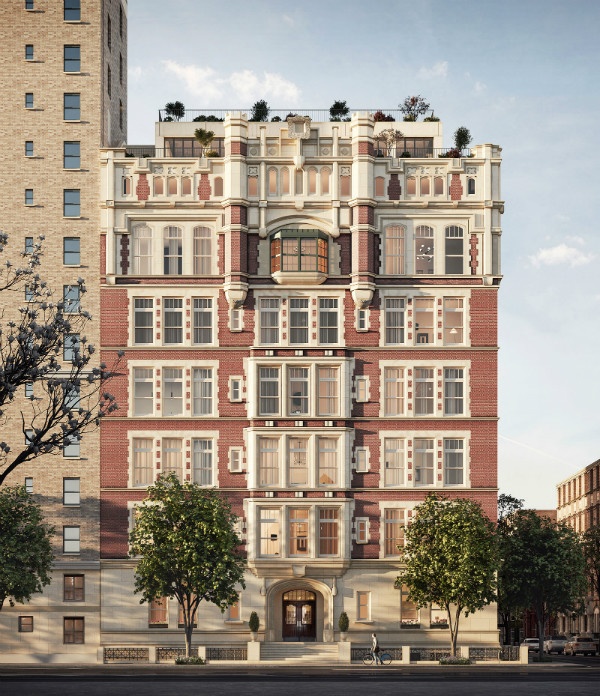 Address: 555 West End Avenue, New York, NY
Project: A conversion of a Beaux-Arts private school built in 1908 into condos, 555 West End Avenue is one of the most important conversions in the Upper West Side in recent history. Outstanding architecture, soaring ceiling heights, towering windows are just some of the things that make 555 West End Avenue one of the most beautiful pre-war condo buildings in NYC. The project was developed by Tamarkin Co., who brought together the very best elements of prewar co-ops and new condominiums. The building features only thirteen one-of-a-kind apartments ranging from three- to five-bedrooms, with no more than 2 per floor. These homes feature extraordinary volumes, gracious floor plans, impeccable detailing, Kitchens crafted by Christopher Peacock, timeless details and elegant materials (Pietra Cardoso stone floors, Arbescato marble countertops, Calacutta Gold marble bathrooms, Lefroy Brooks fixtures, etc.)
Located on the corner of 87th and West End Avenue, 555 West End is one block from Riverside Park and one short block from Broadway in the landmarked Riverside-West End Historic District. The neighborhood is also home to some of the city's most esteemed private schools and highly ranked and selective public schools.
Amenities: 24-hour doorman, refrigerated delivery storage, a bicycle room, stroller valet, day-lit gym, and residents' lounge. Every residence has its own private storage room.
Available units: 4 residences available for sale ranging in size from 2,716 sq. ft. to 3,474 sq.ft., priced from $7.9 M.
The Belnord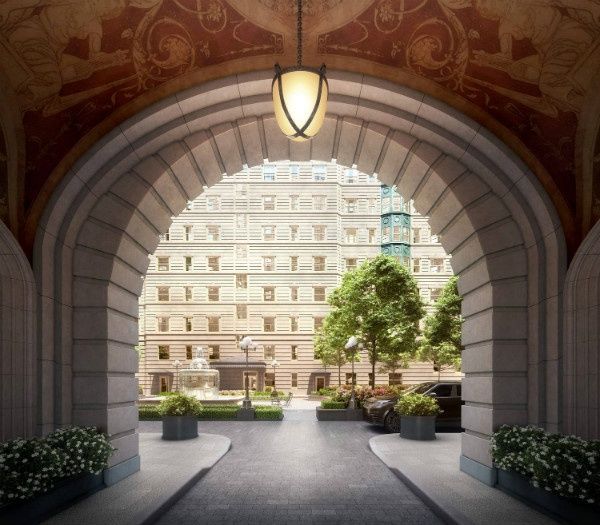 Address: 225 West 86th Street, New York, NY
Project: Reminiscent of the Apthorp, The Belnord is a designated landmark and one of NYC's great apartment homes built at the turn of the century. Stretching from 86th to 87th Street between Broadway and Amsterdam, The Belnord, currently, is being reimagined into condominiums by NYC's favorite architect Robert A.M. Stern. This handsome Italian Renaissance style condo building has huge, high-ceilinged apartments and surrounds a half-acre courtyard. The building features 3 - 6 bedroom condo residences with additional combination opportunities.
Unusual for a pre-war building, the project includes 30,000 square feet of indoor and outdoor amenities, including a 24-hour attended lobby, expansive porte-cochère, and 22,000 square foot courtyard and garden, evoking total privacy and tranquility. The light-filled, two-story The Belnord Club further offers a wealth of options for relaxation and entertainment, including a state-of-the-art fitness center, an impressive double-height sports court, a luxurious Club Lounge with a fireplace, separate dining room, children's playroom, and teen room.
Available units: 9 apartments available, 2,238 square feet to 3,949 square feet, $4.995M to $11.4M
200 Amsterdam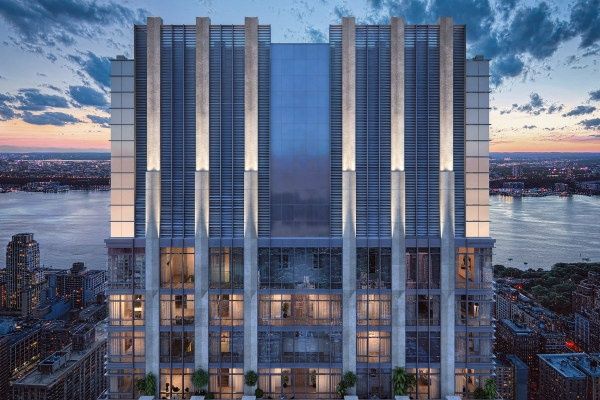 Address: 50 West 66 Street, New York, NY
Project: Inspired by the grand landmarks lining Central Park West, 200 Amsterdam is a contemporary interpretation of New York's pre-war classic apartment homes. The tallest tower on the Upper West Side, the upper floors have panoramic views of Central Park and the Hudson River. The building's architect is Elkus Manfredi who brought NYC the Shops at Columbus Circle and the Shops at Hudson Yards, and interiors were done by CetraRuddy . Residences are grand and feature distinctive entryways, stately kitchens and marble-clad bathrooms. The breathtaking city, river and Central Park views are one of the nicest elements of the building, given the low rise neighborhood in which it is located. Amenities are spread over three full floors and include – a dedicated spa, 75-foot saltwater pool, Little Composer's Room for children and a private club –foster a sense of tranquility and balance. Located moments from Lincoln Center and Central Park and the 72nd Avenue Stop.
Amenities: Doorman, Concierge Services, 75-foot indoor saltwater pool, State-of-the-art Fitness Center, Children's Playroom, Private Club Floor.
Available units: TBA
Waterline Square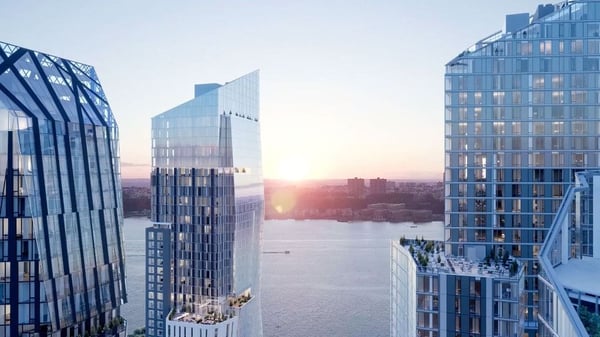 Address: 10 Riverside Boulevard, 30 Riverside Boulevard, & 635 West 59th Street
Project: A trio of starchitect-designed luxury towers comprise the 5-acre master plan development developed by GID, named Waterline Square. Each building has its own architect. The Richard Meier building will feature interiors by Champalimaud, the Rafael Vinoly building will feature interiors by Groves & Co., and the KPF building will feature interiors by Yabu Pushelberg. Each of these Upper West Side luxury apartments are designed with top-of-the-line materials.
At the top of each building will house the condominiums, so each will have great views. The bottom half of the building will feature luxury rental homes. Upper West Side luxury rentals are a great investment as well. Throughout the trio, you will find one- through five-bedrooms. Across the three buildings, the project will have 263 condo units. Perhaps the most impressive is the Waterline Square will feature shared a huge amount of amenity space at over 90,000 sq. ft, as well as Waterline Square Park which will cover 3 acres of the property. The project sits on the last of the undeveloped land in the Upper West Side, along the Hudson River between 59th and 63rdStreets - a nice ending to a wave of development along the Hudson River in the Upper West Side.
Available units: Residences sized from 851 square feet to 4,134 square feet, and priced from $1.875M to $17M
101 West 78 Street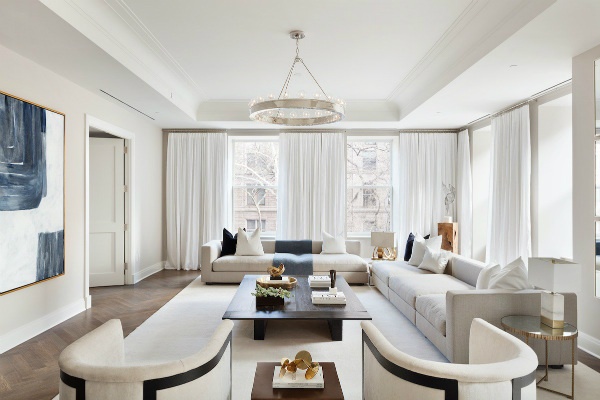 Address: 555 West End Avenue, New York, NY
Project: 101 West 78th Street is a landmark building originally completed in 1886 and is located on the corner of 78th Street and Columbus Avenue, directly across the street from the American Museum of Natural History. It's the same building I lived in when moving to NYC in the 90's. However, it wasn't as swanky as it is now, as it has been thoughtfully restored and thoroughly modernized. Stephen Sills, an Architectural Digest "AD 100" designer, designed the building's lobby, amenity spaces, and a collection of carefully conceived two-to-five-bedroom residences.
Grand apartment homes throughout the building with large windows, up to ten and a half foot ceilings and gas fireplaces in some residences. Our favorite kitchen manufacturer, Smallbone of Devizes makes an appearance here. Kitchen cabinetry is presented in a white, hand-painted finish, accompanied with glass-fronted upper cabinets and antique brass hardware. The appliances are Miele. Solid oak herringbone floors grace the public rooms, with plank floors found in kitchens, bedrooms and corridors. Bathrooms feature sinks, fittings, and accessories from Waterworks and Stephen Sills custom-designed millwork.
Amenities: 101 West 78th Street is a full-service building with a 24-hour attended lobby. Amenities include a fitness center, children's playroom and bicycle storage. Private storage spaces are also available for purchase.
Available units: Per Streeteasy as of July 2019, residence 4B is the only available unit for sale. It's a 4 bed 2.5 baths condo with 3,232 of interior space and asking price of $6.975M.
350 West 71 Street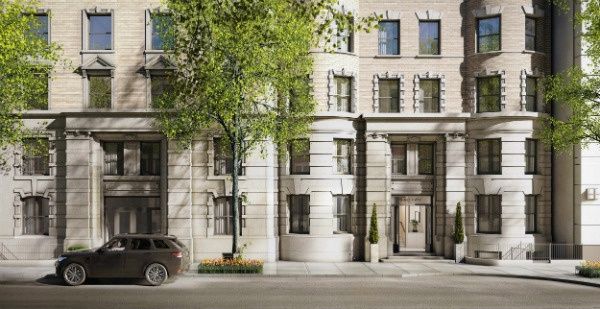 Address: 350 West 71 Street, New York, NY
Project: 350 West 71st Street is a set of turn of the century townhouses that are being reimagined for today. The building offers a unique combination of historic charm and modern elegance. The building occupies a coveted position at the end of a cul-de-sac. The facade has been meticulously preserved, and the interior is being completely rebuilt using the best 21st century technology and materials. Located on the Upper West Side, this 1910 beauty has been completely re-conceived by DNA Development and offers spectacular two-four bedroom residences, many with private outdoor space.
Amenities: The building's amenities include a 24-hour doorman, gym, children's playroom, library, rooftop terrace, bicycle room, and private storage.
Available units: 5 apartments available, 1,155 square feet to 1,666 square feet, $1.775M to $3.295M
The Chatsworth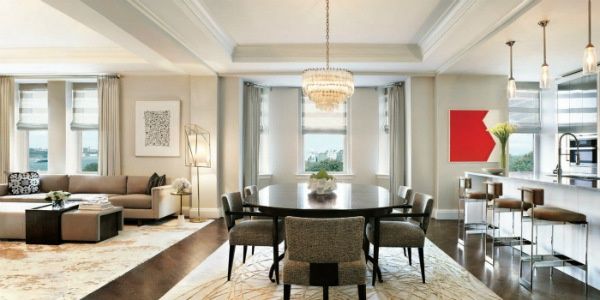 Address: 344 West 72nd Street, New York, NY
Project: Luxury PreWar Co-op conversion with Condo-like ease of ownership. Built in 1904, The Chatsworth is one of the most iconic and prestigious Pre-war buildings on the Upper West Side. It lies at the end of 72nd Street in front of Riverside Park, next to Trump Hermitage. The building features many gorgeous pre-war aspects and has 58 apartment homes. This historic and landmarked Beaux-Arts masterpiece has been lovingly upgraded, renovated, and restored to its original grandeur while including every modern amenity and service to meet today's wants and needs, creating a rare opportunity for luxury living in a one-of-a-kind storied building.
Amenities: Private cinema, a fully service gym, library, children's playroom, and game room equipped with ping-pong & foosball.
Available units: Currently apartments range from 1,009 square feet to 2,932 square feet, and asking prices from $1.940M to $5.9M.
The Astor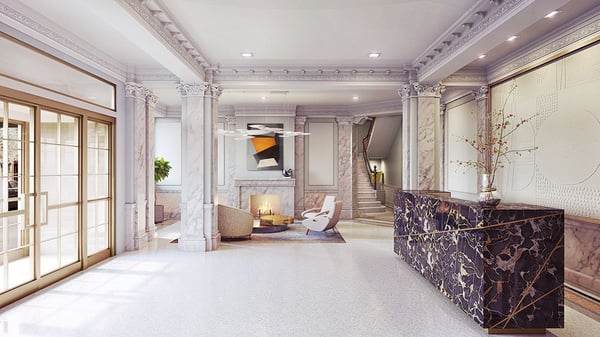 Address: 235 West 75th Street, New York, NY
Project: Commissioned by William Waldorf Astor, The Astor runs the entire length of Broadway from 75th to 76th Streets, with the two South Towers built in 1901 and the North Tower dated to 1914. Restored by Pembrooke & Ives, the new residences at The Astor retain many of the refined details of their pre-war design, with ceilings as high as ten feet, wood-burning fireplaces, and decorative moldings. In addition, features include double-paned bay windows and three-paneled doors, as well as top-of-the-line appliances and fixtures. The Astor is perfectly situated between Central Park and Riverside Park and within walking distance of the Upper West Side's distinct array of cultural and historic attractions, gourmet food markets, restaurants and transportation.
Amenities: Residents of The Astor enjoy the convenience of 24-hour concierge service, a state-of-the-art fitness center, a children's playroom, a bike room, and private storage.
Available units: 8 apartments available, 847 square feet to 3,328 square feet, $1.5M to $7.3M
207 West 79 Street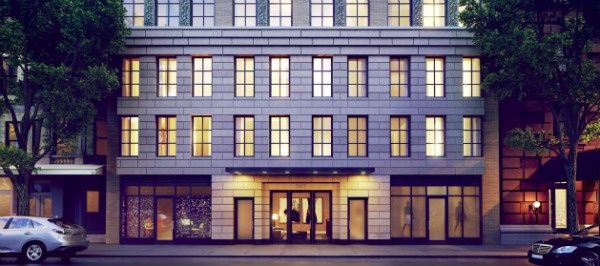 Address: 207 West 79th Street, New York, NY
Project: Situated on tree-lined 79th Street, in the heart of the Upper West Side, 207 West 79th Street, is a development of Anbau designed by Morris Adjmi Architects. Accented with decorative terracotta panels, this new handsome brick building comprises just 19 half and full floor residences. A fashionable lobby is styled with marble mosaic terrazzo. In the residences, solid mansion weave oak flooring flows from the living room into the thoughtfully-designed kitchens creating a pristine composition of historical motifs in a modern setting.Full-floor homes offer an impressive 60-foot expanse of dining and entertaining space. The full floor penthouse residence features a wrap-terrace and outdoor kitchen.
Amenities: Residents enjoy the convenience of the on-site fitness studio, bike and storage areas, as well as a playroom.
Available units: 3 apartments available, 2,026 square feet to 4,205 square feet, $4.275M to $12.950M
250 West 81 Street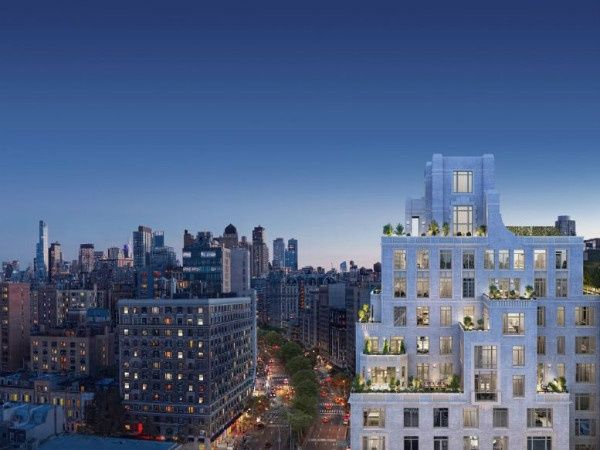 Address: 555 West End Avenue, New York, NY
Project: We love this new elegant boutique luxury condo building at the northwest corner of Broadway and West 81 Street. Designed by Robert. A.M. Stern, 250 West 81st Street will rise 18 stories and have only 31 homes. Alchemy Properties and the Carlyle Group are developing the property and Alchemy Properties. The building has only a couple units left, as it sold very well. Robert A.M. Stern, the building's architect is one the most sought after architects in Manhattan. The building's facade is typical Stern, in classic Manhattan pre-war style, with setbacks, Indiana limestone & grey brick. Stern has designed some of the most important buildings in NYC, such as 15 Central Park West, Superior Ink, 20 East End Avenue, 520 Park and 220 Central Park South. While the prices at some of his other buildings are out of reach for most, pricing here is much more reasonable. The timeless classic all-white interiors at 250 W 81 Street, which will feature high ceilings, large windows, herringbone patterned oak floors, Smallbone Devizes kitchens from England, and Gaggenau appliances. Baths will feature white marble flooring, marble walls, and custom marble vanity. Other bathroom features include rain showers, soaking tubs and radiant heat floors.
Amenities: Sky terrace, Technogym fitness center, golf simulator, kids room, music recording studio, sports court and residents library.
Available units: Per Streeteasy as of July 2019, there are developer units that ranges from 1571 square feet to 1,985 square feet, $3.875M to $5.150M. Resale units from $6.45M to $8.1M.
One West End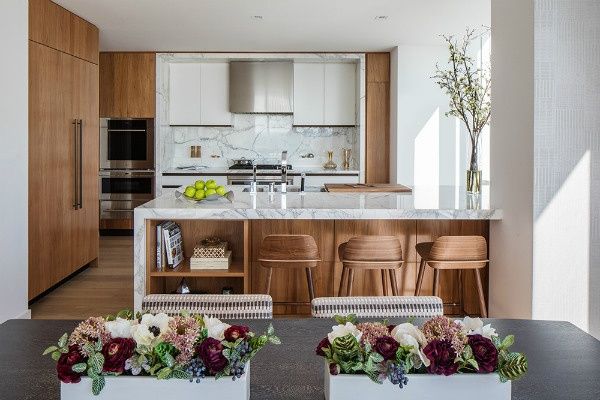 Address: 555 West End Avenue, New York, NY
Project: The 41-story One West End lies at the southern most point in the Upper West Side at West 59th Street and West End Avenue. The designs by architect Pelli Clarke Pelli and interior designer Jeffrey Beers are clean and modern, with a huge focus on details and very high-end materials and finishes. Residences feature grand-scale layouts, exquisite finishes, wide-plank hardwood floors, floor to ceiling windows and flexible entertainment spaces. Kitchens are Italian-crafted by Scavolini. Silverstein teamed up with Elad Group for development of 1 WEA. Tax abatement for 20 years, with virtually no tax for the first 12 years.
Amenities: One West End Ave will have expansive resort-inspired indoor and outdoor amenities, including rooftop garden terrace, 75' indoor pool, playroom, and lounge, as well as ground floor retail which will be great for the area.
Available units: Per Streeteasy as of July 2019, between developer and resale units, the building has 16 apartments available for sale, ranging in size from 919 square feet to 5,302 square feet, $2.099M to $19.5M
FUTURE DEVELOPMENT
50 West 66 Street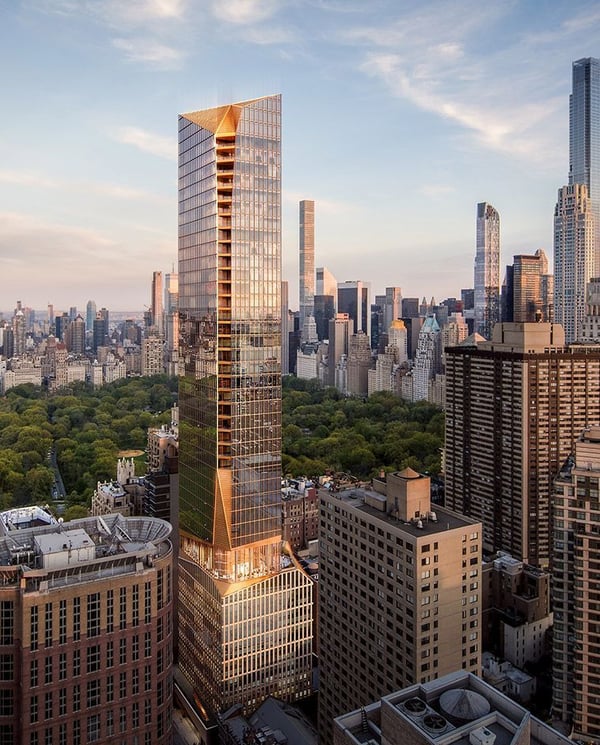 Address: 50 West 66 Street, New York, NY
Project: 50 West 66th Street is going to be a showstopper. It is being developed by Extell and it lies between West 65th and West 66th Streets mid-block between Central Park West and Columbus Avenue - just a stone's throw from our office at 67th and Columbus. That means the views of Central Park from this building are going to be incredible, but so are the prices. Turmoil about the project has been in the press, as many in the neighborhood are against this tall tower going up in their neighborhood. Accordingly, we expect that the building might be slightly delayed or even undergo a light redesign. But, we know it will get built. Construction is already moving along, and work has reached street level. It will rise almost 100 feet higher than 200 Amsterdam when completed. This is one of the best locations in Manhattan, so expect prices to be commensurate with others in the neighborhood, like 15 CPW, 220 CPS and Central Park Tower.
---
Buying a Condo in NYC
Guide Series:
Midtown Manhattan New Developments Condo Guide
East Village & Lower East Side New Developments Condo Guide
Financial District New Developments Condo Guide
West Village, Greenwich Village & NoHo New Developments Condo Guide