New York real estate prices are fairly valued, according to the new UBS Global Bubble Report. In the report, UBS economists analyzed the data of 15 financial centers, of which only two were rated as being at fair value, New York and Boston, with most others classified as overvalued or in bubble territory.
The New York real estate market bottomed in 2012 after a 5-year price correction and prices have been on the rise since. However, right now, the New York real estate market is no where near in bubble territory. In fact, New York property prices still have much room to grow. The price for an average house in New York in inflation-adjusted terms is currently still more than 25% below its 2006 peak. And, the high property prices in New York are supported by high incomes and jobs, in contrast to many others in the study.
London and Hong Kong property prices are in bubble territory, which means that both cities are at a high risk for a significant price correction. Hong Kong has been in bubble territory since 2011 and UBS believes that a "price correction seems imminent". London, the most overvalued property market in Europe, has been in bubble territory since 2013. The London real estate market has decoupled from the local household earnings, with the influx of foreign buyers as a result of global turmoil. However, this decoupling is unsustainable and the London property market could see steep price drops like those projected for Hong Kong.
Sydney, San Francisco, Amsterdam, Geneva, Zurich, Paris, Frankfurt, Tokyo and Singapore, in that order of magnitude, were all cited by the UBS report as being overvalued, although Sydney is rapidly approaching bubble territory. The report goes on to state that owners in these cities should not expect any real appreciation in the medium or long term. In contrast, New York should see real appreciation for years to come.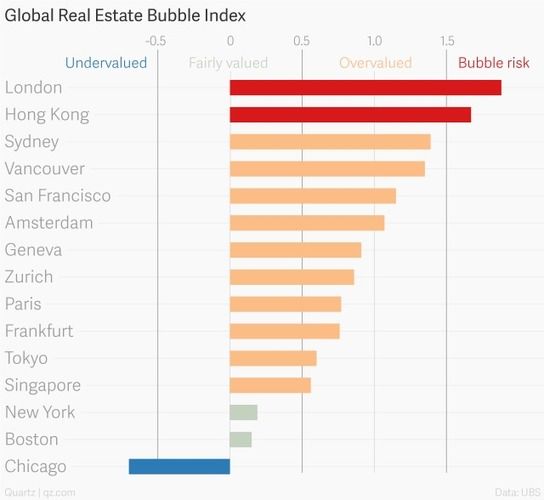 "It will surprise few that the property markets in London and Hong Kong look a bit bubbly. But get this—real estate in New York is "fairly valued," according to a new report. Economists at UBS crunched the numbers for the world's major financial centers, building a "global real estate bubble index" from a variety of..."
Read the full article at: qz.com