As current condo and coop buyers know too well, buying property in Manhattan isn't as easy as one would think. Among the vast array of buildings in the city, there were only 10,243 properties for sale in the quarter, a record low. The inventory was split into coops and condos 51% and 45%, respectively.
Inventory of properties available for sale continues to plummet, hitting a record low this past quarter. Usually, the first quarter sees a pop in inventory as sellers put their properties on the market in March for the Spring selling season that begins in April. However, this year, inventory shrunk even further. What this means is continued price increases and less options for buyers this year. While there are a lot of construction cranes back in NYC, it takes quite a while to build a residential tower, so many of these buildings with towering cranes won't be ready for occupancy for 2 to 3 years.
Buyers should be ready for stiff competition if they are looking to buy a property this year. Demand has persisted in the face of higher prices and lower inventory, proving the Manhattan residential real estate market is quite resilient. The good news is that new inventory is slated to come on the market in the next couple of quarters, however, with demand continuing to be so strong we agree with Streeteasy.com, that prices of Manhattan properties won't trend lower. Demand is just too high.
If you are buying property in Manhattan this Spring or Summer, here are some tips of how to get your offer accepted.
Related Articles:
Positive Results for Manhattan Condo Market
Manhattan Condo Market Inventory Hits a Record Low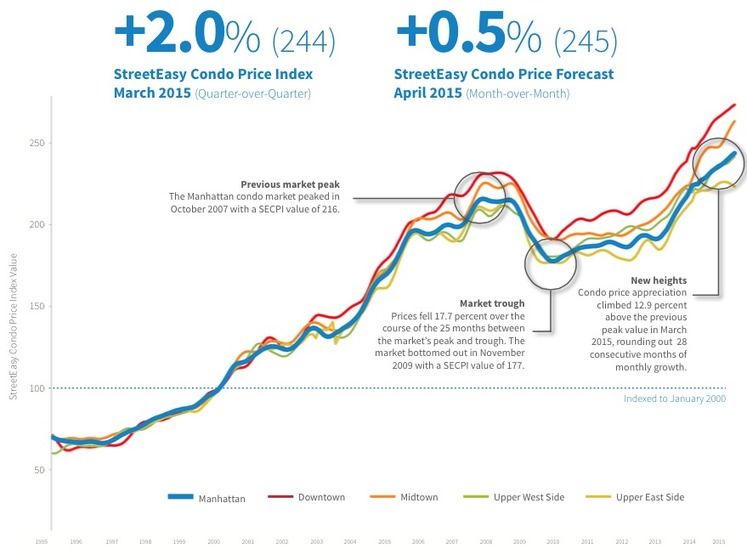 Despite growing prices and tight inventory, demand for Manhattan real estate has proven resilient. Sales volume in the first quarter increased 2.6 percent from last year in a sign that some buyers are not to be discouraged by shrinking inventory or price growth. Sales of condos and co-ops grew by 1.5 percent and 2.7 percent from last year, respectively. The median time on market for all Manhattan homes sold in the first quarter rose slightly from 58 days to 60 days during the same quarter last year. Heavy competition for limited sales listings will favor sellers this spring. Expect the supply-demand imbalance to drive price growth into the spring months and keep time on market relatively short.

The good news for buyers: the second quarter almost invariably brings a surge in new listings as homeowners wait for March and April to sell their properties. Buyers' patience may be rewarded by more options in the near future, but they will likely not come at a lower price.
Source: streeteasy.com