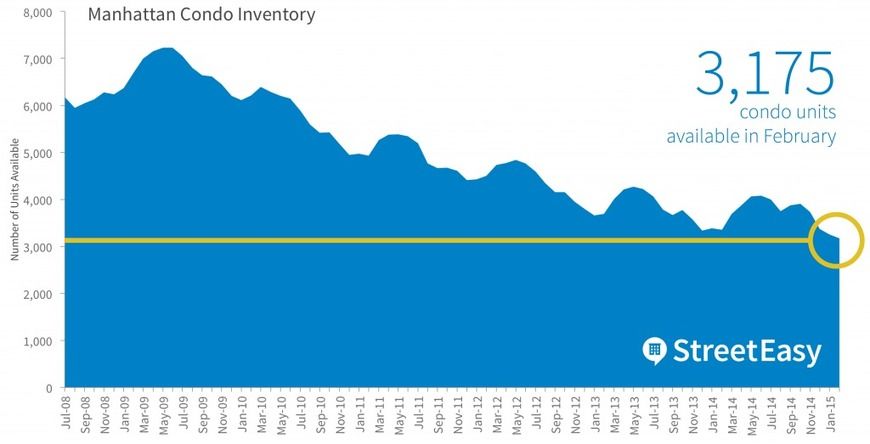 According to StreetEasy's latest report, the Manhattan condo market hit record low inventory in February as pending sales surged 27.5 percent since January.
Source: streeteasy.com
While there has been a lot of talk about Manhattan new developments that are coming on the market this year, the fact of the matter is that Manhattan condo inventory is at a record low and demand is very strong, as discussed in our latest NYC Luxury Real Estate Update. We expect most of the new condo inventory to be absorbed quickly, except, perhaps, for those in the ultra-luxury price segment, which will take longer to find buyers.
This low inventory trend has been happening for a number of years, as new development was scarce after Lehman's collapse. While condos in the pipeline have increased, so has demand. As you prepare for the Spring selling season, make sure to read our article that discusses tips of when buying a property in New York. While we reported on this 18 months ago, those tips to buying in a tight inventory market still ring true.
Savvy NYC buyers usually know how the buying process works in Manhattan. However, foreign buyers need a bit more assistance, so we have written a International buyers guide to US Real Estate to help our foreign nationals navigate the NYC buying process. In addition, click on the image below to access our foreign buyer Infographic that summarizes the buying process when buying a property in Manhattan or Miami.