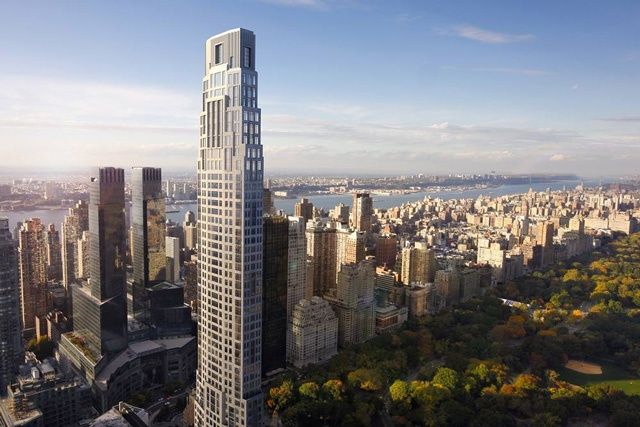 How will the ultra-luxe condos at 220 Central Park South stack up? Earlier this week, The Real Deal headed down to the New York Attorney General's office to check out the just-approved offering plan, and revealed that the priciest penthouse could ask up to $175 million.
Source: therealdeal.com
Recently, The Real Deal provided a sneak peak into pricing and floor plans of one of the most anticipated ultra-luxury new development, 220 Central Park South in New York. Based on the Real Deal article, the cheapest unit will be just under $5,000 per square foot and $12 million for a 2 bedroom, 2.5 bath apartment with Central Park views on the 22nd floor. Check out the Schedule A prices that are listed in the article. These are preliminary prices that will go up and up, with the many rounds of price increases that the building will go through before the building is sold out, as happens with pre-construction new developments.
The architect of the project, Robert A. M. Stern, is famous for designing 15 CPW, as well as two pre-construction projects, 520 Park Avenue and 20 East End Avenue, that are also currently for sale in pre-construction pricing. At 220 Central Park South, expect classic finishes reminiscent of the turn of the century buildings along Central Park West, Park Avenue and Fifth Avenue, but with modern convenience. Also, the views of Central Park will be unbeatable.
To learn more about 220 Central Park South prices and some of the other buildings that are coming to Billionaires Row and environs, check out our blog that talks about New Developments Condos around 57 Street.