NYC luxury real estate has been heating up, despite the sub-freezing temperatures that marked February 2015 as the coldest February in over 80 years. The market for properties over $4 million is on fire, rising to 116 signed contracts, an increase of 23% over last February, making this month the highest number of signed contracts over $4 million on record. January fared well too, with 98 signed contracts, about the same as last year. With such sales strength of luxury properties during this brutal winter, we are expecting a banner year for the NYC luxury real estate market for the balance of 2015.
New development projects made up a significant portion of the signed contracts. The Four Seasons Hotel and Private Residences Downtown fared the best in terms of contract signings in the last two months, with eight signed contracts. Close by in Battery Park on the Hudson River, 212 Warren, also known as River and Warren, was close behind with seven signed contracts. Another newcomer, 20 East End Avenue, Robert A. M. Stern's designed boutique building came in third with six units in contract since the beginning of the year. Tying with 20 East End Avenue was 45 East 22 Street, which also had six units go into contract. Both Halcyon and Greenwich Lane had five units go into contract, while 737 Park Avenue and 11 Beach had 4 units each go into contract.
2015 is set to see the launch of long awaited NYC luxury real estate projects, like 520 West 28 Street, architect Zaha Hadid's first foray into NYC real estate scene (image below). Other projects to launch include ultra-luxury projects, such as 520 Park Avenue and 220 Central Park South, both designed by Robert A. M. Stern, and 53 West 53 Street, designed by Jean Nouvel. Later in the year, we expect 15 Hudson Yards, Hudson Yards' first tower in the project to launch. The new year will also bring in some badly needed new construction "Affordable Luxury" projects, like The Astor, a gorgeous pre-war rental-to-condo renovation at Broadway and 74th St., 100 Barclay, the conversion of a Ralph Walker designed Verizon building, and One West End Avenue, a 41-story glass tower in Riverside Center. Given all of these projects coming online and record-breaking contract signings, we expect NYC luxury real estate to shine in 2015.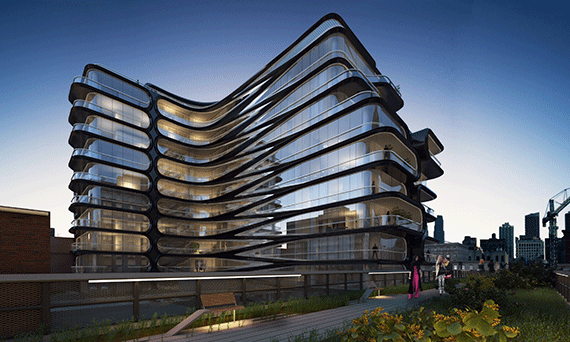 Photo Credit: 520 West 28 Street | Zaha Hadid NYC Condo