At 777 feet tall, this iconic glass tower will be an elegant addition to the Madison Square Park skyline. The floor-to-ceiling glass design grows progressively wider toward the top of the building and towers over most of the surrounding buildings, given the low-rise neighborhood where it is located in NYC. The Madison Square neighborhood is very much in vogue and now the epicenter of NYC's rapidly growing technology sector. 45 East 22 Street will be a welcome addition to the neighborhood where both One Madison and 10 Madison Square West - two other tony new luxury condominiums in the neighborhood - have had great success.
The building's interiors were designed with timeless sophistication and clubby atmosphere, standard fare for interior designer Martin Brudnizki. If you have ever been Le Caprice at The Pierre in NYC or in London, The Club at the Ivy in London, or at Soho Beach House Miami Beach, you will understand the warmth and character that Brudnizki brings to his designs - in deep contrast to the stark interiors of many other glass towers.
45 East 22 Street is full of amenities designed to pamper its owners, including the Upper Club on the 54th floor, featuring an entertaining and dining space, not to mention amazing views. On the 5th floor, there is a terrace. In addition, other amenities include a lounge, billiards room, card room, fitness center, children's playroom, golf simulator, yoga studio and half-court for basketball, a rarity in Manhattan.
As for prices, currently, two bedroom apartments start at $4.2 million, 3 bedroom apartments start at $6 million and full floors, which start on the 55th floor, at $19.9 million. 45 East 22 Street was launched only a couple of weeks ago, so prices haven't yet skyrocketed. Exclusive sales and marketing is by Corcoran Sunshine.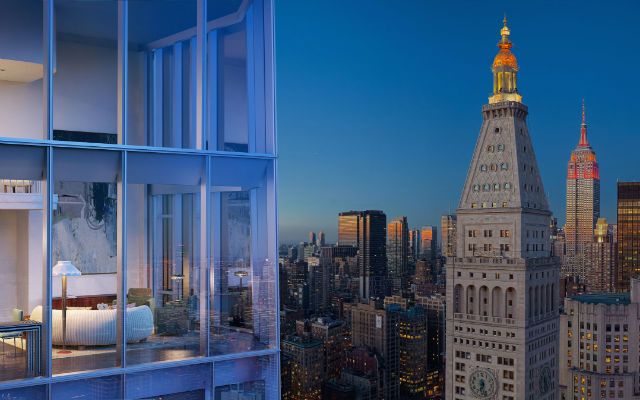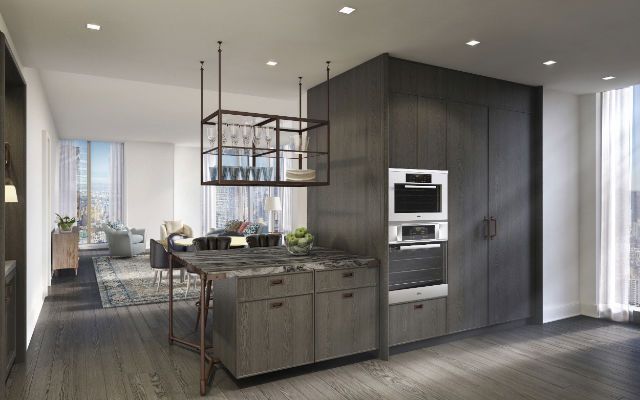 Image courtesy of http://45east22.com